Disclaimer: This recipe for vegan savory oats is sponsored by Produce Made Simple :)
Thanks for reading and supporting my blog because sponsored posts like these make it possible for me to do what I do <3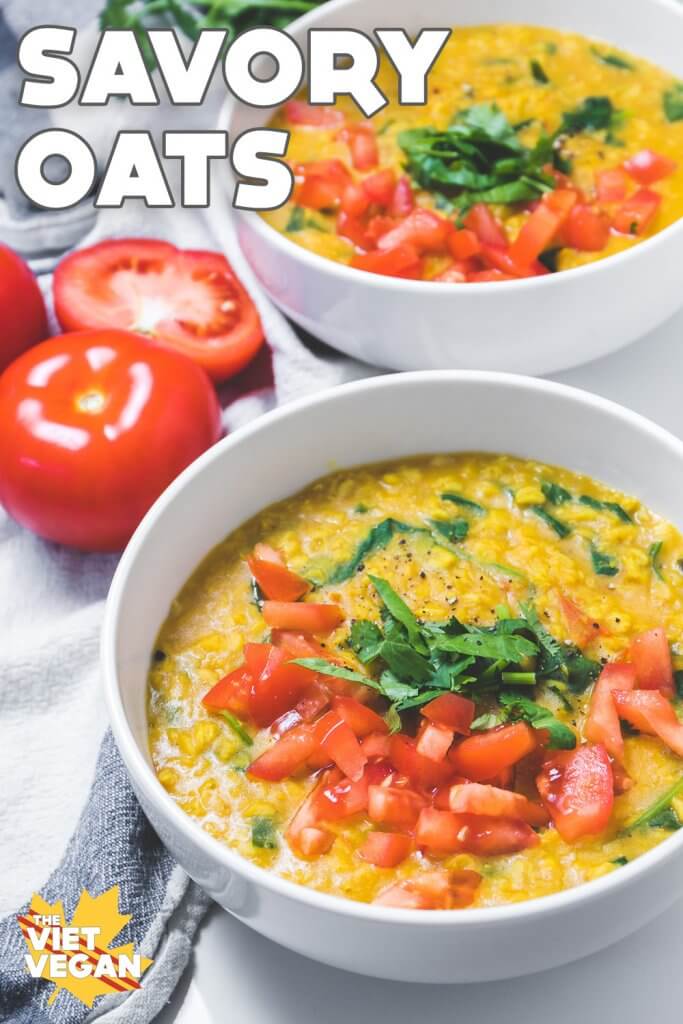 If you've been around here before you know I have a weird relationship with oats. I appreciate oats and what they do for my body: they're satiating, have quite a bit of fibre and surprisingly a good amount of protein in there too. Don't get me wrong, I wish I could eat a fruity bowl of oats every day for breakfast but that sweetness in the morning is just not for me. Give me a warming bowl of these savory oats any day—creamy, lightly curry spiced, with a bit of extra heft and protein with red lentils and plenty of greens to brighten up the bowl. But the secret star to these oats are tomatoes: both cooked and fresh.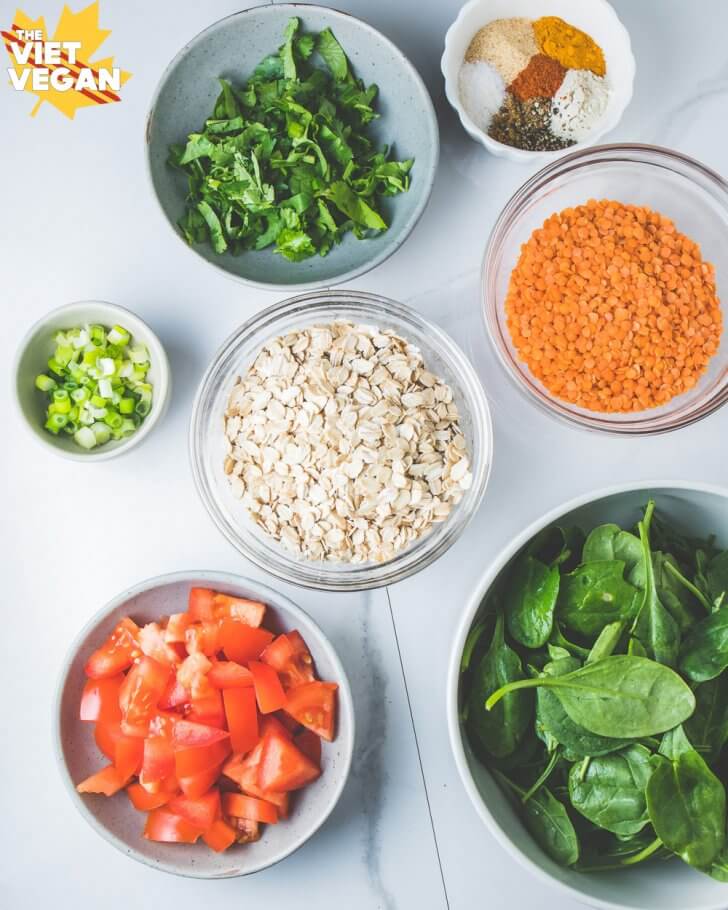 Cooking tomatoes  at the beginning of this little bowl means that you are able to caramelize some of the natural sweetness of these tomatoes to give a bit of extra depth of flavour that you didn't know you needed in the morning. I heard once upon a time that cooking tomatoes means you're able to absorb some of the nutrients in them better, but I'm not a dietitian nor a nutritionist so I don't know if there's any validity to that. What I do know is that cooked tomatoes add a bit of umami to this dish, which is just what a warm bowl of oats need.
But don't worry, you'll get a lovely dose of lycopene (that's what gives tomatoes that gorgeous red colour) with some diced fresh tomatoes on top. Do yourself a favour and remember to store your tomatoes on the counter and not in the fridge, because storing them in the fridge gives them a mealy texture and nobody wants that. If you can, keep them on the vine as long as you can, and don't wash them until you need to use them. I'm all about helping you experience vegetables (or in this case, technically, fruit) the best way possible ;)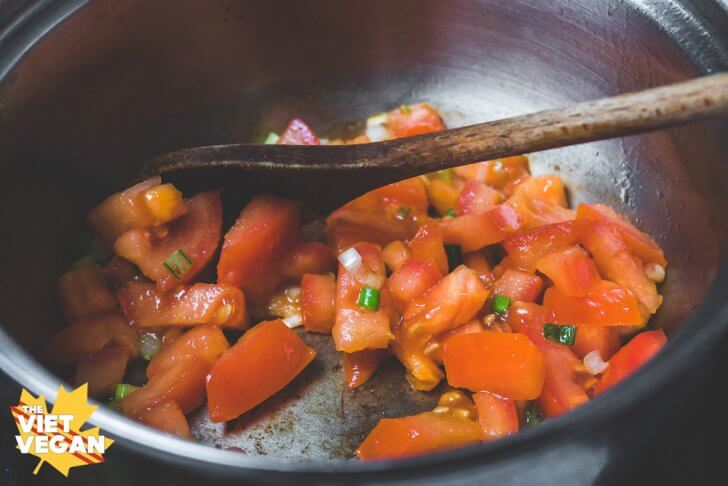 You can substitute shallots or regular white onion in this recipe, but I find green onions to be the least pungent of the aromatics for the first meal of the morning. You can also add garlic if you want, but not everyone has the luxury of working from home like me and doesn't have to worry about garlic breath. Luckily the garlic powder in this recipe gives some garlic flavour without too much of that garlic breath. Deglazing those delicious, deep flavours off the bottom of the pan with a splash of vegetable broth is a must, but if you prefer to use granulated broth like I do, a little water to dissolve and lift that caramelization works just fine.
You'll need to cook the red lentils a bit at first, for about 10 minutes to get things going at first. If you prefer your lentils to have a bit of bite and structure to them (as opposed to having them simply melt into the oats), you can add salt while cooking the lentils to maintain their shape a little better. Otherwise season towards the end, to taste.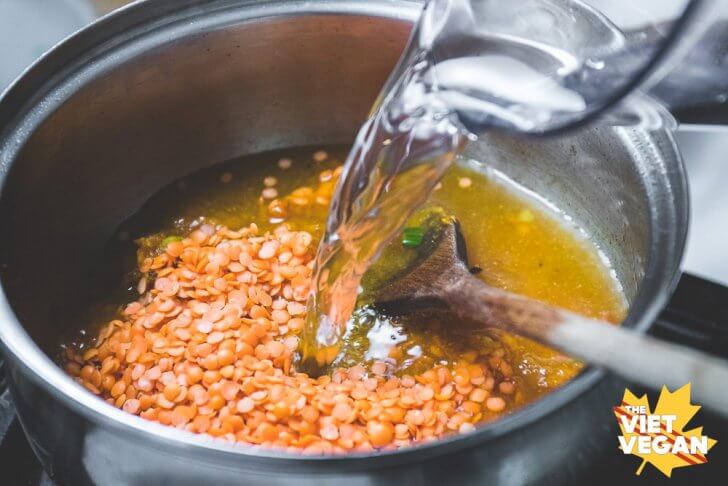 Add in some rolled oats (or instant if that's the texture you prefer), cook until they're wonderfully unctuous and thick and your breakfast is on its way,
This is totally optional, but if you have any on hand, stuff in a few good handfuls of greens. Lately my favourite greens to add to this dish is some fresh baby spinach and some roughly chopped cilantro. I've been storing my cilantro in a glass in the jar, covered with a plastic bag—which extends the shelf-life for a good week or two. Plenty of time for me to get off my lazy butt and remember to use up those gorgeous sprigs of herby goodness. Stir those greens in just until they wilt and serve for a hearty breakfast.
I've never really been that much of a morning person. I appreciate that I can be very productive in the mornings, but I'd much rather lounge in bed if I can. But with a bowl of these vegan savory oats simmering on the stove, I can be convinced to get my day started. Big hearty bowls like these also keep me fueled for when I go deep into a six-hour editing spree while listening to some lo-fi jams.
For the full measurements and instructions for this recipe, be sure to visit Produce Made Simple and check out their articles on produce for more info on how to select, store, and enjoy more fruits and veg! You know I am a huge food nerd and I always enjoy knowing random facts about produce like how we can get Ontario-greenhouse-grown tomatoes from February to December so it's easy to eat local even when it's still snowing outside in April.