These Vegan Strawberry Jam Empire cookies are bright, cheery and perfectly festive for the holiday season.
This recipe is sponsored by California Frozen Strawberries so I can show you how to make these
classic cookies any time of the year!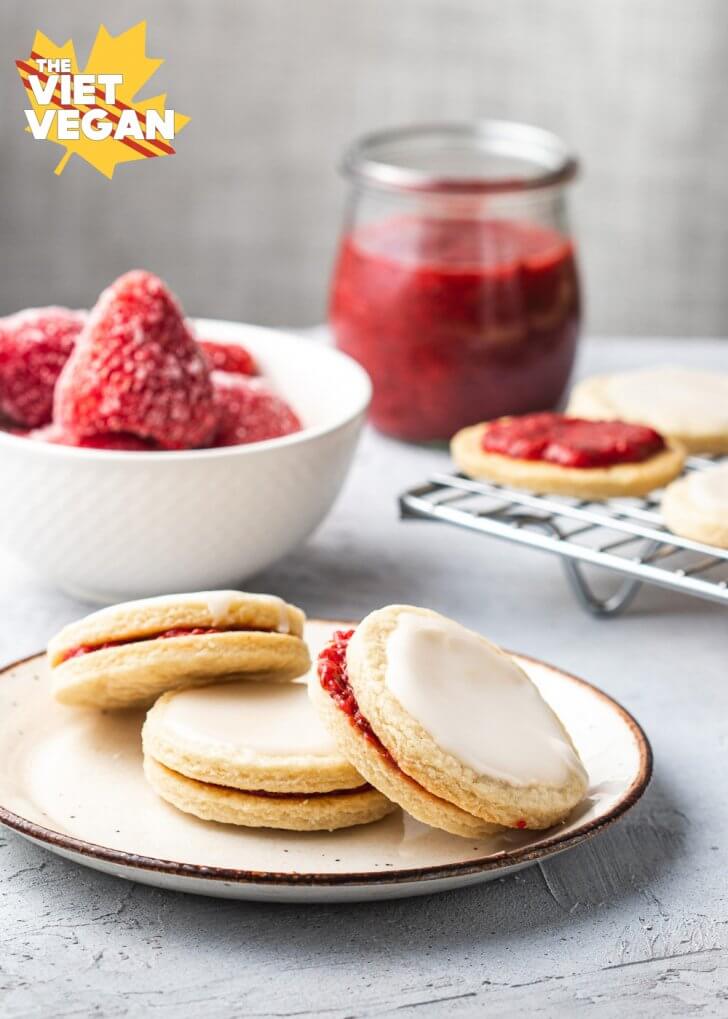 It's that time of year again when people are constantly doing cookie swaps and dessert tables and there is rarely a vegan option in sight that doesn't look like a health cookie covered in a weird chocolately coconut oil topping. I've always been an advocate of eating a cookie whenever you dang well want to, and to eat an actual GOOD cookie. Some of my most popular recipes are my cookie recipes despite me not being much of a sweet tooth anymore, but I'm back in the cookie game with a delightfully dainty vegan strawberry jam empire cookie made with California frozen strawberries!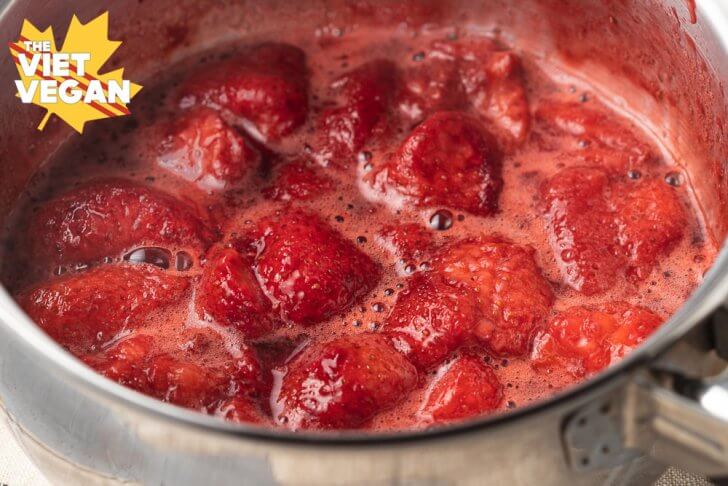 A lot of people would typically opt for buying their own jam for these kinds of cookies, and while that is technically an easier option, I find the majority of jams way too sweet. I prefer the natural sweetness of strawberries enhanced with a touch of lemon juice and sugar if you absolutely need to. Strawberries can vary on sweetness, so adjust to your liking! Typically with frozen strawberries, they're picked at their peak ripeness and immediately frozen to preserve the flavour and nutrition, so you get summery flavour even in the dead of Canadian winter.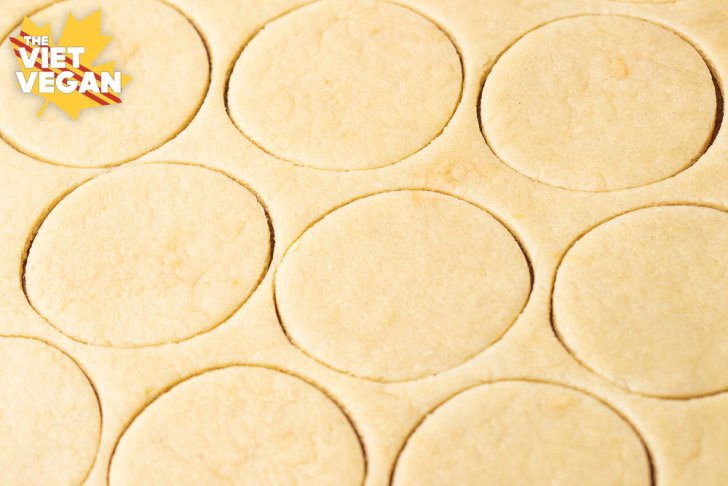 For this recipe, I used a chia jam method to create the filling so I could add a bit of extra fibre and not try to find where I put the pectin I bought for an abandoned summer canning project (we all have those, don't we?). I see a lot of people using 1 tbsp of chia seeds per 1 cup of frozen fruit, but I wanted the jam to be a bit thinner so that they would soften the cookies really well!
These cookies are made with a very simple dough, with no traditional binder (like applesauce or a flax egg) because I wanted to keep the cookies nice and white (also I didn't have any apple sauce). Instead, I used enough soy milk to bind everything together and it worked out wonderfully! I've seen some recipes that use a bit of baking powder to add a bit of lightness to these cookies, but I think the density without the baking powder is sturdier for this cookie as it softens with the jam and the icing.
I had forgotten how much of a pain rolling out cookies and cutting them can be, but to make it easier, roll them between to pieces of parchment paper or the plastic wrap you use to chill the dough. The whole process takes a bit of work, but the end result is that you have gorgeous, perfectly cut cookies!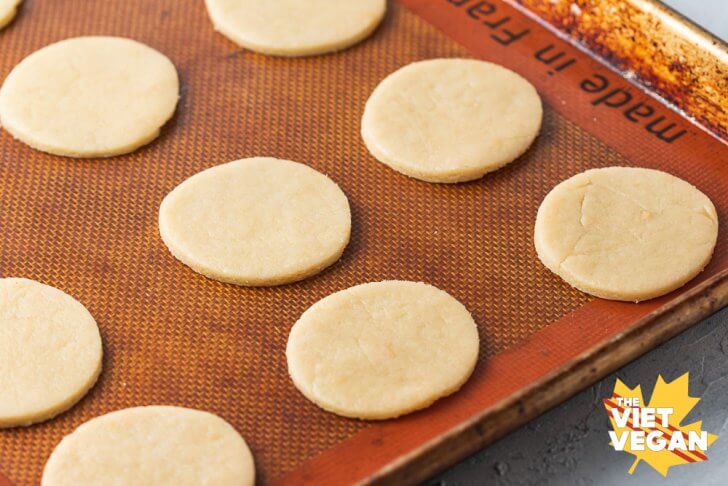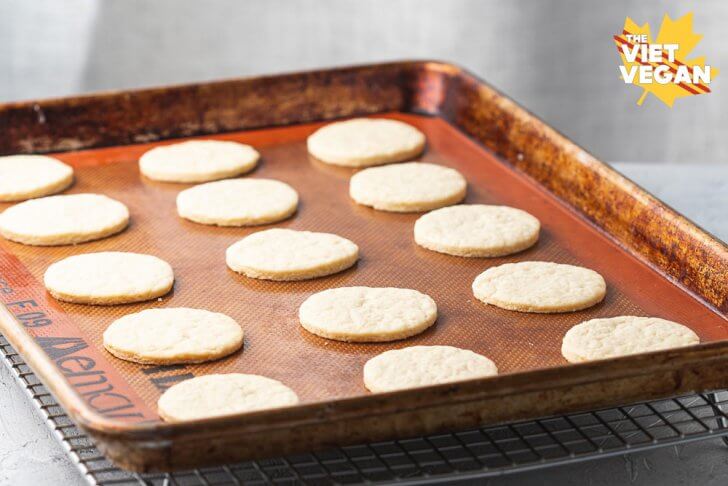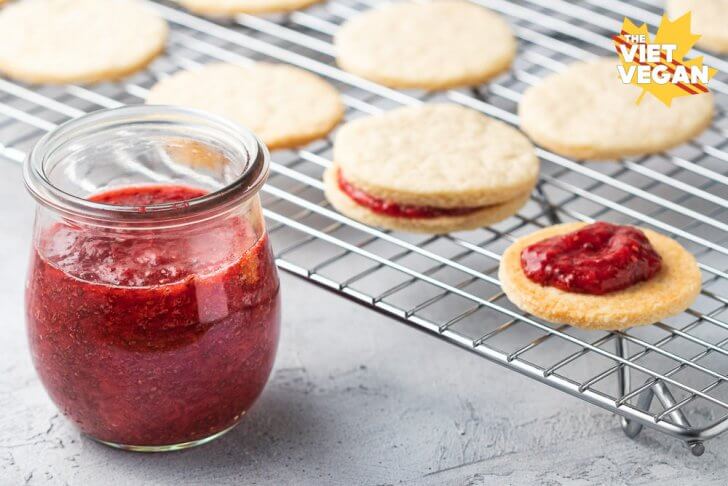 The glaze is a very simple lemony sugar glaze to accentuate the flavour of these California frozen strawberries. It's no big deal if it runs off the edges a little bit! You could make the icing thicker or thinner, depending on how you like it, but too thick and the layer will be too thick (and therefore too sweet!), so I highly recommend using the ratio I have outlined in the recipe.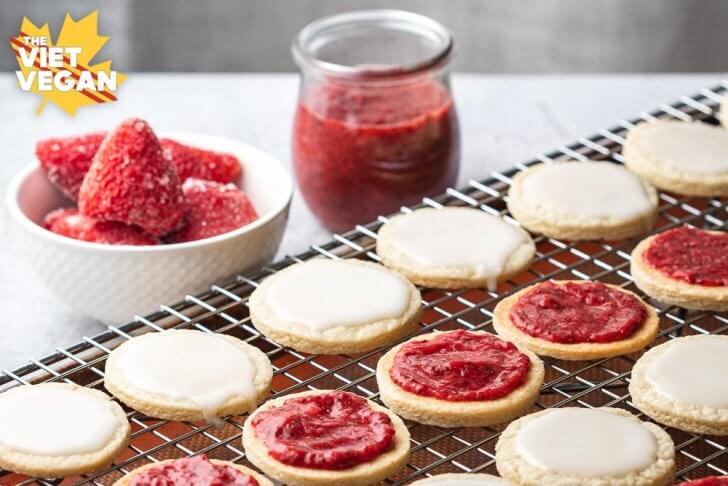 My favourite part of these cookies is matching them to see which one fits the best and then putting them side by side. When you have the top layer iced and the bottom layer jammed, seeing the rows together is so satisfying! And when you finally get to gently squish the two pieces together to create the sandwich, you get these perfect jammy sandwiches that are light and fresh! It's a perfect cookie to have with some tea, especially since the strawberry flavour is so light with lemon!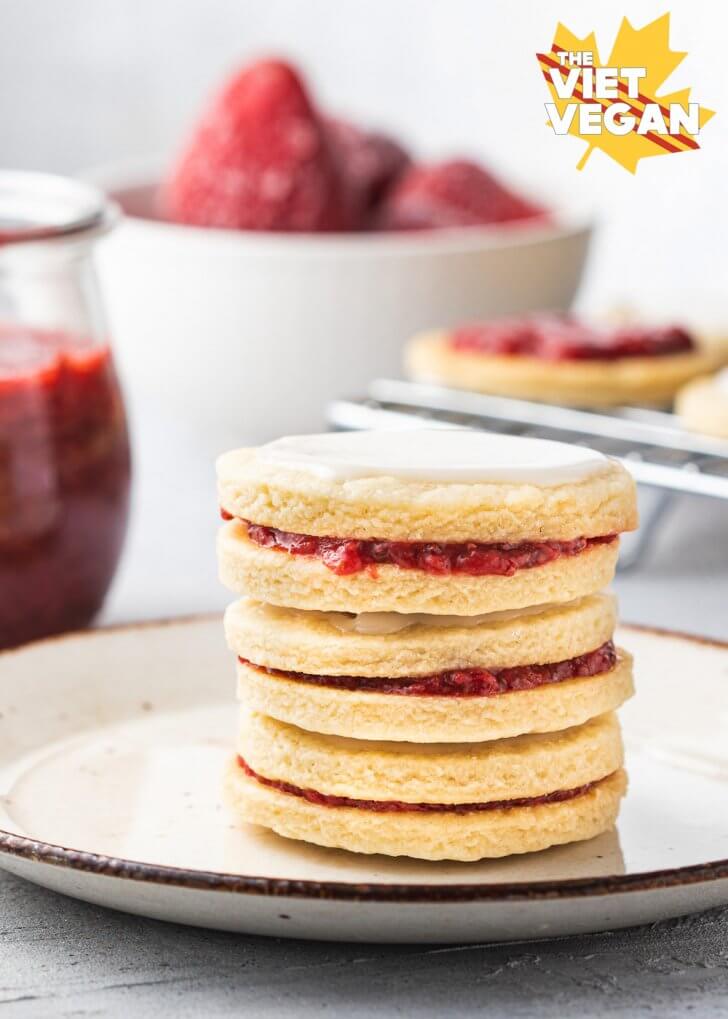 A big thank you to California frozen strawberries for inspiring me to create something for the holidays because this is something I've always wanted to make but wasn't feeling inspired enough to tackle without that extra nudge. The California Strawberry Commission is also hosting a giveaway for ten $100 gift cards if you'd like to enter to win! Contest details here.
Yield: 16-18 assembled cookies + 1/3 cup of extra jam
Vegan Strawberry Jam Empire Cookies
Total Time
1 hour
15 minutes
Ingredients
For the jam:
3 cups (395 g) frozen California strawberries (I used whole strawberries, but sliced work great too)
2 tbsp (30 mL) lemon juice
1-2 tbsp (15-30 mL) white granulated sugar (depending on the sweetness of your strawberries and your preference)
1 tbsp (15 mL) chia seeds
For the cookies:
¾ cup (150 g) white granulated sugar
¾ cup (150 g) vegan margarine (like vegan Becel)
1 pinch kosher salt
1 tsp (5 mL) vanilla extract
3 cups (395 g) all-purpose flour
¼ cup + 2 tbsp (90 mL) unsweetened soy milk
For the glaze:
½ cup (62 g) icing sugar
1 tbsp (15 mL) lemon juice
2 tsp (10 mL) water
Instructions
For the jam:
In a small sauce pot, cook the frozen California strawberries over medium heat until you can mash them either with a fork or a potato masher. Add lemon juice and white sugar and stir until the sugar is melted.
Remove from heat and stir in the chia seeds. Let sit for about 10 minutes for the chia seeds to hydrate. If you want a thicker jam, you can increase to 2 tbsp chia seeds, but I like the jam soaking into the cookies a bit so I kept it at 1 tbsp. Transfer to a jar and let cool.
For the cookies:
Using a mixer, cream the sugar and vegan butter together until light and fluffy. Add the vanilla extract and salt and mix to combine. Add the flour in 3 increments, alternating with the soy milk, mixing between each increment until everything is incorporated. The dough should clump together well when you squeeze it. Shape into two flat discs and cover with cling film or plastic alternative to let relax in the fridge while the oven preheats.
Preheat oven to 350F.
Take one disc of dough out and roll to about ¼ - 1/3 inch thickness. Use a 3 inch round cookie cutter and cut as many out as possible. Place on a lined baking tray with about 1/2 inch of space between the cookies. They shouldn't expand, but the extra space makes it easier to remove the cookies once baked.
Bake for 13-15 minutes until the bottoms are a golden brown (you may see the top edges starting to get lightly golden too). Remove from oven and let set on the tray for a minute or two before transferring the cookies to a cooling rack. Let the cookies cool completely. Repeat with the other disc of dough until all cookies are baked.
For the glaze:
Combine icing sugar, lemon juice and water in a bowl until smooth.
Assembling the cookies:
Start by pairing up the cookies that match each other the best, golden bottoms facing inside. On the tops (strategically the uglier tops), spread about ½ tsp of the glaze. It's okay if it drips off the side a bit, they'll be messy but still delicious! On the bottoms, spoon about 2 tbsp of the chia jam on each cookie. Don't spread all the way to the edge, they'll squish as you sandwich the two pieces together.
Add the tops to the jammy bottoms and let the cookies sit for about 15 minutes before eating! The jam will soften the cookies and make them tender and delicious! Store in an airtight container once the glaze has completely hardened, and eat within a couple days.