Vegan wonton soup is the perfect comfort food to enjoy while you're sick!
This recipe is sponsored by Lightlife :)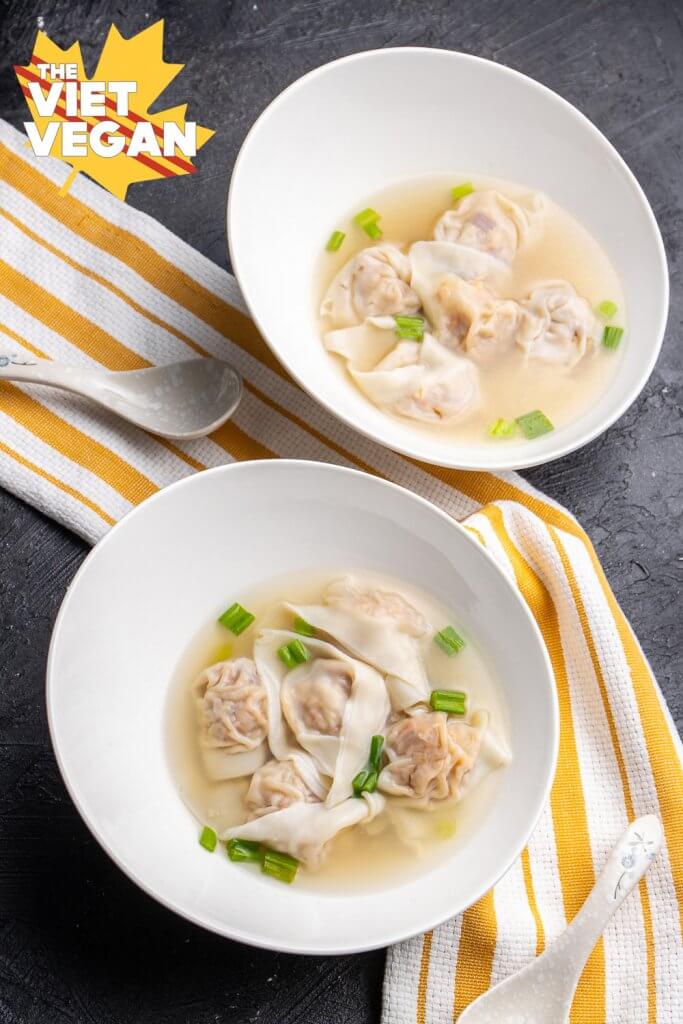 Wonton soup was never something I absolutely LOVED when I was a meat-eater, but anytime I see it at vegetarian Chinese restaurants, I can't help but order it. And every time, I'm disappointed. Either the wontons don't taste quite right, or the broth is just too bland, or something is just off about it. So obviously when I had a craving for it, I knew I had to make it myself, and do it right. I made this the way I remember it tasting when my mom made it, so the filling might be slightly different from traditional Chinese recipes, but it's perfectly nostalgic for me, so I hope you like this version of vegan wonton soup.
There are so many ways to approach the filling, but after experimenting with various plant-based meats and veggie combinations, I found that the Lightlife Plant-Based Ground was the best option. It was the closest thing to a "pork" like flavour that was present but not too strong (none of that "funk" y'know?) and yielded the best texture once cooked through. It had richness, but didn't yield any unnecessary amount of oil, and it bound to the veggies absolutely perfectly. I'm definitely going to be using this in other dumpling recipes because the texture is just so good! I found it at Sobey's in the meat section, so depending on your store, you might find it hanging out in the meat section instead of with other plant-based products. Keep an eye out! They freeze very well and thanks to Lightlife, I now have a stockpile to make ALL THE DUMPLINGS!
As for the veggies, you can play around with the ratios (as well as use vegan shrimp in the mix too), but I found that it's nice to have a lot of veggies in the mix to add extra texture and nice colour. Chopping all the veggies does take a bit of patience, but I promise, it's definitely worth taking the time to really get them as small as possible. Too big, and they'll break up the filling and might cut the dumpling wrappers, too thin and it might make the mixture too watery. I tried throwing everything in a food processor to see how it would work, but the filling was far too soft, it's much better if you just chop by hand (sorry!)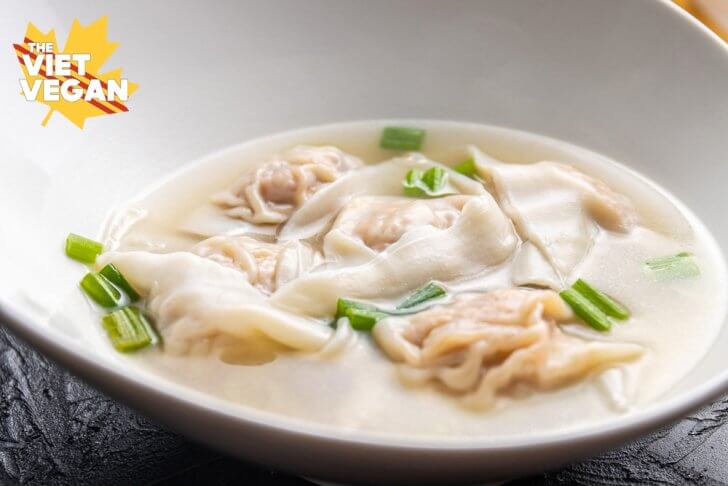 Folding dumplings has become a bit of a passion of mine lately, and the first version of this soup I made, I folded them in a pretty complicated parcel that was really tightly wrapped. It turned out super delicious, but I think one of the great things about wonton soup is how the silky dumpling wrappers float in the soup like giant noodles. So wrapping it in this more "coin" style means that there's more floaty noodle action! It's also very easy and makes for the whole folding process a lot faster compared to the 2 hours I initially spent folding the more complicated way.
I've seen a lot of restaurants do the "purse" style, where you just plonk some in the middle and fold and seal into a haphazard parcel. While that is all fine and good, I find the bunched up middle yields too much dumpling wrapper and it is just an unpleasant mouthful. The traditional gyoza folding style works well too, you won't get the floaty action, but it will be a very beautiful bowl of soup! Here's a quick little video of how I folded them, because while I can try my best at describing the fold in the recipe, sometimes it's just easier to show you.
And lastly, but definitely not to be ignored, is the broth. The broth is traditionally a clear chicken broth that is aromatic but not too overpowering. I used a powder-based mushroom broth instead, because it yielded the perfect amount of clear umami flavour, without overpowering the whole dish. Mushroom broth powder is a very popular granule version of bouillon that is common in Vietnamese cuisine. You can find it in most Asian grocery stores (especially ones with Vietnamese populations). One package should be about $5 and will last you a very long time, and it adds so much great flavour to stir-fries and soups.
Garlic, ginger, and green onion are the key to making this a lightly perfumed broth without any overpowering flavour. Definitely don't skip the ginger! It might be annoying to peel, but it is necessary.
I was so delighted when I finished folding the dumplings because it was the perfect amount of filling to dumpling wrappers! But as I say in the recipe, if you have too much of one or the other, simply cut the wrappers in half and add to the soup like noodles, or roll the filling into balls and drop as a meatball. Delicious either way!
The recipe makes about 55 dumplings, so if you find that's too much, freeze half on a tray, then transfer to an airtight container or bag to freeze for another day. Half the soup recipe (so it's just 2L instead of 4 haha), and enjoy vegan wonton soup another day! It's perfect for chilly winter days or for when you're feeling under the weather (both of which are relevant to me now). Happy folding, and I hope this vegan wonton soup fills your bellies with warmth and nostalgia like it did for me.
Disclaimer: This recipe is sponsored by Lightlife, but all opinions are truly my own and I always work with brands and products I totally believe in! Thanks for reading and supporting my blog.
Yield: 3-4 servings
Vegan Wonton Soup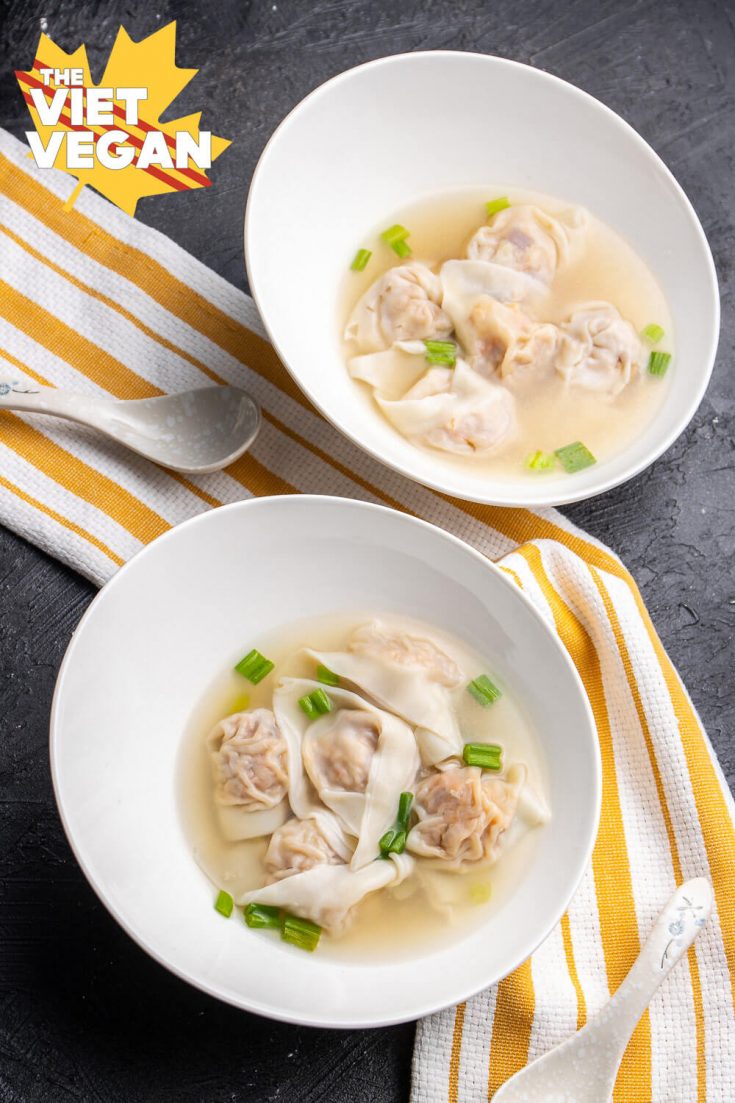 Total Time
1 hour
45 minutes
Ingredients
For the dumplings:
1 package Lightlife Plant-Based Ground (340 g)
3/4 cup (160 g) onion (medium onion, red or yellow) finely diced
4 cloves (12 g) garlic, finely minced
1/4 cup (37 g) water chestnut, finely minced
1/2 cup (88 g) 1 medium carrot, finely minced
3/4 cup (139) cabbage, finely minced
1/4 tsp (1 mL) ground black pepper
1 tbsp (15 mL) vegan fish sauce (or just use soy sauce)
1 tbsp (15 mL) soy sauce
1 package of square dumpling wrappers (~55 wrappers in one pack, egg free, I used Shanghai dumpling wrappers since traditional wonton wrappers at my store weren't vegan)
1 cup water (for sealing dumplings)
For the broth***
4 L (4 quarts) vegetable broth (I used water + 4 tbsp mushroom broth powder)
5-6 sprigs green onion, whites sliced on a diagonal, greens finely diced, keep these separate
4 inches ginger, peeled and sliced
6 cloves garlic (9 g) finely minced
Instructions
In a large mixing bowl, combine the Lightlife Plant-Based Ground, minced onion, garlic, water chestnut, carrot, celery and cabbage. Season with black pepper, vegan fish sauce, and soy sauce and mix well. Set aside.
Prepare the broth by combining vegetable broth (or water + mushroom broth powder), whites of the green onion, ginger slices and minced garlic in a pot. See note if 4 L of soup in one batch is too much. Cover and bring to a boil, then lower to a simmer for 30 minutes. Remove the ginger slices and allow to simmer while you fold the dumplings. If your broth isn't well seasoned, add a touch of salt until it tastes good. If you're using mushroom broth powder, 1 Tbsp per 1 L of broth is perfect.
To fold the dumplings in the "coin" shape I showed, hold the dumpling so it's a diamond shape (point facing you). Dip your finger in water and lightly wet the bottom two edges with water. Add about 1-1.5 tsp of dumpling filling to the middle, then seal the top and bottom edges together, trying to push out any air. If you leave air inside, it'll bubble up when cooking and the dumpling will burst.
Once both edges are sealed together, wet one of the bottom corners of the triangle, and pull the other corner to meet with it and seal. Pinch to seal the edges. Repeat until all the filling is used up or you've run out of dumpling wrappers. If you've run out of wrappers, you can roll the filling into balls and drop into the soup to cook. If you've run out of filling, cut the wrappers in half and drop into the soup to cook anyway, they'll cook up like noodles!
To cook the dumplings, bring the broth back to a steady boil, and gently add the dumplings, one at a time. Cook for about 15 minutes, or until the filling no longer looks pink through the dumpling wrappers. In the last 2 minutes of cooking, add the diced green of the green onion, and serve!
Notes
***This makes a pretty big batch of soup, if you don't want this much soup, half the broth recipe and freeze half the batch of wontons (flash freeze, then transfer to an airtight container) to cook up later. Don't thaw before cooking, simply drop into the boiling broth.