This watermelon chilli salt amuse bouche
is a spin on my childhood ways of enjoying fruit
Make it for a party, make it at home, whatever you do,
JUST EAT IT.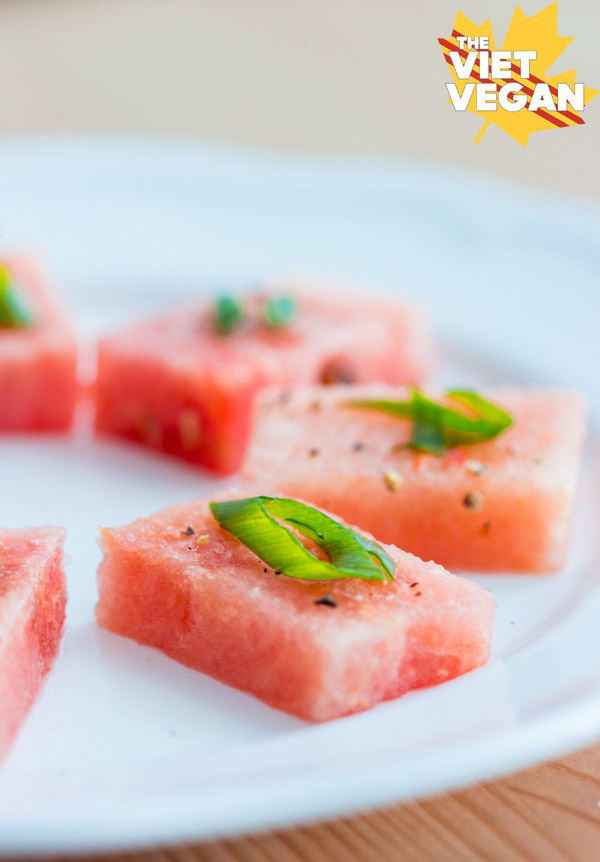 When I was a kid, we rarely had dessert. Well, we did have dessert, but we never called it dessert, and it was never anything like cake or pie, it was almost always fruit. On the rare occasion we had ice cream and after our grocery runs in Toronto, we'd have different Vietanamese desserts like che ba mau or che bap. But usually, we had fruit. Pomelo, green mango, watermelon, pineapple, or green guava all served with chilli salt!
I forgot how much I missed eating fruit this way until I went through a watermelon phase in the summer (basically I would eat an entire watermelon in a week for a few weeks). Watermelon is so hydrating and full of great nutrients and it almost begs for a little dab of chilli salt.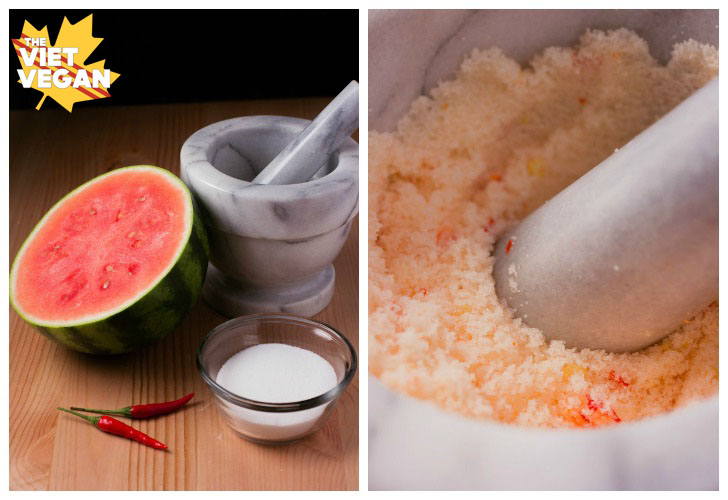 I gave Burrito Boy a couple pieces with just the chilli salt on it and he once again was exposed to a world of flavours he wasn't used to. Like a total weirdo, I watched him chew and experience the flavours.
He swallowed and made that "not bad" face. Y'know, the one where your mouth frowns, but it's paired with raised eyebrows and sometimes a shrug. A very common face that BB tends to make when I introduce him to new things like kale and tahini. He likes watermelon, he likes salt, and he loves spicy food, so I thought he'd like this.
"What'd you think?"
"…Interesting combination. But not bad."
I should have guessed. "Would you eat it again?" That's my new question to see if he actually likes something, but then again, he's not really much of a picky eater so he'd eat anything as long as it wasn't overly offensive to his tastebuds.
"Mm…yeah probably," he shrugs, again with the "not bad" face.
I'll take what I can get.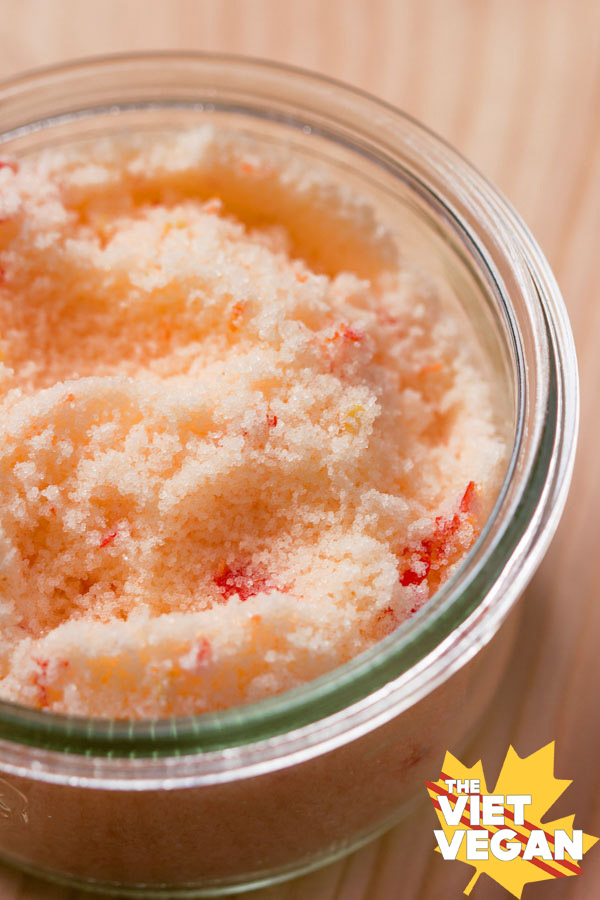 Ultimately, this is how I eat my watermelon at home. It's strangely addictive, and the juicy, crisp flavour of the watermelon helps soothe the spicy kick of the salt. Dab just a little bit of the salt onto the watermelon, barely a pinch per bite. One, because your body doesn't really need that much sodium, and two, because it's actually pretty spicy. If you can't handle spice well, maybe knock it down to 1 chilli pepper for 5 or 6 tablespoons of salt.
However, if you are hosting a party or going to a potluck at all, make this watermelon chilli salt amuse bouche for your guests or fellow attendees. The smokiness of the black pepper, a twang of flavour from the scallion, and that gentle hit of the spicy salt makes these mouthwateringly delicious. It's great before a meal, or in between courses as a bit of a palate cleanser.
You can also serve this chilli salt with any of your favourite fruits! It goes especially well with Asian or tropical fruits: pineapple, green mango (especially when its a little unripe and sour), green guava, pomelo—but I've had it with tomatoes fresh from the garden, watermelon, even apples and it's fantastic. My mouth is watering now just thinking of it.

Yield: 24
Watermelon Chilli Salt Amuse Bouche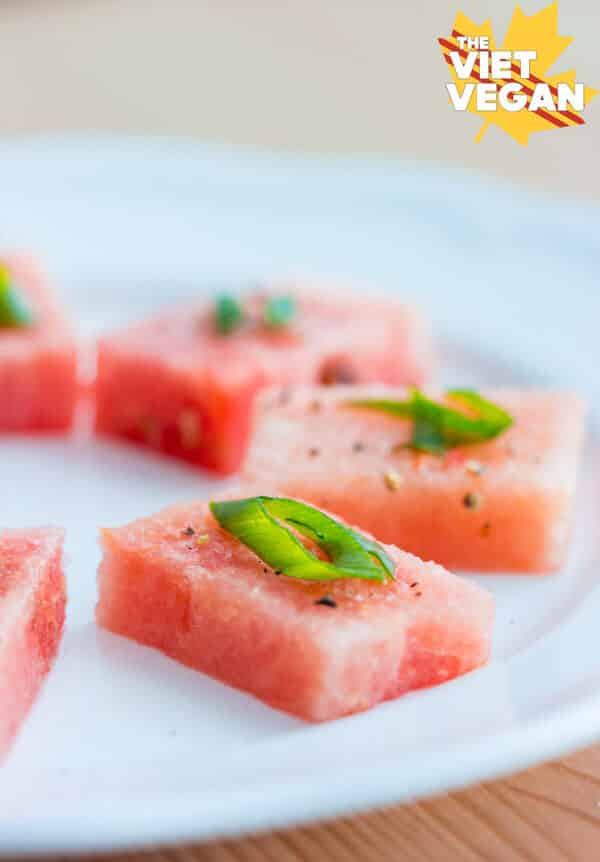 Ingredients
For the chilli salt
6 tbsp table salt
2 red thai chilli peppers
For the amuse bouche
1 mini watermelon, cut into 1x2 1/2 inch thick slabs
Chilli Salt
Black pepper
1 sprig of scallion, chopped diagonally
Instructions
Using a mortar and pestle, grind the chillies into the salt until the salt is slightly pink and there are no longer any large chunks of the chilli peppers.
If you don't have a mortar and pestle, use a heavy-duty freezer bag instead. Put the salt and chilli in the bag and use a rolling pin to crush the chilli in the salt until its evenly distributed. You could also use the rolling pin directly on the salt and chillies on a hard surface like a cutting board, but then your rolling pin would have chilli oil on it and that might result in some spicy pie crust later on.
Store chilli salt in an airtight container.
To assemble the amuse bouche:
Cut watermelon into 1x2 inch slabs, about 1/2 inch thick. Sprinkle with a pinch of chilli salt, black pepper, and a couple pieces of chopped scallion.
Serve immediately as a fun little appetizer and palate cleanser!
Disclaimer:
This recipe is sponsored by the National Watermelon Promotion Board. All opinions are my own. I only choose to work with brands and companies I believe in, I will never write about a company I don't love. Thank you for supporting my blog by reading my sponsored posts! It's awesome to be paid for recipes I already love to make.