White wine sangria, because that's how you turn less than perfect wine into deliciousness.
So funny story: I initially made this the day before my birthday and I was super jazzed about working all day, celebrating that night with a couple glasses with a ton of boozy fruit (my favourite), and then going to camp the next day bright and early in the morning.
I was so excited all week, so when Friday came along, I finally made the sangria and finished taking the photos. And then as I was putting it away in the fridge to chill and set, I dropped the entire jug all over the floor.
…
*insert loud miserable moaning here*
A more detailed recant of this is available >here<

Birthdays have never really been a big thing for me. Even as an only child, I don't particularly remember anything superbly special on my birthday other than Vietnamese cake that tastes weird and has an odd texture that's nothing like North American-style cakes. I remember some family BBQs, not too many, but some. I mostly remember just hanging out with my mom, maybe watching a movie, blueberry picking, or just staying home and eating my favourite Vietnamese dish.
This year I was so lucky to have spent my birthday with so many people. I celebrated my birthday the weekend before my actual birthday because I wanted to celebrate with my family before I left for camp. I was surrounded by 30-40 people, none that I'm particularly close to, but it was humbling to have so many people gather and tell me to have a happy birthday.
Then I got to spend my birthday at a place that I hold so closely to my heart. National Music Camp (yes, band camp) is where I grew up surrounded by band geeks, board game geeks, and just all-around geeks in general. These people GET me. They understand my energy, my quirks, my loves, and it's the only place where I am perfectly happy to give hugs all day and every day.
I'm not a cuddly person.
But I had 72 people sing me happy birthday beautifully in tune and harmonized, as musicians are wont to do, not once, not twice, but three times. I was superbly awkward each time, but it didn't matter. I LOVE THESE PEOPLE. I love this place. This place is full of skipping and dancing before dinner, music floating over the lake, yoga on the docks, and people that are all uniquely awesome.
Yield: 8-10 servings
White Wine Sangria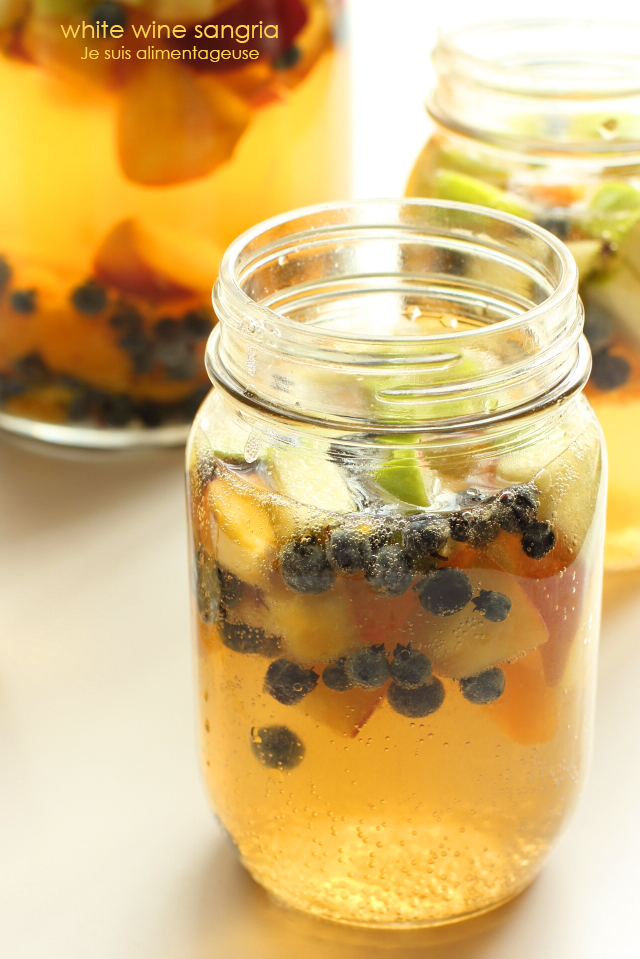 Prep Time
8 hours
10 minutes
Ingredients
1 bottle of white wine (750mL) - I picked a Riesling that had citrus notes in it
500 mL apple juice (no added sugar)
2 peaches, diced
1 green apple, diced
1 small can of mandarin orange segments (312 mL)
1 bottle gingerale (571 mL)
Instructions
Combine wine, apple juice, and fruit in a large jug. Let sit in the fridge for at least 2 hours to chill, but overnight is better for the fruit to absorb all the alcohol.
To serve, pour 3 parts fruit and wine, 1 part gingerale over ice.