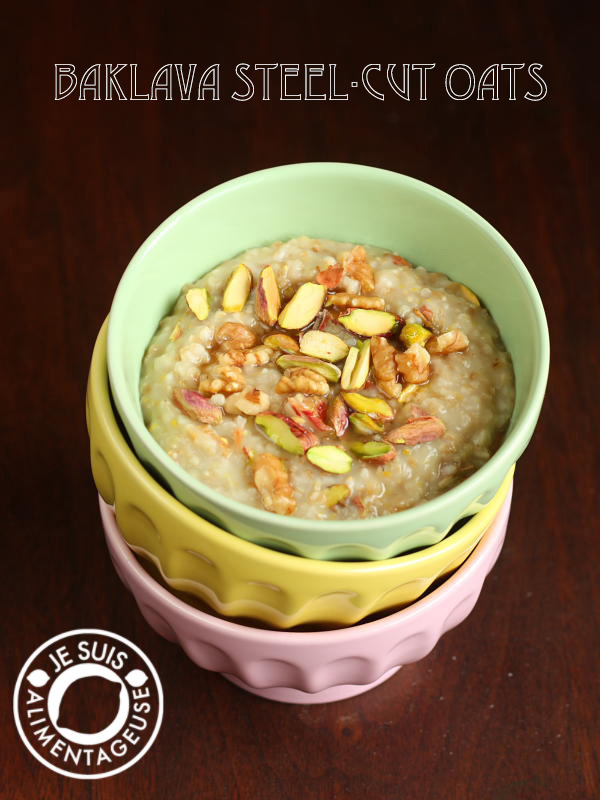 I know, I know, I just posted an oatmeal recipe last week even when I said I don't really like oatmeal. Well, jokes on me, because I like this oatmeal. This oatmeal is special. It's baklava-inspired overnight steel-cut oats. So it's got a little extra chew than your typical oatmeal, which I like because it's less mush and more substance, then it's pumped up with some delicious mediterranean flavours: honey, walnuts, and pistachios… with a hint of orange zest. Ermagerd. It's good.
I tried making steel-cut oats sometime last September. I cooked it like regular oatmeal (about 20 minutes on the stovetop) with some water and some added flavours. Unfortunately they were ridiculously chewy and I just was not into it. It had kind of the texture of cooked but still uncooked/chewy rice, and I didn't enjoy it. I recently saw some posts with overnight steel cut oats, and they mentioned that letting them sit overnight made them softer, but still chewy, and perfect and quick for a hearty breakfast in the morning. A small bowl will keep you full for a long time because oatmeal is one of those awesome super foods that's heart healthy, low in glycemic index, and great for curbing hunger and weight loss.
FYI, the only difference between steel-cut oats and rolled oats are that the former are just cut into three pieces, while the latter are simply flattened (hence -rolled- oats). Nutritionally, they're the same. The only difference is that texture-wise, the steel-cut oats will be a little chewier to give your breakfast a bit more texture than your typical oatmeal mush.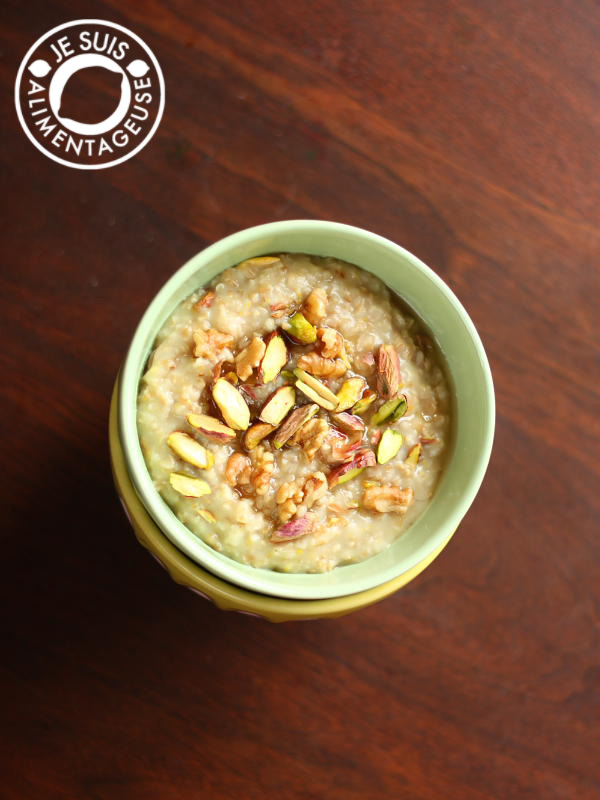 The best thing about this is that it takes hardly any effort to make this. Simply bring the oats and water to a boil, remove from heat, cover and let sit overnight. The next morning, you heat it up, stir in your fixings, and shove it in your pie hole, because you just made a deliciously nutritious breakfast.
Yield: 4 servings
Baklava-Inspired Overnight Steel-Cut Oats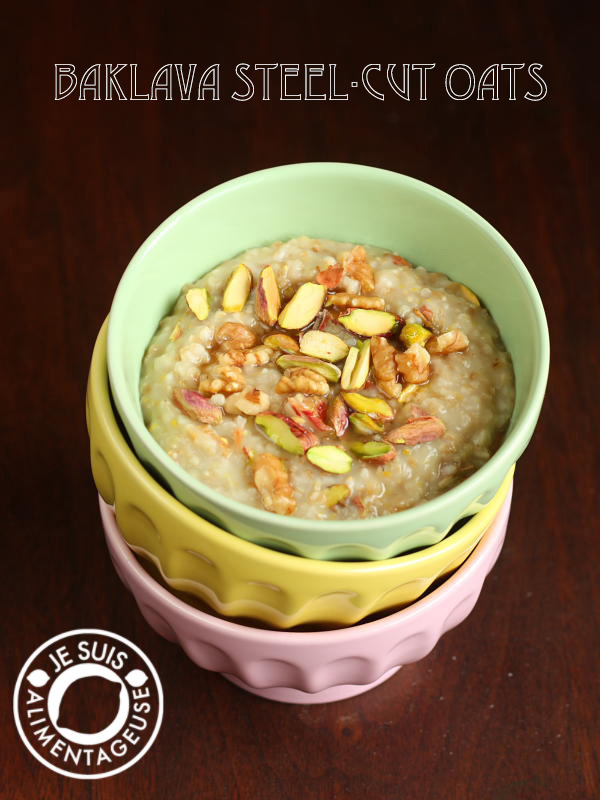 Ingredients
- 2 tbsp coconut oil
- 1 cup steel-cut oatmeal
- 3 cups water
- 1/4 cup almond milk (or other milk)
- 1/3 cup pistachios, peeled and sliced
- 1/3 cup chopped walnuts
- zest from 1 orange
- zest from 1 lemon
- 2 tbsp raw honey (use agave or maple syrup to keep vegan)
Instructions
In a large pot, bring the coconut oil, steel-cut oatmeal, and water to a boil.
Stir, cover and remove from heat. Let sit on the counter overnight.
In the morning, reheat the oatmeal and add the almond milk, orange and lemon zests, and honey.
Divide into servings and garnish with pistachios and walnuts.
Add a drizzle of honey if you've got a sweet tooth like me ;)