My favourite smoothie bowl for breakfast: blueberry mango smoothie bowl =)
Et….bon. C'est fini.
Two years of readings, papers, seminars, and research (not necessarily in that order) and I get my super expensive piece of paper that gives me the authority to say I'M A MASTER (of arts…). I did two years of interdisciplinary theoretical study: dabbling in translation pedagogy, advertising translation, feminism in translation, and translation in social media. You may be wondering what the heck I'm going to do with that, and suffice it to say, I'm not going to do much with it. But that doesn't mean it was pointless.
I learned a lot about myself: my strengths, my weaknesses, and most importantly, what I really wanted to do.
It's not translation, but it's connecting and communicating with people about food, through a copy, through a photo, through a recipe. But I apply what I've learned from my MA (being open-minded, being critical of all the facts, etc.) to my blog. And I have this awesome lady to thank for it:
Thanks Mom for teaching me strength, resilience, determination, self-esteem, and self-respect.
Thus marks the end of a chapter: grad school is over and now I know who I want to be.
I'll get into that more when I can adequately collect my thoughts, but in the meantime, here's my favourite smoothie bowl. I find I'm always pulling the same ingredients when making my smoothies, so I thought I should share. Blueberries and mangoes aren't your typical fruity pair, but they're delicious together. Subtly sweet blueberries with the silky texture of mango and it's distinctive juicy sweet flavour. Top with some protein via seeds and nuts, and maybe a handful or two of greens for extra nutrition.
Whip it up, grab a spoon, and enjoy.
Blueberry Mango Smoothie Bowl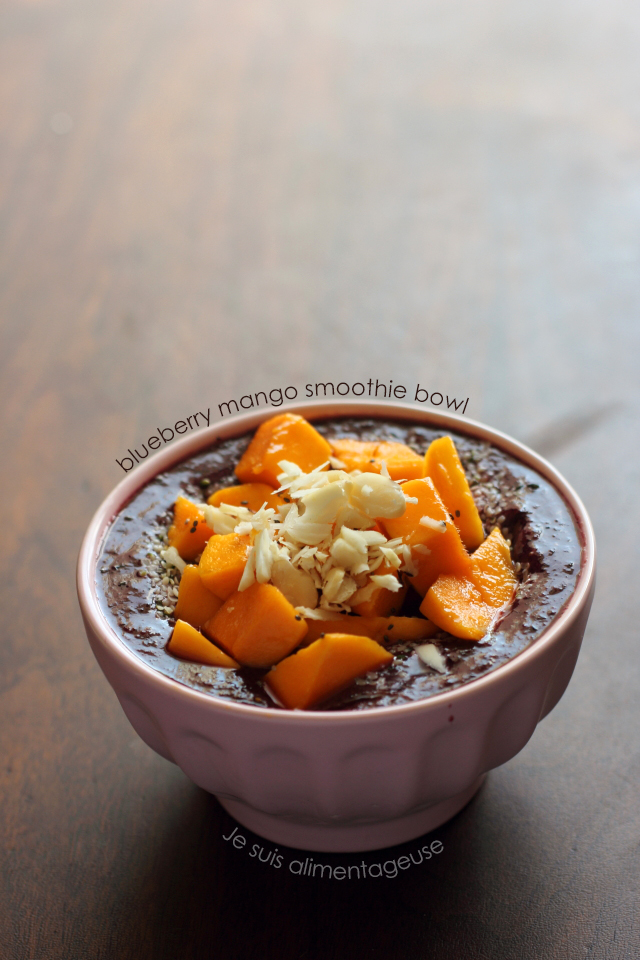 Ingredients
For the smoothie:
3/4 cup frozen wild blueberries
1/2 cup frozen mango chunks
1 handful kale leaves (frozen or raw, doesn't matter)
1/2 cup coconut water (not from concentrate because that stuff is naaaasty)
1/2 cup açai berry juice
To garnish:
1 fresh mango, diced
1 tsp chia seeds
2 tsp hemp seeds
2 pará nuts (Brazil nuts) roughly chopped
Instructions
Blend frozen blueberries, frozen mango chunks, kale leaves, coconut water, and açai berry juice until smooth. It should be quite thick.
Transfer to a bowl and top with mango, chia seeds, hemp seeds, and chopped pará nuts.
Enjoy!
Notes
For extra nutrition, you can add a 1/2 tsp of spirulina to the smoothie, but to counter the seaweedy flavour, you may want to add a bit of maple syrup. Add flax meal for extra fibre if you'd like, or even top with coconut butter for extra crunch. You do you.