Chè ba màu, or as directly translated into Vietnamese: three colour bean dessert,
is one of my favourite childhood desserts. There's just something about the combination
of different textures, flavours, and that crunch of ice,
swimming in a little puddle of sweetened coconut cream…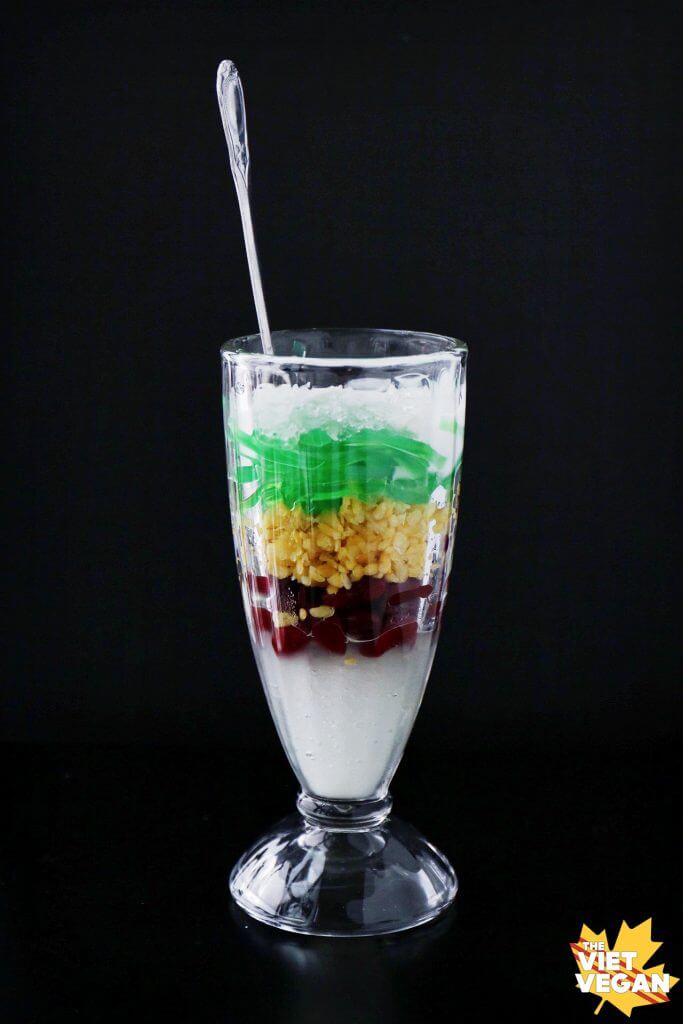 Lunar New Year is always a complicated time for me. It's mostly jubilant—what with red envelopes, an abundance of so many of my favourite foods, and my mom voice ringing through the house she draws out a big belly laugh out of even the most shy of babies. I'm not sure how she finds them, or how they find her, but my mom is a baby magnet that always manages to have someone's baby on her hip or clinging to her leg because they've fallen in love with her charm.
As some of you may know, the Vietnamese calendar is based off of the Lunar New Year—so our new year changes each year. This year its on Jan 29th, and it's the year of the rooster! It's a fresh start, it's a new year for opportunities and hopefully good fortune. I didn't believe in horoscopes for a really long time, I just thought that they were generalizations. They're always so vague so they apply to anyone, but when I turned 24, I started to really doubt that. Apparently, your "year" (for me it's the year of the horse) is the year you need to be the most cautious and careful. It's considered a rather "unlucky" year for people.
Me being me, I just ignored it and didn't think anything of it and just lived my life as usual. That year was a pretty rough year with a lot of ups and downs. I got a new job; my eczema got a lot worse; I fell out of love with academia, then decided to stop pursuing my thesis and just finish my Master's through coursework; and that year was the beginning of the end of my relationship with Chris. Maybe it was just a bad year in general, maybe it's unrelated to the horoscope, but who knows. Maybe there's some truth to the stars.
I made the mistake of reading my 2017 horoscope and now I'm really paranoid about my health. If you haven't been following my Instagram or YouTube channel, you might not know that I've been experimenting with cutting out gluten for the a few months to see if it improves my eczema. My doctor suggested I try this last year but I don't know, I had been hearing of so many doctors just telling everyone to go gluten-free and I didn't take it seriously. I saw that same doctor again last week and I told him I'm giving it a try so who knows. I have a lot of plans for this year for both TVV and my health, so here's hoping for prosperity, good health and good fortune =P
Anyway, I've joined up with a bunch of other amazing bloggers who want to celebrate a yummy and #SweetLunarNewYear! There are so many delicious sweet treats below—not all of them are vegan but they are all vegetarian recipes :)
I'll be trying to record a video version of this chè ba màu recipe for Wednesday, so if you want to see how I make it, just stay tuned for that. I have another video where I had it from a restaurant if you want to see what it looks like and how to eat it. Otherwise, I hope you try this sweet three colour bean dessert out! It's a little different from Western concepts of dessert, but it's really delicious!
Che Ba Mau – Vietnamese Three Colour Bean Dessert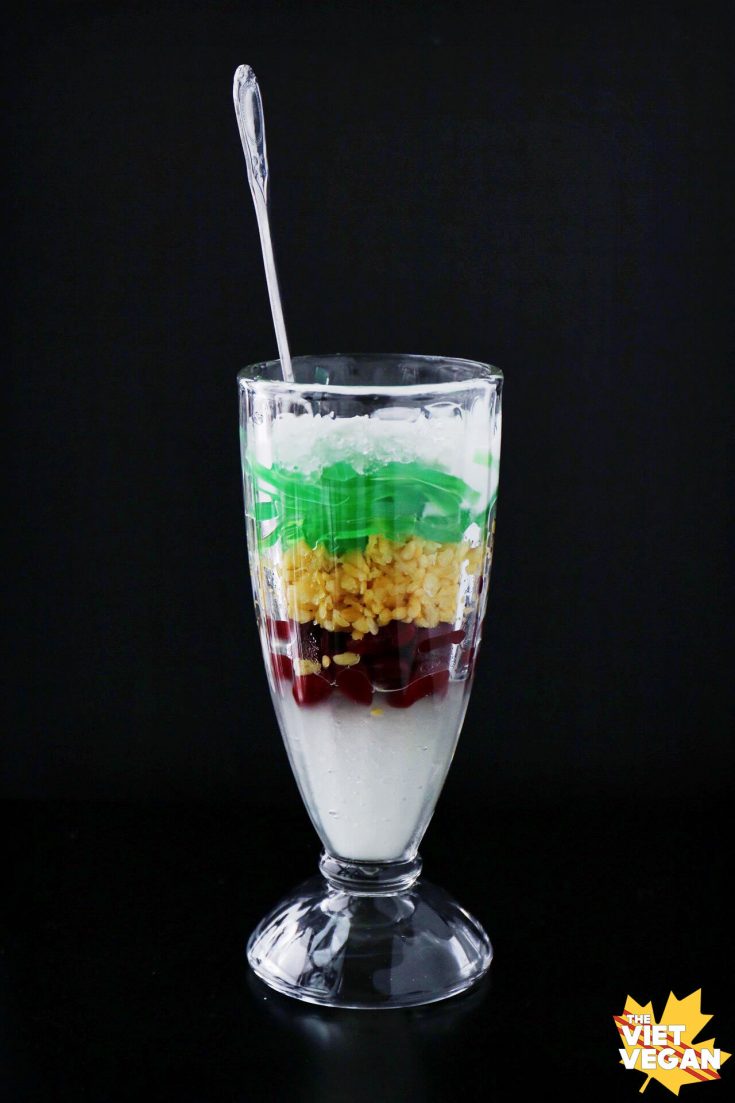 Ingredients
1/2 cup split, hulled mung beans, soaked overnight
Pandan Jelly Layer:
1 tbsp agar agar powder
2 tbsp sugar
2 cups water
3 drops pandan flavouring
Sugar Syrup:
Sweet Coconut Cream:
1 can of coconut cream (alternatively, you can refrigerate a can of full-fat coconut milk, then take the thick cream)
2 tbsp sugar (you can add more if you'd like)
Other layers
1 can red kidney beans, (try to find low sodium), rinsed very well and drained
2 cups shaved ice
Instructions
Soak the split, hulled mung beans (they're yellow) in about 4 cups of water overnight. Alternatively, you can just soak them for about 1 hour in warm water before you start making this dessert, it's better when soaked overnight though. Rinse and drain the next day.
Using a steamer, arrange the mung beans on one of the perforated steam layers and steam over medium heat for about 20 or until they're very soft. If you prefer the soft, mung bean mash type texture, you could cook them in a pot in about 1 1/2 cups water until they're soft. You could then mash with a potato masher or hand blender until you get that really thick texture (adding water as desired).
Pandan Jelly Layer:
In a small pot over medium heat, combine agar agar powder, sugar, water and stir well until the agar has dissolved (the water will look clear). Stir in the pandan flavouring and then pour into a glass container (you can use one of those glass sandwich ones, I ended up using a glass pie pan). Let cool and set completely in the fridge for about 2 hours.
Once those are set, cut into jelly strips (about 1.5 inch long and maybe 1/4 thick). Set aside.
Sugar syrup
In a small pot (or alternatively the microwave), heat sugar and water until sugar is completely dissolved (water will look clear). Set aside to cool.
Sweet coconut cream
Combine the coconut cream and sugar and heat until sugar is dissolved. Set aside.
To assemble:
In a tall glass, add 2-3 tbsp of crushed or shaved ice, 2 heaping tbsp of the kidney beans, another 2 heaping tbsp of the mung beans, a layer of the pandan jelly, more shaved ice, and 3 tbsp each of the sugar syrup and sweetened coconut cream.
Enjoy immediately!