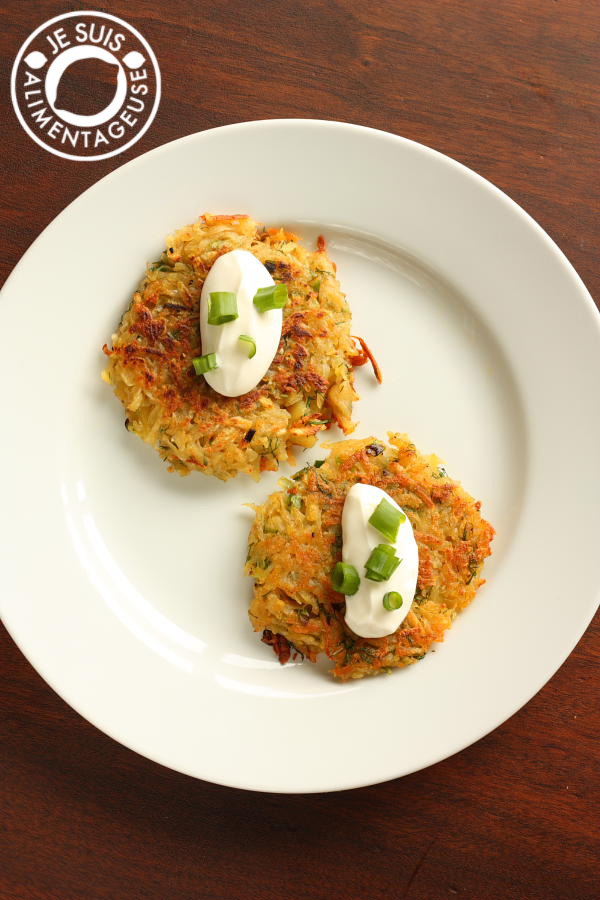 These wonderfully crispy scallion potato pancakes are sure to knock your breakfast out of the park. Some of you may have seen it on my Instragram feed a while back. It'll take your taste buds where no taste bud has gone before. That is, unless you've previously had latkes, which I have not. But these are more than your average potato pancake. They have scallion. They have dill. They're wonderfully crispy, and when served with a dollop of vegan sour cream, it is divine. I could go on about these pancakes, but honestly, you just need to use up some ol' potatoes you've got lying around and make em yourself to really understand what I'm talking about. Now, this post originally started out so differently. I originally had like 1000 words about how Star Trek and other sci-fi franchises are essential for open dialogue and awareness of humanity's morals and values. Then I started ranting about Man of Steel and how I felt about it.
In a nutshell, I've been watching far too much Star Trek: Voyager when I should be working on my thesis. And Man of Steel was nothing to write home about. Go see it for yourself to support the film I guess, because the action scenes in it are pretty epic, but the script. BLAH.
That one deserves a rewrite.
But you know what's been making me curious? The lack of participation from you lovely readers, both on the Facebook page (check the sidebar) as well as on the blog. On occasion, some of you will comment, which is lovely! I love it when you ask questions, or point out typos/inconsistencies. It warms my grammar-fanatical heart. And I ESPECIALLY love it when you give me feedback about how a recipe has turned out.
So now I ask, what makes you comment on a blog? What makes you not want to comment? Same goes for FB. When I ask specific questions, sometimes you answer, sometimes you don't. Tell me why! =P
In the meantime, make these pancakes for a crispy treat for breakfast. They're vegan (if you use vegan sour cream or omit it entirely), and contrary to popular belief, potatoes are pretty healthy for you if you've prepared them correctly (meaning you haven't deep fried the heck out of them). Now this recipe requires a bit of oil, so it's not the healthiest recipe, but heck, it's better than going out for some hash browns that have been deep fried for nearly 3 minutes.
Plus it's way more delicious.
Yield: 5 small potato pancakes
Crispy Scallion Potato Pancakes
Ingredients
4 small/medium sized yellow potatoes, peeled and grated (about 3 1/2 cups grated potato)
2 scallions, chopped
3 sprigs dill weed, chopped (about 1/4 cup)
1/4 cup flour (use other starch like tapioca, corn, or potato to keep GF)
1/2 tsp salt (to taste)
1/4 tsp pepper
1/4 tsp cayenne pepper
1/2 tsp paprika
1/2 tsp garlic powder
oil for frying (approx 1/4 cup in total)
Optional garnish: vegan sour cream, scallions, chives
Instructions
Squeeze the grated potato to strain out the liquid. The drier the potato, the crispier the end result.
Add flour bit by bit, scallions, dill weed, and spices and mix together. The mixture should be able to clump together, if too wet, add more flour, if too dry, don't add the full 1/4 cup.
Preheat a non-stick skillet/pan over medium heat and add the vegetable oil. Arrange clumps of the potato mixture to the pan (be careful of the oil splatter) and cook until the bottom edges brown. I did two mini pancakes at a time. Flip and cook until both sides are brown and crispy.
Remove from the pan and let rest/drain on a paper towel.
Serve with a dollop of vegan sour cream and top with more scallions or chives.