Okay so I finally invested in a spiralizer after years of lusting over the beautifully curled vegetable noodles that were gracing the likes of healthy food bloggers on Tumblr and Instagram. I've tried raw zucchini  noodles all but a handful of times, but raw food restaurants are always crazy expensive. I get it, good quality, organic produce is expensive, but hot damn I just want to eat spaghetti without having a food baby afterwards. I was waaaay too excited once I got the spiralizer and I think I ate zucchini noodles for a week straight because all I wanted to do was spiralize things.
This weekend is Thanksgiving in Canada and instead of prepping a vegan-tastic Thanksgiving dinner and trying my first Tofurky, I'll be heading to my friend's wedding. He's assured me there'll be vegan fare, so I'm feeling optimistic. In other news, since Chris is in the wedding party, the past year or so has been peppered with wedding talk. Not necessarily my friend's wedding either.
Chris and I have grown up together: since meeting in first year of university and spending nearly every day together for the first three years to the drastic change of two years of long distance. After all these years, people have prodded us with the notion of marriage. When are you getting tying the knot, Lisa? When are you settling down, Lisa? When are you having little ones, Lisa?
CALM DOWN PEOPLE.
Despite my biological clock making me want babies any time one is in sight, I'm not ready quite yet. Sure, I'd love a house, DINK status (double income, no kids), dinner dates and spontaneous weekend excursions, but with Chris still finishing school, our suburban ever after is a far ways away.

I'm not in any position to be married or a mother at the moment. The only things I want in the oven are cookies.
Anyway, try out these zucchini noodles, they're pretty fantastic. Be sure to serve them immediately otherwise the zucchini will start to leak. If you're making this ahead for a meal, I suggest to either eat the zucchini noodles raw and separate, or just be prepared for a soupier dish.
Yield: 2 servings
Curried Zucchini Noodles with Sweet Potato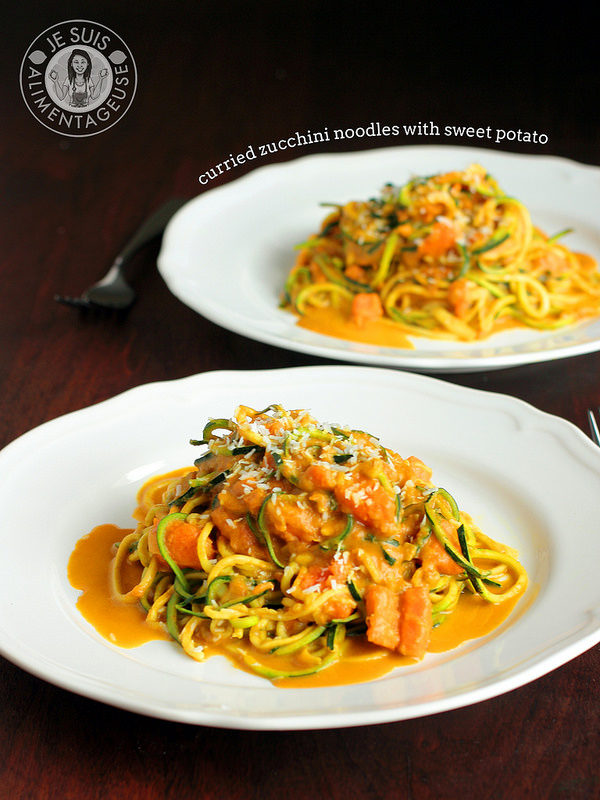 Ingredients
1 tbsp olive oil
1/4 red onion, sliced
1 can (400 mL) coconut milk
3 tbsp yellow curry paste
1 sweet potato, peeled and diced
2 zucchinis, spiralized or sliced into strips as noodles
Sriracha to taste
Dried unsweetened coconut flakes to garnish
Instructions
In a medium sized pot, cook red onion over medium in olive oil until softened, then add coconut milk and curry paste.
Stir until the curry paste has dissolved into the coconut milk. Add sweet potato and lower to a simmer until fork-tender.
Turn off the heat. Add spiralized zucchini and stir into the curry until coated.
Serve immediately!