This DIY vegan pancake mix consistently gives me super delicious and fluffy pancakes! I always have it on hand in my pantry for easy morning pancakes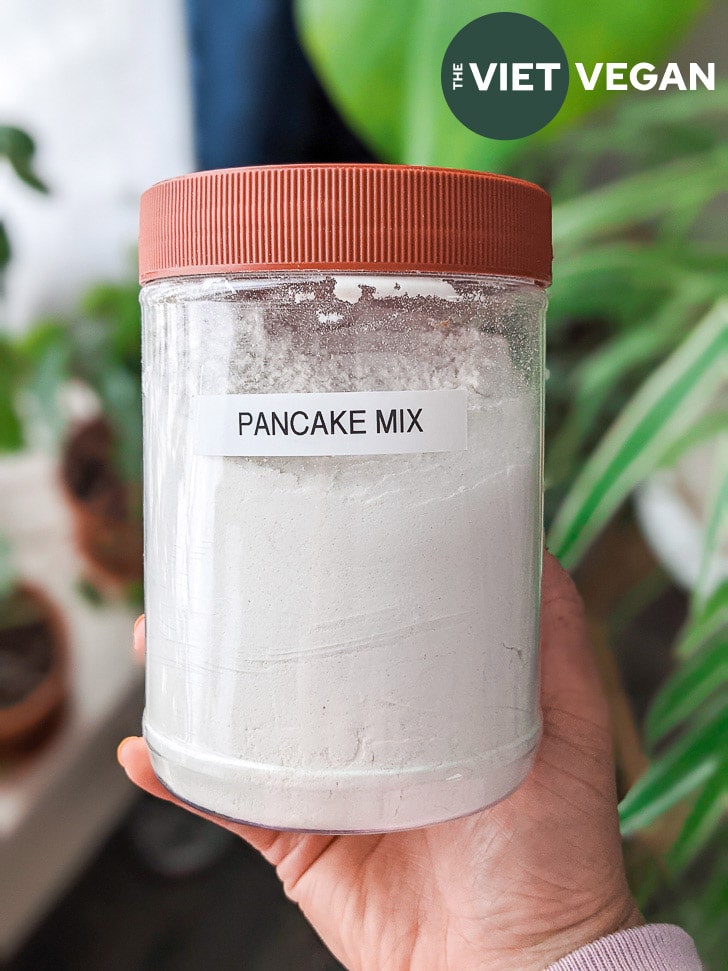 Despite my pursuit of the perfect pancake recipe from a couple years back, Eddie kept on wistfully looking towards boxed pancake mixes. He missed the ease of dumping the mix into a bowl and adding milk for super easy and lazy pancakes.
As a result, I always kept a container of this DIY vegan pancake mix on hand for him to turn into pancakes. Now it's as close to his beloved box mix experience as possible haha.
I realized that a few of you have asked me how I make this mix, and I figured it'd be easier just as one post. Normally, I just double my blueberry pancake recipe and then dump the dry ingredients in a container. This recipe being all in one place with instructions for the wet mix is probably a lot more user-friendly (both for you and Eddie lol).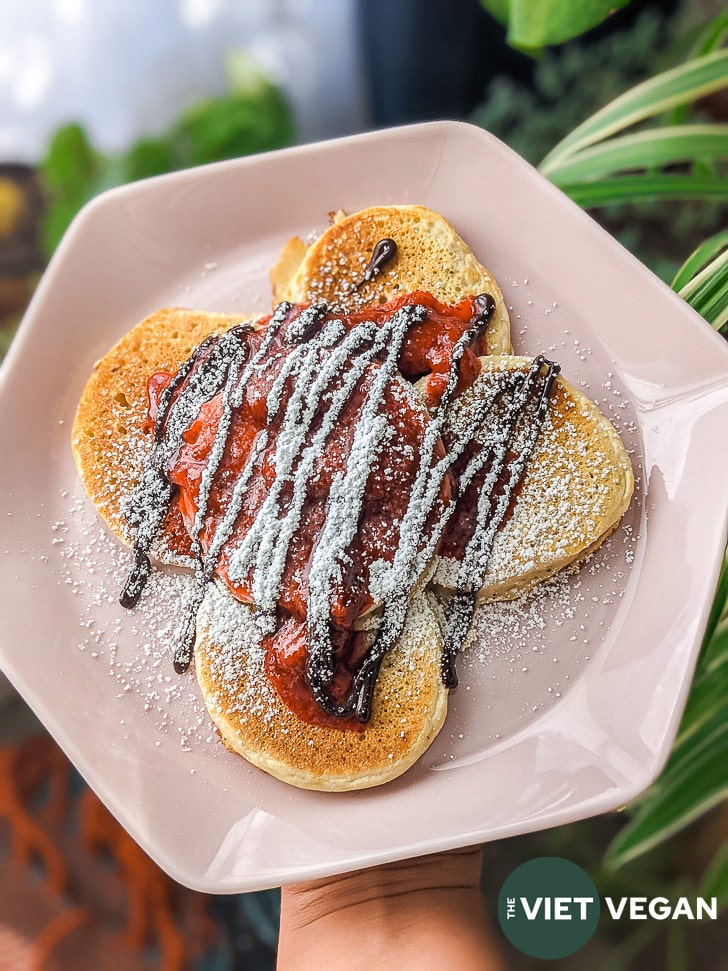 This is about 1/2 of the pancakes from 1 cup of mix, but at this point, Eddie and I don't even really measure. We just sort of throw stuff in a bowl and adjust until we like the batter. The runnier the batter, the thinner the pancakes will be. If you like really ultra thick, fluffy pancakes, start with 1/2 cup of the liquid mix and trickle in until you like the consistency.
I topped with a simple strawberry compote or quick jam (like from these cookies) and a lazy chocolate ganache. I melted chocolate chips with some coffee creamer in a bowl over the bubbling strawberry jam, and kept adding coffee creamer until I liked the consistency.
Topped with a bit of icing sugar, this pancake breakfast is our go to meal for weekends or special breakfasts together. Now it's made much easier with this DIY vegan pancake mix :)
Yield: 4-6 servings
DIY Vegan Pancake Mix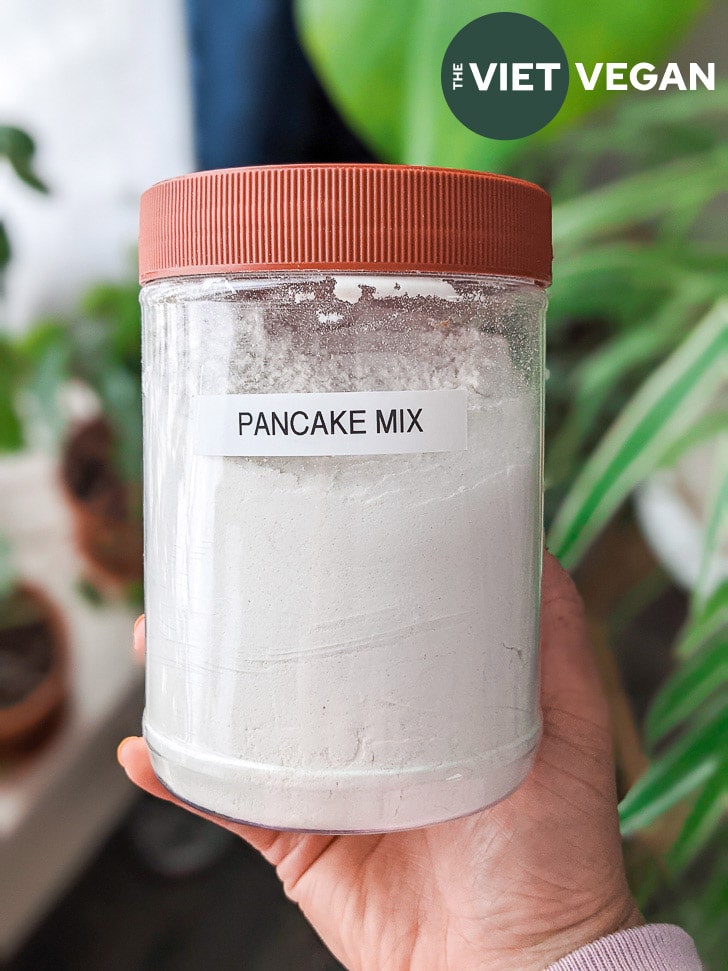 This is based off of my blueberry pancakes recipe and is the dry mix that I always have on hand for easy morning vegan pancakes! Each 1 cup of dry mix with the added listed wet ingredients makes a generous amount of pancakes for two people :)
Ingredients
For the dry mix:
3 cups (420 g) all purpose flour
1/4 cup (50 g) white granulated sugar
2 tsp (10 g) baking powder
2 tsp (12 g) baking soda
1/2 tsp (2 g) fine kosher salt
For every 1 cup of dry mix, I use the following wet ingredients:
1 cup (250 mL) soy milk
1 tsp (5 mL) vanilla extract
1 tsp (apple cider vinegar
1 tbsp vegetable oil
Instructions
To Make the Dry Mix
Sift all the dry ingredients into a large bowl and mix well to combine (nobody wants a clump of baking soda in a pancake), then transfer to an airtight container.
To Make Pancakes with the Mix
To cook the pancakes, combine listed wet ingredients and let sit for about 1 minute (for milk to "curdle/thicken").
Add wet mix to 1 cup of dry and whisk until just combined (overmixing leads to dense pancakes).
On a skillet or griddle over medium heat, butter the pan with a bit of vegan butter (1-2 tsp is fine) then spoon out the batter to your desired pancake size.
Cook for about 1-2 minutes until you start to see bubbles in the centre and the bottoms are browned, then flip.
Cook the other side for about 1-2 minutes until nicely golden, then repeat until the remaining batter is gone :)