Disclaimer: This post is sponsored by SweeTango apples, all opinions are my own.
Thank you for reading and supporting The Viet Vegan =)
It's apple season. Instead of making pie, make apple rings instead!
When I was younger, I used to be allergic to apples. It was awful. All the kids eating candy apples or caramel apples during Halloween, apple slices and caramel dip, basically the luxury of eating an apple off of the core was something I couldn't enjoy. I could eat cooked apples as applesauce or in cake, but let's be real, there's nothing quite like taking a bite of a fresh apple.
Somehow I grew out of the allergy, and I've gotta say, apples are one of my favourite fruits. Living in Ontario, apples seem to be our signature fruit. Around this time of year, all the grocery stores are inundated with huge bushels of apples of every hue, shape, and size. It can be overwhelming to those who aren't strictly loyal to a certain type of apple.
Some prefer more tart apples, some more robust. My favourite apples are always crunchy and crisp with a sweet and yet tart flavour. I know people who love any and all kind of apples, but this year I was introduced to SweeTango apples. They are exactly what I love about apples: crunchy, crisp, sweet, and tart.
They're so pretty too! I love the yellow flecks on them; I've never seen any other apple with the same colouring. SweeTango apples are grown in Nova Scotia and Quebec, as well as in the US. But the catch is that their season is super short: just over a month long.
These apples are fantastic on their own, but after doing some research about what I could do with apples that didn't include turning them into pie or applesauce, I saw apple rings on Fortune Goodies that looks so fantastic, I knew I had to make them. Unfortunately, her recipe isn't vegan, so I had to veganize it and tweak it a little bit. I added a bit more flour, swapped almond milk instead of dairy milk, used applesauce instead of eggs, and used SweeTango apples instead. Deep fried crunch with a cinnamon sugar coating. You need this in your life.
My roommate and I devoured these with the peace of mind that apples are healthy; and we chose to ignore that they were deep fried and covered in sugar. It's okay. I ate zucchini and carrot noodles for dinner anyway, it all adds up right? In any case, I hope you guys enter the contest and try some SweeTango apples. They're available both in Canada and the US so don't worry ye American readers, you'll get your taste of SweeTango too.
Yield: Serves: 4-6 (unless you pig out like me; then it serves about 2 haha)
Fried Apple Rings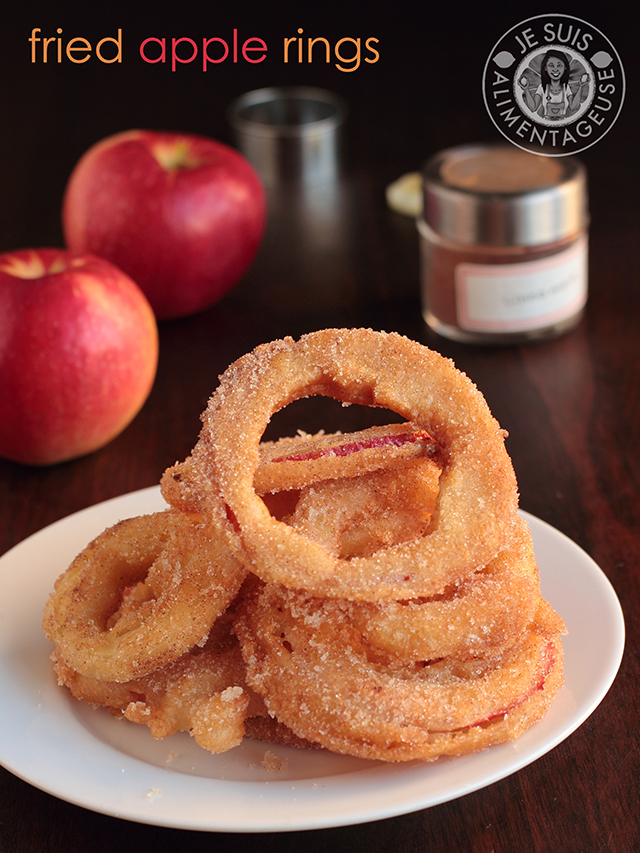 Ingredients
For the batter:
2 tbsp sugar
¼ tsp baking powder
1/8 tsp ground cinnamon
¼ cup applesauce
1 cup almond milk
1 cup + 2 tbsp all-purpose flour
For the cinnamon sugar:
1 cup sugar
½ tsp ground cinnamon
Instructions
Whisk together sugar, baking powder, cinnamon, applesauce, milk, and flour until no lumps remain. You should have a fairly thick batter.
In a shallow bowl, mix together cinnamon and sugar until combined. Set aside.
Preheat ~½ inch of oil in a pan to 350F.
Using a mandolin slicer or a knife, slice apples ~¼ inch thick. Use cookie cutters to cut rings out of the slices. Coat rings with batter and fry until golden on both sides (about 2-3 minutes per side).
Let drain briefly on a plate lined with paper towels.
Dunk fried rings into the cinnamon sugar and set on another paper-towel-lined plate.
Serve immediately!