After seeing so many TikTok ricotta tomato toasts, I decided I needed to try it, but vegan, with this single-serve garlic tomato confit toast!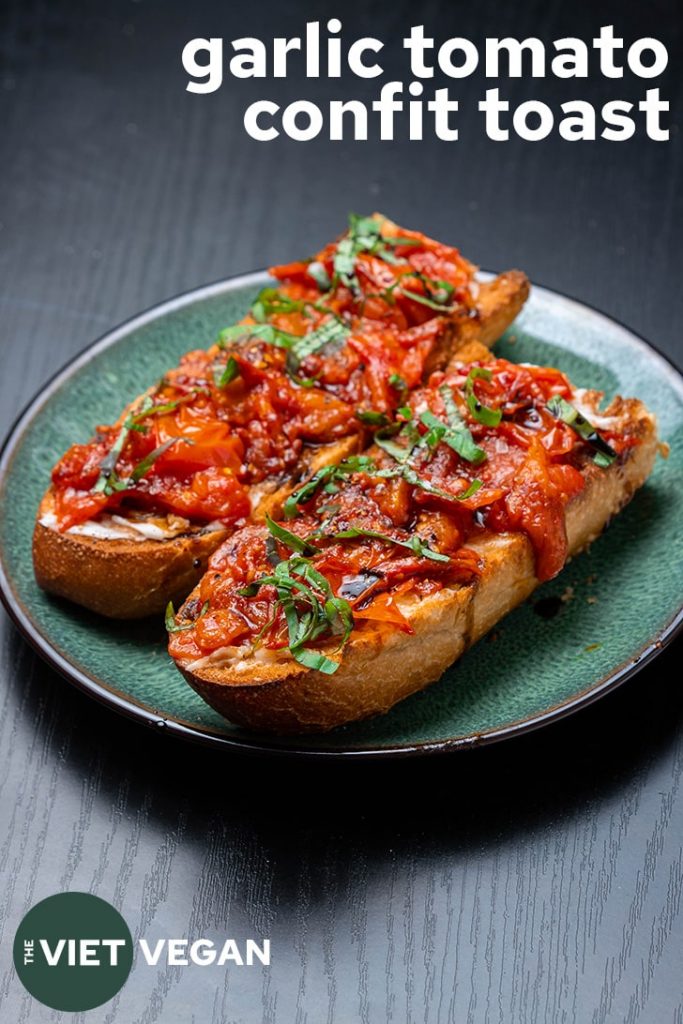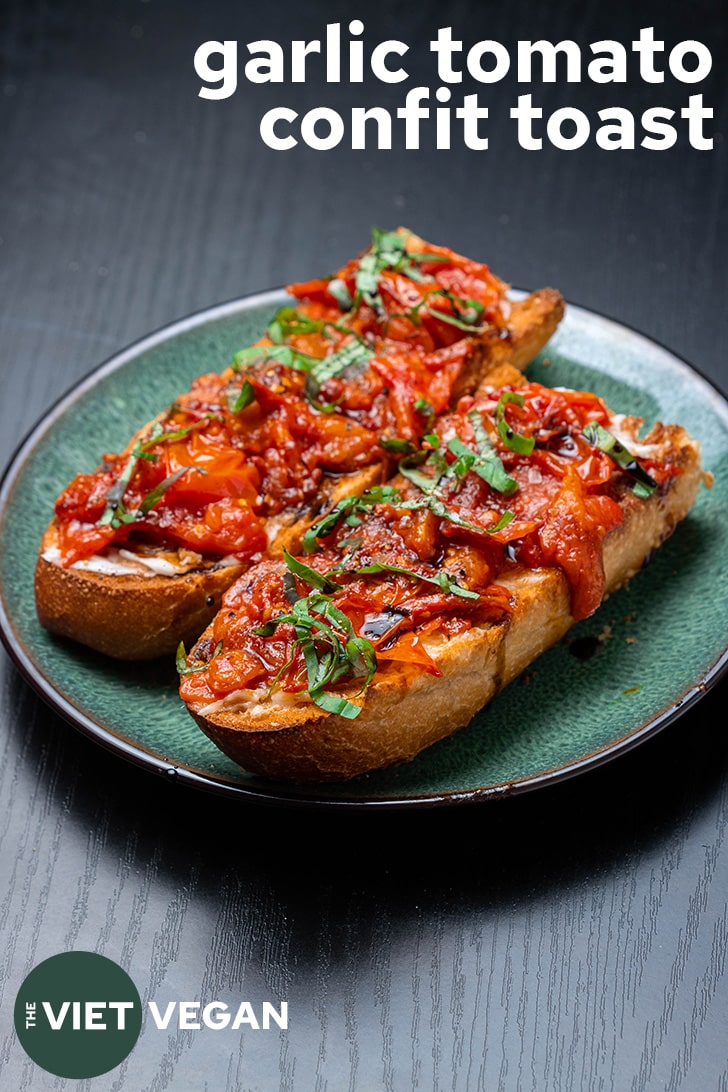 If you've got an abundance of garden tomatoes (especially cherry tomatoes!), making a garlic tomato confit is the perfect way to use them.
Not only does it use up a ridiculous amount of tomatoes for one serving, but it also transform them into this sweet, jammy concoction that is perfect for breakfast, lunch, an appetizer, or a snack.
This recipe is a single serving of toast, but you can easily just fill up a skillet with tomatoes, whole garlic cloves, and a buttload of olive oil to infuse this oil with the tomatoes you grew with all your hard work in the garden.
The sweeter the tomatoes, the more unctuous your final confit.
PLUS, the oil from this confit is like liquid GOLD. Use it on your toast, mop up every last drop, use it on your pasta, add it to some soup, it's just an ultra concentrated amount of flavour and it is DELICIOUS.
The oil is what makes this confit a confit. Its traditional purpose is to preserve tomatoes and garlic in oil. Feel free to add herbs like oregano, basil, or thyme as well, but I knew I'd be adding fresh basil to my toasts so I didn't add any to the pan for this.
If you want more of a protein-packed toast, make vegan tofu ricotta (I'd recommend making a batch from my lasagna recipe) and use that in lieu of vegan cream cheese.
Traditionally you see a lot of folks make confit in the stove, but it's summer and it's too hot to preheat the oven. A skillet and some time is all you need!
Yield: 2 slices of toast
Garlic Tomato Confit Toast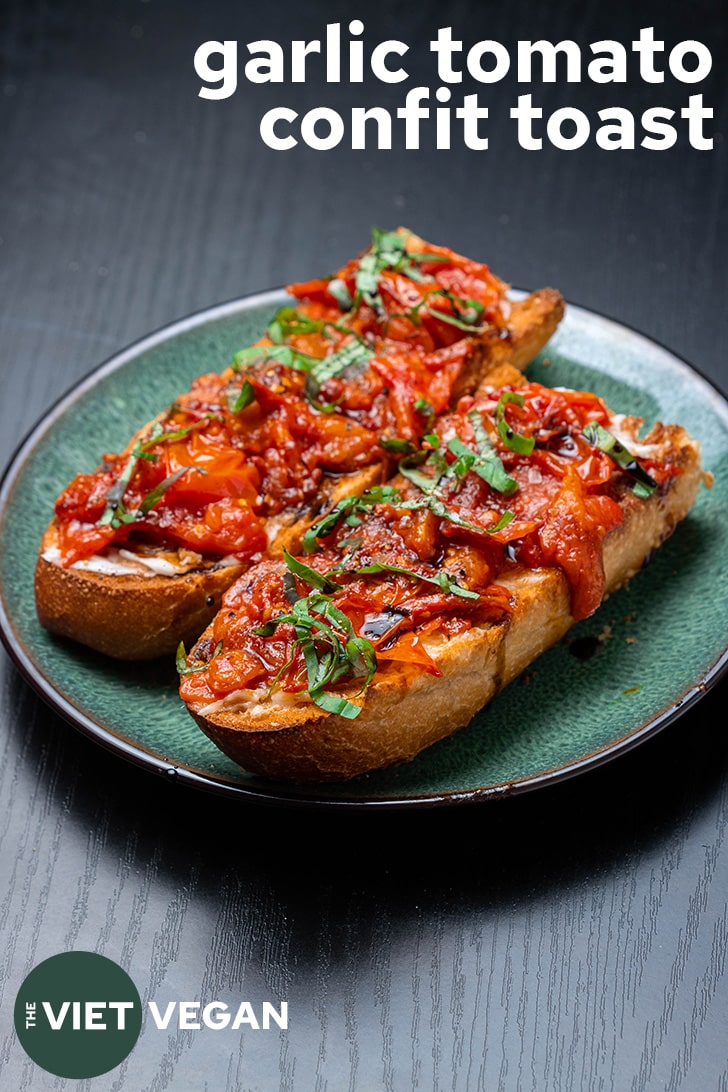 Ingredients
For the garlic tomato confit
2-3 tbsp olive oil
5 small/medium tomatoes (I used Prova tomatoes) quartered, ~2 cups
2 whole cloves, garlic
For the toast
6 inches baguette, halved and toasted
3 tbsp vegan cream cheese (I used Violife here)
4-5 basil leaves, ribboned
1 tsp balsamic glaze
Black pepper to taste
Flaky sea salt to taste
Instructions
In a medium skillet over a medium-low to medium flame, cook down the whole garlic cloves, quartered tomatoes until the tomatoes are sweet, jammy and the garlic clove is soft. This should be about 20-25 min, stirring every 5 min or so until everything is evenly cooked down.
Toast your baguette halves, then spread with vegan cream cheese.
Spread the two garlic cloves on each half, then add the tomato confit (I used the whole batch on my two slices of toast). Don't be afraid to use that delicious tomato-y oil, that's where the flavour is!
Top with balsamic glaze, black pepper, and salt to taste.
Notes
If you want to make a larger batch, just double or triple the batch, and allow to cool fully before storing the fridge. Enjoy within a week!