This vegan lasagna is the real deal—hearty, full of protein and a vegan spinach ricotta.
Absolutely delicious for vegans and omnis alike :)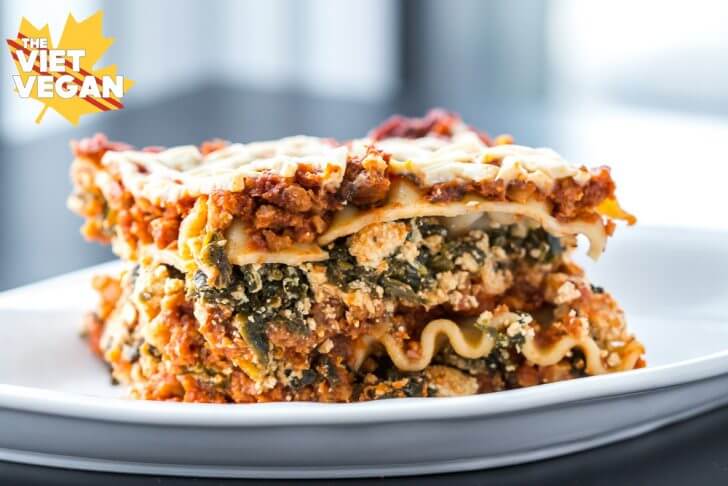 Despite the fact that I call myself "The Viet Vegan", there are many aspects to me that are very Canadian. Having grown up here, I experienced a bit of both worlds—some Canadian and some Vietnamese.
There was a period of time where it was just me and my mom at home. I think I was 13 then. I didn't realize it at the time, but my mom spent a lot of time working trying to support the two of us and I spent a lot of time home by myself reading or writing fan fiction because I was that kind of nerd. I ate a lot of TV dinners and boxed lasagna, which I was 100% okay with at the time, mostly because my mom didn't have the time or resources to go to Toronto to get Vietnamese groceries.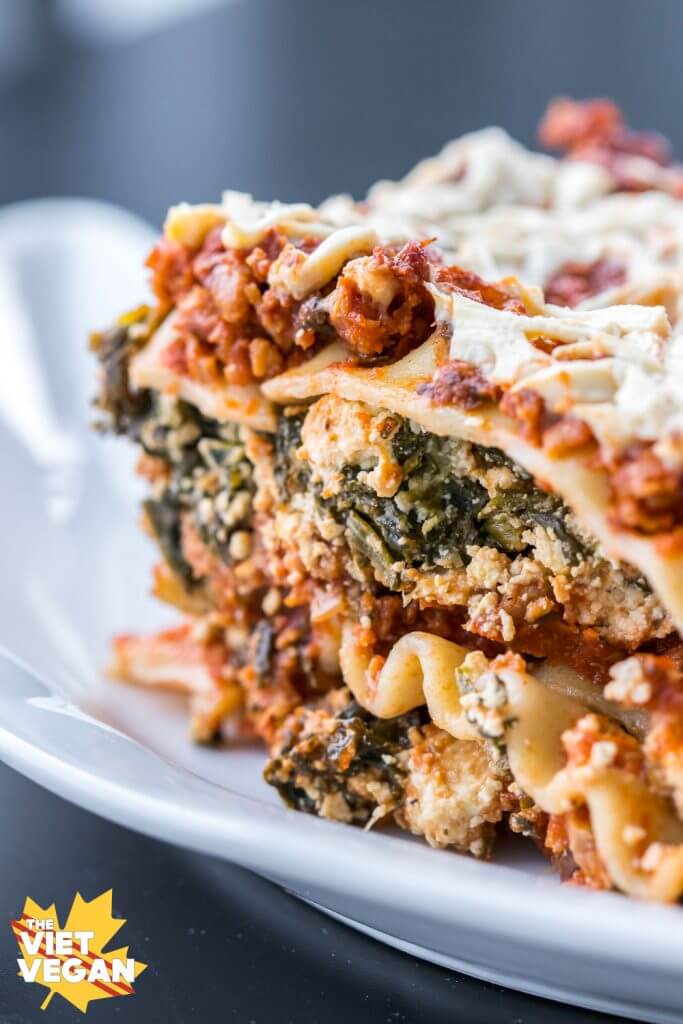 There are so many things we don't realize that our parents do for us when we're younger. It wasn't until I made this vegan lasagna and was feeling nostalgic that I realized that I ate these kinds of TV dinners and frozen meals because she was working so hard for us. It's so fascinating to rediscover these memories or re-see them through my mother's eyes as I make these foods I once loved.
I hope you enjoy this recipe and appreciate those who helped you become who you are today. <3
Check out the recipe video I made, it might help you see how I made the ricotta, but also I make a bunch of goofs you might enjoy =P
Yield: 6-8 servings
Vegan Lasagna with Spinach Tofu Ricotta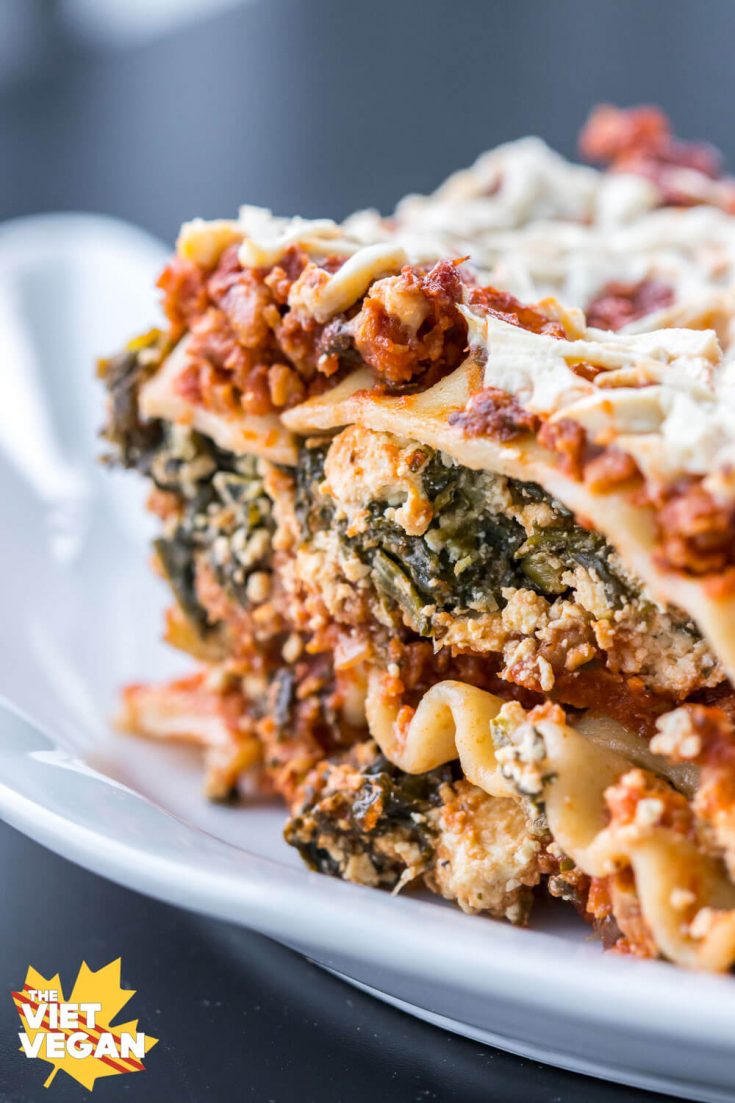 Ingredients
For the meaty pasta sauce:
1 tbsp cooking oil of choice
1 medium yellow onion, diced
~1 1/2 jars tomato basil pasta sauce (my jars are 739 mL each)
1 bag of beefless crumbles (I used gardein 13.7 oz / 390 g, but you can use two packets of the Yves brand original too)
For the tofu ricotta
1/2 lemon, juiced
2 tbsp tahini
1 tsp white miso (I use a low-sodium one)
1/4 cup nutritional yeast
1/2 tsp garlic powder/granulated garlic
1 block firm tofu* (454 g)
salt to taste (I used about 1/4 tsp kosher salt)
3 cups frozen spinach (loosely packed, or about 1 1/2 cups thawed spinach)
To assemble:
1 box lasagna noodles (10 oz/280g) I used gluten-free pasta
1 cup vegan cheese (add more if you like it super cheezy)
Instructions
Preheat oven to 400ºF.
To make the pasta sauce:
In a medium pot over medium heat, cook diced onion in oil until lightly browned. Add 1 1/2 jars of tomato sauce (maybe lower the heat to reduce splattering) and heat through.
Add beefless crumbles and cook until just heated through. Set aside.
To make the tofu ricotta:
Mix to combine lemon juice, tahini, white miso, nutritional yeast, and garlic powder. Crumble in the tofu and mix well to combine.
Defrost the frozen spinach and add to the tofu mixture. Stir well to combine.
To assemble:
Cook pasta noodles according to the package and drain well.
Spread some of the sauce reserved from that 1/2 of the jar on the bottom of a 9x13 glass casserole dish.
Arrange and layer noodles, meaty sauce, ricotta and repeat. Top with noodles, meaty sauce (if there's any left, if not use the rest of that jar of pasta), and layer of vegan cheese. Be sure to cover all noodles in sauce or else it'll dry out while baking
Cover with aluminium foil and bake for 30 minutes covered, then 15 minutes uncovered.
Serve and enjoy!
Notes
*I used one that had herbs in it, but you can add 1/2 tsp each dried oregano, thyme, and parsley to add extra flavour.
Also, if you'd prefer not to use the beefless crumbles, you can leave them out completely, but if you want a nice, bulky lasagna I'd recommend adding cooked lentils, TVP, or beans.