Don't let social BBQs prevent you from eating delicious food.
These grilled portobello mushroom burgers are super easy to put together
and are packed with juicy flavour!
A couple posts ago I mentioned that since it's been 6 years since I've been single and after last night, I'm pretty happy that I'm not single. So many awkward encounters, complicated social conduct at bars, and just not appealing people. The most interesting person last night was someone I met while I was waiting for some falafel. We had a conversation about turnips, because there were dark ones and light ones, and we assumed they were both picked but we didn't know why the other ones were so dark (or more delicious looking).
But nobody cares about Turnip guy. Let's talk about my awkward encounter.
So 10 o'clock, we're at The Labyrinth Lounge, which is a bar connected to a great restaurant called The Future Café (which has decent vegan options, even with their desserts!). It's full of people mostly around our age, some of them a little younger, some a little older. Mostly younger. I'm on the older end of the student spectrum now.
3 dollar whiskey shots, or 3.50 for a mixed drink. Not too shabby, right? I get one, but then my roommate gets a double for $6.50 and with that drink, it's socially acceptable to tip $1. Whaaaaaat.
Not that I'm trying to rip off the bartender, but while its personally too much to tip $1 for my $3.50 drink, it's skeevy to just tip 50 cents. Our drinks in hand, my friends and I found a dark corner table to converse, drink, and scout the room (I was the wingwoman for the night), I found the bottom of my glass sooner than I had hoped.
As I got up to the bar to get a second drink, a guy who looked like a combination between Abed from Community and Aneal from Big Brother Canada 1 (plaid, silly hat, awkward demeanour, let's call him the guy in plaid) pulled me closer to the bar and asked me what I was drinking.
"A double whiskey and coke!" I felt like I had some secret knowledge that doubles were way better than singles. Which they are in almost every context.
"Damnit, see I told you we should have gotten doubles!" said the guy in plaid to his friend.
"Hey, it's more bang for your buck, y'know?"
"I like banging for bucks?" with a hopeful grin. His friend chortles.
"…Ehhhh not my style."
"DAAANNNG YOU GOT TOLD!" (in retrospect, his friend is an awful wingman).
"So… what are you drinking?" says the guy in plaid.
I hate repeating myself, but I do anyway. "Double whiskey and coke."
The bartender hands them their drinks, waiting for them to pay. The guy in plaid's friend plans to capitalize on this opportunity by saying "Hey, if you're going to get that girl a drink, you should get me one too!"
"Haha, alright, fine." He pays for his friend's drink, then there's an awkward silence between the three of us and the bartender looks at me expectantly.
I look at the guy in plaid, "Wait…so what's happening. Are you buying me a drink…?"
"Are we gonna make out?" again with the hopeful grin.
"…No."
"Oh. Then no."
The guy in plaid and his friend walk away, only overhearing "What the hell?" from his friend before the music drowns them out.
The bartender looks at me, and all I say is "Double whiskey and coke, please."
Grilled Portobello Mushroom Burgers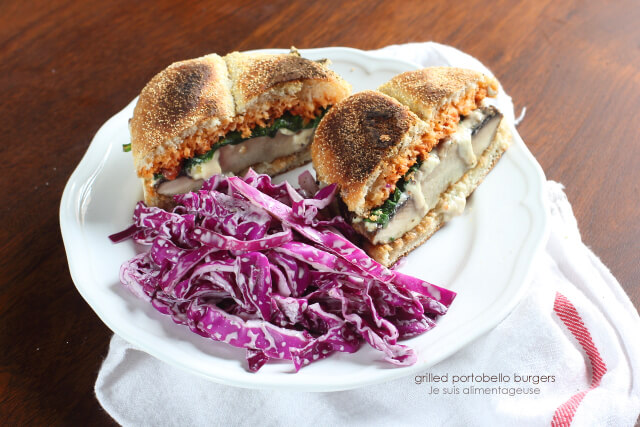 This burger is super simple to put together and packs a lot of flavour thanks to the pasta sauce and the great umami flavour of the portobello mushroom. I went for a more Italian flavour profile with the spinach and mozzarella-style vegan cheese. This burger is super juicy and satisfying, even your omnivorous friends will want one.
Ingredients
1 portobello mushroom cap per burger
1 tsp olive oil per mushroom cap
Salt and pepper to taste (a good sprinkle of both on each cap)
1-2 tbsp vegan cheese per burger
1 handful spinach per burger
Burger buns
2 tbsp your favourite pasta/marinara sauce per burger
Instructions
Preheat your grill, making sure it's clean so that the caps won't stick.
Prep the mushroom caps by brushing off any dirt and trimming the stems. You can grill the stems for a soup or stir fry later. Brush on olive oil on both the tops and undersides of the caps. Pop them on the grill, tops facing up, Grill for about 3-5 minutes, flip once you start to see some juices. Sprinkle salt and pepper, and grill for another 3-5 minutes. Add spinach and cheese (if you have a grill that closes over top like a George Foreman grill, place the spinach on top of the cheese, if not, put the spinach under the cheese). Continue grilling until cheese is melted and spinach is wilted.
Top with pasta sauce and sandwich between toasted burger buns. Serve with a side of vegan coleslaw or side salad of your choice.
Notes
I used a mini George Foreman grill because I live in an apartment and that's all I've got, but if you have an actual grill, you should totally use that for extra smokey deliciousness.