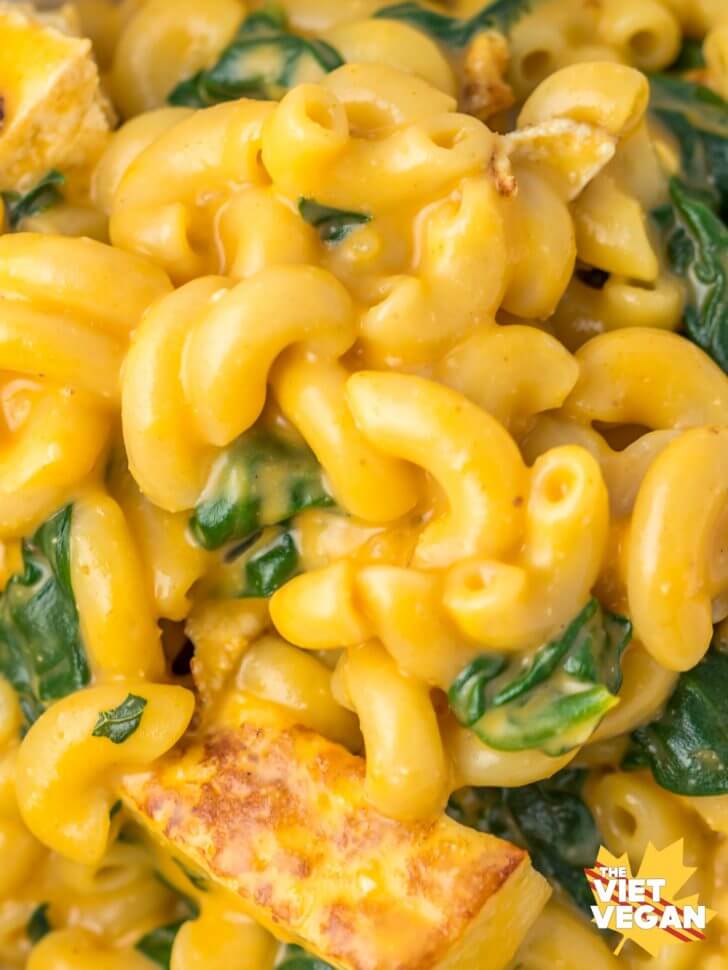 Sometimes I feel like I'm revisiting my favourite recipes over and over. Mac and cheese done this way and that way. I was afraid you folks wold be sick of it, but I'm not sick of it—I adore mac and cheese. Creamy, silky, tender, chewy. With buttery spinach, tofu bursting with flavour, and velveteen cheese sauce with a kick of heat marrying everything together.
I never really enjoyed mac and cheese growing up—it wasn't until I was 14 that I had my first taste of Kraft Dinner. But maybe at that odd age, the age I moved to a new city and made the effort to be a part of the popular group. Confused, exhausted and alone, I turned to the comfort of mac and cheese and my online friends to make me feel like I belonged somewhere.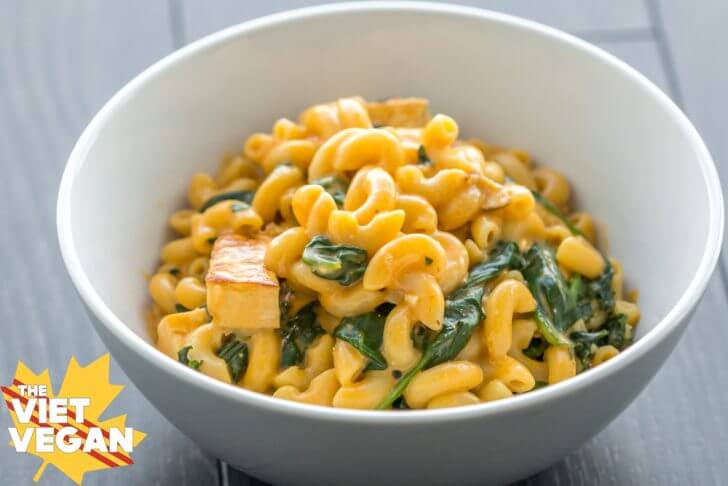 That kind of makes me sound like the ultimate loser, doesn't it?
I'll let you in on a secret.
When I first moved to the new city, I had this notion of becoming popular and how that would make me happy. I became a part of the cool kids group. I went to parties, I knew who liked who, I giggled with the popular girls—until I realized that parties bored me, I didn't really care who didn't like who back, and the jokes some of the popular kids told were honestly not even that funny.
It's exhausting, being around people you don't really feel safe around. Trying to put on a cool facade, where you're funny, wearing what everyone else is wearing even though it's uncomfortable and doesn't make you feel good in your own skin. After maybe about 2 months I gave up and found the nerds who were much more interesting to me. I didn't have to try to be a coordinated athlete, I was much happier watching Lord of the Rings on the couch instead of Candyman while other kids were drinking.
I learned my lesson when I was 14, so you'd think that I'd know better by now, wouldn't you?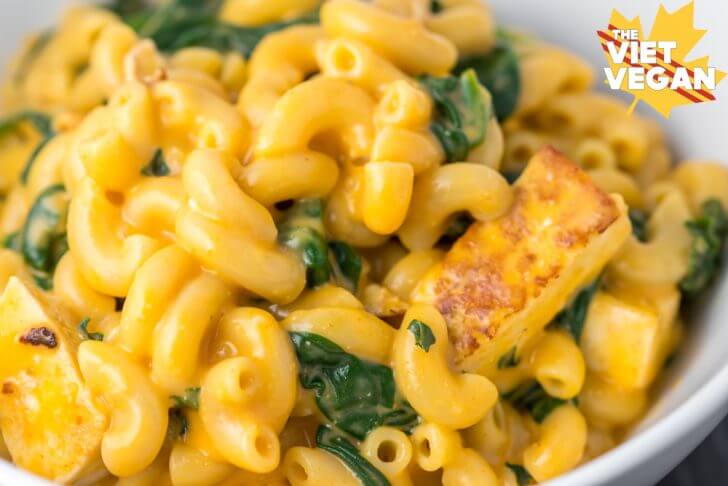 It seems like that desire to find your spot in the group doesn't ever really leave you. From YouTube circles, to blogger groups, to even my friends or new people that I meet. Much like my 14-year-old self, I've decided that it's not worth the effort of being wittier than I am or more colourful than I care to be. My friends have spread out and I felt a little lost and without my tribe. I'll be who I am and I'll find my people again. It worked once, and it'll work again.
Here's to being me :)
Yield: 4 servings
Red Curry Mac and Cheese
Ingredients
For the tofu:
1 tbsp grapeseed oil (or cooking oil of choice)
1/4 tsp black salt
1/2 tsp garlic powder
2 tbsp soy sauce
1 block of firm tofu (454 g), cut into 1 inch x 1/2 inch pieces
For the cheese sauce:
1 cup unsweetened non-dairy milk
2 tsp cornstarch
1 tsp red curry paste (use a heaping tsp if you like it spicy!)
1 tsp garlic powder
1 1/2 cups vegan cheddar cheeze shreds
To assemble
2 cups uncooked macaroni elbows
1 cup kale
3 heaping cups of baby spinach (you can use only kale or only spinach if you'd prefer)
1/2 tsp kosher salt (to taste)
Instructions
For the tofu:
Preheat a pan over medium heat. In a bowl, mix oil, black salt, garlic powder, and soy sauce until combined. Toss cut tofu in the sauce until coated. Add to heated pan and cook until browned and extra moisture is cooked off. Set aside.
For the cheese sauce:
Bring a large pot to a boil and cook 2 cups of macaroni until tender.
Meanwhile, heat a small pot over medium heat.
In a small bowl, make a slurry with 2 tbsp of non-dairy milk and 2 tsp cornstarch (whisk until cornstarch is dissolved and no lumps remain). Mix in red curry paste until incorporated into the slurry.
Add remainder of non-dairy milk to pot, then pour in red curry slurry, garlic powder, and vegan cheese. Stir until cheese is melted and you get a thick but smooth cheese sauce.
Before macaroni is completely cooked, add kale and spinach to the pot and cook until wilted. Drain macaroni and greens, then transfer back into the pot.
Stir in cooked tofu and cheese sauce and mix until well combined.
Add salt to taste, and serve!
Notes
If you prefer to not use tofu, feel free to substitute soy curls, vegan chicken, chickpeas, or even just use some edamame or green peas. You can season the soy curls and vegan chicken the same way, but for chickpeas, edamame, or green peas, just adjust the seasoning until it tastes the way you like it :)