Last month I learned that pizza sauce and pasta sauce are different things.
So here is a really simple homemade vegan pizza sauce for your pizza nights =)
Aside from the fact that I'm vegan, I probably have about zero self-control. If I want something, I end up getting it within a few days because the craving never subsides. It happens with ice cream, burritos, rice bowls, and especially pizza. I usually am craving a specific slice from Apiecalypse Now downtown in Toronto, but considering that's about a 30 minute drive away, that's a pretty big deterrent.
One night, as we hemmed and hawed over what to have for dinner, I mentioned that I really wanted pizza but both Eddie and I had zero motivation to drive downtown to get it.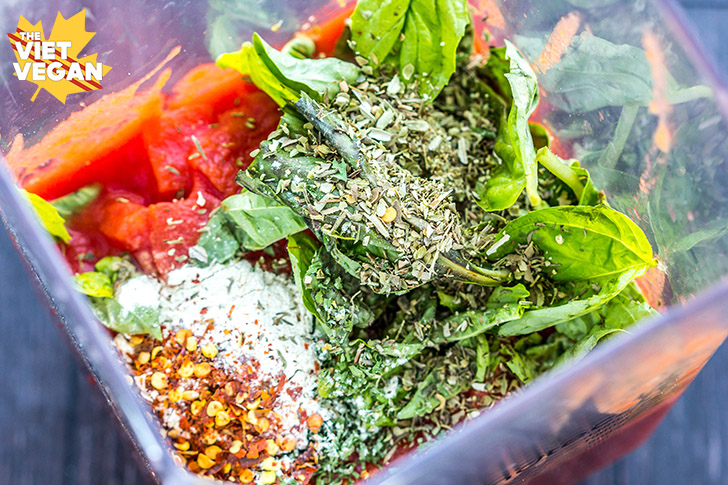 Eddie: Why don't you make pizza?
Me: I suck at making pizza.
The thing is, I've made dozens of pizza in my lifetime. They haven't been the most beautiful things, but they've tasted good. I'm pretty experienced when it comes to making dough—I know what it's supposed to feel like but I don't like rolling it out. That alone has deterred me from making EPIC homemade vegan pizza for the past couple years.
Eddie: You do realize I worked at a pizza place for 5 years right?
I knew this, but totally forgot that this meant that he is a pro at making pizza.
Me: OH MY GOD YES CAN YOU MAKE PIZZA?!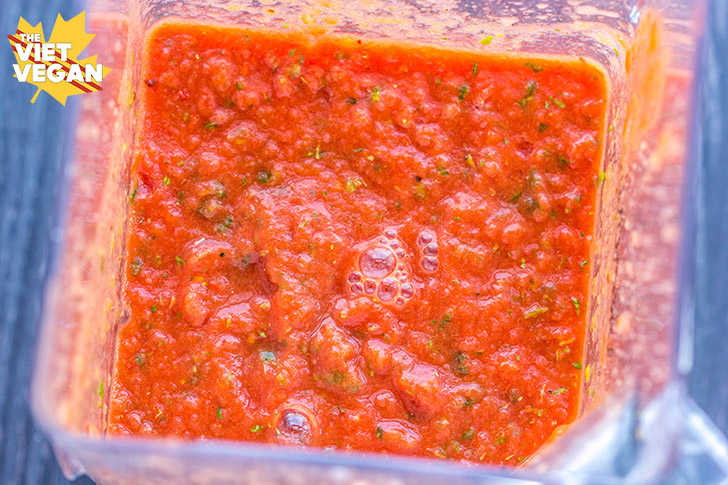 Eddie just laughed at my jolt of excitement as I basically teleported to the kitchen to make the dough. An hour later, dough was risen and ready to go. We started to roll out the pizza dough until Eddie stopped me and asked, "Wait, do you have pizza sauce?"
Me: Yeah, we'll just use pasta sauce.
Eddie: What? No! This isn't spaghetti pizza. You need pasta sauce.
It had just hit me then that I've always made pizza with pasta sauce, when apparently that's wrong. I had no idea. He just described all my past pizzas (I've made pita pizza and stuffed pizza bomb things before) and he said they just taste like spaghetti sauce—which is totally what it is. It didn't really occur to me that there was something specific about pizza sauce that was different from pasta sauce.
Eddie looked at a copycat recipe of his old workplace and listed off a bunch of herbs. I picked and chose which ones to put in based on what I had, and came up with this sauce that Eddie tasted and then nodded with approval.
Eddie: See that tastes like pizza sauce.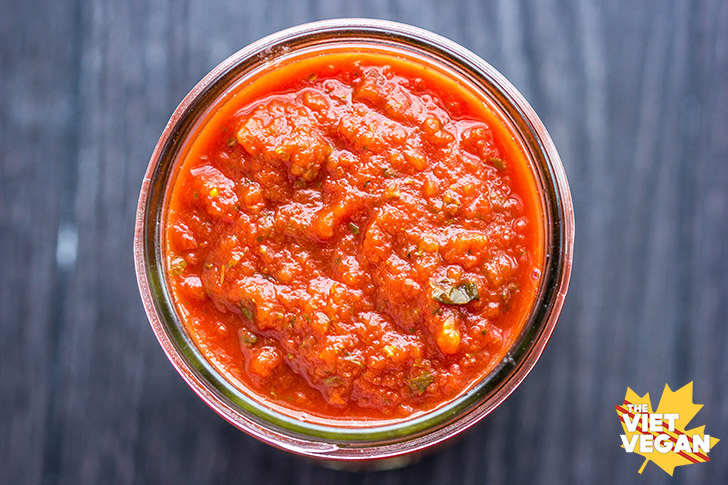 I am not a pizza connoisseur, but I liked the way this tasted. It's really simple, and I'll admit, it does taste and smell much more pizza-like than the pasta sauce I had been using. It's surprisingly easy to make because I always have some canned diced tomatoes on hand and I just so happened to have fresh basil in the fridge. You can probably substitute the fresh basil for about 1 tbsp of dried basil, but fresh basil is more fragrant and flavourful than its dried counterpart.
I have an epic pizza recipe coming up with a new and improved pizza dough (you may have seen photos on my Instagram) and hopefully a video to accompany it coming soon. But in the meantime, here's a simple vegan pizza sauce that is good to have on hand when you want to pizza-fy your favourite carbs. Pizza grilled cheese, zucchini pizza, pizza pockets, naan pizza…
And since that initial night we made our first pizza together, we've made several pizzas since. We're getting better and better, but to be honest, they still look kinda rustic.

Yield: 4
Simple Homemade Vegan Pizza Sauce
Ingredients
1 can (27 fl. oz/796 mL) tomatoes (diced or whole, doesn't matter because you're blending them anyway)
10-15 leaves fresh basil
2 cloves fresh garlic
1 tbsp onion powder
1/4 tsp dried oregano
1/4 tsp dried thyme
1/4 tsp red chilli flakes (optional)
1/2 tsp kosher salt (add more to taste)
Instructions
In a blender, combine canned tomatoes (or you could even use fresh), basil, onion powder, garlic, oregano, thyme, chilli flakes (if using) and salt and blend on low until the basil leaves and garlic cloves are small little bits.
Transfer to a pot over medium heat and bring to a bubble. Once bubbling, lower to a simmer and cook uncovered until thick and no longer watery (about 30 minutes).
Transfer to a clean jar and let cool before storing in the fridge.