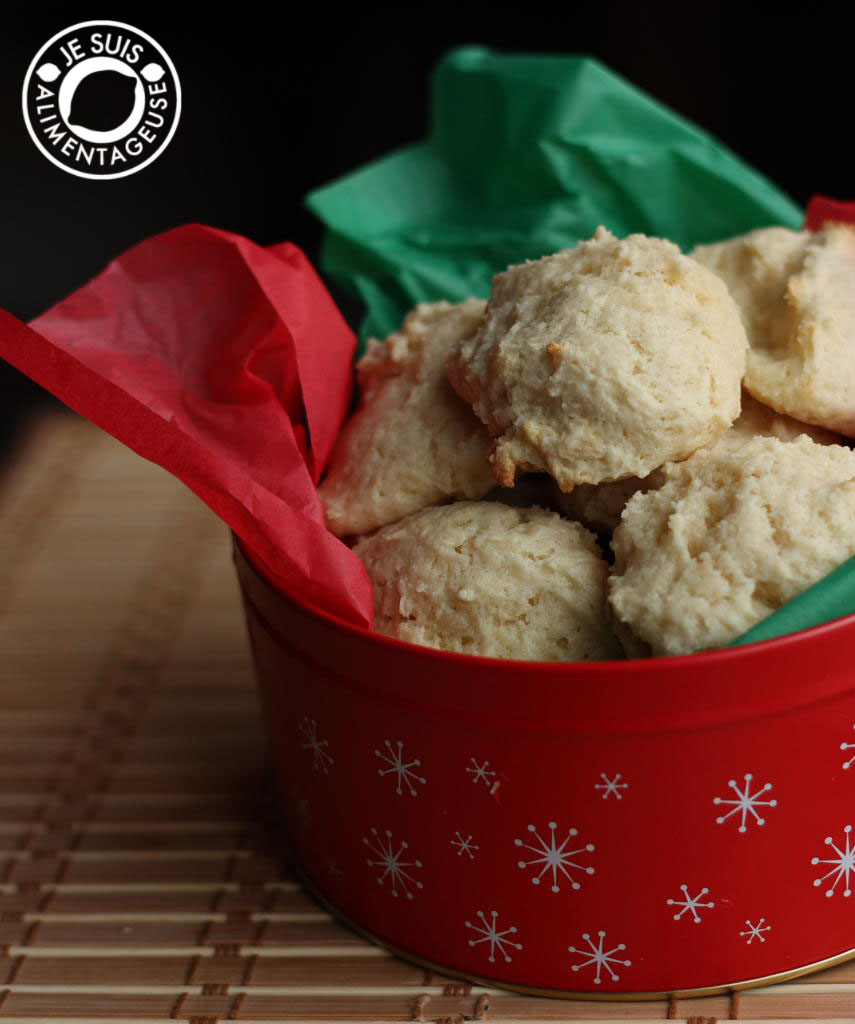 Chris' mom sends him these amazing care packages with lots of goodies, including these bad boys. I'm 90% sure these are his favourite cookies, and I definitely can see why. They're a very light, spongey and addictive cookie. The sour cream adds a softness and texture like no other cookie you've had before. It's like you're eating a cloud. Chris and I would wolf these cookies down as soon as they came in, and then we'd eat the cheese sticks, and then the nuts and bolts. I'm participating in The Great Food Blogger Cookie Swap and these are the cookies I sent out!
I hope these cookies arrived to my cookie matches intact and unspoiled =) I kind of super wrapped them because I'm a little intense about sending packages. I also made little origami ornaments and a handmade Christmas card! Clearly I was procrastinating. But I actually really love sending people totally homemade things. I find they like them better than when I buy them something, and I definitely like it when people make stuff for me too. Makes me feel special that they took a little time to make something just for me =P
As for getting cookies from my matches, I've only received one of my cookie match packages so far, and they were these pecan pie cookies that were super boozey XD from Aime at Running On Healthy. I'm still waiting on my other cookie matches (though I haven't been home since Sunday so they might have come in…)
The thing is, I actually don't like sweets that much. I mean I love sour candies, but baked goods, aren't my favourite thing to eat. Contrary to popular belief, I don't actually eat a lot of the stuff I make. I can only eat maybe one or two cookies/cupcakes/macarons and then I offer them to my classmates/friends/family until they're all gone. I mean, who doesn't love free homebaked goodies? This cookies aren't really super sweet, they're more spongey and fluffy. I love the texture of these, and my anti-sweet tooth doesn't cringe if I eat say…five of these badboys.
I just loved partaking in this year's cookie swap because it gave me the chance to see who else blogs in my area and I got to see some really awesome blogs! I wish Canadian participants could have gotten those adorable OXO spatulas (we're not THAT far away…) and it was really fun making all these cookies! I can't wait for next year =)
Yield: 20 Cookies
Sour Cream Softies #fbcookieswap
Ingredients
1/2 cup vegan butter
1 cup sugar
2 flax eggs (2 tbsp flax meal + 6 tbsp warm water)
1/2 tsp vanilla
1 cup vegan sour cream
3 cups flour
1/2 tsp baking soda
1/2 tsp baking powder
Instructions
Preheat oven to 350F
Combine flax meal and water in a small bowl and let gel for 5-10 minutes.
Cream the butter and sugar together until light and fluffy.
Add flax eggs and vanilla, beat until incorporated
Add vegan sour cream and mix again until incorporated
In another bowl, sift together flour, baking soda and baking powder.
Mix dry ingredients into the wet mixture, and scoop 1-inch balls onto a greased cookie sheet and bake for 12 minutes. (It's a really sticky batter, but that's totally normal)