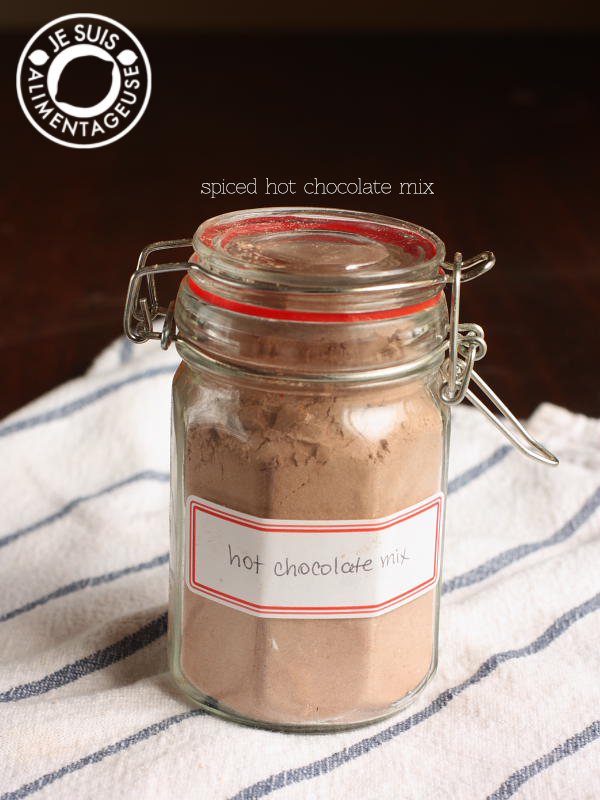 Lots of things to cover today and I only have about 20 minutes to crank out this post. So bear with me. This, my dear readers, is a speed post. First things first: I am officially in fall mode. I have been wearing a scarf every day for the past week. That's indicator #1 of fall weather. #2 is that I'm wearing pants. I hate pants. But now is the time for pants. #3 I am drinking hot beverages by choice. And this spiced hot chocolate mix is definitely something I would drink more than once a day by choice.
Before I lose my lovely vegan readers (according to my reader survey, there are LOTS OF YOU! <3), I'd like to reassure you that this mix is perfectly vegan, so there's no dairy and no trace of animal by-products (three cheers for bone-free sugar refinement).
Which brings me to my second point of my post today: if you haven't filled out my reader survey, please do! Right now the results indicate that most of you are in your 20s with no kids, but for some reason I feel like that is an inaccurate representation of my readers. Maybe it is, maybe it isn't. The only way I'll find out is if you fill out the survey! It's 10 questions and takes less than 5 minutes =)
Third thing to mention in my post: today's theme for Weight Loss Wednesday is about sleep. And maintaining a sleep schedule.
Now I don't know about you, but I am a student with night classes and a blogger by day. Most things for me don't start until around 2 pm, and then my classes often go until 9. That means I get my creative juices flowing typically by 11 pm, and that's when I'm more productive.
This usually equates to Lisa staying up until 3 am and then waking up around 10 am to exercise, shower, get ready for the day, work on the blog/take photos with the daylight, then start working or going to school. Sometimes I have to wake up earlier, sometimes later, but the fact that I'm not even tired until at least 2 am is a little messed up.
I've been trying to go to sleep earlier, but there's just so much to be done! How on Earth do we survive with just 24 hours a day? There are so many things to do. I feel like there's an unending to-do list for my life, and I don't even have kids.
I can't even imagine blogging with kids. My goodness, mommy bloggers, you have my respect.
So for today's WLW, I ask you, how do YOU maintain a regular sleep schedule with so many things to do in a day? I would say I have a plan but I honestly have no idea. Sometimes I find I fall asleep on the subway and then I'm constantly afraid I'll start drooling or snoring. Yikes.
To see what my other bloggy friends for WLW, visit the links below:
But back to hot chocolate.
Yes, hot chocolate is classic. I've made beautiful, thick and luscious Italian hot chocolate, but it's so rich that it's not a treat I can make every day. Now this, I can make everyday. Just heat up some milk, add a few spoonfuls of the mix, and I have an easy, wonderful, fall drink. It's perfect for those days where you accidentally underdressed, and you're chilled even when you get home and curl up in a blanket.
The spices in this hot chocolate aren't so powerful that they punch you in the taste buds, but they're just ever so subtle enough trickle down your throat and spread that unmistakeable warmth that cinnamon and nutmeg have. Add a pinch of cayenne for the spicy aftertaste, but it's not so spicy that it burns, it's just a lingering bite that kind of makes you raise your eyebrows and say, "Ooh."
Yes. Yes, my dear friends. This is good.
You can also bottle this stuff up for gifts, because as you know, the holidays are coming and with holidays, come potlucks, gatherings, and times where you can't just walk into someone's home empty-handed.
Sure wine is great. But spiced hot chocolate?
Classic.
And frugal. (This is for you, students. I feel your pain.)
Recipe adapted from Bev Cooks, who got the recipe from Desserts in Jars
Spiced Hot Chocolate Mix
Ingredients
1 cup icing sugar
1/2 cup cocoa powder
1 tsp cornstarch
1 tsp cinnamon
1/2 tsp nutmeg
a dash of salt
a dash of cayenne powder (optional)
Instructions
Sift all ingredients together and mix until homogenous.
To make the hot chocolate, heat 1 cup of milk or milk alternative (I LOVED it with unsweetened almond milk) and whisk in 5 heaping tablespoons of the hot chocolate mix.
Heat until desired temperature (I did it until there was lots of steam coming up while whisking but I didn't bring it to a boil.