Use those bring spring-time greens to make a filling and quick side dish
(or dinner if you're like me)
Farro with asparagus, leek, and mushroom makes enough for two
and makes great leftovers for tomorrow's lunch.

If this sort of self-reflection isn't of interest to you, then scroll down to the last photo and read from there. Otherwise, thank you for indulging in my internal monologue.
Spring always makes me yearn for something new. New opportunities, new apartments, new paths to journey. I see different friends at different parts of their lives and I long for their momentum and direction. Since I can work from home, this year I've taken the opportunity to work from my parents' or from Chris' so I can stay longer and visit. I see echoes of my old self in Chris' classmates. It's an exciting time, and 3 years ago, I'd feel as energized and excited to go out and party with them. Being 22 was an excellent time.
Chris' classmates are all interesting and entertaining characters, this reflection is nothing on them. As 22 year olds should, they're celebrating their long-awaited and well-deserving accomplishments and look forward to the new opportunities that have yet to be discovered. (FYI Chris is the same age as me). But I'm not a party-girl. I can party if I need to. I dig up and put on my giggly, smiley self that is excited to meet people. I cover up my insecurities and paint on confidence in the form of concealer and cat eyeliner. I smile, I dance, I sip my gingerale and use the extroverted energy I keep stored inside for a few hours. Like Cinderella, that side of me fades away around the stroke of midnight, and my outgoing alter-ego falls away as my make up starts to rub off and my body is exhausted from the typically subpar remixes and inconsiderate pushes and shoves of people at nightclubs.
But in the past 3 years, I've learned a lot about who I am, and who I'm not. There's been so much retrospective and internal analysis to try and figure out why I can't be more like one person; less like myself. I know my limits and I know where I can be my best self. I know who I absolutely am not and can never be, and I am starting to become okay with that.
Sometimes I wish I could be a happy-go-lucky, endlessly kind and patient person who sees only the best in people and are grateful for each and every sunny day. There are days where I try to emulate those wonderful people for a few hours and become exhausted from keeping my impatience and frustration with the world pent up inside. I wish I could be at peace with people and the world. But maybe I've been through too much to be satisfied with seeing the world through rose-coloured glasses.
I know who I am. I'm the person who will fume with a few choice words behind the wheel when the driver ahead of me isn't taking their timely chance to make a left turn. If my server at a restaurant royally messes up my order or completely forgets about me (this happened to me the other night) I will be in a bad mood because I'm hungry and glare but still tip 15%. I'm the miffed and terse "Excuse me." when I'm trying to pass you as you dilly dally with your gal pals and BFFs while blocking the escalator. Endlessly analytical and contemplative, ever on the search for self-improvement. Why did I react that way? is a question asked any time there's emotional response that escapes from my ideal semblance of self-composure.
There's no sense of superiority nor is there any air of contention. People who are unreasonably and incessantly kind confuse me and frankly set me at unease. People with a blunt or ragged edge of snark are refreshing and entertaining. Finding mutual hate over something or someone is surprisingly invigorating. I'm critical, but I'm not mean. At least I make my efforts to avoid toeing the line.
Some people say that what you say about other people is a reflection of yourself. I think that's half true, and half a crock of bollocks. If the roles were reversed, I would want to know the criticism. I revel in criticism. I live for self-improvement and don't take the criticism personally (or at least, I try not to). But that's just me. The big picture is always in my perspective, and there's no way to be an optimist there. I expect the worst of people but there's a part of me that hopes I'm wrong.
Of course, it's hard to say that anyone knows exactly who they are at this point in my life. I know who I am now, but who will I be next year? In 5 years? What kind of wife I would be? What kind of mother I would be? Who do I want to be? Thanks for reading along my journey, and if you're simply here for the food, well tuck in and read on.
Have you ever tried farro before? Texture-wise, it's somewhat of a cross between rice and barley. It's a type of wheat, so if you're gluten-free, I suggest finding some other type of GF grain, because this is chock full of gluten. When infused with vegetable broth, it's a flavourful grain that is a perfect chewy sponge for bright and tender spring flavours of leek and asparagus, but grounded with the umami flavour of mushrooms. Taking a bit of mediterranean inspiration from this Italian grain, I added a splash of balsalmic vinegar to the olive oil and freshly ground black pepper.
Most people would want their side of protein with this, but farro is surprisingly quite hearty. With 7g of both fibre and protein per 1/4 cup, this is really filling and helps keep things puttering along. Chris and I had this for dinner last night and lasted us much longer than our typical massive stir-fry with mock-chicken would.
Thanks for sticking around to read this far into the post. There will be fewer long-winded posts this month, promise.

Yield: 3
Springtime Farro with Asparagus, Leek, and Mushroom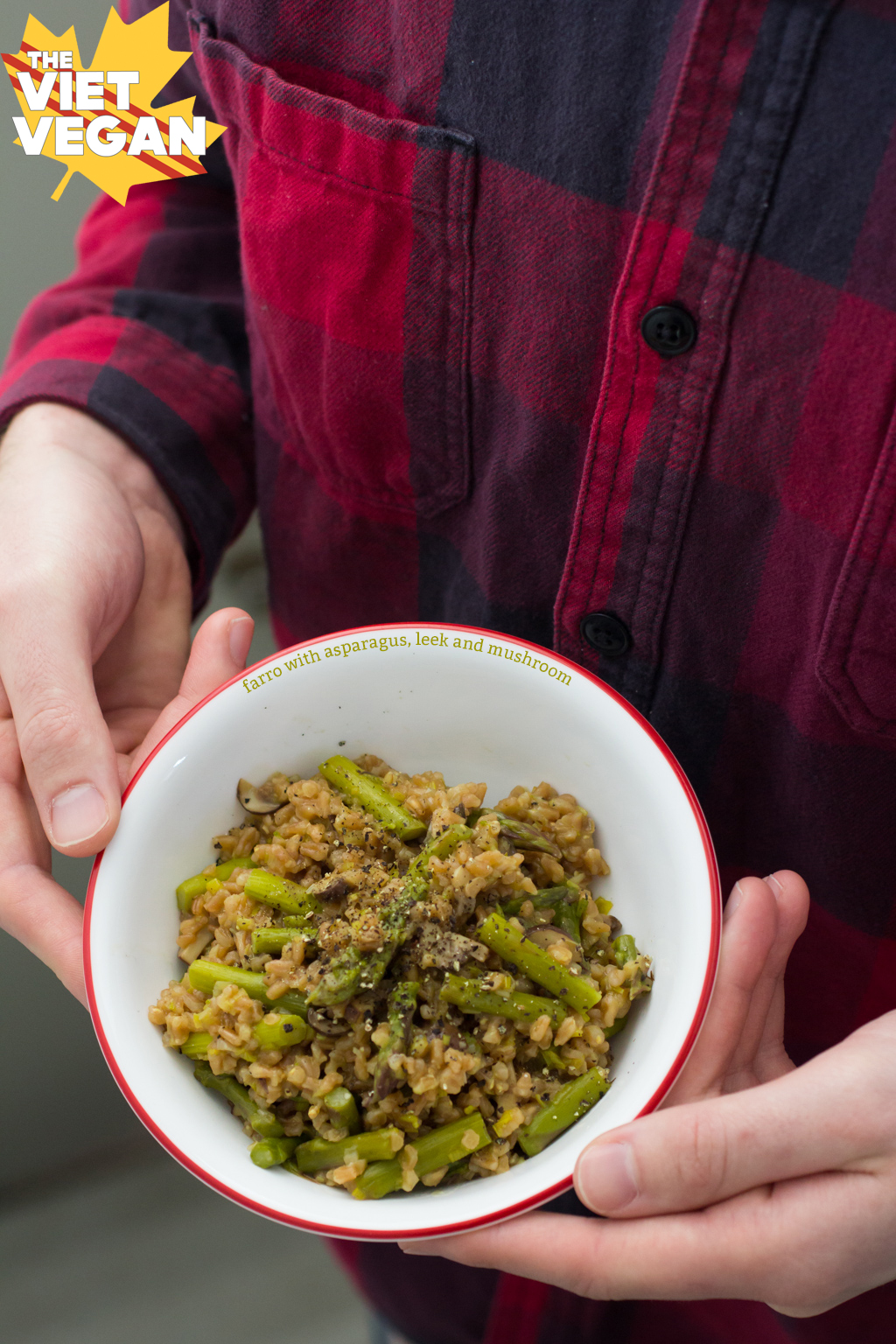 Ingredients
1 tbsp olive oil
1 leek, rinsed well, halved and sliced thinly
1 cup mushrooms, sliced then chopped
1 tbsp balsamic vinegar
1 cup farro (I used Bob's Red Mill Organic), rinsed and drained
1 1/2 cups vegetable broth (I used Cambell's, but you can make your own)
1/2 a bunch of asparagus cut into 1-inch pieces (about 1 1/2 cups)
1/2 tsp salt (to taste, you may need more depending on if you used salted or unsalted vegetable broth)
1/2 tsp freshly ground black pepper
Instructions
Over medium heat, cook leek in olive oil and stir occasionally until leek looks "melted" and softened. Add mushrooms and balsamic vinegar, stir to coat and cook until mushrooms have released some water and looks darker and softened.
Add farro and vegetable broth to pot. Stir to coat and raise to medium high heat and cover with lid. Bring to a boil then lower back down to a simmer, keeping the lid on for about 8-10 minutes. Remove lid and add asparagus, then put lid back on for about 2 minutes. If there is still some liquid, let cook with the lid off until it cooks off. Taste test the farro to ensure it's cooked through—it should be soft with a little bit of a bite, like if you combined the textures of barley and rice.
Season with salt and pepper to taste. Fluff with fork. Serve.