Canh Đậu Hũ Hẹ chay is a Vietnamese homestyle soup that is comforting, light and savoury. Flat chives, shallots, and garlic are the main undertones of flavour for this tofu and garlic chive soup!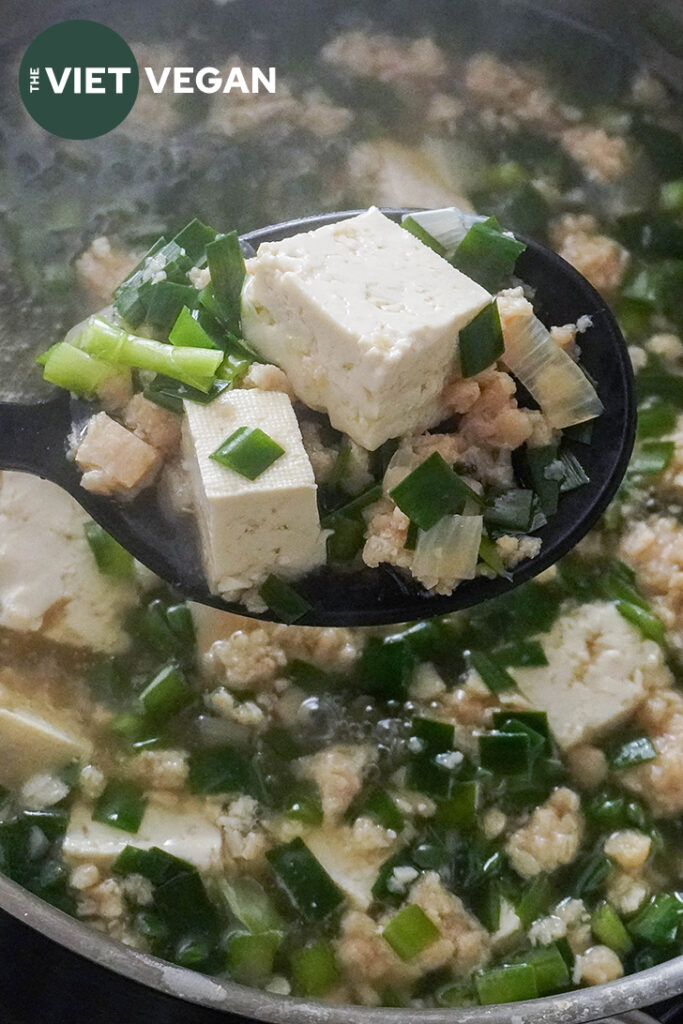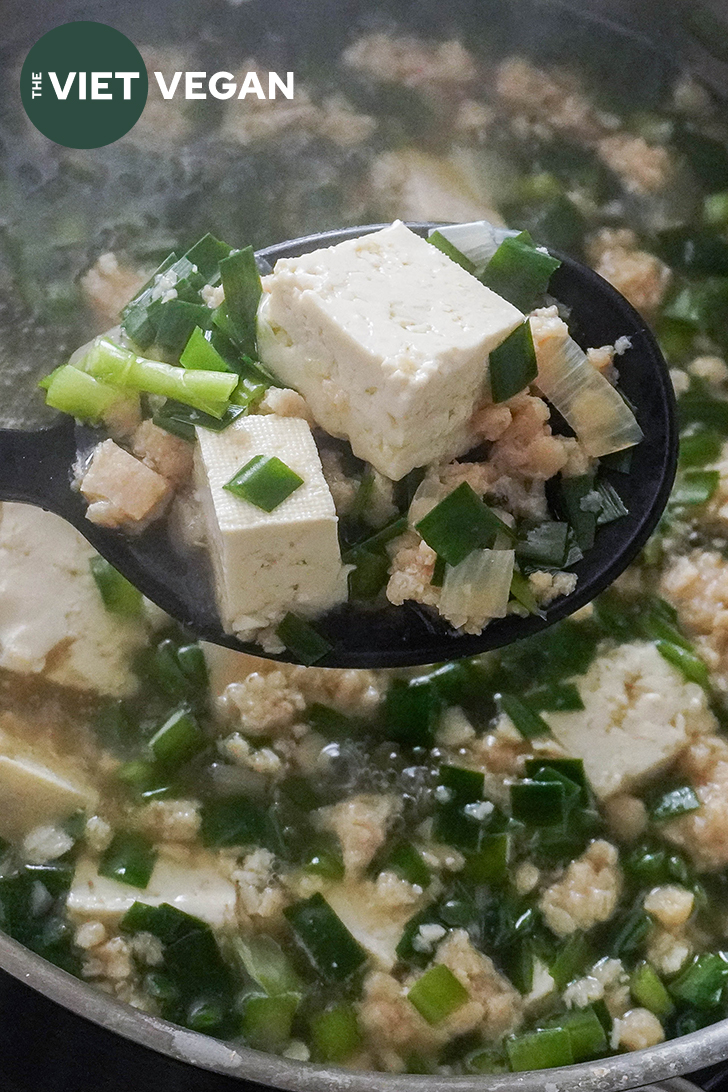 Growing up, I ate a lot of Vietnamese style dinners where each meal had a protein, a soup, and a veggie component to be eaten with rice. Growing up, this kind of soup would typically have been accompanied with a fried fish, and maybe some blanched greens to eat with fermented bean curd.
Traditionally this soup is made with ground pork, but I've used a vegan pork mince instead. It can be omitted!
What's the difference between Flat Chives, Regular Chives and Green Onion?
Flat chives are called hẹ in Vietnamese, and my family often would just use these interchangeably with green onion. Especially for recipes that call for green onion oil. They have a distinct, spicy garlic flavour, whereas I find round chives have a lighter oniony flavour. When cooked, all of them have a mellower flavour, which is perfect for this soup!
Slightly related, green onions have a spicy grassy flavour. I love all these alliums, and each have their own places in recipes. This tofu and flat chive soup would not be the same with scallion or regular chives in its place.
What kind of tofu to use for this soup?
I've used any and all kind of tofu for this, soft, medium, firm, it all would work! It depends on what you like. The kind of tofu I get is "firm" but it isn't that firm in Western standards of tofu. It holds its shape well in soup and becomes light and breaks apart easily when you bite into it.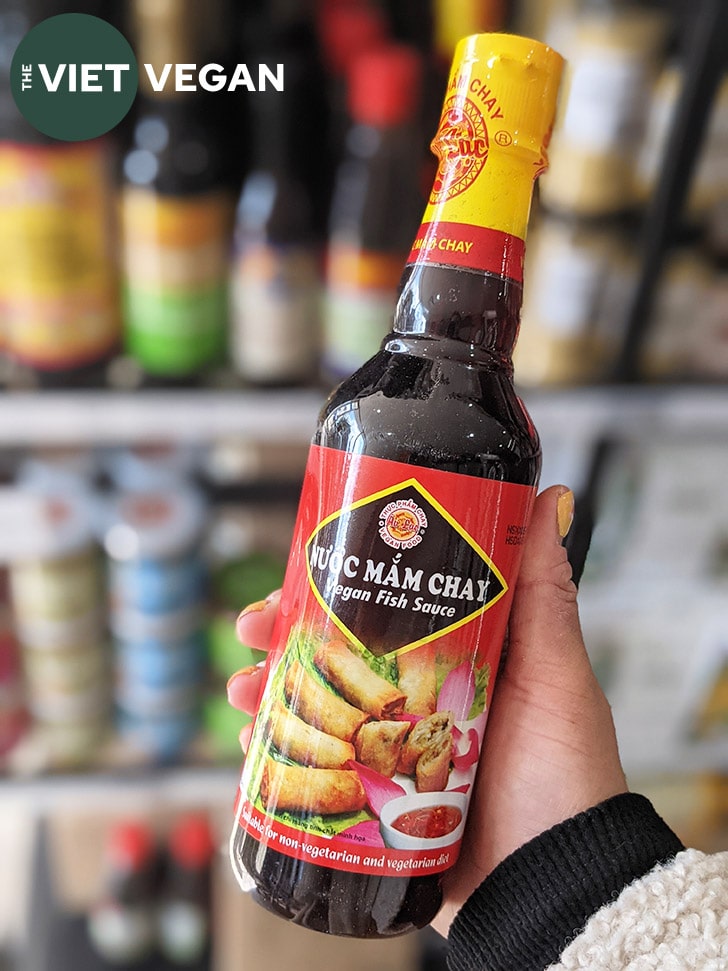 Where do you find vegan fish sauce?
I usually get my vegan fish sauce from Coven (in Hamilton or Waterloo), and sometimes from Vietnamese restaurants or grocers. It has a distinct, funky flavour that is hard to replicate. If you don't have any, you could try substituting with some seaweed, MSG, and more mushroom broth powder to give the broth that fishy base.
Yield: 4-6 servings
Tofu and Garlic Flat Chive Soup - Canh Dau Hu He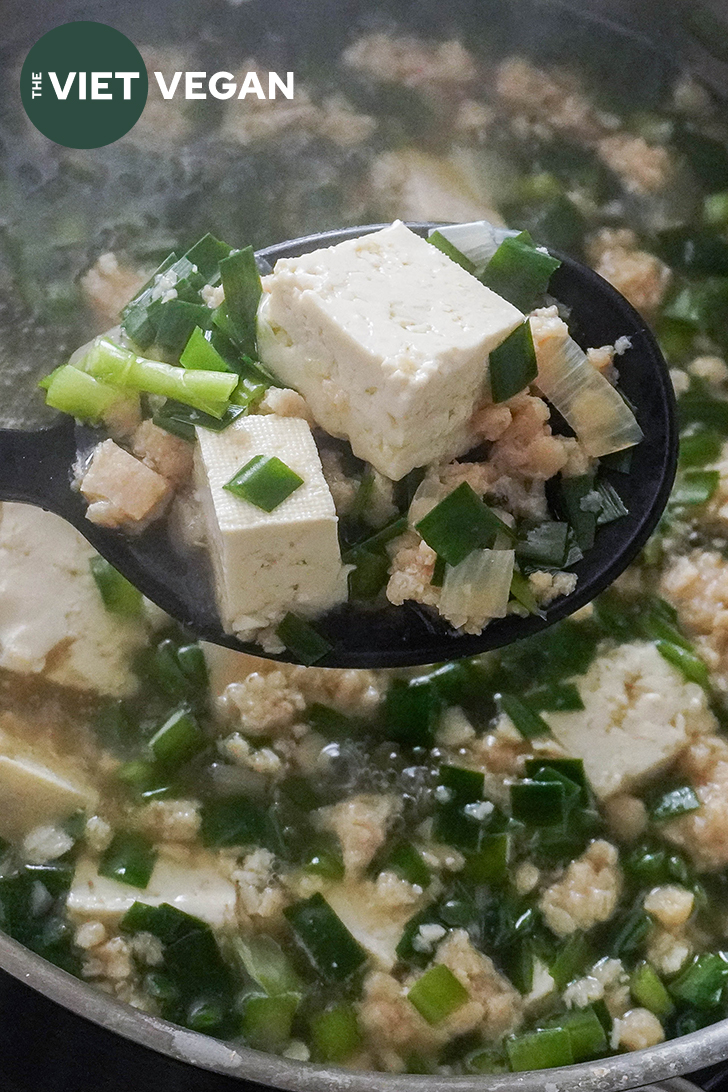 Ingredients
1 (15 mL) tbsp oil
2 shallots (or cooking onion), minced
10 oz (283 g) vegan pork mince
2 tbsp (30 mL) vegan fish sauce, divided
1/4 tsp ground white pepper (use more if you like it spicier)
1 tsp (5 mL) white sugar
2 cloves garlic, minced
8 cups (2 L) water
1 lb (454 g) firm tofu, cut into 1 inch cubes
1 tbsp (15 mL) mushroom broth powder
2 cups chopped flat chives (chop to either 1/4 or 1 inch in length, whatever you prefer!)
To serve
Instructions
In a large pot, heat 1 tbsp oil with minced shallots. Saute to cook through until they look "melted" and glossy.
Add the vegan pork mince and season with 1 tbsp vegan fish sauce, white pepper, and sugar. Stir fry to brown lightly until cooked through.
Add 2 cloves of minced garlic and saute to cook, about 30 seconds.
Add 8 cups water, season with mushroom broth powder and vegan fish sauce and bring to a boil.
Add the tofu cubes and chopped flat chives, then cook until the chives cook through and no longer all float to the top.
Serve with steamed rice!