Bánh Hỏi Thịt Nướng Chay is a veganized dish of my childhood; vegan bánh hỏi is made with rice vermicelli bundles (held together with starch), topped with a green onion oil, and served with a dipping sauce and a savoury grilled marinated meat, which I've replaced with marinated soy curls!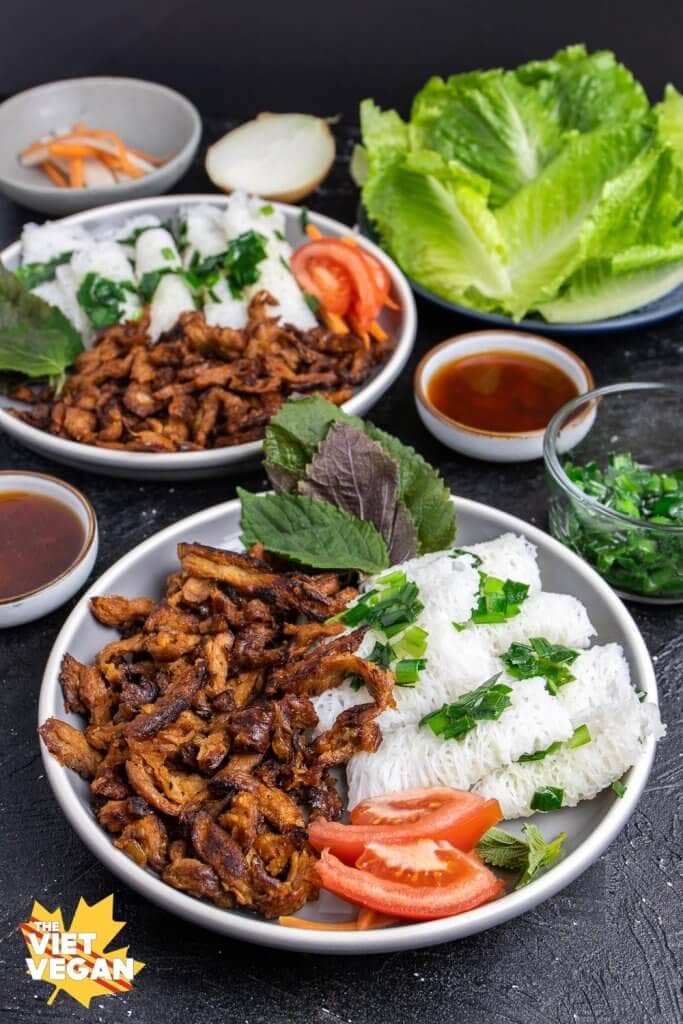 We are well underway to October and Canadian Thanksgiving has passed me by before I realized and had a chance to actually make any recipes for Thanksgiving. This year was a bit weird for Thanksgiving, obviously with the fact that we can't really have our usual Friendsgiving gatherings and there aren't much in terms of family gatherings (and for good reason). So this year, I decided to continue to look inward to recipes that I had been craving out of nostalgia. Enter: Bánh Hỏi Thịt Nướng Chay: rice vermicelli bundles topped with green onion oil, served alongside marinated soy curls with classic Vietnamese-style grilled "chicken" marinade! Vegan Bánh Hỏi has been my favourite meal lately because it's so fresh and savoury!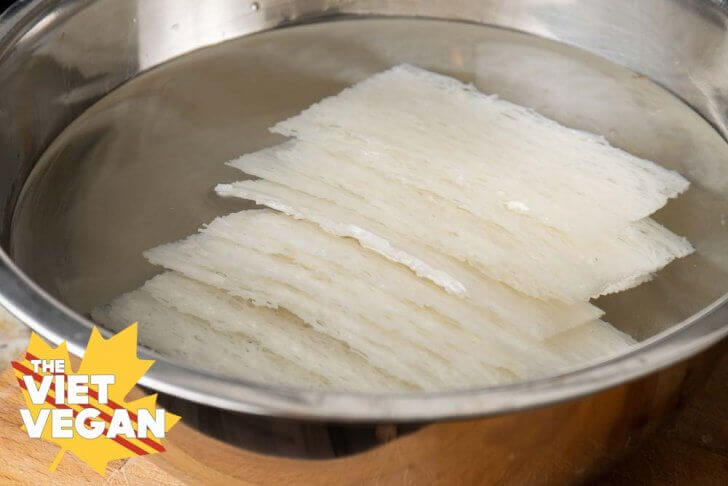 I grew up eating bánh hỏi at Vietnamese potlucks and parties. My family would have giant foil tubs or platters of these layers of rice noodles, each bundle gleaming with emerald green onions in the centre. Before food was ready for everyone, I'd sneak by the table and steal a bundle and run away with a mouthful of pillowy noodles.
Even though I ate so many of these, I didn't actually remember how to make them unless they were done by scratch. And even then, that process was long and arduous. I was taught to spread out the soaked noodles and lightly brush them with a cornstarch slurry, then microwave them until set. Then while the noodles were piping hot, I'd take oiled scissors to snip them into the rectangular shape, then burn my fingers with piping hot rice noodles trying to roll them and transfer them to the plate.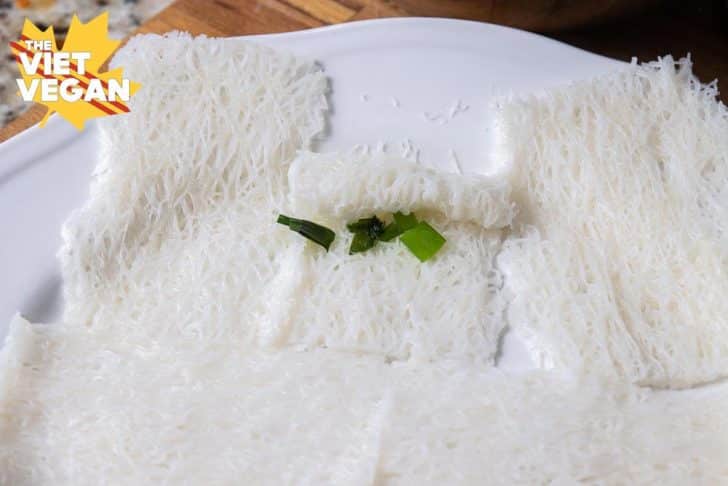 Nowadays, I find them preshaped and precut into these perfect rectangles at the grocery store, and all I have to do is cook them! The instructions on the package said to soak for 10 minutes and then steam them, but I found the simplest way was to either use a microwave after soaking, or to simply boil them for a minute and drain them. My mom uses the boiling technique, but since I am not usually cooking the same volume of food as she does, the microwave method tends to be the easier for me.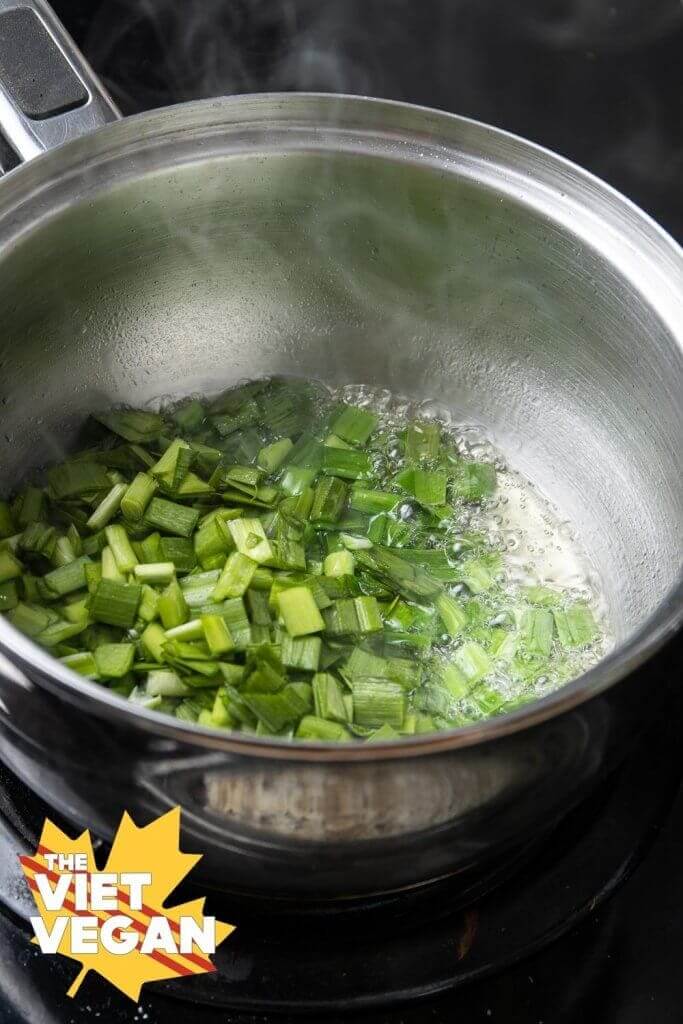 I was also taught to make green onion oil in the microwave, but I found that the resulting mixture was a bit more watery than I liked, and I found that bringing the oil to a hot shimmer, to then add the green onions yielded sizzling green onion oil that was infused with tons of flavour and perfectly cooked, green onions.
Traditionally for the meat you would have alongside bánh hỏi, it'd include BBQ pork with the crispy skin, or grilled chicken or pork with a caramelized soy marinade. Obviously I don't eat those, so I decided to go with the soy curl version that I made in the oven earlier this summer, but I tried it on the stovetop instead.
When it comes to cooking soy curls, they tend to dry out fairly quickly if you cook them uncovered. I found the soy curls would have enough time to caramelize if you cooked with the lid on, and the captured steam at the top would drip back into the soy curls so they would stay tender and juicy.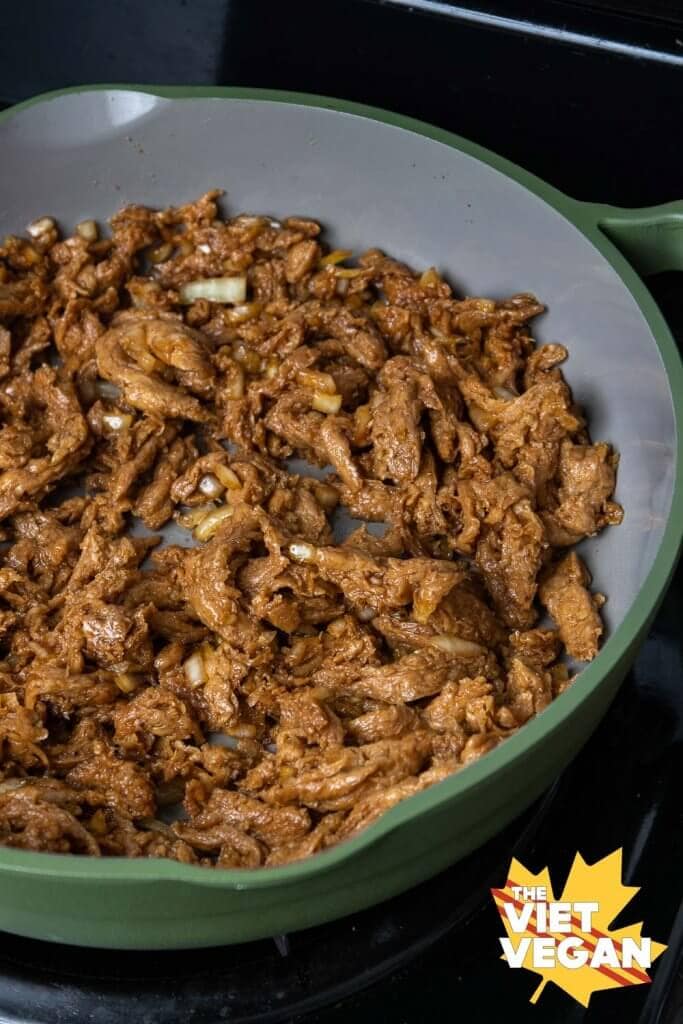 Vegan fish sauce provides the funk and the salt for this, while dark soy sauce provides the colour, but you can sub the vegan fish sauce for soy sauce instead. It won't be exactly the same flavour, but it'll still be very tasty! I found my vegan fish sauce at my local Asian market here in Hamilton, but I've seen it at Coven (Hamilton), at Ben Thanh (in K/W area) and some Asian markets in Toronto. You'd be surprised at how much they blend in with the rest of the golden bottles of fish sauce and vinegars at the Asian markets.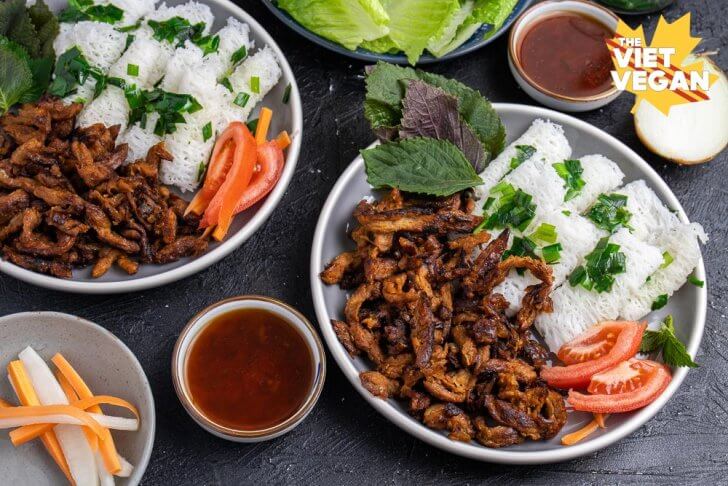 I hope you enjoy my Vegan Bánh Hỏi video I made on my channel with how I've been enjoying eating it lately! I eat with my classic nuoc cham chay, pickled carrots and daikon, and plenty of herbs, lettuces, and whatever crunchy vegetables I have on had to eat on the side.
Yield: 4
Vietnamese Vermicelli Bundles with Marinated Soy Curls - Bánh Hỏi Thịt Nướng Chay
Banh hoi thit nuong chay is a childhood favourite of mine, the rice noodle bundles are so fun to eat and flavourful with the green onion oil! Popular for potlucks and Vietnamese parties, this dish is fun to eat and kind of satisfying to prepare.
Ingredients
For the marinated soy curls:
1 bag of soy curls (227g/8 oz)
1 L of hot water (I use boiled)
1 tbsp of mushroom broth powder (optional)
1 slice of ginger (optional)
1 medium onion, dicedd
6 tbsp (75 g) sugar
1/4 cup vegan fish sauce (can substitute for soy sauce if you can't find it)
4 cloves garlic, crushed
1/4 cup vegetable oil
4 tsp dark soy sauce (this is different from regular soy sauce, its for flavour and colour)
1 tsp kosher salt (omit this if you're adding soy sauce instead of vegan fish sauce)
1/2 tsp black pepper
1 tbsp vegetable oil (for the pan)
Green onion oil
1/4 cup vegetable oil (I used canola)
3-4 green onions (I used about 6 flat chives), finely diced
Banh Hoi
1 package of precut banh hoi**
1 large bowl of tapwater (OR if using stovetop method, one pot of boiling water)
To serve
Instructions
For the marinated soy curls:
Rehydrate the soy curls with hot water (and optionally also mushroom broth powder and a slice of fresh ginger) and soak for about 10 minutes.
Drain, pluck out the ginger (if using), and allow to cool enough for you to squeeze the liquid out.
Prepare the marinade by adding onion, sugar, vegan fish sauce, garlic, vegetable oil, dark soy sauce, salt and pepper and mix well. Add to the rehydrated soy curls and mix well.
Allow to marinate for at least 30 min on the counter or in the fridge until you are ready to cook (up to 1 day)
In a large (ideally non-stick) pan over medium heat, preheat some vegetable oil. Add the soy curls once preheated and stir to spread out the mixture.
Cover with a lid and allow to cook for about 7-8 minutes. Remove lid, allow excess steam to drip back into the pan, and stir to turn over the soy curls to brown them evenly. Cover and let cook again for 5 minutes, and then remove lid and stir again. Continue to cook covered for 5 min intervals until it's browned evenly. Remove from heat and set aside.
For the Green Onion Oil
In a small pot, preheat 1/4 cup vegetable oil over medium heat.
Add diced chives/green onions to the oil and turn off the heat. Stir and mix well until all the green onion has cooked and infused into the oil.
Transfer to a bowl and set aside.
For the Banh Hoi (Stovetop method)
Bring a large pot of water to a boil, then add your precut banh hoi (vermicelli noodle "sheets").
Stir gently so noodles don't stick and cook for exactly 1 minute. Drain immediately and pour back into a pot of cold water to halt the cooking process.
Drain again, then arrange the banh hoi flat in layers and dress with a 1/2 tsp of green onion oil mixture per bundle.
Roll if you like first, then dress with green onion oil if you like that aesthetic.
For the Banh Hoi (Microwave method)
In a large bowl, soak the precut banh hoi (vermicelli noodle "sheets") for 10 minutes.
Then remove from the water (It's okay if there's a little excess water as the noodles will soak it up in the cooking process) and arrange in a single layer on a plate, then microwave for 80 seconds.
Roll up and season with green onion oil (you may need an oiled spatula to help you release the noodle bundles from the pan.)
To Serve:
You can eat banh hoi in a small bowl (kind of like Vietnamese family style with chopsticks) and eat them dipped with the nuoc cham sauce, but my personal favourite to serve them as DIY lettuce wraps! Use plenty of herbs like red mint leaves of cinnamon basil, add pickled carrots and daikon, strips of cucumber, and maybe even a bit of extra green onion oil!
You can also eat it in rice paper wraps! It's easier to keep everything together when wrapped this way.