Disclaimer: This recipe is sponsored by the SUNSET® Produce. All opinions are my own. You've probably seen me use these tomatoes all the time on my Instagram, so it's absolutely amazing to be able to work with companies I already know and love to share recipes with you lovely folks. Thank you for reading and supporting my little corner of the Internet. <3 Also, if you want to enter to win their $5000 Build-Your-Own Dream Vacation Sweepstakes, go do that here.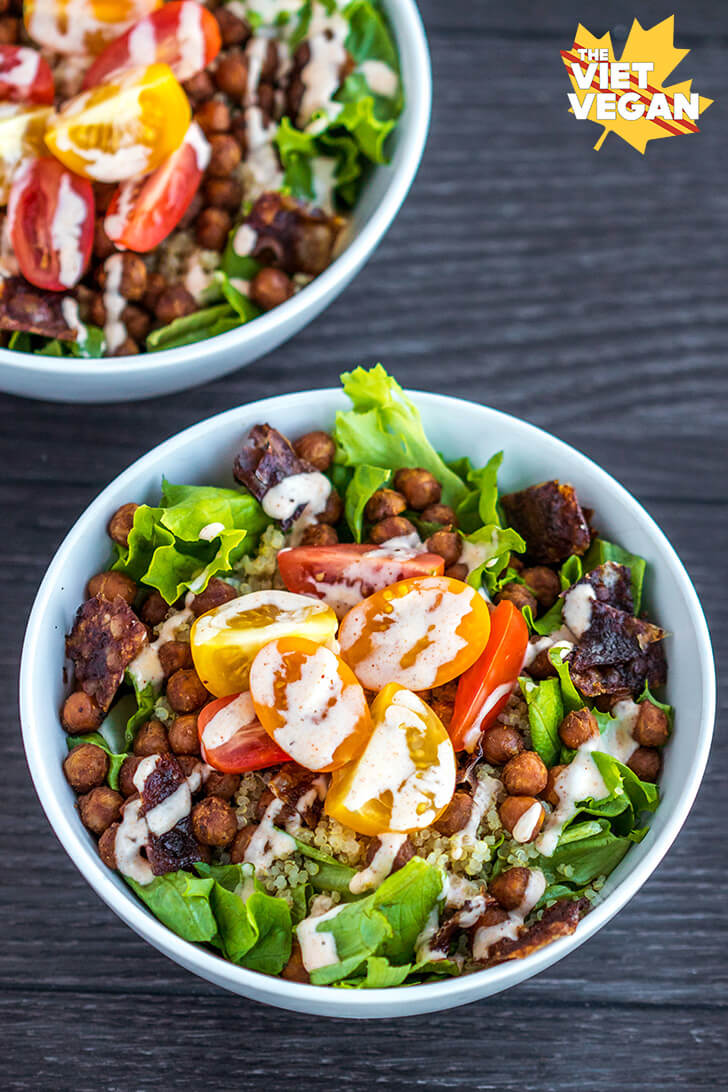 I don't know what it is about this time of year, but the end of May and beginning June always seem to be an extremely stressful time for me. Last year, as many of you know, I went through a crippling break up with my partner of 6 years and I promptly fell apart. This year, everything on the outside seems gravy. My YouTube channel is growing, work is the busiest I've ever been, Eddie and I are doing great, but internally something is off. Maybe it's the transition from spring to summer, maybe it's the humidity—the last two weeks have been so incredibly stressful that it took a huge toll on my body.
I've also been feeling this wild cravings for obscene amounts of food and as a result, I've gained a bit of weight. It's not an absurd or unhealthy amount, but it's enough to remind me that I need to cut back on the cookies and ice cream and eat whole foods. Ever since I started YouTube, I've also spent an extra 6-8 hours every week sitting at the computer and editing videos (on top of the desk job and regular blogging I already do), so my lifestyle has become even more sedentary that it was before. Eddie and I have been incorporating evening walks 3-4 times a week and they have been really lovely, especially after dinner once the sun starts to dip down. It's a wonderful way to signal to our bodies that we're done eating, it's a breath of fresh air, and a bit of activity for about 30-40 minutes. We had been aiming for every day, but sometimes we both work days where we're on our feet all day, so we just veg out on the couch for those days.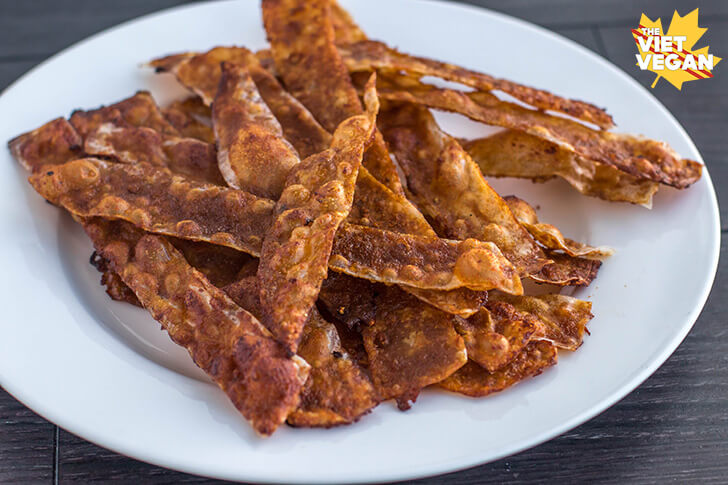 With this week's upcoming holiday as an exception (we're going to LA to visit some friends)—we've cut down on the amount of times we go out to eat from once or twice a week to once or twice a month. As someone who really loves to eat out, I call this a win. It's also unreal how much money we've saved! Honestly, I feel a little silly about how much money we've saved doing that for the last couple of months. But because of that, we've been spending more time cooking, which a lot of people have seemed to enjoy seeing on my Instagram and Snapchat.
I even got Eddie to admit that my "bowl" meals are enjoyable. I had to prod and poke him to get any explanation for why, but I think he likes the simplicity of having a bowl full of food you just shovel into your mouth. I like to believe that he enjoys getting a variety of different foods that are both healthy and full of flavour. His idea of healthy food used to always mean salad and an intense amount of prep—which isn't necessarily the case. This vegan BLT quinoa bowl is probably technically a salad and there is a bit of prep involved—but for us this is two meals made in one go. It's just a great combination of flavours while being a feast for the eyes thanks to the pop of colour from the tomatoes and variety of textures in this bowl.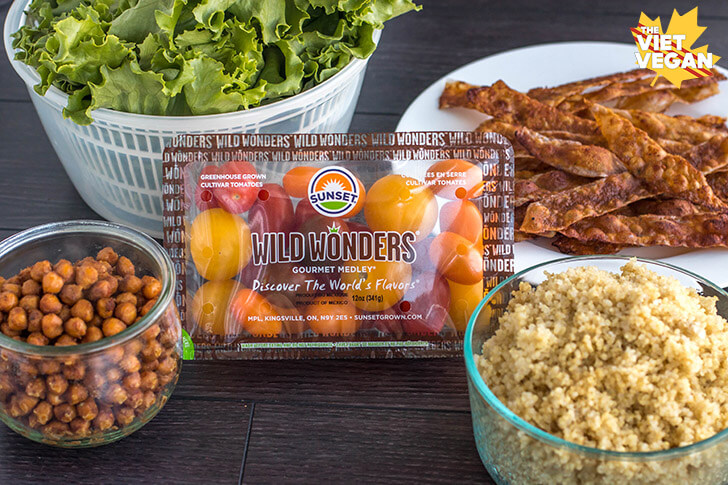 For this recipe I've partnered with SUNSET® Produce to share how beautiful and delicious these Wild Wonders wee tomatoes are! The colour alone is enough to convince you, but after working with in the food industry for a couple years now, I'm learning so much more about food, how it's grown, and what it takes to get from seed to stores.
I never really had a bias against greenhouse grown-food, but I think in general, people believe that produce grown basking in sunlight is the best way to grow food. And while I'll admit that there's nothing quite like juicy strawberries that are warm and sweet from soaking up the sun—greenhouse grown food is just as bright, juicy, and delicious. Plus, with the way Canadian climate works, our growing season is so short that in order to feed our country, the most efficient way to grow local and fresh produce is by using greenhouses.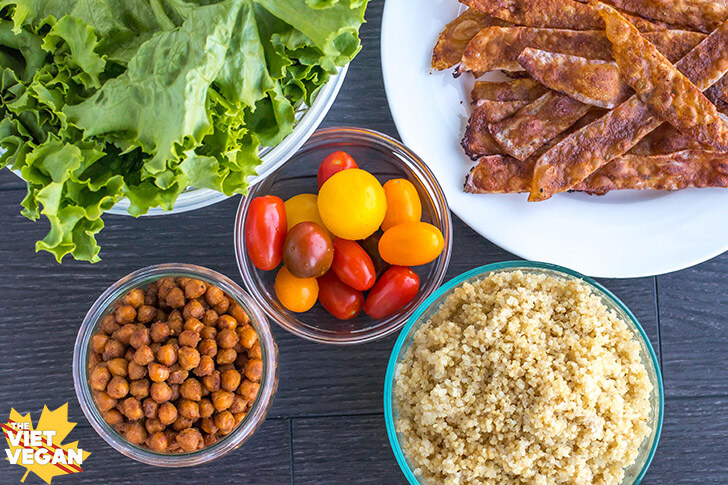 From SUNSET® Produce's blog post about their greenhouse practices, I learned even more reasons why I love supporting them. Their greenhouses use 10x less land than a farm field would use to grow the same amount of produce. Efficient use of water, recycling and reusing rainwater, integrated pest management (no pesticides or herbicides), sustainable growing practices… this makes my eco-geek heart sing! You've probably seen me use their Wild Wonders and their Campari tomatoes tons of times on Instagram because they're just so pretty and delicious. Tomatoes always have held a special place in my heart for me because when my grandparents lived with us, we'd have tomatoes bursting out of our garden so much that we'd eat these juicy tomatoes like apples or pop the grape tomatoes like candy. Now that I don't have the luxury of my grandpa's garden in my backyard, I rely on these little gems to take me back to yesteryear.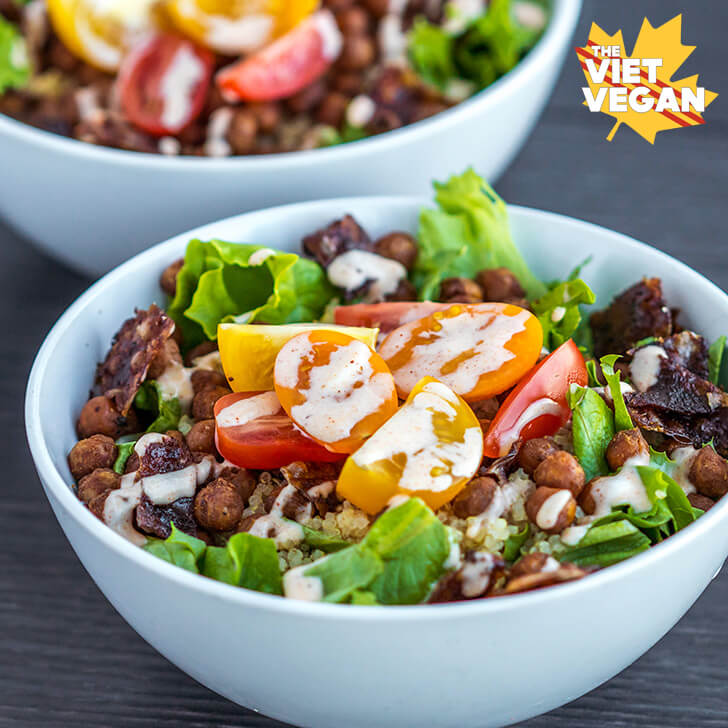 Another thing that makes my heart sing is vegan bacon. I've made coconut bacon in the past and it's SO GOOD. Lately the thing that's been taking over the vegan world is rice paper bacon, and I'll admit, it's pretty genius. You can make it just one layer and it'll be light and crispy, but I like my bacon to have just a wee bit of chewy bite to its crispiness, and I tried Yup It's Vegan's version and found myself delighted with the results! I found using three tbsp of tamari like in Shannon's original recipe was a bit too salty, so I subbed in one of my favourite umami booster: dark mushroom soy sauce. I ended up using 1 tbsp tamari, 1 tbsp dark mushroom soy sauce and it was the perfect amount of saltiness for me.
What I ended up doing was taking two sheets of rice paper together, dipping them as one, and using kitchen shears to cut through them very quickly before they started to soften. Then I'd lay them on the parchment paper, brush the marinade on one side, flip, and brush the other side—a method I saw from The Edgy Veg. For this bowl, I also wanted another form of protein aside form the quinoa, so I used almost the same marinade with some additions to have not one, but TWO bacon-flavoured deliciousness for this BLT. Because let's be real, BLTs are just excuses for people to add salty, smoky bacon for lunch.
When you first make the chickpeas, I find them quite soft and tender, but what I liked doing for my leftovers the next day is to dry fry (is that a term?) the seasoned chickpeas in a pan so they get a little more dry and crispy while having all that bacon-y flavour.
This bowl is definitely a favourite of mine, and I've used tempeh bacon and just baconed chickpeas before, but the crispy rice paper bacon just enhances the BLT experience because that salty, crispy, smoky crunch is just… oh la la. It's good.

Yield: 4
Vegan BLT Quinoa Bowls
Ingredients
To prep ahead of time:
1 cup quinoa, rinsed and drained well
1 1/2 cups vegetable broth OR 1 1/2 cups water + 1 1/2 tsp mushroom broth powder
1 tbsp oil
1 can chickpeas (15 oz/425 mL), rinsed and drained (reserve that aquafaba for other recipes!)
1 tsp garlic powder
1/2 tsp smoked paprika
1/2 tsp liquid smoke
1 tbsp tamari
1 tbsp dark soy sauce (you can just add a bit more of tamari instead)
2 tbsp nutritional yeast
1 tbsp maple syrup
Chipotle-Lime Mayo
1/4 cup vegan mayo
1/2 lime, juiced
1/4 tsp chipotle powder
1/4 tsp kosher salt
To assemble
1/4 cup SUNSET® Wild Wonders (grape tomatoes)
1 cup green leaf lettuce, cut into bite sized pieces
Instructions
Prep:
Cook the quinoa by combining quinoa and broth in a covered pot over medium high heat until boiling. Once you see steam coming out of the pot, lower the heat to a medium low and let cook covered for 15 minutes. Do not lift the lid to peek until after 15 minutes otherwise you'll lose the steam needed to cook the quinoa. After 15 minutes, remove from heat and fluff with fork. Set aside.
Make your rice paper bacon. I used this recipe for the prep shots of the rice paper bacon, but I used smoked paprika, 1 tbsp tamari and 1 tbsp dark mushroom soy sauce in the batch in the assembled bowls.
To make the chickpea bacon, I used an adaptation of Shannon's rice paper bacon marinade. Pan-fry chickpeas in 1 tbsp oil until the outside is kind of dry and slightly browned. In a separate bowl, whisk together garlic powder, smoked paprika, liquid smoke, tamari, dark soy sauce, nutritional yeast, and maple syrup. Pour over chickpeas and continue to stir and cook until beans are well coated and dry.
Make the mayo by whisking together mayo, lime, chipotle powder, and kosher salt. To drizzle like in my photo, transfer to a plastic zippered bag and snip a tiny corner.
To assemble the bowls:
Add 1 cup of lettuce to each bowl.
Add 1/2 cup of cooked quinoa on top, 1/4 cup of chickpeas, and a few pieces of the vegan rice paper bacon.
Add the quartered SUNSET® Wild Wonders on top and drizzle chipotle lime mayo on top.
Enjoy!
Disclaimer:
This recipe is sponsored by the SUNSET® Produce. All opinions are my own. You've probably seen me use these tomatoes all the time on my Instagram, so it's absolutely amazing to be able to work with companies I already know and love to share recipes with you lovely folks. Thank you for reading and supporting my little corner of the Internet. <3 Also, if you want to enter to win their $5000 Build-Your-Own Dream Vacation Sweepstakes, go do that here.