The older I get, the more I crave foods that I connect with nostalgia for some reason. I'm not even that old but it's still something that draws me to the kitchen. My tastebuds crave these foods I had when I was younger, and they weren't even really associated with good or fond memories, just memories I guess. My very first job ever was McDonald's (I've mentioned this around here before), and for 3 years, I worked early morning weekend shifts and would take breaks from the weekend morning rush by sitting down with either breakfast sandwiches (which I've already veganized!) or these breakfast burritos.
I had made SO many of those breakfast burritos I remember it vividly, with the half slices of processed cheese, a scoop of the pre-made filling from those giant buckets (which always kind of creeped me out but I ate it anyway), and wrapping it in those orange wraps and a sticker. I think I made hundreds, if not thousands of those, and I prided myself on making sure they were even, folded well and not sloppily wrapped so that when my co-workers grabbed them, piping hot from the weird heater/microwave thing, and flung them into the bin they wouldn't spill out everywhere.
A very specific and vivid memory, I know.
But there was something simple and serene about taking a break from the customer chaos and sitting in the back with my perfectly assembled burritos and some salsa and just sitting in silence for 20 minutes before I had to go back out again.
Do you guys have weirdly vivid memories like that? These random moments that were inconsequential or not at all significant to your upbringing, but still so clear in your memories anyway?
Whether or not you do, I think you'll really like these vegan breakfast burritos. The medium-firm tofu is the perfect texture for that melt-in-your mouth egg-like consistency, and the bell pepper, onion, and vegan sausage mimics the same weird McDonald's mixture that comes in these giant buckets off a truck. Plus there's just something so unctuous about microwaved flour tortillas, they're tender and chewy and the perfect, pillowy base for these breakfast burritos.
If you want to see how I made these, I also made a video to go along with the recipe, so you can have a quick little watch right here:
Yield: 8-10 burritos
Vegan Breakfast Burritos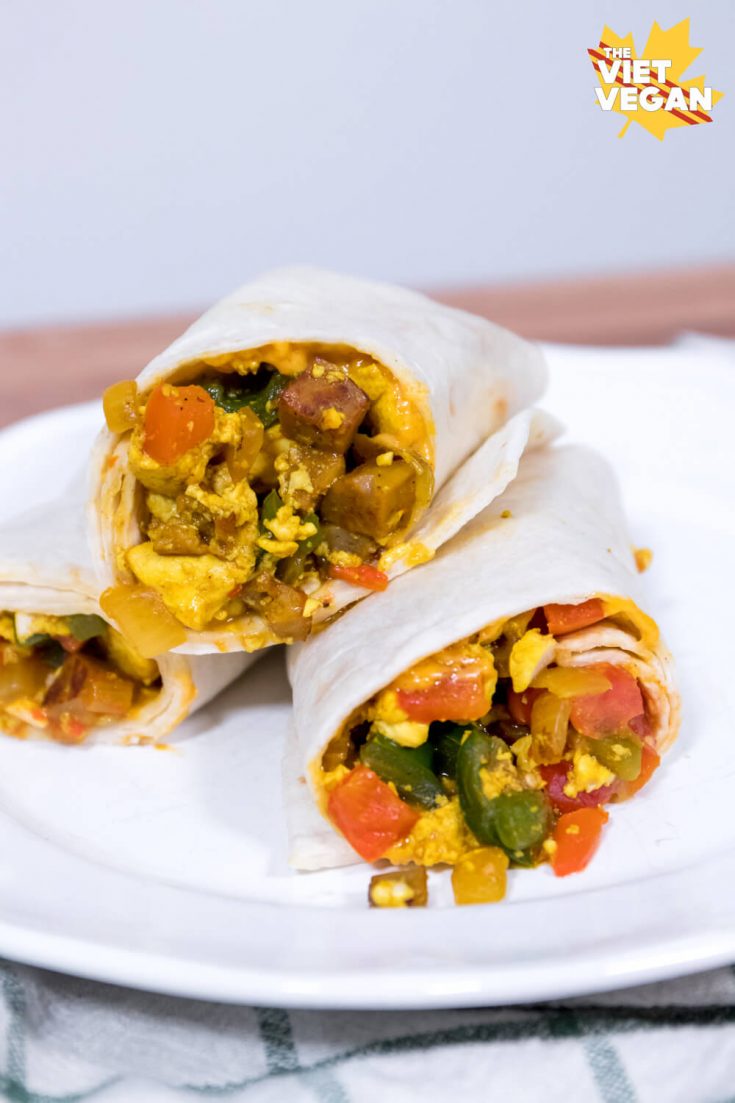 Ingredients
Filling:
4 vegan sausage links (I used Yves but you can use whatever you've got), diced
1 tsp vegetable oil (I used sunflower)
1 medium onion, diced
1 bell pepper (whatever colour you like)
1 jalapeno, seeded and finely diced
1 block medium firm tofu (~400 g), drained well and cubed
1/2 tsp black salt (aka kala namak)
1/2 tsp turmeric
1/4 tsp white or black pepper (whichever you prefer or have on hand)
1 tbsp tamari or soy sauce
To assemble
8-10 flour tortillas (I used the large ones but the smaller ones work too)
Vegan cheddar shreds (if you want cheese in the burritos)
Fresh tomatoes, diced
Salsa to serve
Instructions
To make the filling:
In a large pan over medium heat, cook the diced vegan sausage with vegetable oil until browned.
Add diced onion and cook until translucent, stirring frequently.
Add bell pepper and jalapeno and cook until softened.
Push the ingredients in the pan to one side to make space for the tofu. Cook the tofu and season with black salt, turmeric, pepper, and tamari. Stir to coat tofu in the seasonings, then combine with the remaining ingredients in the pan. Cook until the mixture is a little more dry and a lot of the moisture from the tofu has cooked off (about 5-7 minutes).
To assemble:
Turn off the heat and assemble the burritos by layering vegan cheese shreds, diced tomatoes, and the filling mixture.
Fold in the edges and roll (like a burrito haha) and place on a plate with the seam/edge underneath. Microwave for 1 min on high to melt the cheese OR wrap in parchment paper and grill for about 1 min where you placed the cheese to melt it (assuming you placed the cheese on the "bottom" so to speak).
Notes
You can meal prep these by wrapping each burrito in parchment paper and placing in a sealed container or bag. Microwave until hot (about 2 minutes) or bake (I estimate about 10-15 minutes but I haven't tried this myself) to reheat and enjoy!