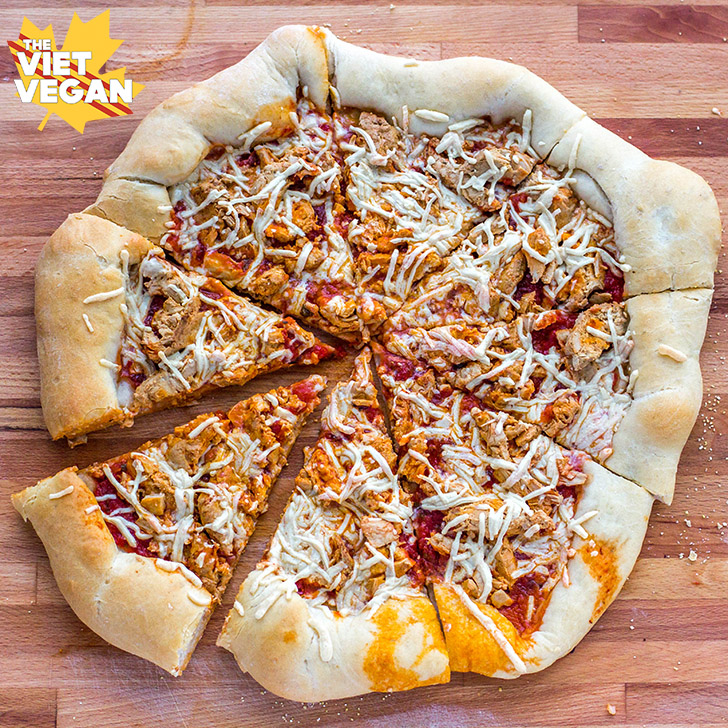 In my last post, I talked about how Eddie schooled me on the difference between pizza sauce and pasta sauce. The man knows his pizza, okay? We've been having this vegan buffalo chicken pizza about once a week for the past couple weeks while I perfect the crust/pizza dough recipe (and method). This pizza is the real DEAL. It's hearty, flavourful, and filling. It's not the healthiest thing you can eat, but it's not the worst for you either. I'm just showing you that you can make a damn good vegan pizza. Vegan pizza comes in so many different forms and it doesn't just have to be a pile of vegetables on top of dough.
I had taken some much better photos of this pizza, but I recently had to move around some files to an external harddrive and subsequently lost my photos. So here is the unphotogenenic pizza that we made that has a splotch of buffalo sauce on the crust =P I may reshoot this later to update the photo, but in any case, this is kind of what it looks like haha.
Scroll down for the recipe, but if you'd like keep reading as I talk about the hardest part about being vegan.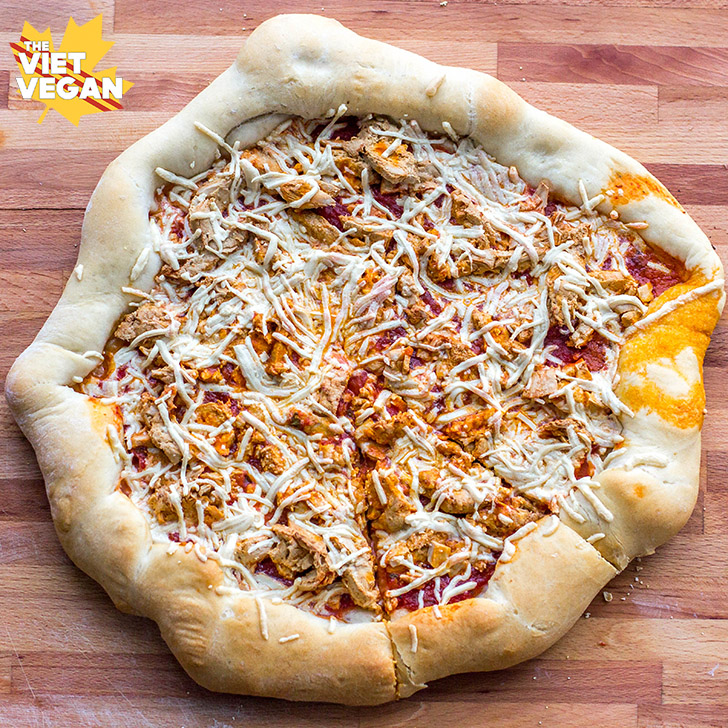 I've always been pretty outspoken. My friends and family have always known me to be the one always comfortable to voice my opinion, and if I don't speak, my face usually does the talking for me. I've been lucky to have been in line with the voice of the majority for so long, and it's only been the past couple years that I find myself pushing against what's common. Being vegan means that people are judging you left, right, and centre because people think you are judging others.
The reality?
I -am- judging others. Not a lot. But it's still there. I don't think they're bad people, I just think that they are ignorant to the realities of the meat industry, or if they aren't ignorant to the realities, they're complacent to committing 100% to what people -know- is the most ethical choice.
Being vegan is not easy. It takes more than just learning to eat plant-based. It's knowing how to cook. Having self-control. Having discipline to wait until I get home to eat ice cream while my friends get soft serve from the ice cream truck. Even though nowadays, it's actually so much easier to eat plant-based, especially in the city. There's grain meats, tapioca-based cheeses, non-dairy ice cream, soy protein… being vegan in Toronto is a cake walk. You can eat your favourite things but veganized very easily here.
But the most difficult part about being vegan is dealing with people. Biting your tongue when it's not productive to explain the truth about animals. Nobody wants to be told that what they're doing is wrong. People don't like it when you tell them that their beloved cheese is actually a product of a very sad mother without her baby.
My response to someone saying they couldn't live without cheese is a shrug and "I used to love cheese as much as you do," when really I want to say is "Those dairy cows had to birth a calf to produce that milk. If you're drinking the milk, what's the calf eating?" (The answer is nothing. Because that calf became veal.)
But nobody likes being judged. People get defensive and turn the other way, moaning with pleasure as they eat their cheese while thinking, "I can't eat this around Lisa." But why spare my feelings? What about the calf's feelings? The cow's feelings? We are raised thinking that cows "need" to be milked or they'd be uncomfortable. So us taking their milk is doing them a favour. But when it comes down to it, cows are mammals like us. When humans are lactating, if they stop milking themselves for their babies, they will stop. It may be uncomfortable for a while before it stops, but it will stop. The same goes for cows. In essence, Cow milk is for calfs. Human milk is for baby humans.
I try to avoid bringing up the topic of veganism when meeting new people. I don't want to be "that vegan" who's super aggressive. Despite it being a big part of my life, there is more to me than just being vegan. But it always comes up. "Oh hi, Lisa! I've heard so much about you. You have a food blog? I heard you're vegan." And then it begins.
"So you don't eat dairy? Damn I love my cheese, I don't know how you do it."
Again, shrug and a laugh.
"I hate tofu. It's so bland."
I respond with how tofu can be a sponge for flavour. But it usually falls on deaf ears, especially if people are REALLY into their steak.
Then begin the jokes about bacon, steak, fried chicken. I stopped disconnecting the fact that the meat people eat was once a living, breathing, feeling being. Someone who loved the feeling of grass beneath their feet and the sun on their face. So I sit in silence, biting my tongue, trying to be a positive representative of veganism.
As I sit uncomfortably with people talking about how much they love eating dead animals, I am surprised to have someone on my side.
Eddie gently puts his hand on my knee before he changes the subject. The omnivore steers the conversation away from dead bodies to something lighter, because if it were me people would feel like they're being judged if I said anything. He suggests a place for everyone to eat that isn't a rotisserie place—where they have dozens of plucked and gutted chickens, turning on a spit in full view to "entice" their diners.
"Are you okay?" he whispers to me as everyone latches on to the new subject.
A thankful nod and a sigh of relief, and I mentally add another thing to the list of reasons why I love this person.
Being vegan is a wonderful way of living: I eat knowing I'm doing the best I can to reduce the amount of suffering in the world. I eat for the better of the environment, the animals, and myself. But it's not all fun and games. There are so many harsh, angry people out there who misrepresent the vegan movement with their shaming and negativity. Much like any other social movements, those angry, negative people will always get the spotlight. Angry feminists, angry vegans, etc. But as a vegan, I strive to be a positive and joyful vegan in a world that still doesn't understand the sadness and death behind meat, eggs, and dairy.

Yield: 1
Vegan Buffalo Chicken Pizza
Prep Time
1 hour
20 minutes
Total Time
1 hour
50 minutes
Ingredients
For the Pizza Dough
21/4 tsp dry active yeast
1 tsp sugar
13/4 cups warm water (not too hot or it'll kill the yeast)
3 1/2 cups (approx 460 g) all purpose flour (+ more for kneading)
1 tbsp (15 g) vital wheat gluten
1 tsp garlic powder
1 tbsp onion powder
1 tsp kosher salt
2 tsp olive oil + more for the bowl
To make the buffalo sauce
1 heaping tbsp vegan butter, melted
1 heaping tbsp vegan hot sauce (like Franks or Tabasco), feel free to use more if you like it spicier!
To assemble the pizza
2 tbsp cornmeal
1/4 cup (or more) vegan pizza sauce
Vegan chicken —some can find pieces of vegan chicken, I used two slabs of vegan chicken, cooked partially, and cut them up.
1 cup vegan mozza cheese shreds
Optional: 1/2 cup diced pineapple
Optional: vegan garlic butter for the crust (if you want my recipe let me know in the comments, but you can use your fave one)
Instructions
For the Pizza Dough:
In a small bowl, combine yeast, sugar, and warm water and let the yeast bloom for 5-10 minutes.
In another bowl, combine flour, vital wheat gluten, garlic powder, and salt. Mix by hand or with a whisk to evenly distribute the dry ingredients.
Add the bloomed yeast to the dry ingredients and mix until the dough pulls away from the side of the bowl. You may need to add more flour, depending on how wet your dough still is. It should be tacky, but not sticky.
Turn over onto a floured work surface. Knead until smooth and elastic, about 5 minutes.
Add olive oil to your bowl and coat well. Add the dough ball and turn to coat it in the oil. Cover with plastic wrap or a damp kitchen towel and let rise somewhere at room temperature (preferably somewhere warm) for one hour, until it's doubled in size.
Gently punch it down to release the air bubbles, and turn it onto a work surface. Divide in half as this recipe makes two pizzas. You can store one half in a freezer safe zippered bag or container for next time (I thaw it overnight if I know I want to make pizza the next day).
To make the buffalo sauce:
Whisk vegan butter and hot sauce together until combined. Taste and adjust as desired. Set aside.
To assemble the pizza
If you have a pizza stone, preheat it as per manufacturer's instructions. I preheat mine to 400ªF (200ºC). You can also bake it on a standard baking sheet, but add lots of cornmeal to the pan to absorb some of the moisture otherwise you'll have a soggy crust.
Once preheated, set the pizza stone on a heat-safe surface to prepare your pizza. Sprinkle cornmeal over the surface.
Shape the dough and roll out to your desired shape. Place over cornmeal on pizza stone or baking sheet. Poke all over the dough with a fork to keep the air bubbles from getting out of control during baking.
Spread pizza sauce, add vegan chicken pieces. Drizzle the vegan buffalo sauce on top, add pineapple if using, and then sprinkle with vegan mozza shreds.
You can also brush some vegan garlic butter on the crust before and after baking, but that's up to you (I highly recommend it).
Bake for 30 minutes until the crust is lightly golden. Remove from oven and cut into 8. Enjoy!