What are the holidays without that tin of homemade caramel popcorn?
I swapped out butter for vegan butter and the results are pretty much the same.
Huzzah for vegan caramel popcorn!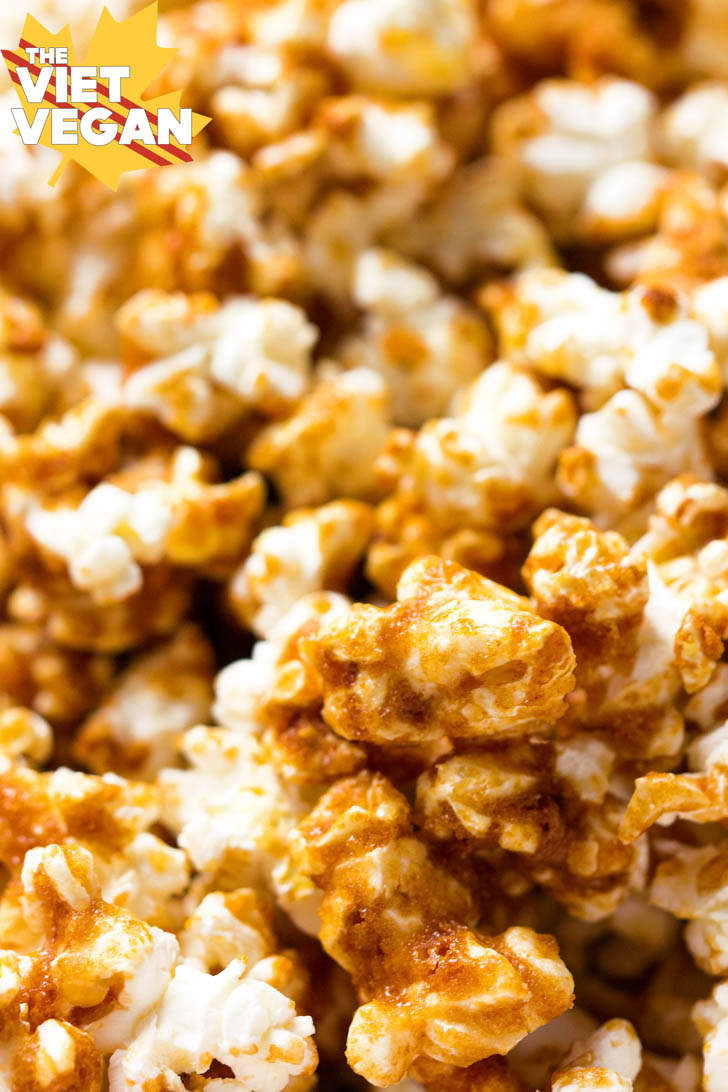 The holidays seem to have just snuck up on me. One minute it's December 1, and then the next, Christmas is in 11 days! And for the first time, Christmas is something I'm looking forward too. Not that I never enjoyed Christmas before, but I kind of dreaded the holiday tunes and the nerve-wracking process of finding the perfect present.
I didn't think that I would be at this place again so soon—buying presents for my significant other's family, balancing family time and relationship time while squeezing friendship in there too. After being in a long distance relationship for several years, it's so refreshing and honestly so relieving to have my partner at my side almost all the time. Burrito Boy and I have nearly become inseparable, to the point where when he leaves every day for work I miss him even though I know I'll see him at the end of the day.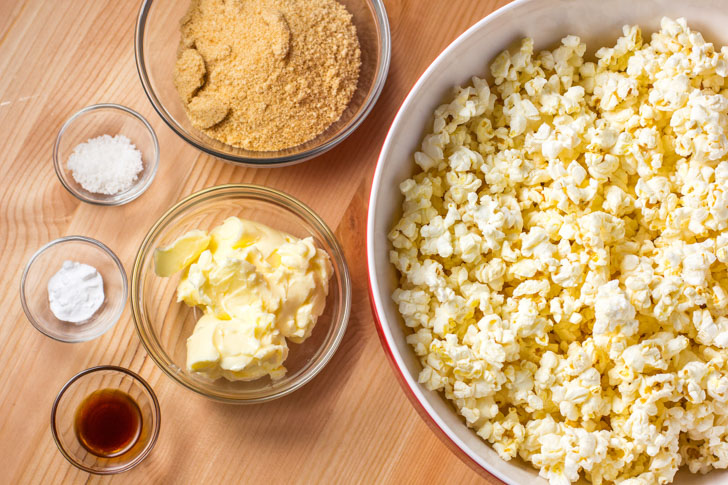 It's kind of gross, I know, yadda yadda, I'm in love. But now I get it. I thought long distance was super easy, but now that I've experienced this kind of closeness, the idea of long distance makes my heart ache. How did I do it for so long before?
Honestly? Now that I know what it feels like to be this in tune with someone, I don't really know. Sometimes I look back on my behaviour to see the way I managed my emotions and I realize how independent I was. And not quite independent in a good way. I shouldered most of my emotions by myself, dissecting and rationalizing, and bouncing those off of my ever-supportive friends. But for the most part, my mentality and idea of self was not really of a person who is in a relationship. I was very lonely and I didn't feel supported in a way a partner should.
Nowadays, Burrito Boy is constantly a factor. What are we having for dinner? What are we doing on the weekend? Chores become easier, nights seem cozier, mundane tasks seem infinitely more interesting. A boring night of me staying home and working becomes kind of nice as Burrito Boy sits next to me and peruses Reddit while I write articles about produce and manage social media accounts for clients. We spent two hours at Costco the other day and frankly, it was really fun. Who knew that finding toilet paper at a great value would be so exciting. Adulting, right?!
But for the first time ever, I'm excited for Christmas. Making traditions, singing Christmas carols, trekking between families for gatherings, even the infuriatingly complicated task of gift giving seems less daunting with Burrito Boy by my side. Maybe it's all the positive thinking and conscious effort to be happier that seems to exponentially make everything rose-coloured. I'm trying to develop better habits to understand myself and lead a happier and more productive life. If anyone is interested in that, check out Gretchen Rubin's podcast: Happier, or her books The Happiness Project
and Better Than Before: Mastering the Habits of Our Everyday Lives
. It's very inspiring and practical at the same time. While I'm still a pretty disorganized mess, I recognize my more destructive habits and aspire to stop them.
This post is a part of the Canadian Blogger's Christmas Collaboration! I met up with a bunch of Canadian bloggers at Food Bloggers of Canada Conference this year and it's been so nice to meet other Canadian bloggers! We're all so spread out that it's hard to meet up face to face. Some of my US blogger friends live in the same city, so they'll post playdates with their kids or just random hangouts at different eateries. I wish I had friends who were closer—now that I live just west of Toronto, it takes me about an hour to get into the city to hang out. I've met up with Sam from It Doesn't Taste Like Chicken and Gen from Gratitude and Greens and it's been amazing to get to know them and feel a kinship about what its like to be a blogger who's obsessed with food.
Check out these classic holiday recipe posts from my Canadian blog friends. They're not vegan, but for anyone who isn't vegan, it might be nice to spread the traffic love. Besides, it's even easier than ever to veganize recipes now, so who I'm sure you can easily convert some of these recipes to plant-based versions!
This week is going to be a busy week on the blog! Lots of recipes to come this month, and I have a fun little project coming up in the new year that might be fun for you folks. Hope your holiday isn't too hectic so far and that you find an hour or so to make some vegan caramel popcorn. It makes a great hostess gift or potluck snack, and people always love a tin of this stuff for holiday exchanges.

Yield: 10-12
Vegan Caramel Popcorn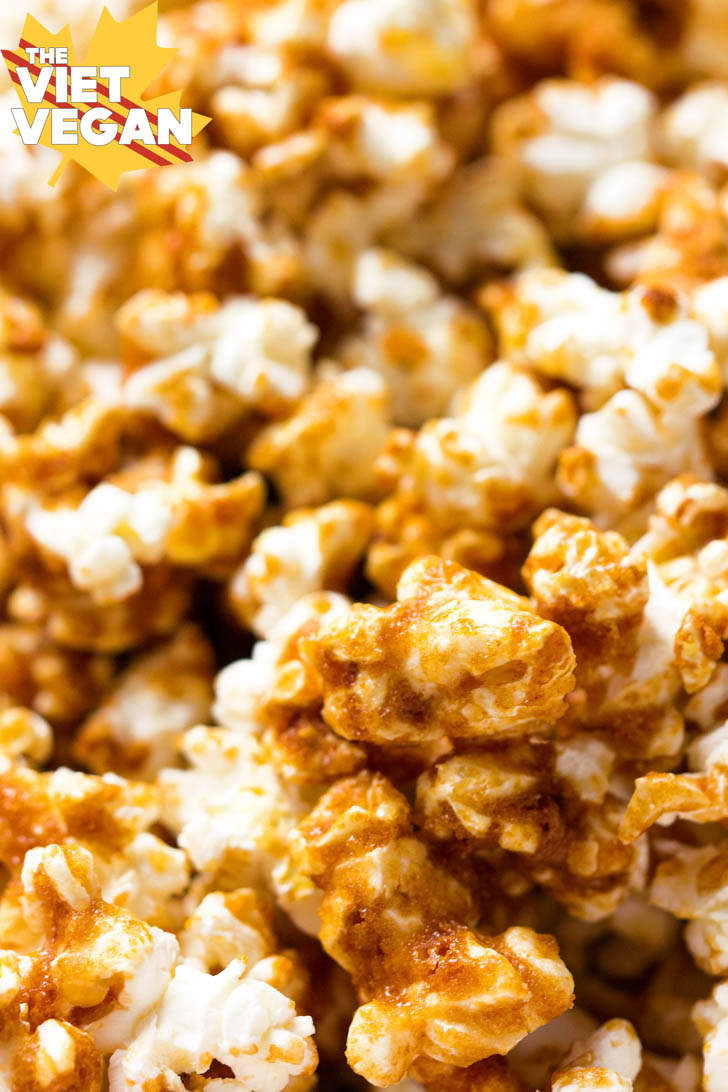 Total Time
1 hour
20 minutes
Ingredients
3 batches of stovetop popcorn (or just pop 3/4 cups of popcorn kernels)
3/4 cup vegan butter
1 cup packed brown sugar
1/2 tsp baking soda
1 tsp vanilla extract
1 tsp fleur de sel or 1/4 tsp table salt or 1/2 tsp kosher salt (OMIT if using salted butter)
Instructions
Preheat oven to 250ºF (120ºC), use convection mode if you have it, otherwise you'll need to do two pans separately or just switch them halfway through baking.
Prepare two pans with parchment paper or a silpat and set aside.
Pop the 3/4 cups of popcorn kernels—you should have about 12 cups of popcorn. Transfer to a large mixing bowl.
In a small pan, melt butter and add brown sugar. Stir continuously and cook over medium-high heat until the mixture bubbles and rises a little bit, about 3 minutes of boiling. If you have a candy thermometer, remove the pot from heat at around 275ºF (135ºC). Stir in baking soda, vanilla extract, and if you used unsalted butter, add the salt. Stir to incorporate and then pour over the popped corn. Stir to coat, then transfer to prepared baking sheets, spreading evenly. If you're using a convection oven, bake both sheets for an hour, stirring once halfway through. If using a conventional oven, you can bake them both at the same time but halfway through, stir and switch the placements of the pans so that the top one also gets heat from the bottom.
Notes
**If you find your caramel is grainy, your heat might have been a little too high and some of the sugar might have recrystalized in the cooking process. It'll still taste good but the grainy texture isn't ideal.
Disclaimer: This post contains affiliate links. Thanks for reading and supporting TVV—if you ever find yourself shopping on Amazon, I would love it if you used my links. It helps me a little and it's no extra cost to you =)