There's nothing quite like freshly popped popcorn while you're watching a movie. But something so simple and cheap is often so overpriced at the movies or in those prepackaged bags of carcinogens microwave popcorn, I have found the cheap answer to delicious popcorn: stovetop popcorn. You don't need some ridiculous contraption that only performs one task to clutter up your kitchen. All you need is a large pot and a lid to fulfill your freshly popped snacking dreams.
And if I haven't sold you yet on the endless cheap possibilities of stove-popped corn at home, let me elaborate even more. So many foods are over-salted or lathered in oils and butter, but you can control what goes in your popcorn by making it yourself. You control what you put on your popcorn. If you like it extra buttery, then by all means, add more without the $0.79 charge (seriously though, that's steep even for a pump or two of butter). But if you just like it simple with a sprinkle of salt, you can do that.
But you don't need to stop there. You can add nutritional yeast, parmesan cheese, chili powder, curry powder, chocolate chips, shredded coconut, or a bag of M&Ms.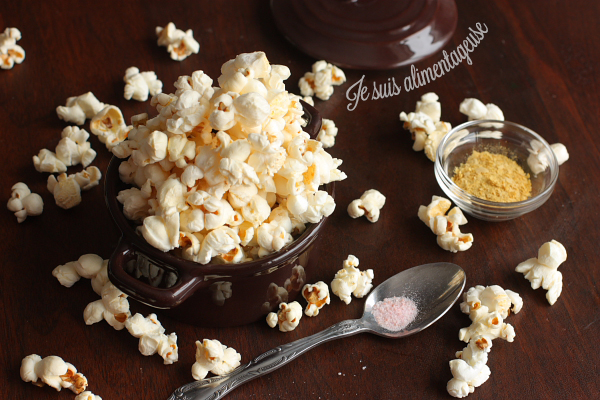 And if you want to kick it up a notch, you could add some salted peanuts, caramel, melted chocolate, mini-marshmallows, candied almonds, broken Oreos… seriously there's so much you can do here. No wonder Ashton from Something Swanky is publishing a popcorn cookbook for the 2014 holiday season.
With a recent obsession with the chocolate caramel pecan bars from Sweets from the Earth, I've got a fairly delicious recipe in the works for the new year (although for those who have new years resolutions of staying away from sweets, I feel like this is ill timing). But don't worry, I'll have lots of healthy recipes to come in the new year, as per usual! My fellow Weight Loss Wednesday ladies are rebranding to be more centred around healthy eating and good exercise habits: Happy and Healthy Saturdays! So look forward to 3 posts per week as opposed to my previous two posts with a third peppered here and there.
Stovetop popcorn is super, super easy. It makes me wonder why I grew up eating microwave popcorn. You just start with a tablespoon of coconut oil and 4 guinea pig kernels. You cover and let the pot heat up, and once those guinea pig kernels have popped, you know it's hot enough. Pour in 1/4 cup of kernels (that's perfect for one person) and 5 minutes later, you're rewarded with a piping hot, bowl of crunchy bits of perfection. And it's so much cheaper!
A box of bagged popcorn typically has about 5 bags in it, for $4. But my $5 container of non-GMO, organic popping corn kernels has about 4 cups, which probably is about 12-14 bags of popcorn, but without the preservatives and questionable chemicals. Heck yes.
So snack away on some popcorn and fulfill those healthy New Year's resolutions. No need to feel guilty for craving something crunchy.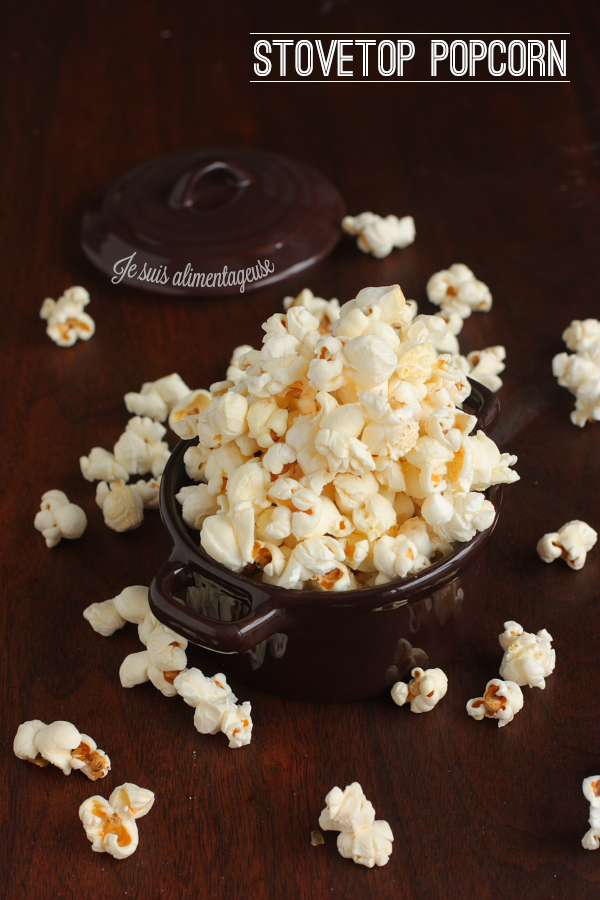 I hope everyone enjoyed the holiday and aren't getting trampled for boxing day sales. I am steering cleeeeaaar and far away from malls because I dislike shopping enough as it is, let alone shopping on days where there are far too many people who are pushy, cranky, and hangry.
Yes, not just hungry. Not just angry.
Hangry.
The worst.
Enjoy! =P
Yield: 4 cups popped corn
Stovetop Popcorn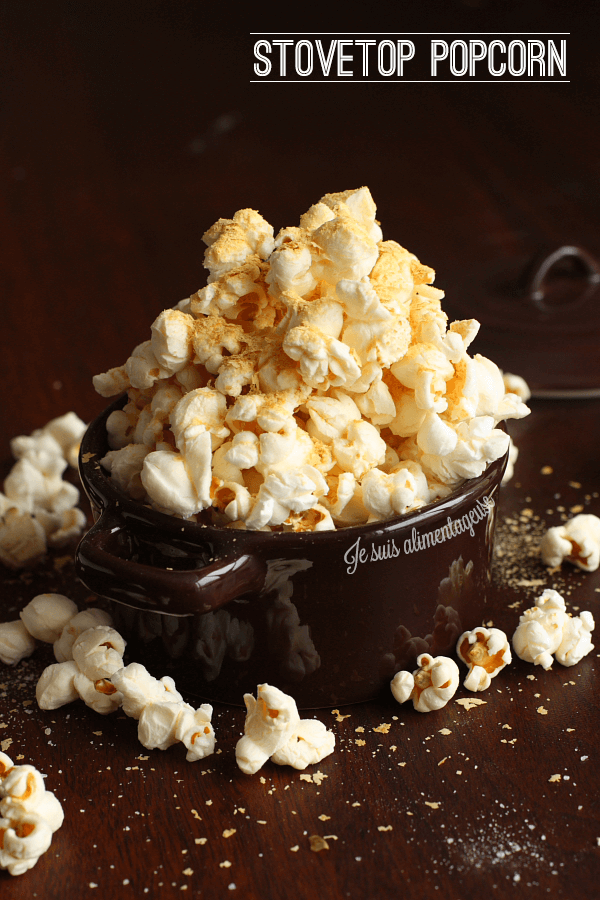 Ingredients
1 tbsp coconut oil (or other high smoke point oil)
1/4 cup popping corn kernels
Optional:
2 tsp nutritional yeast
1/4 tsp pink himalayan salt (or other sea salt)
Instructions
In a large, heavy-bottomed pot, heat the coconut oil + 4 kernels over medium low heat and cover until you hear all 4 kernels pop. Once popped, add the remaining 1/4 cup of kernels to the pot. Cover with lid but leave ajar for steam to escape. Shake the pot occasionally while it's on the stove to move the kernels around. Continue over heat until you only hear a couple every few seconds. Remove from heat and let sit for another minute or two for those residual stubborn kernels (keep the lid ajar for this so the popcorn doesn't get soggy from the steam).
Transfer kernels to a large bowl and top with whatever toppings you'd like. Nutritional yeast adds a nice cheesy flavour while packing some nutrition and the pink himalayan salt adds great flavour. If you like melted butter on your popcorn, melt about 1 tbsp and drizzle over your popcorn, tossing to coat. Enjoy!