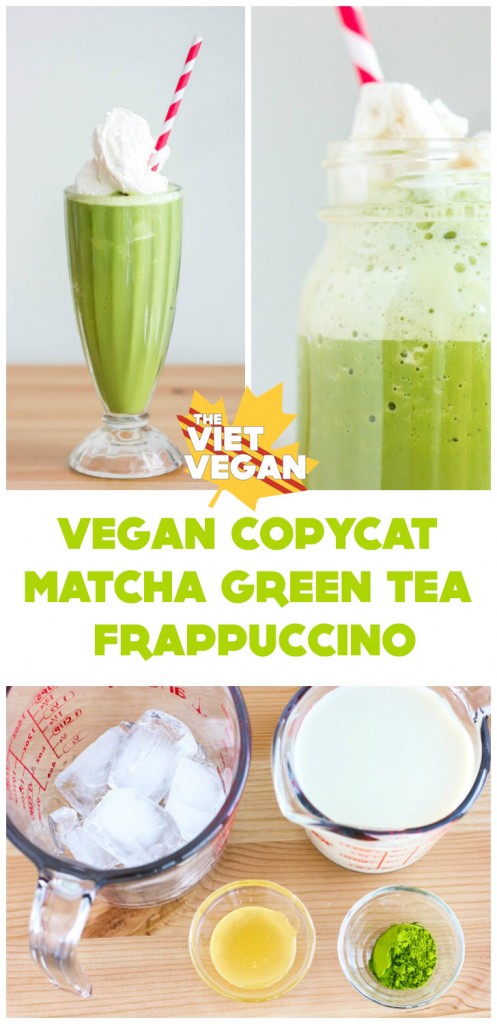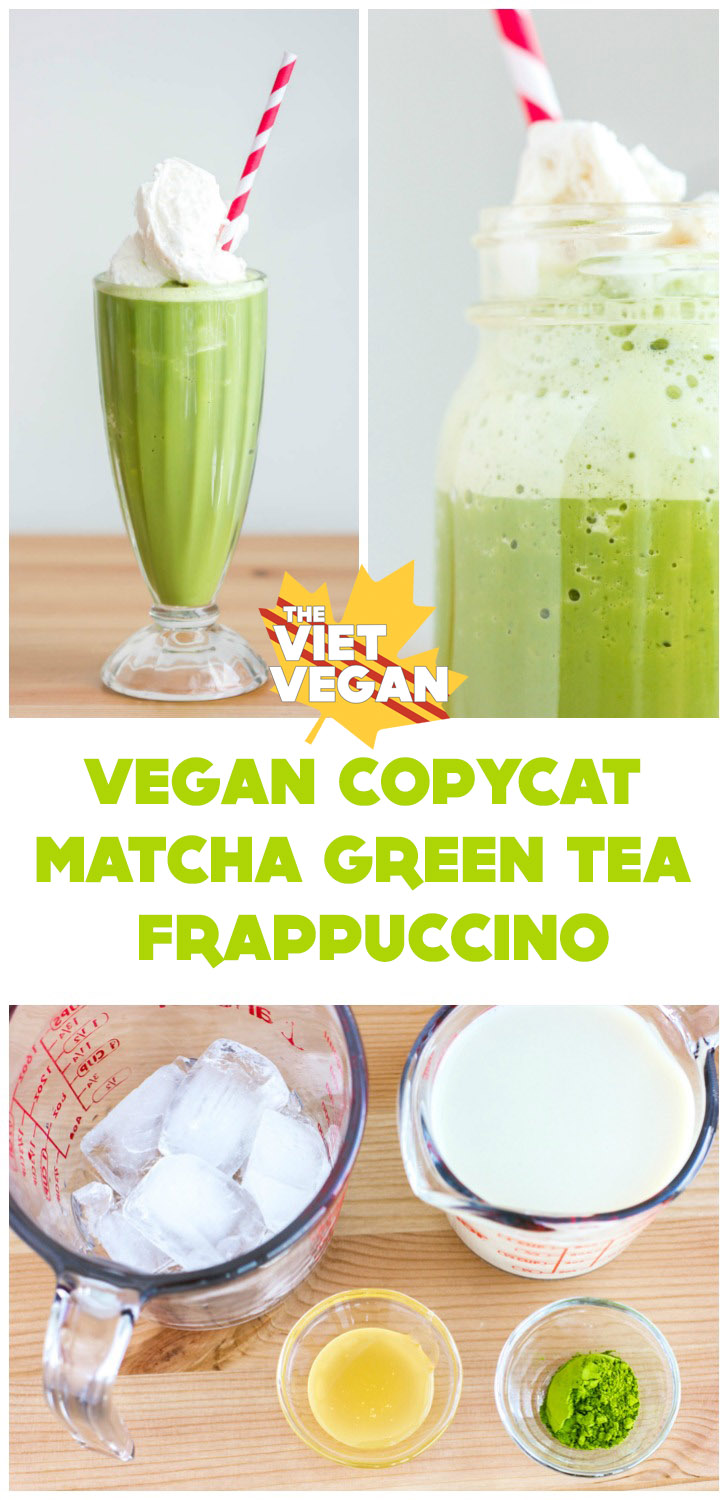 I've been trying to juggle posting daily on Instagram, posting regularly (at least once a week) on here, and also recording and editing videos for YouTube, reorganizing my apartment to accommodate Eddie moving in—on top of working full time. I've had less downtime that usual but you know what? It's actually been a blast. I thrive on being busy. I've been the most productive at work, I posted my first weekly video, shot and edited my second one, and shot my third one! I'll be posting three types of videos:
What I Ate In A Day—which are basically vlogs where I show you what I eat on that day in particular
Recipe videos—essentially a visual version of these posts but with my personality and the cooking process), and
Vegan Talks—general discussion about vegan topics, or just topics I've wanted to cover but aren't super appropriate for a food blog, like menstruation. But I have some plans for talking about relationships and dating as a vegan, vegan pantry staples, cruelty-free makeup, etc.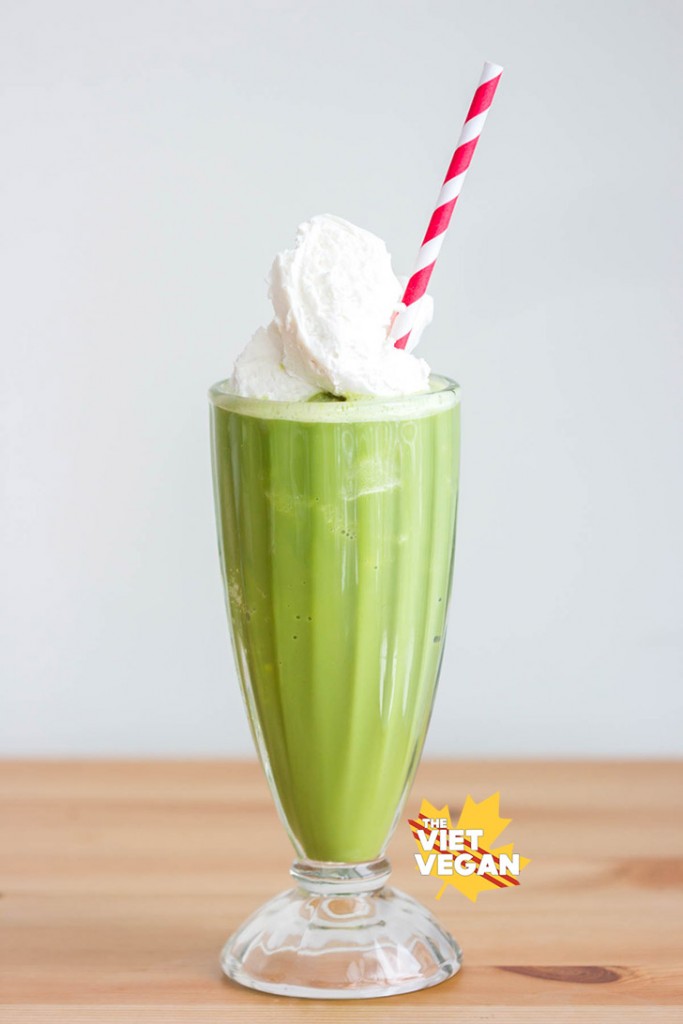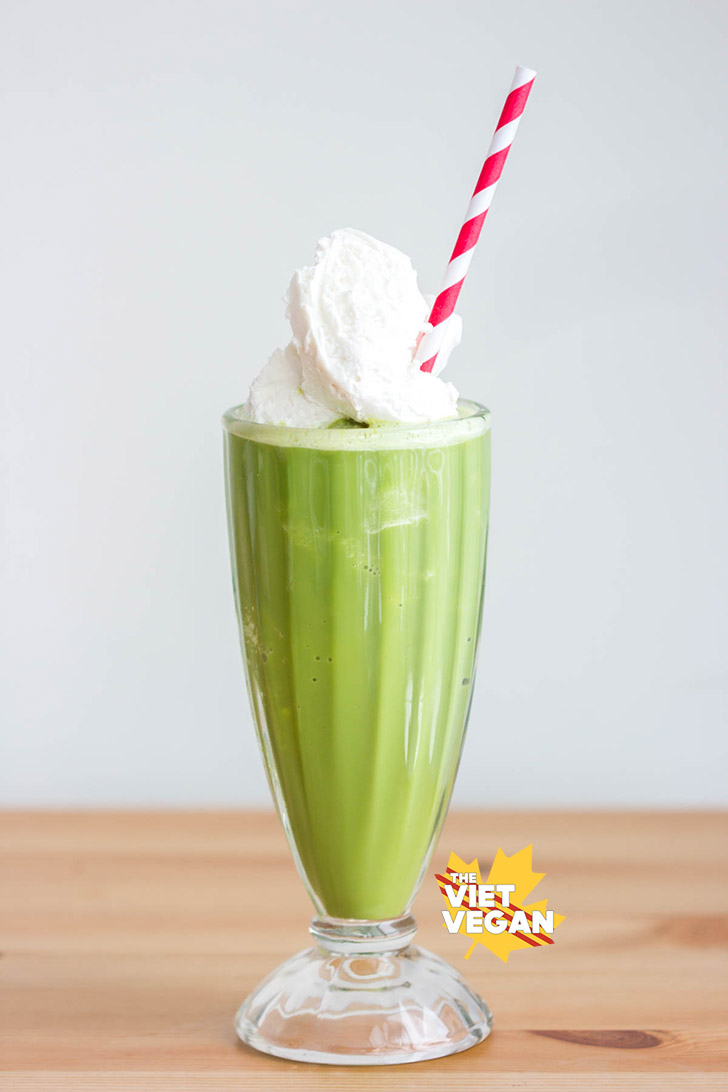 If you folks could go over and subscribe to my channel, that would be amazing! I'm sort of at a sad number right now and it would mean a lot to me if you folks subscribed. A lot of it will end up complementing the content I already post on here (like a video tutorial of that red velvet cupcake that people either have great success or DISASTROUS success)—and any of the new recipes I post on the channel I'll be posting concurrently here anyway.
I've had a couple readers ask if I'll continue the blog here. Don't worry! I definitely will. Writing has always been my go-to medium for sorting out my brain, while photography is my passion, and video is an extension of things I always wanted to do but just never had the guts or knowledge to go and do. Believe it or not, but back in high school I had a vlog channel full of rambles and rants, pretty much video versions of this space here, but less focused, and way more ridiculous because I was 17/18 and only just figuring out who I was. The videos are all private now so you can't find them, but every few years I remember it exists and watch a couple videos because my baby brother was adorable in them.
But enough about the YT channel. Now about the draaamaaaa in my life.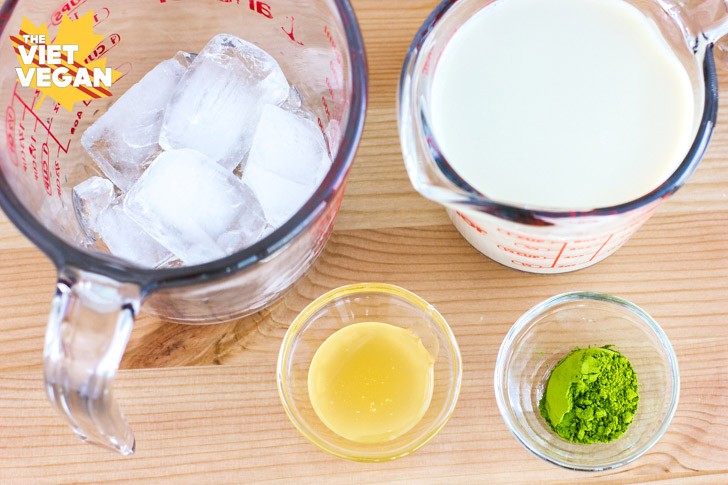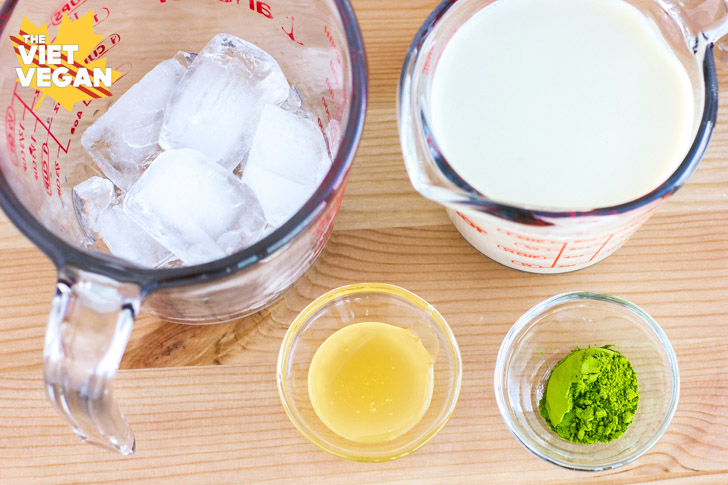 It's not so much drama as it is just managing my time and finances by making adult decisions that I probably should have made sooner than later. Grad school debt is ongoing and just kind of bleeding me dry every month and I'm buying things that I can't really afford but I bought anyway because I deemed them necessary—like a lens (for my videos), a high speed blender (because my Ninja blender was THE ABSOLUTE WORST), some bookshelves because the ones I bought 8 years ago were teetering under the weight of all of my books and cookbooks.
I'm not living within my means and it's honestly a stupid thing I'm doing. For a better part of a year I was going to Starbucks about once or twice a week getting a latte which was quickly depleting my bank account. I love espresso and Starbucks, but my wallet was not having it. So I've resolved to stop going to Starbucks when I can make my own drinks at home! I don't have an espresso maker, but honestly, coffee makes me super jittery and I don't really drink it anyway. The drinks I would buy from Starbucks regularly were the matcha lattes and frappuccinos, and those are so easy to make at home.
In my last video on YouTube, I showed you my rough recipe for a matcha latte, but I'll be shooting it and posting an actual recipe for it in the near future. But what most people probably want is this frothy, matcha frappuccino for a frosty treat that won't burn a hole in your wallet every time you want to treat yourself.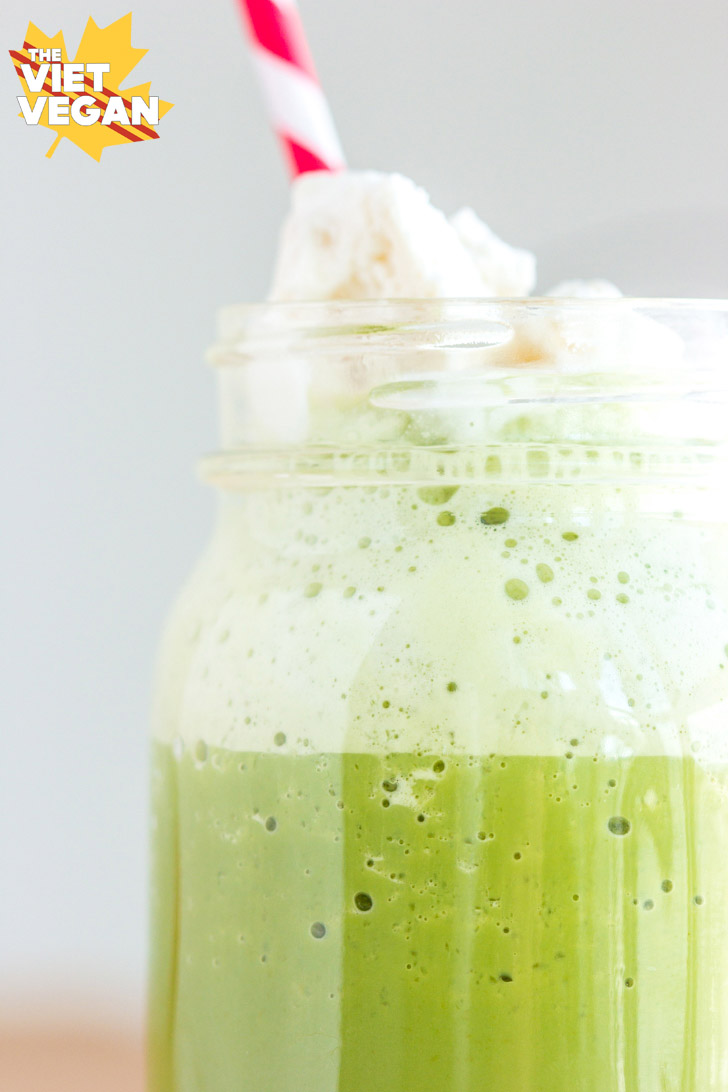 FYI, for those who have no idea what I'm talking about, matcha is a type of green tea that is supposedly much better for you because you're ingesting the leaf instead of steeping it. Instead of a leaf-based tea to brew, matcha tea is the dried and powdered form of special green tea leaves. Traditionally it's whisked and dissolved into water and consumed ceremonially in Japanese culture, but as we do in the Western world, we take something beautiful and add a ton of sugar. But it's delicious both ways, so let's just call this a win.
In terms of sweetener, I tried a bunch of different things. Liquid sweetener dissolved and blended into your non-dairy milk before you add ice is best, but you can use stevia drops, sugar syrup (which is what bubble tea places will do), maple syrup, brown rice syrup, agave nectar, or whatever will do the trick. I've tried it with maple syrup, which at first imparted a very woody taste on top of matcha's gentle earthy flavour, but I got used to it and kind of grew to like it after a while.
Honestly, my favourite sweetener has had to be honey. It imparts the most natural sweetness to the earthy matcha that doesn't accentuate it but rather mellows it. While I know it's not vegan, I consume raw honey for allergy relief (for the record, I avoid all commercial honey and don't buy products that contain honey in them). I just have about 3 pots of raw honey from my aunt that I got maybe 3 years ago and I still haven't used them up. Because of my allergy situation, I think I probably will continue using raw honey, but I'd only buy it from local apiaries, but I haven't done full research on that just yet so I'd appreciate it if we kept the criticism at a minimum.
If you are choosing to avoid honey (which in all honestly, I would recommend anyway because bees are essentially farmed insects that are treated poorly on the regular), I liked the results from simple sugar syrup, maple syrup, and agave nectar. I tried using dates too, but it was too gritty and too sweet if I used one whole date for one drink. I'd use maybe half a date per serving, maybe even less. But I also don't like things too sweet, so you do you, folks.
I recommend purchasing a medium quality of matcha—since you're not consuming it ceremonially, you can enhance the flavour of the matcha with creamy non-dairy milk, ice, and sweetener. Don't bother buying the crazy good stuff, just get the pretty good stuff. Don't bother with the garbage $3 matcha like I did. General flavour is there, but the quality is awful. You get what you pay for when it comes to matcha.
For my matcha bubble tea ages ago, I used a really low quality matcha, but I splurged at got one of those $40 (ouch) tins of 2nd harvest matcha. But, that one tin has already made me about 20 matcha lattes, and since I get soy lattes at $5.82 per drink, I've already saved myself about $75 by making them at home.
So if you too share my addition to Starbucks' matcha drinks, make some of these to save yourself some $$$, but don't get me wrong. If I'm on the road, I'm still going to buy a matcha latte. Sometimes you've just got to treat yourself—just don't overdo it or else you'll be broke AF.
Yield: 1 serving
Vegan Copycat Starbucks Matcha Green Tea Frappuccino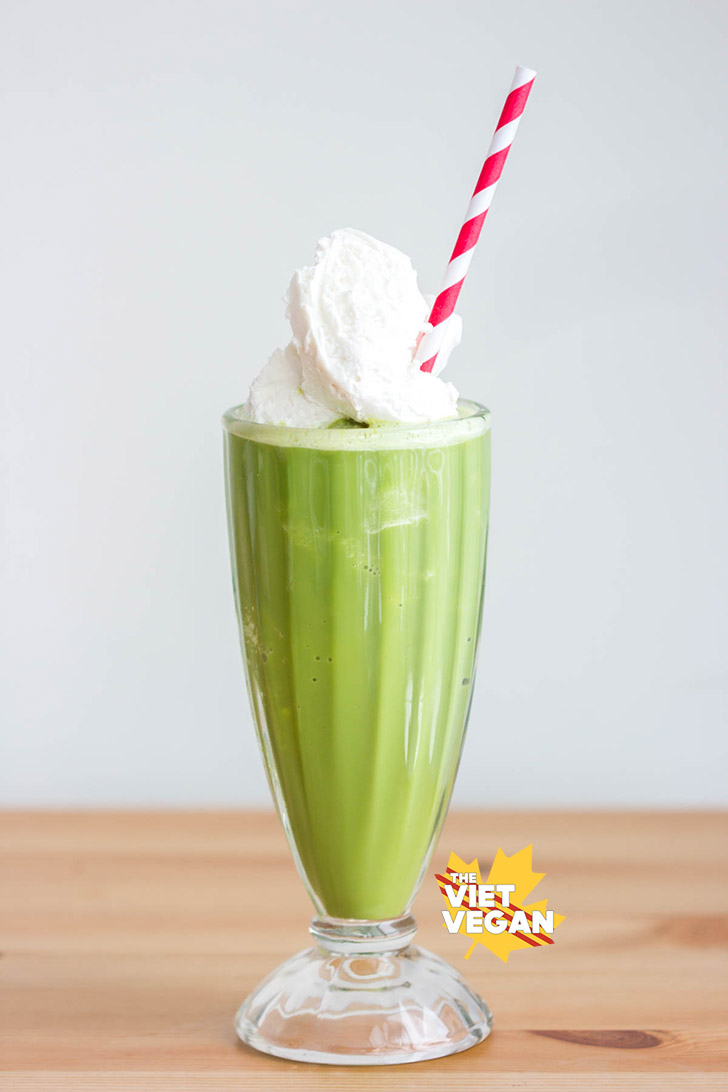 Ingredients
1 tsp matcha green tea powder
1 cup soy milk
1-2 tsp agave nectar/simple syrup/date syrup/sweetener of choice
1 heaping cup of ice
Whipped topping (either whipped coconut cream, soy whip, or frozen coconut whip works well!)
Instructions
Add matcha powder, soy milk, sweetener of choice, and ice to a blender. Blend until smooth and completely homogenous.
Transfer to a glass and top with your whipped topping of choice. Add a straw, and enjoy!