Sometimes you're low on cash, but you still really want bubble tea.
Homemade vegan green tea bubble tea, waaay cheaper (and way better)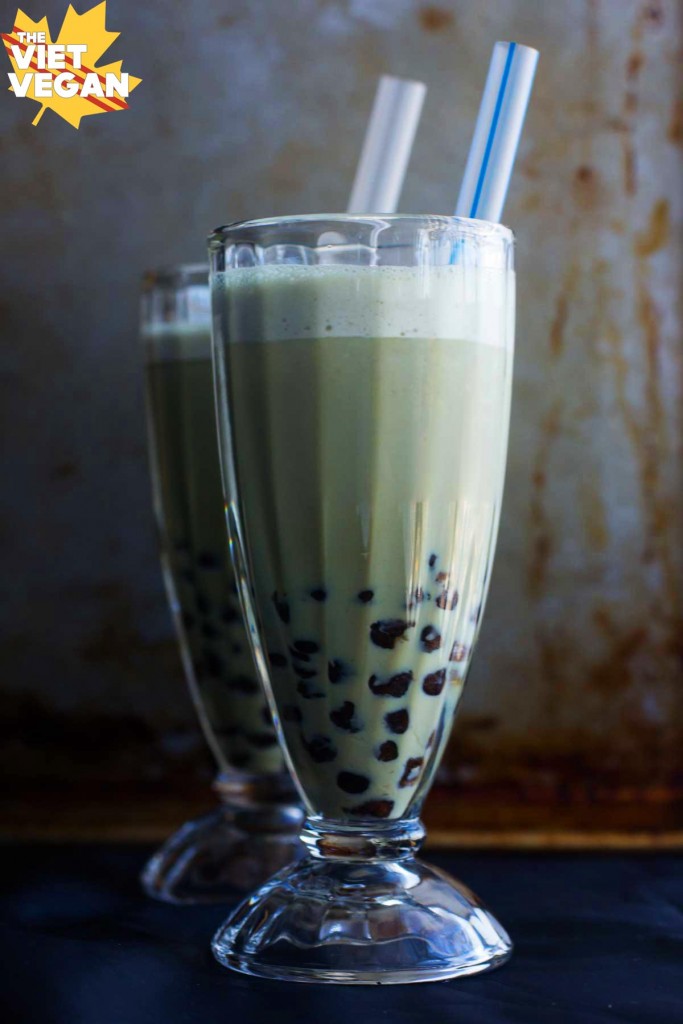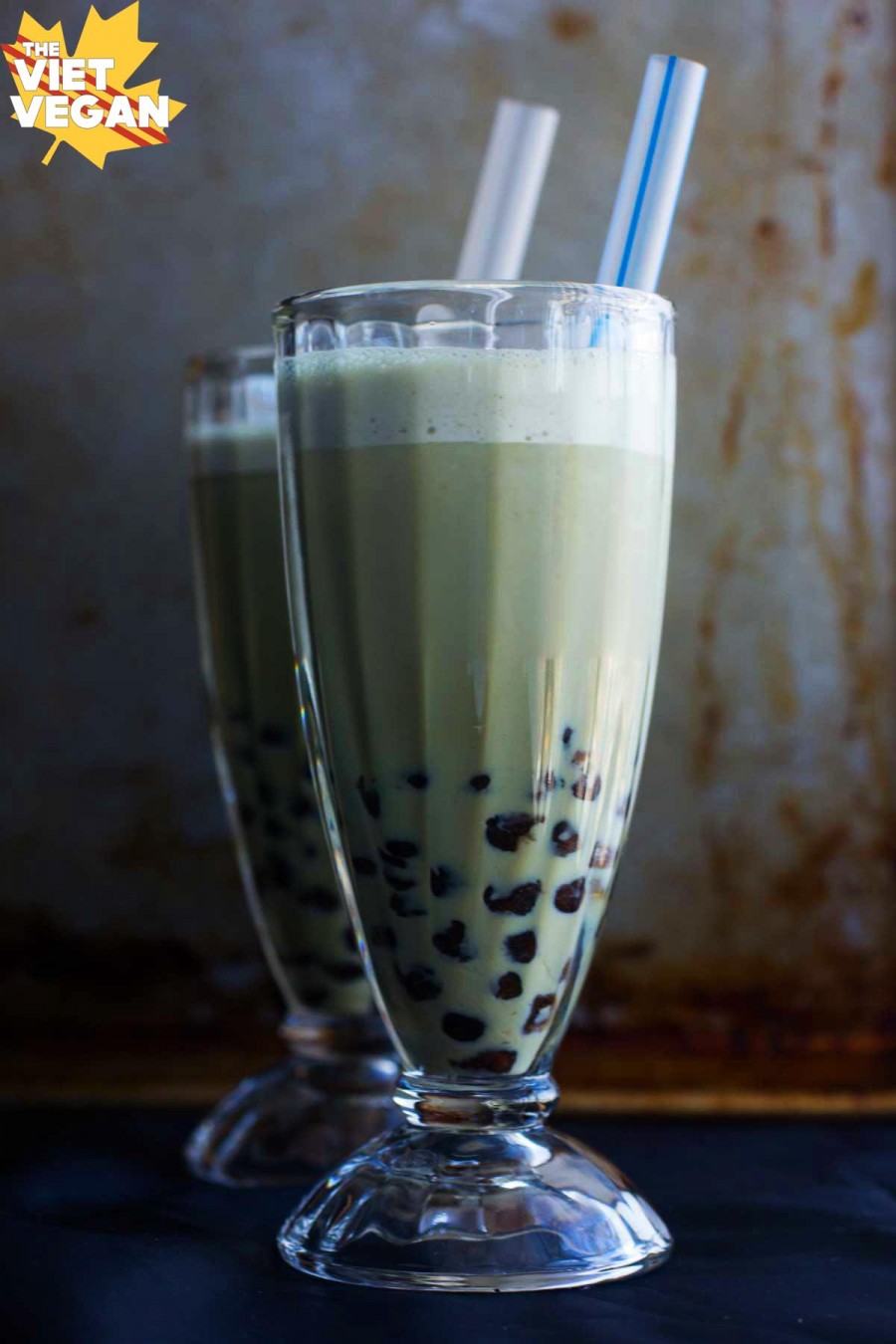 Across the street from my apartment, there's a bubble tea shop that is renowned in my city. Anyone who knows their bubble tea can attest that any bubble tea shop is only as good as their tapioca. Tapioca pearls—also called boba—are those little black balls in bubble tea. They must be consistently tender, chewy, and slightly sweet. I've been to a few other bubble tea shops in Toronto who've served me awful tapioca pearls that have been sitting out for several hours and have lost their decadent chew…so when I take a sip, I'm met with a hard, lump of unappetizing tapioca. Needless to say, I've never returned to those locations.
This location just steps from my apartment? Always. Amazing. Boba. It's so good that I find myself coming there for my once-in-a-while treat (but let's be honest, it's probably about once a week), and every now and then, Burrito Boy is there with me.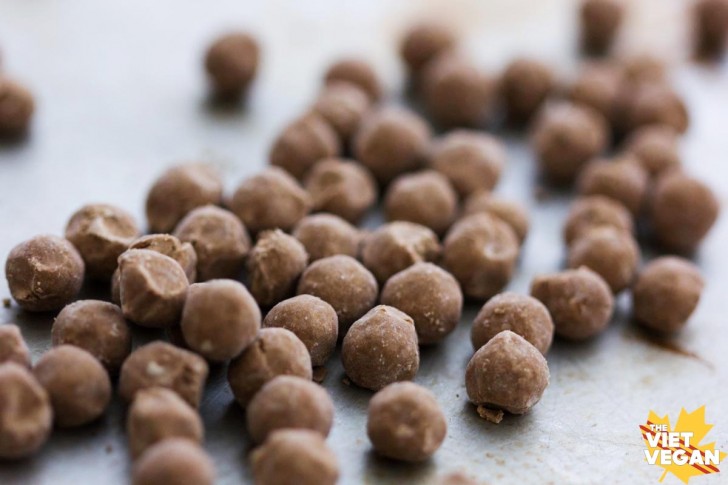 Burrito Boy and I both have our usual orders. He usually gets something strawberry flavoured accompanied with strawberry jelly. As much as I used to love Taro bubble tea (it will always and forever be my favourite flavour), the taro powder is definitely not vegan due to the milk powder. So I tend to get the slush, because frozen fruit is delicious and vegan-friendly. Sometimes I go for mango, sometimes it's peach, but I always get the jumbo tapioca because baby, the tapioca is the whole reason we're here.
I used to get bubble tea with my roommate and floormates in university, and my roommate would constantly suck up the pearls and shoot them at street signs and our friends because she's ridiculous and clearly does not appreciate delicious boba. It was entertaining for sure, and I love her anyway.
The thing about bubble tea is that it's kind of expensive. Like Starbucks expensive. $5 for a treat? Whew that adds up week after week. I wanted to make it at home but I used to be intimidated by the idea of tapioca pearls. When I was growing up, I had cousins who'd say it was super stinky to make at home. Or it was hard to keep for long, or that it's not good when you make it at home. Let me reassure you, folks, that tapioca pearls that you find in the Chinese/Asian markets are super easy to prepare (and they are not stinky!). They're just as delicious as the stuff you get from the top notch bubble tea shop.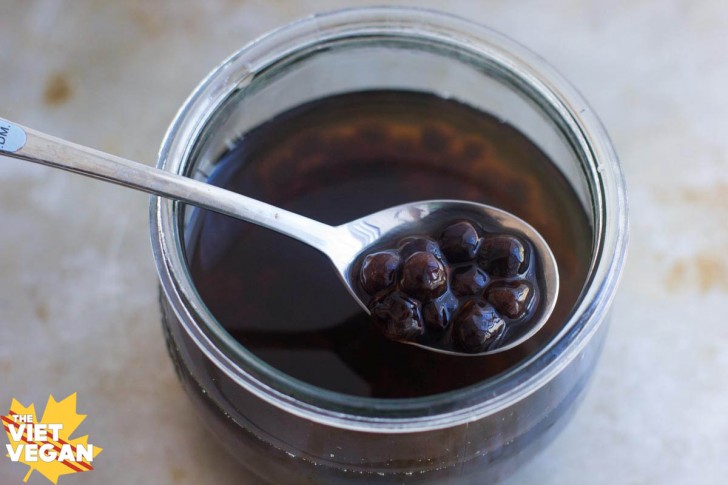 The key methods to delicious tapioca are to stir while it's cooking, to let it sit once it's done, and to store it in something sweet.
Get that right, and homemade bubble tea is fool-proof.
You can play with all of your favourite flavours. In Vietnam, I'd always get the regular black milk tea, which is slightly sweetened black tea (you can get a little Thai-inspired and get black ceylon tea and add a splash of vanilla for a Thai Iced Tea type flavour), add the milk of your choice, and sweeten to taste. I always get my bubble tea half sweet, or 30% sweet, because the shops can go a little crazy with the simple syrup, but BB always gets his at full sweetness. Just thinking of it makes my teeth hurt, but you do you, folks! The best part is to experiment with different flavours to find your favourite.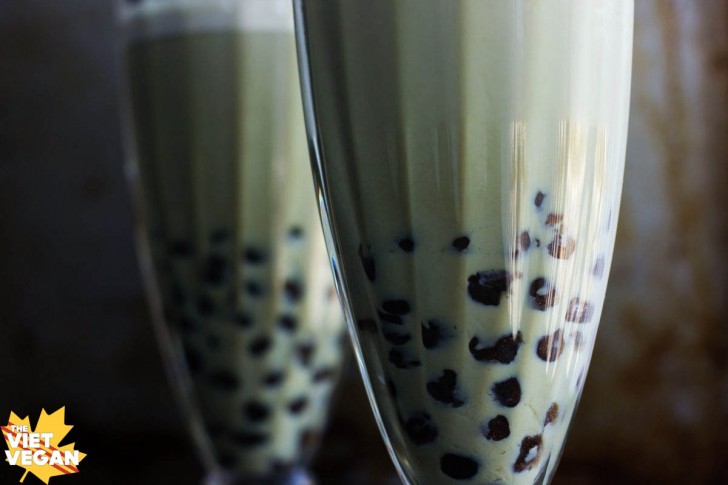 Lately, matcha has been my favourite flavour. The bitterness of matcha paired with the woody sweetness of maple syrup always makes me happy, but you can blend your favourite fruit smoothie and pour it over some boba for your own tea shop experience. Happy sipping, folks!

Yield: 4-5 servings
Vegan Green Tea Bubble Tea
Ingredients
For the boba:
1 cup tapioca pearls
5 cups water
1/4 cup maple syrup (for a cleaner flavour, make a sugar syrup, 1/4 cup sugar + 1/4 water, cooked until sugar is dissolved)
To make one serving of milk tea
1 1/2 cups unsweetened soy milk
1 1/2 tsp matcha green tea powder
1 tbsp maple syrup (to taste)
1/2 cup ice cubes
Instructions
For the boba:
Bring 5 cups of water to boil in a small pot. Add tapioca pearls to boiling water, and bring down to medium heat. Cook for 15 minutes, stirring frequently to ensure that pearls don't stick together. Once the tapioca are cooked through (test one to ensure that it's soft all the way through), then turn off the heat and let sit in the water for about 10 minutes.
Drain, rinse with cold water, then transfer to a clean jar and add 1/4 cup maple syrup over the pearls. Add a water just to cover the pearls (maybe another 1/4 cup, depending on how big your container is).
Store, covered in fridge for up to 2 days. When chilled, the boba gets hard again. To soften, just reheat in a small pot of boiling water in some of the syrup + water (to cover).
To make matcha milk tea
In a small blender, combine soy milk, green tea powder, maple syrup, and ice cubes and blend completely.
Scoop about 1/4 cup of the boba (or however much you want) into a jar/milkshake glass. Pour milk tea over boba and serve with an extra large straw (you can find them at Asian/Chinese markets). Enjoy!