Crisp on the outside, lightly spiced for dipping
these fluffy oven-baked potato wedges are simple and easy to make.
The support and kind messages from friends and readers have been overwhelming. I'm quickly learning that people are actually reading my blog, and you know what? That's kind of cool. Thank you for reading. Sometimes I wonder if I sound like a self-absorbed girl, writing about her feelings and her problems. But as I mentioned in my last post, this blog is a way for me to figure out who I am and how I feel. It's kind of cool that people think I'm at all interesting enough to read along.

I've been doing a lot of thinking lately, about how I feel about everything. I'm not sad anymore. I don't feel empty, I don't feel broken—honestly? I feel fine. I'm optimistic and invigorated for tomorrow. I hop out of bed, excited to try new things in the kitchen and tick off my checklist of projects for work.
I'm rediscovering all the things that are making me happy. Small things like wiping down my counters after doing the dishes. Basking in the light of the rising sun in the morning. Finally finishing books I had been meaning to read for ages. Even my enthusiasm and motivation for developing and shooting photos to share here have been reinvigorated. I'm relearning how to style and how to play with light in this new place, and I'm loving my results so far. I hope you like them too.

But mainly, I'm learning a lot about what makes me happy: My friends, meeting new people, reading, making delicious food, laughing at silly puns—even talking about insignificant topics like how to optimize how to dip oversized Ruffles chips in a jar of dip. Sounds unimportant, but hey. We all love a good dip, right?
I'm working towards a happier and healthier self, and I haven't felt this good in a long time.
Don't worry about me, folks. I'm doing just fine =)
My cousin has been staying with me for the past three weeks, and she being the opposite of me (meaning she loves Western-style food while I prefer Vietnamese food), I've been making a lot of traditionally Canadian/American foods like baked potatoes, caesar salad (recipe coming soon!), grilled cheese sandwiches… Not great for my waist, but with my butt goals and arm goals (if you've been following along on my facebook page, this sounds less weird), I've been doing all these workouts that have already yielded positive results.
These oven-baked potato wedges are crisp and fluffy without the need for deep fryers. Control the amount of salt, the seasoning, and snack happily knowing that potatoes, despite their bad reputation, are actually really good for you. It all comes down to how you're preparing them. Deep fried wedges will have an irresistible crunch, but you have to deal with all that extra oil and fat that makes them so crunchy on the outside.
Try making these fluffy baked potato wedges as a great side dish for a dinner party, or on the side of some of your favourite proteins, or just on its own as a snack. I'd be lying if I said I haven't already done this.
As always, thanks for reading!
~Lisa

Yield: 2-4 servings
Vegan Fluffy Oven-Baked Potato Wedges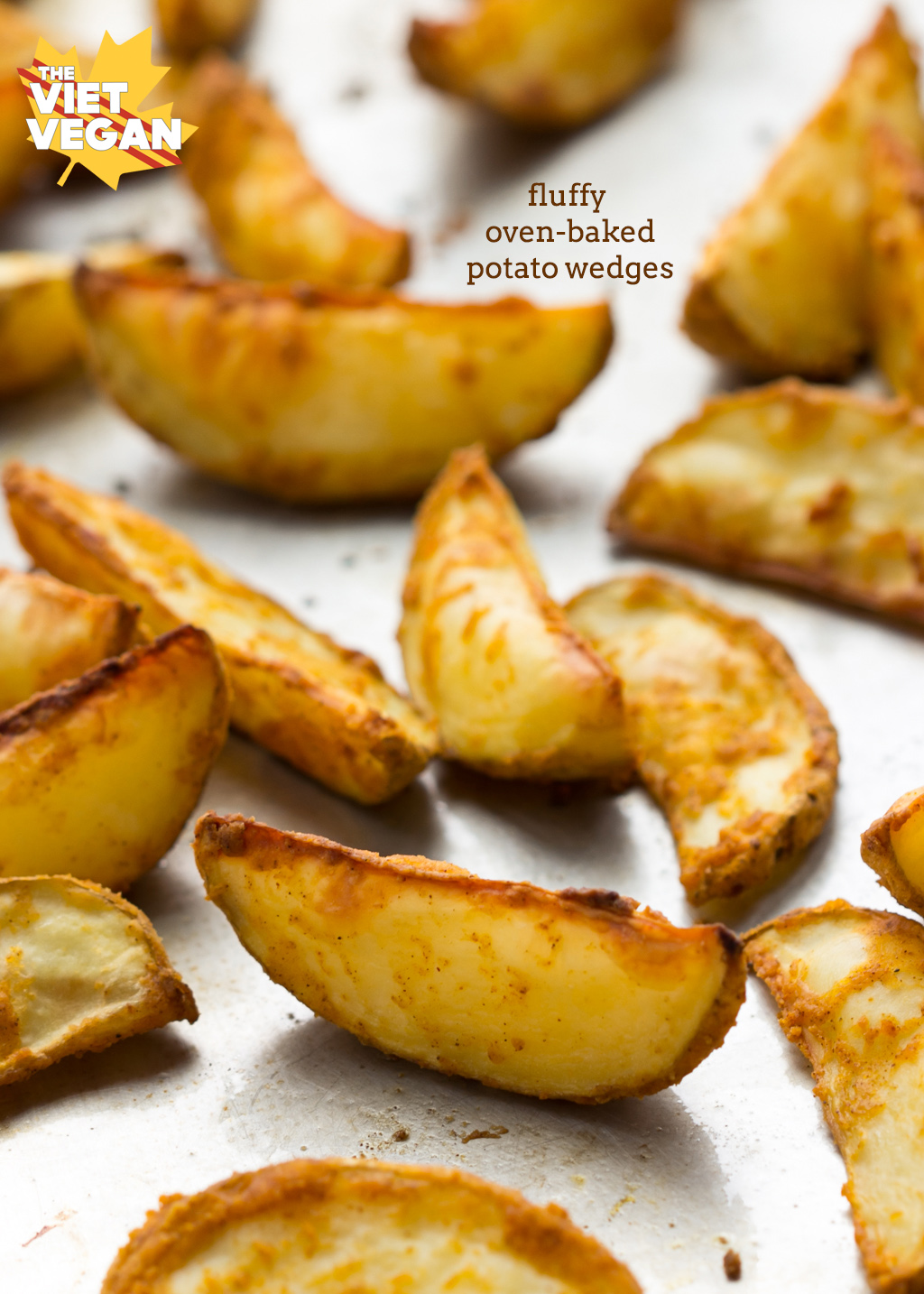 Don't bother buying potato wedges from the freezer section, you can make your own super fluffy oven-baked potato wedges at home!
Ingredients
4 medium sized yellow potatoes (I used Yukon Gold)
3 tbsp olive oil
2 tbsp all-purpose flour
1 tsp paprika
1 tsp garlic powder
1/2 tsp onion powder
1/2 tsp salt (or to taste)
Instructions
Preheat oven to 425ºF/220ºC.
Scrub and wash potatoes well. Pat dry. Cut into wedges (each potato was cut into 8-10 wedges) and toss with 2 tbsp olive oil to coat (reserve 1 tbsp for the pan).
In a small bowl, stir flour, paprika, garlic powder, onion powder, and salt.
Sprinkle over oiled potato wedges and toss to coat.
Prepare a baking sheet with the remaining 1 tbsp oil. Arrange potato wedges to stand up on the potato skin side. If some fall over, no big deal!
Bake for 35-40 minutes until edges are crisp and golden, and the sides are golden.
Remove from heat and serve. Feel free to sprinkle a little extra salt here, or serve with my favourite: ketchup and sriracha sauce.