I am coo-coo for vegan peanut butter cups.
With fewer ingredients than commercial peanut butter cups,
these little gems taste way better and are so simple to make.
They're sweet, but not too sweet.
Chocolatey, but not so much so.
I love the texture of the commercial peanut butter filling,
but I want the cruelty-free version.
Enjoy!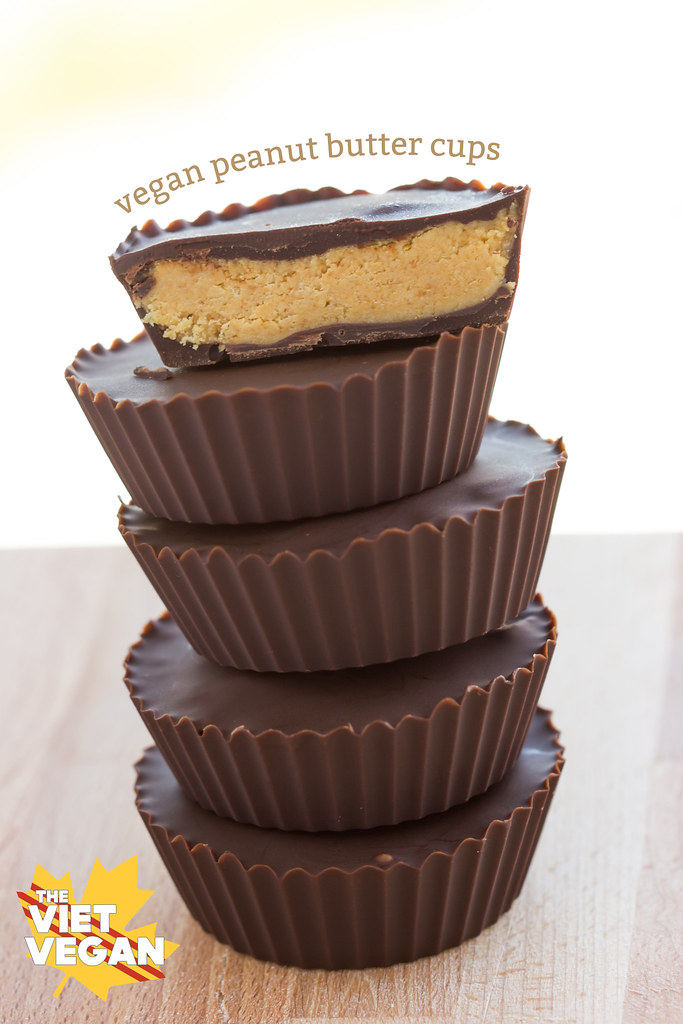 I am overwhelmed by the response from my last post. The comments and support have been so enlightening and humbling. Meanwhile, my closer friends and family were surprised that I decided to announce my break-up on the blog, and some asked me, "Why would you share that?" I mean, yeah. Frankly my love life is nobody's business. I don't have an obligation to share it with anybody. But I've had this blog since 2011, and Chris and I were together for all of it. He's been an ever-present component of my life for the entirety of this blog's existence and now that he's not a part of it anymore, there will be a huge shift in me. I will be looking for love again. I will be healing. And these are all things that I will share.
So my answer to why I even share this stuff with random strangers on the Internet?
Because I need to.
Let me explain:

There are so many reasons why I share what I share. The first being that it's cathartic for me: it's a way for me to process my emotions and put them into words that make sense. Anyone who knows me is aware that things go through my head a million miles a minute. I can get from Point A to point Q so quickly that a lot of people get lost trying to connect the dots. This blog—essentially my diary—is a way for me to gather all these thoughts and chisel down how I really feel. It's a way for me to connect with myself and understand why I feel the way I do. It's something I can look back on a year, two years, three years from now and see that I have changed. I have grown. I have learned.

The second reason really came to light after my last post. While I never know who's reading, I also never know who may be affected by what I share on here. People who have experienced the long distance blues, the struggle to be at peace with themselves, or the paralyzing shock of heartbreak have commented to tell me that they understand how I feel and that they've felt it too. It's humbling to be reminded that not everything is about me, me, me. I can get so caught up with my own drama that I forget everything around me. I need that occasional reminder that everyone at some point in their lives will experience everything I have ever felt, currently feel, or will feel in the future.
People opening up and sharing with me (be it through comments, social media, private messages, or the countless emails I receive) also helps me feel like somehow I'm making a difference. Reminding people that they are not alone. Sometimes it can feel that way, and it's one of the worst feelings. Feeling alone.

The last reason: I don't know any other way.
I don't know how to not share everything. I am bad at bottling my feelings inside. I need to process and get things out in the open for me to be able to function, and over the last few years of me really opening up and sharing on this blog, I've really learned a lot about myself and how I process things like stress, happiness, love, and extreme sadness. I am who I am, and this blog has helped me figure out who that is. I am still growing and learning, and I'm happy to have you join along with me.

So as I've said time and time again. If you're just here for the recipes, be my guest. Just scroll down and get straight to business. These vegan peanut butter cups are so easy to make and only take about 30 minutes from start to finish. But if you want to join me on my roller coaster life—strap in, folks. It's a long and bumpy ride. I can't promise that it'll always be exhilarating, but will definitely have some unexpected twists and turns.
As always, thanks for reading,
~Lisa

Yield: 12
Vegan Peanut Butter Cups
Total Time
1 hour
5 minutes
Ingredients
1 cup semi-sweet dairy-free chocolate chips (I use President's Choice brand, but I like Enjoy Life too)
1 tsp coconut oil
1/2 cup natural smooth peanut butter (just peanuts!)
1/2 cup icing sugar
1/3 cup vegan graham cracker crumbs (I used Bulk Barn Graham crackers)
2 tbsp vegan butter (I use vegan Becel)
Instructions
At 30 second intervals, melt chocolate chips with coconut oil. Stir until smooth. You'll only have to do this for about a minute.
Spoon chocolate into silicone or paper cupcake liners (paper is fine, but silicone is so much easier to peel when you're done). I used about 1 tsp per cup, maybe a titch more. Use the back of a spoon to gently press the chocolate up the sides of the liners. Ensure that the bottom is even. Repeat with all 12 liners, then let set in the freezer.
Meanwhile, combine peanut butter, icing sugar, graham cracker crumbs, and butter to make the filling. Spoon about 1 1/2 tsp of the mixture into the chilled chocolate cups until all the filling is evenly distributed. Use your fingers or the back of a spoon to press the filling down evenly. Coat with about 1/2 tsp of chocolate (you'll use the remaining melted chocolate) and set in the freezer for about 10 minutes.
Once set, pop them out of the cupcake liners and enjoy!