Vegan japchae is the perfect party food: everyone can eat it! It's full of veggies, flavour, and bouncy, chewy noodles. This Korean noodle dish is a household favourite.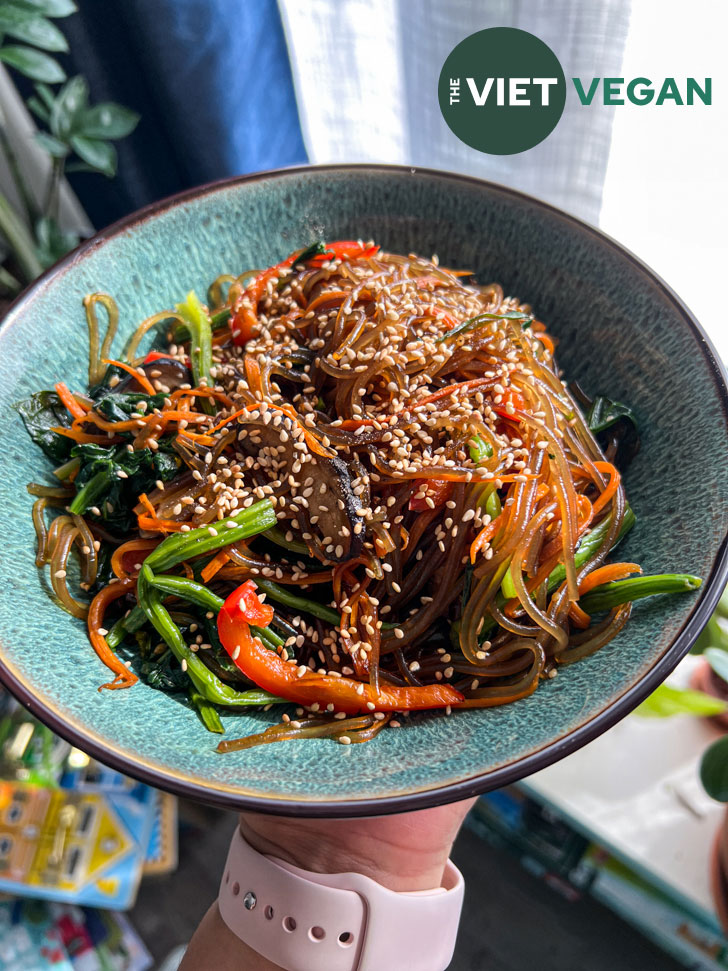 By far one of the best side dishes at any Korean restaurant is japchae! It's made with sweet potato vermicelli, a noodle that is chewy, bouncy, and so satisfying to eat.
Is Japchae vegan?
In my experience, japchae at Korean restaurants is usually vegan-friendly! Sometimes it may contain beef or pork, but a lot of the time, it is an accidentally vegan side dish. One side dish of japchae usually is around $5-8, which is quite affordable, but I like to make my own at home because the massive quantity makes great meal-prep, and I can load it with veggies and plant-based protein as I like.
Vegan Japchae Cooking Method
There are typically two methods of cooking japchae. One method is that all the vegetables are stir fried together. They start with harder veg, then adding the more tender ones like spinach and then mixing with the cooked noodles. The other method is cooking each component separately, then mixing with the cooked noodles.
I've done the second method, because when I buy the ingredients for each component, they come in quantities way larger than I want to add to the japchae. I cook each component like banchan (a Korean term for "side dish"), and have them stored separately. This way, I can ensure each component can be seasoned adequately before mixing together. I can also use each component for kimbap or bibimbap this way as well.
In the recipe down below, I've listed the ingredients for one batch of vegan japchae. But that does mean you will be left with several leftover ingredients like carrots, spinach, tofu, or bell pepper in your pantry. If you don't have a problem using the leftover ingredients for other dishes, then carry on!
Otherwise, I highly recommend making them in bulk so you have lots of prepared banchan you can use to make kimbap or bibimbap really fast!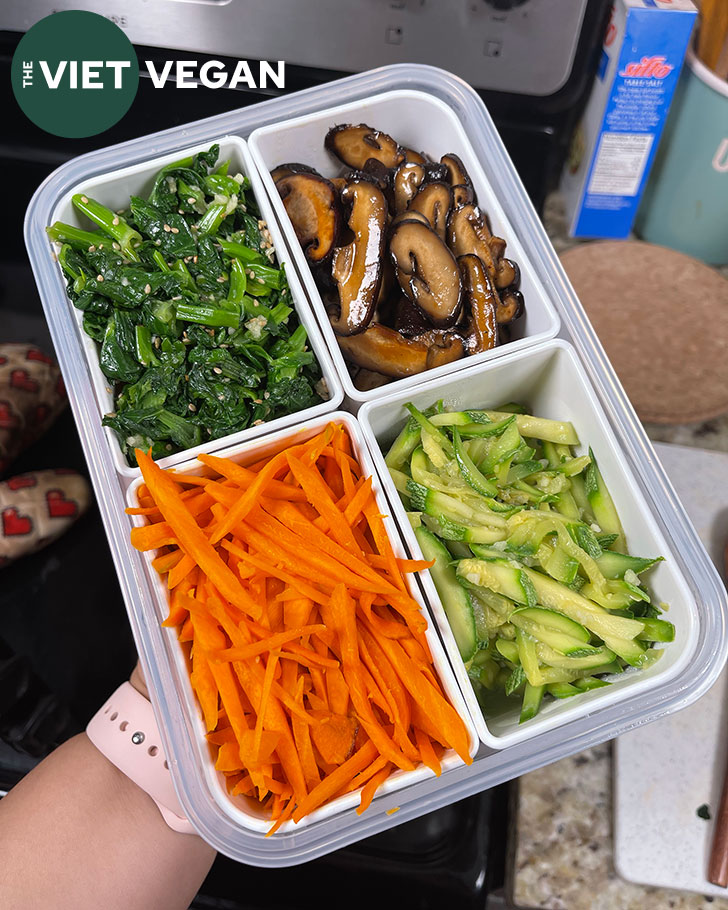 How to cook sweet potato vermicelli
Sweet potato vermicelli is a specific kind of glass noodle that is clear, bouncy and chewy. I buy it either at my Asian market, or even at Canadian grocery stores that have a decent Asian section. Any brand of sweet potato vermicelli has yielded tasty results, so I don't discriminate by brand.
I've tried making japchae by cooking the noodles first, and then adding to the wok with sauce and prepared banchan. However, anytime I try that, the timing for the noodles is off and I end up having to mix in a block of cooked noodles that have stuck together. It's annoying and difficult to manage.
The easiest way is to soak your sweet potato vermicelli in warm water for at least 30 minutes until the noodles are soft and pliable. Then you can cook them in the wok with sauce and water, and they will be the perfect texture and evenly seasoned, without sticking together.
You can add more water as you cook if you are finding the noodles are too firm. Once your noodles are cooked, mix in all your prepared banchan. Then you have copious amounts of vegan japchae, a surefire crowd-pleaser!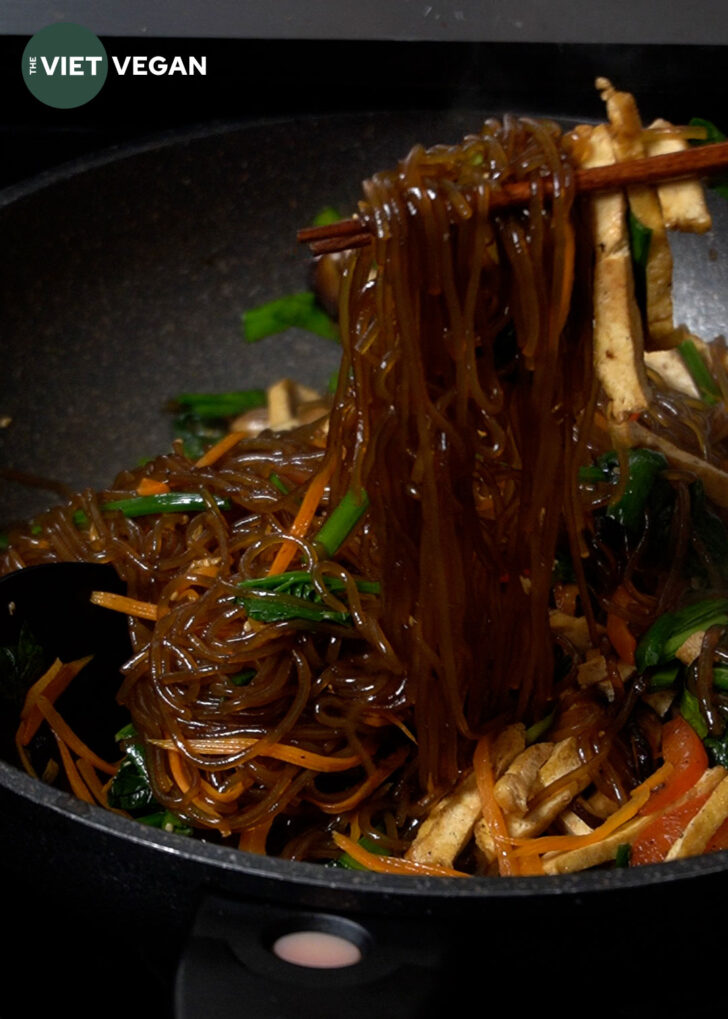 Vegan japchae is such a big comfort food for me now. It requires some preparation of vegetables, but once you've done all the prep, you have a massive amount of food and prepared side dishes that can be used for various other dishes.
I make this for my birthday, for parties, potlucks, or when I'm simply craving Korean food. Korean food is such a staple in my rotation of cuisines now, and it's no wonder. It is a love letter to textures, sweet and savoury flavours, and balance in both comfort and nourishing food.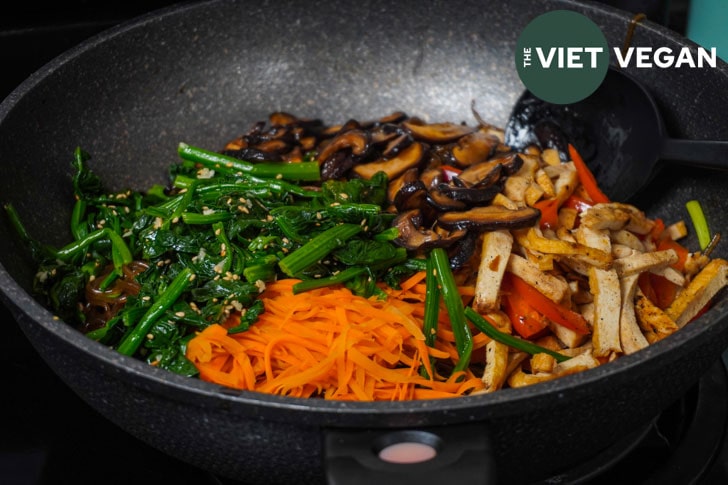 Recipe Inspiration
There are so many different versions of japchae from Korean recipe creators online, and if you want a recipe from a Korean cook, please reference the ones below! They all share their connection with the dish and their own approaches to it.
I often reference My Korean Kitchen and Maangchi for any of my forays into Korean cooking, and just veganize them with what I have in my kitchen.
Yield: 4-6 servings
Vegan Japchae Noodles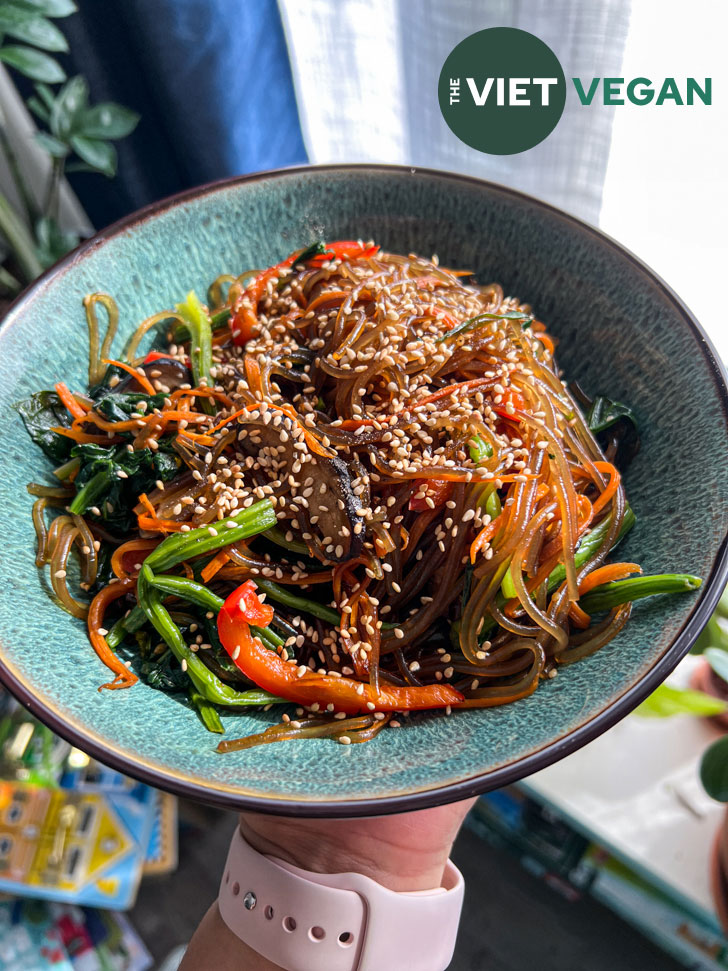 This Korean sweet potato vermicelli dish is the perfect party food! Full of veggies, flavour, and bouncy, chewy noodles, this dish is a household favourite.
Additional Time
30 minutes
Ingredients
2 bunches sweet potato vermicelli noodles (about 400g), soaked in water for 30 minutes
Carrots:
1 carrot, finely julienned
½ tsp salt
Mushrooms:
½ lb (about 200g) flower/shiitake mushrooms, stems removed then sliced
2 tbsp brown sugar (or oliosaccharide)
2 tbsp soy sauce
2 tsp rice vinegar
1 ½ tsp toasted sesame oil
Spinach:
1 box (1 lb/453 g) baby spinach OR 2 bunches of Korean spinach
2 cloves garlic, minced
1 tbsp toasted sesame oil
1 tbsp toasted sesame seeds
½ tsp salt
Remaining Ingredients:
1 tbsp vegetable oil
½ bell pepper, sliced into 2 inch length pieces
½ block of tofu (I used fried tofu), sliced into long thin slivers, like a thick julienne
Japchae Sauce:
1/4 cup soy sauce
3 tbsp brown sugar or oliosaccharide
1 tbsp toasted sesame oil
1 tbsp rice vinegar
1 tbsp dark soy sauce
1 cup water
Instructions
Noodles:
In a very large bowl with warm water, soak the sweet potato vermicelli until soft and pliable, about 30 minutes.
Drain and set aside once ready.
Carrots:
In a large pan or wok, stir fry carrots over medium-high heat with salt until your desired texture: I like them softened with a slight crunch. If you are using a julienne peeler, this will only take a few minutes. If you julienned them by hand, you make need a few extra minutes to cook.
Once cooked, remove from pan and set aside.
Mushrooms:
To the same large pan or wok, add mushrooms, brown sugar, soy sauce, rice vinegar, and toasted sesame oil.
Stir fry over medium-high heat until mushrooms have absorbed all the liquid seasoning. This should be about 10 minutes.
Remove from pan and set aside.
Spinach:
In a large pot of boiling water, blanch the spinach for about 90 seconds if using baby spinach, or about 4-5 minutes if using Korean spinach. Drain immediately and then shock with cold water to halt the cooking process.
Drain and squeeze out the excess water.
Chop if you want smaller pieces (specifically for the Korean spinach if you have not done so already), and then season with garlic, toasted sesame oil, toasted sesame seeds, and salt.
Mix well to season and set aside.
Remaining Ingredients:
In the same large pan or wok, stir fry over medium-high the sliced bell pepper with vegetable oil until cooked as desired. Like the carrots, I like the bell peppers to still maintain a tiny bit of crunch.
Once cooked nearly to the texture you like, add the sliced tofu and stir fry to heat through and crisp. You can add a touch of soy sauce for extra seasoning if you'd like.
Remove from pan, then set aside.
Japchae:
In a bowl, combine soy sauce, brown sugar, toasted sesame oil, rice vinegar, dark soy sauce, and 1 cup water to make the sauce.
In the large pan or wok, add your soaked and drained noodles and the sauce mixture (soy sauce, oliosaccharide/brown sugar, toasted sesame oil, rice vinegar, dark soy sauce and water).
Cook the noodles over medium heat, stirring occasionally to make sure all the noodles absorb the sauce evenly. Taste to check that the noodles have cooked through, they should be tender but still slightly chewy, and fully transparent but not falling apart.
Use scissors to cut them to about approx 6 inch pieces for easier handling (and eating)
Once the noodles have fully cooked through, turn off the heat, then the prepared ingredients (carrots, mushrooms, spinach, bell pepper and tofu) and mix well to combine.