This vegan Key lime pie so packed with tart, juicy and floral key lime flavour! It's the perfect, refreshing and summery pie!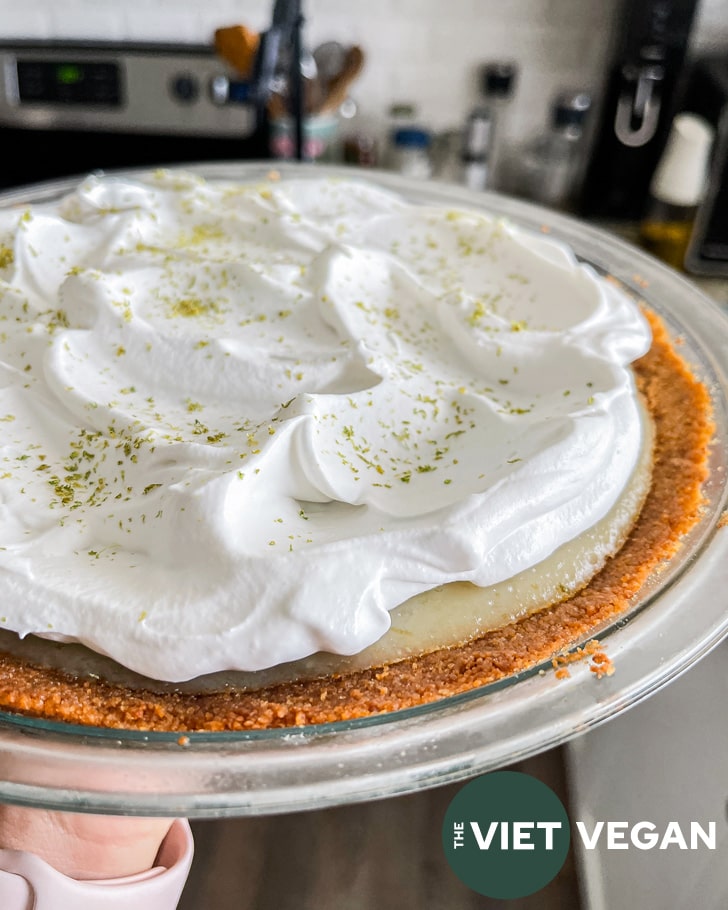 I have tried key lime pie exactly once, back in 2013, before I was fully vegan in Miami. It was creamy and custardy, with a bright, slightly tart flavour and creamy whipped topping. I can't recall if it was with a graham cracker crust or a traditional flakey pie crust, but I do remember it being delicious.
Authentic Key Lime Pie?
To be transparent: this is not authentic Key lime pie. This version is a much brighter, less creamy, and more tart version than that Key lime pie, because I really love a tart pie.
For a more traditional vegan key lime pie, you could try the vegan substitutions for typical Key lime pie: 2 cans sweetened condensed coconut or oat milk, 1/2 cup of vegan sour cream, and 3/4 cup key lime juice (just over 1 lb of key limes).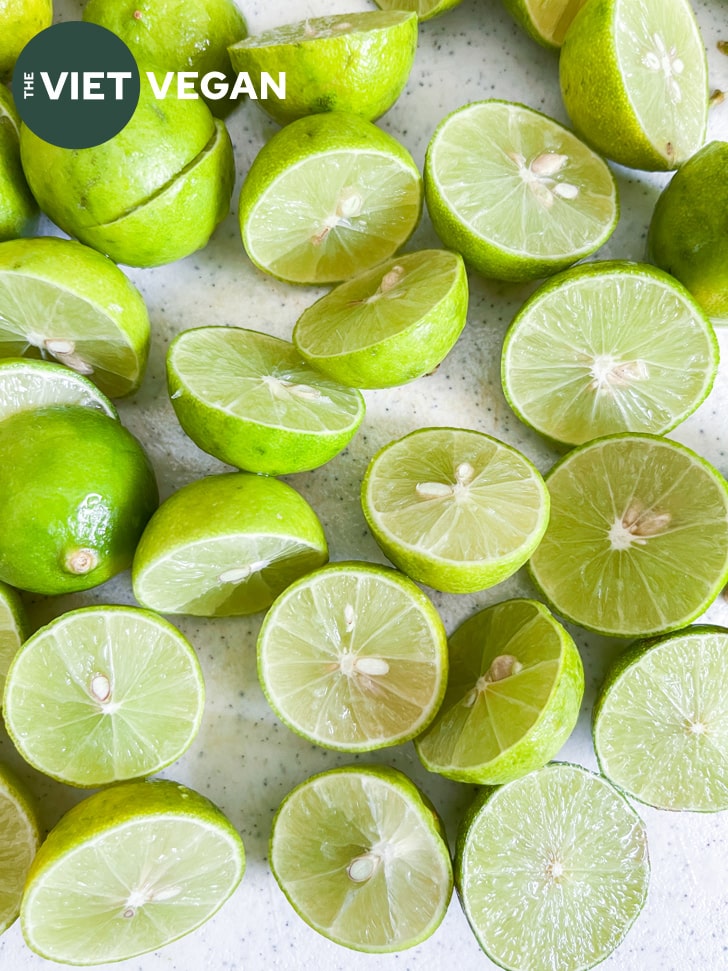 Key Limes vs Persian Limes?
I've tried making this pie with both JUST key limes, as well as a combination of Key limes and Persian limes. Persian limes are the more common limes you'll find at the grocery store. Key limes are much smaller (about the size of a loonie), and have more of a floral fragrance and flavour than Persian limes.
If you can't find fresh Key limes, you can substitute regular Persian limes, or if you're lucky, bottled Key lime juice.
From what I've been able to see online, traditional Key lime pie is the type of pie you can chill in the fridge or freezer. A couple hours later, you'll have a creamy, chilled pie that is perfect for hot, humid, Florida weather.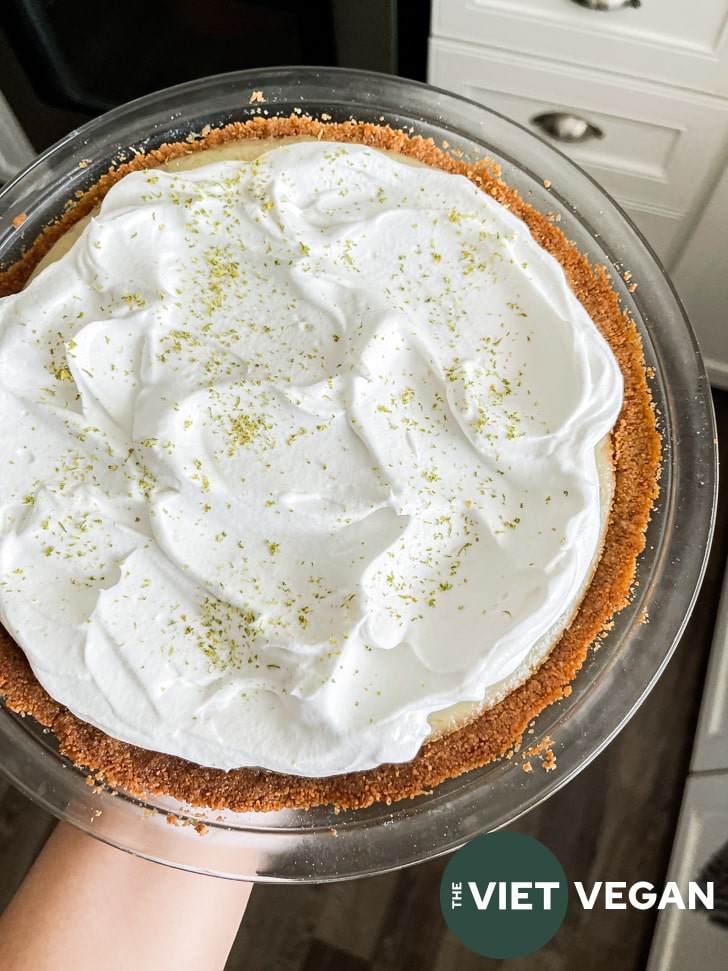 The majority of fillings I see combine Key lime juice, sweetened condensed milk, with either sour cream or Greek yogurt. They fill a graham cracker crust with this creamy concoction, and pop it in the fridge or freezer to set.
In self-proclaimed authentic Key lime pie recipes, I see folks using egg yolks to create the custard, which yields a creamy yellow filling. For this vegan key lime pie, I'm using a cooked cornstarch mixture to make this filling. As a result, you won't be able to freeze this pie like you would with the non-vegan version.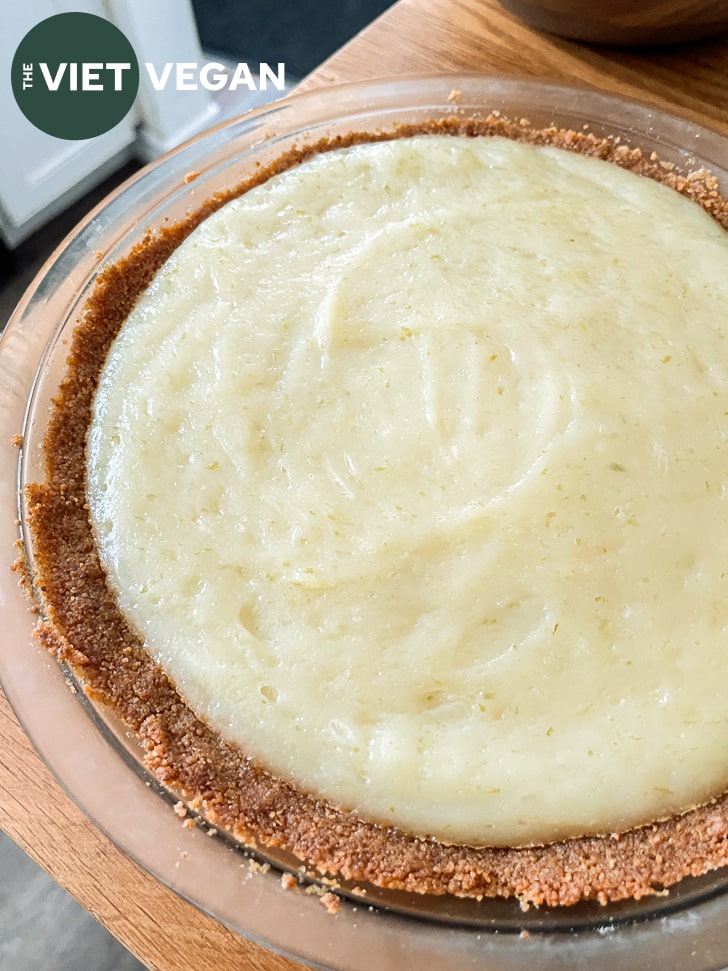 How to Make Vegan Key Lime Pie
For a vegan version, I'm using a combined method of using the lemon meringue pie filling (a cooked custard using cornstarch) and adding sweetened condensed milk for a similar creaminess. I used oat condensed milk instead of coconut here because I wanted a more neutral flavour, but you can use coconut if you like the combo of coconut and citrus!
I haven't personally tried the traditional two cans of sweetened condensed (oat) milk, Key lime juice, and vegan sour cream method. But I imagine it would work fine. I personally like a more bright and tart pie, which may not be exactly in line with authentic Key Lime pie. Vegan condensed oat milk isn't the most ubiquitous for me, so I only wanted to use one can. If you can't find this product, you can use the same ratios of plant milk and sugar as my lemon meringue pie recipe but replace the lemon juice with key lime juice.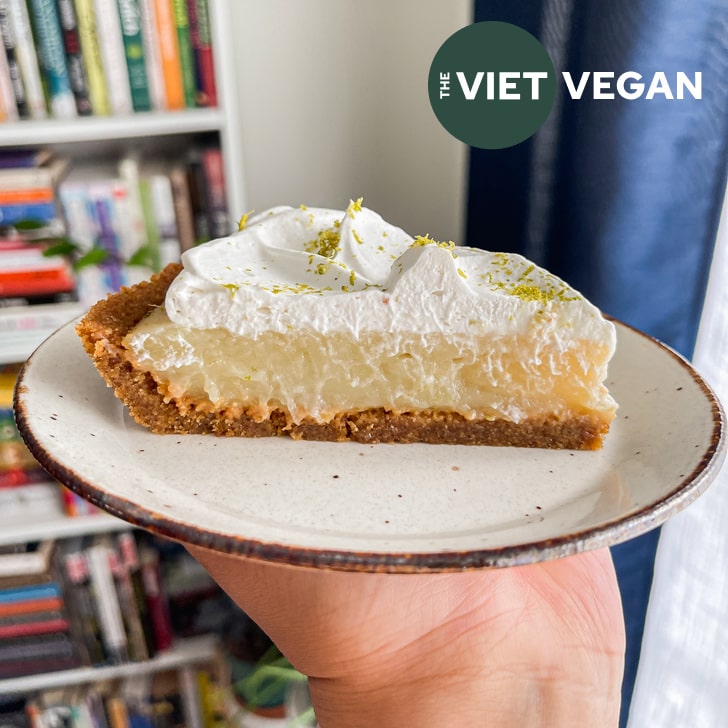 Vegan Whipped Cream
Last but not least, the topping that helps balance the tart flavour of the Key lime filling is lightly sweet whipped cream. I used Silk whipping cream, which is an amazing product that has only just recently gotten more accessible to me.
Coconut whipped cream can be used if you can't find this, but I love this product because while it does have coconut oil, it doesn't have a very powerful coconut flavour. The neutral flavour works so perfectly with this pie, and it whips up so easily, especially with the extra boost of stability from the cream of tartar.
Cream of tartar is an acid in powder form that helps stabilize aerated mixtures like whipped cream or meringue. I found my cream of tartar at Bulk Barn, but you should find it in any baking section of a grocery store :)
Yield: 1 x 9 inch pie (8 servings)
Vegan Key Lime Pie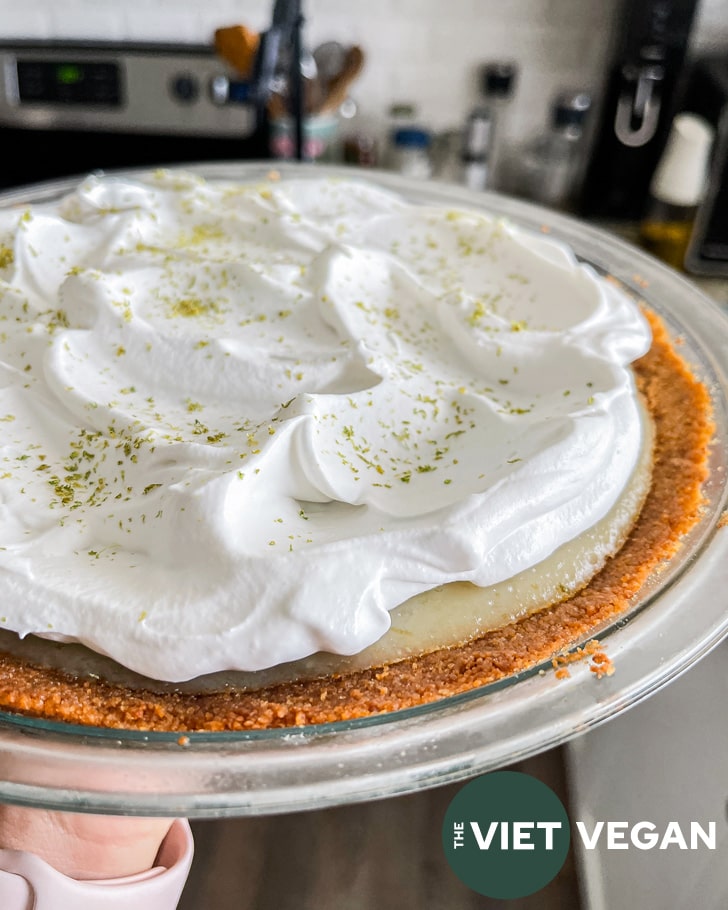 Additional Time
1 hour
30 minutes
Total Time
2 hours
20 minutes
Ingredients
Graham Cracker crust
1.5 cups vegan graham cracker crumbs
1/4 cup packed brown sugar
5 tbsp vegan butter, melted
For the key lime filling
2 lbs key limes, zested and juiced (About 1 cup + 2 tbsp key lime juice)
6 tbsp cornstarch
1 can (320 g / 11.25 oz) sweetened condensed oat milk
For the whipped cream
3/4 cup vegan whipping cream (I used Silk, you can also use chilled coconut cream)
2-3 tbsp icing sugar
1/4 tsp cream of tartar
Optional: Key lime zest to garnish
Instructions
Graham Cracker crust:
Preheat oven to 350F (180C).
To make the crust, combine graham cracker crumbs, brown sugar, and melted butter and mix until it has the texture of a moist sand. It should clump together when you squeeze some in your hand.
Press into a pie pan (I used a 9 inch standard glass one) and press the mixture up the sides. Feel free to use the bottom of a glass to flatten the base of the pie crust.
Bake the crust for 8-10 minutes, you'll see the edges of the crust brown. Remove from oven and let cool while you prepare the filling.
For the Key Lime filling:
First zest your key limes into your pot (zesting over the pot means you keep the fragrant oils too!) You should get about 1 tbsp of key lime zest. You can also set aside about 1 tsp of zest to garnish if you like.
Juice your key limes into the pot, you should get at minimum 1 cup of key lime juice. A little extra is fine, anywhere between 1 cup to 1 cup + 2 tbsp juice! Add 6 tbsp cornstarch and whisk well to incorporate. Turn on the heat and whisk until thickened, it should be the consistency of a very thick gravy.
Turn off the heat, and quickly whisk in the sweetened condensed oat milk. It will foam up slightly, but just whisk until incorporated, then pour immediately into the cooled graham cracker crust.
Allow to cool (about 30 minutes), then transfer to the fridge to set the filling (at least 1 hr).
Whipped cream:
In a large mixing bowl suitable for an electric beater (you could do this by hand if you have the stamina), combine vegan whipping cream, icing sugar, and cream of tartar.
Beak/Whisk with an electric mixer until you get stiff peaks (about 5-7 minutes).
Add on top of the chilled key lime filling, and then garnish with key lime zest if desired.
Optional: refrigerate to allow the whipped cream to set, but you can serve immediately after topping if desired :)