The BEST Vegan Pie Crust.
Just four ingredients to make flaky crusts of your dreams.
Burrito Boy has been asking me to make him pie all summer long. When I had that huge influx of blueberries, he floated the idea of me making some pie, but I simply couldn't be bothered with pie dough. My "new" food processor that came as an attachment with my blender was awful and would never process things evenly. (By new, I mean it's maybe 2 years newer than my "old" food processor, but my "old" one worked loads better than the "new" one).
Luckily, this past weekend I got my trusty "old" food processor back and OH HOW I MISSED IT. I didn't even care about lugging it on the 50 minute subway ride home, I was just so happy to have it back in my kitchen.
As soon as I got it back, Burrito Boy and I fired up our cameras to start filming something for our YouTube channel. That's right, folks, TVV is going to be on YouTube. As of the day of this publishing, there is absolutely nothing on it and I have a grand total of ZERO subscribers, but hopefully that will change very soon. Somehow, I lucked out completely and connected with a guy who also happens to work in TV production, so he has a very firm grasp of lighting, camera, and film editing.
A food blogger's dream come true, right? We could be a dynamic blogging duo, like White on Rice Couple or Minimalist Baker. I have a vision for us to have a production company for food videos and photography. I'M LIVING THE DREAM.
One of the many fun things about new relationships is finding common ground. Believe it or not, Burrito Boy is the first person I've dated who's interested in about 80% of the same things I'm interested in. Perhaps more. We already established that he's a Trekkie like me and that he works with cameras and lights for a living (huzzah like yours truly). We both feel the same about drugs (no thank you), drinking (I'd rather drink water), parties (only on occasion), crowds (only if I have to), and we have a surprising amount of common music tastes. From Harry Potter to Pokemon, or Game of Thrones to Heroes—we have a never-ending list of shows and movies that we want to watch together.
All this time spent on hanging out and doing the things we like, it doesn't leave me a lot of time to make all these summer fruit pies he's been asking for. So we opted to make a video for it instead. Currently, all the video files are sitting on his laptop at home since he hasn't had a chance to edit them yet. In the meantime, I'm in Arizona for the next few days on an exciting farm tour with Natural Delights Medjool Dates!
While I'm away, have a ball with this pie crust recipe. With the holidays coming up, there will be many pies to be made! Pumpkin pie, lemon meringue pie, pecan pie…Oh pie. And you know what else is awesome? Burrito Boy and I are both on Team Pie. Sometimes we like to switch over to Team Cake, but we're aaaallll about that pie. With only four ingredients, this pie crust can be used for quiches, pot pies, or other savoury applications, while also being perfect for a sweet, fruit filling, a top layer of crust, and a dazzling sprinkle of sugar on top. Hopefully Burrito Boy will have the videos edited by next week and we can share it with you folks on the YouTube channel. While you wait patiently, you should also be awesome and just hit that subscribe button on this Youtube Channel in case you didn't feel like searching around to find me. So subscribe, made some pie crust, and with the scraps, roll them out and then cut them into fun shapes! Sprinkle with a little sugar and cinnamon, and you've got yourself some delicious pie crust cookies! Yum.
I'm off to Arizona, I'll see you folks in a few days! Stay tuned to my social media as I explore Yuma, Arizona and check out the date menu and date farms.
As always, thanks for reading!
Pie Crust formula (ratio) from The Splendid Table
Yield: 2
The BEST Vegan Pie Crust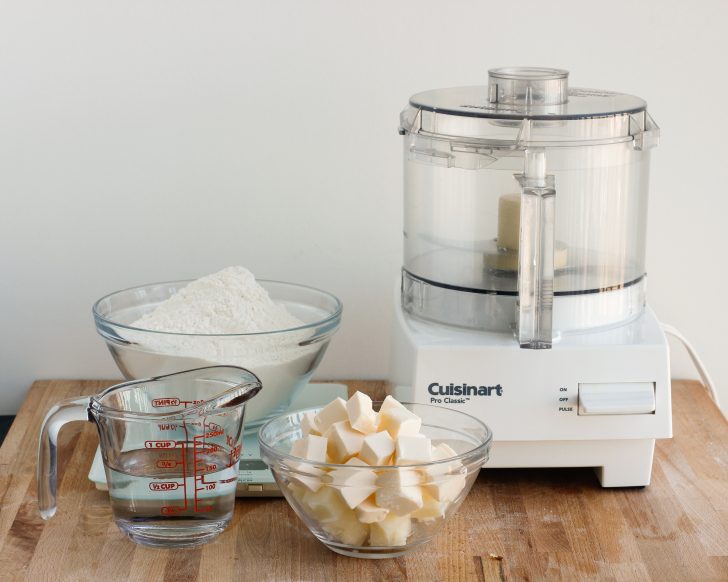 Prep Time
1 hour
10 minutes
Total Time
1 hour
10 minutes
Ingredients
8 oz (2 sticks) Earth Balance buttery sticks, chilled
12 oz all-purpose flour
1 tbsp sugar (if making a sweet pastry, omit if you're making a savoury pastry)
A pinch of kosher salt
Just enough ice water until the dough sticks together (about 2-3 TBSP)
Instructions
Roughly cut the buttery sticks into 1/2 inch cubes. Add to a food processor with the flour, sugar and salt, and process until you only have pea-sized chunks of butter.
Add the ice cold water and process until a dough forms.
Turn dough over onto a clean working surface. Divide into two equal parts and gather the dough, forming to flattened discs. Cover in plastic wrap and refrigerate for at least an hour to let the gluten in the dough relax.
To use the dough, remove from fridge and roll out on a lightly floured surface. Cut into shapes, use as a pie crust, or make smaller hand pies! It's a versatile pie crust that can be used for both sweet and savoury applications.