This lemon meringue pie has the perfect, cloudy meringuey goodness I missed so much since going vegan. Lots of lemony flavour and a balance of tart and sweetness, this vegan lemon meringue pie is the pie of my dreams!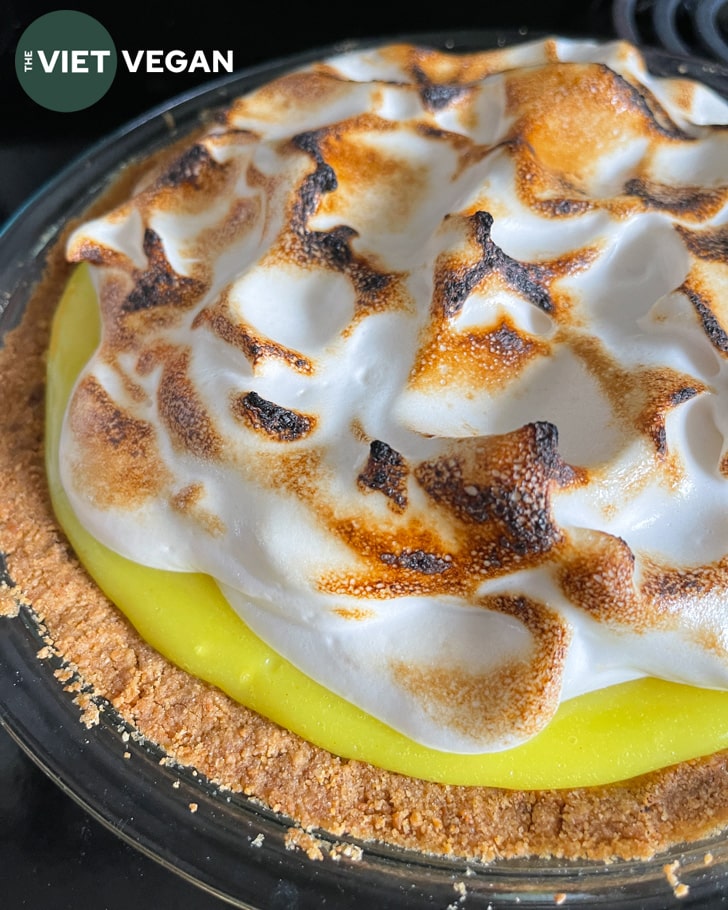 Ever since I started breastfeeding, my sweet tooth has come out of the woodwork and is insatiable. I've been eating tons of vegan sponge toffee (from Farmboy!), cookies, pastries, and heavily craving lemon meringue pie. I had been a bonafide savoury person until Beanie was born, and now I'm a lot more inclined to bake and eat said baked goods.
I hadn't had a vegan lemon meringue pie that hit all the spots until I tried making it myself. The hardest part is the cloudy meringue; getting the right flavour and texture is tricky!
Graham cracker crust and lemon curd is actually quite easy to veganize: cornstarch replaces egg yolk; a touch of turmeric gives this that classic yellow colour; and coconut oil helps firm up the filling to make it sliceable.
Where do I find Vegan Graham Crackers?
Vegan graham crackers are kind of difficult to find, BUT graham cracker crumbs from Bulk Barn are vegan friendly! Without honey, they've been my go-to for graham cracker crust. In the past I've used white sugar for graham cracker crust, but Marly from Namely Marly uses brown sugar. I gave it a try and I really like the flavour that brown sugar gives!
In the US, the red box of Nabisco crackers are vegan friendly, but we don't have that here in Canada. There are the gluten-free graham crackers by kinnikinnick, but I find they can have a bit of a sawdusty texture. So if you can have gluten, I would recommend using a gluten-full graham cracker crumb crust! I think some of the premade ones can be vegan though, the GF one I found at Farmboy is vegan!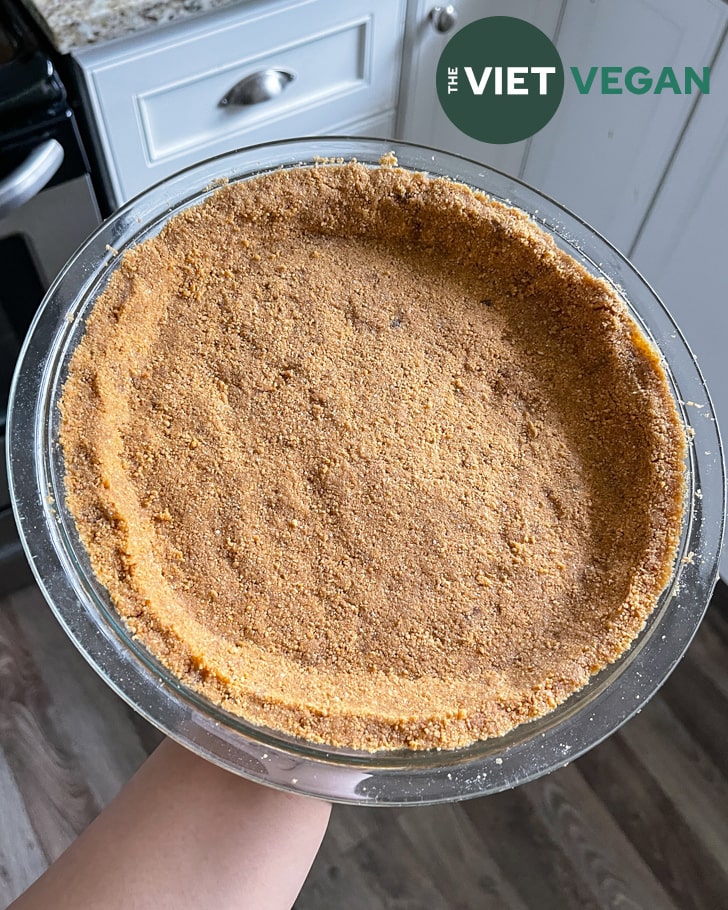 As for the lemon filling: lemon curd is easily veganized with cornstarch for texture; turmeric for colour; and tons of lemon zest to really boost the lemony flavour you get from freshly squeezed lemon juice.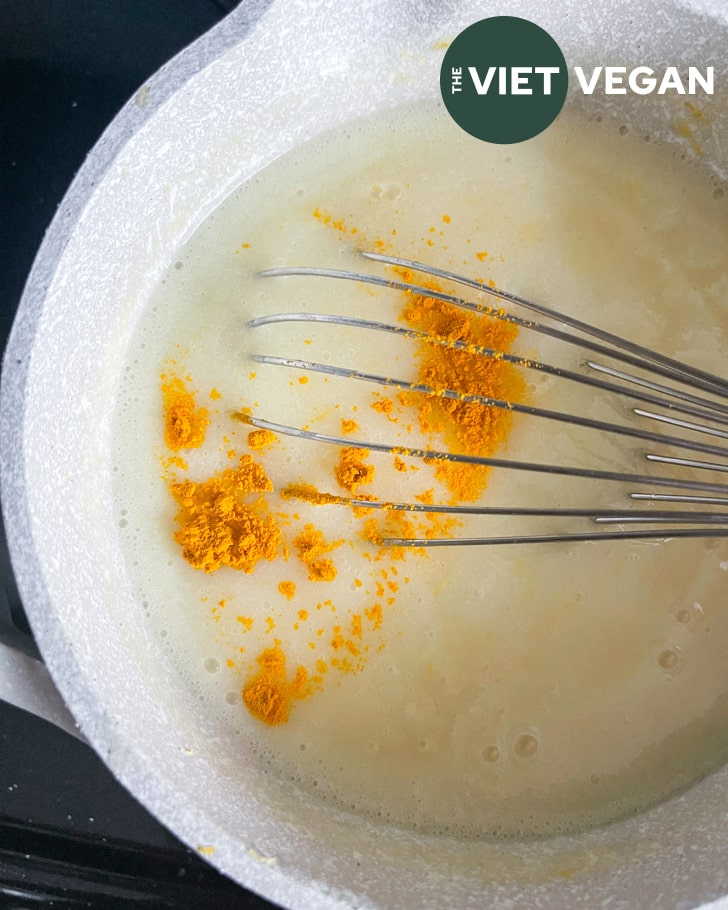 Now that you've got the crust and the curd, fill up that crust and set it aside to set, because now the hard part is here: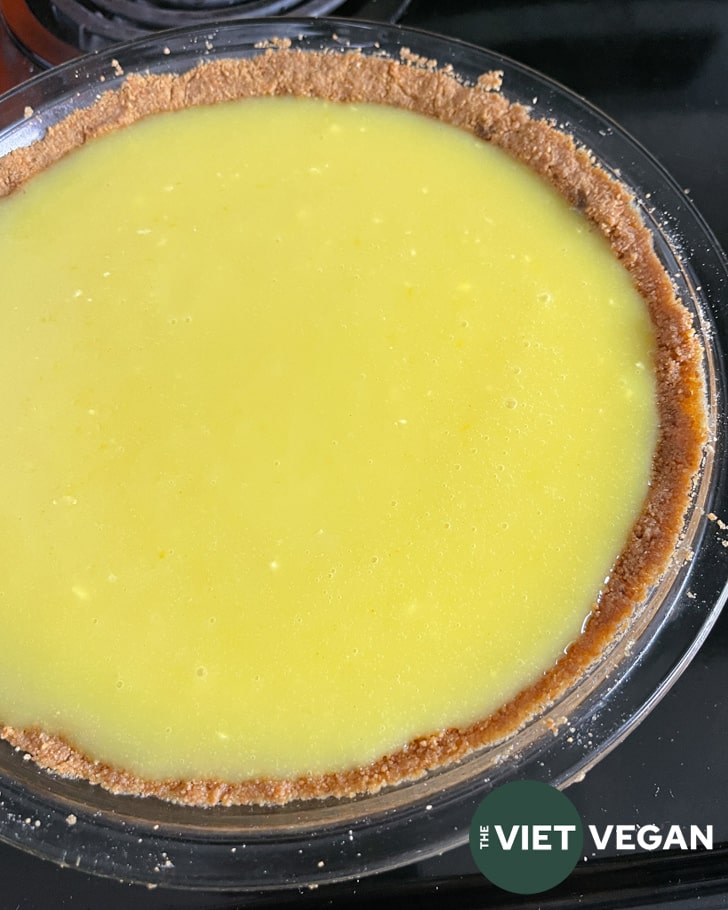 How to Make Aquafaba Meringue
I had seen people achieve fluffy clouds of meringue with aquafaba before! But the first two times I tried making meringue for this pie, I got a puddle of foam and then a melty raincloud on top of my pie. It can feel like a waste of time, energy, and ingredients when it fails, but I kept getting aquafaba from my weekly batches of hummus, so I decided to try making a meringue with it.
There are a few factors that were key to my vegan aquafaba meringue success:
Reduce the aquafaba
I made my meringue with aquafaba from cooking dried chickpeas. You can use canned chickpea aquafaba of course! But depending on the consistency, you may need to reduce it on the stove. I reduce it to a pretty deep, amber brown colour, until it has the consistency of a loose jelly (think like cold gravy) once chilled. In this recipe, we incorporate the sugar with a sugar syrup. As a result, we need the aquafaba to be fairly concentrated so it won't be too loose when you add the syrup.
Cream of tartar
Despite its name, this powder is an acid that performs the same role in both egg-based and aquafaba-based meringue. According to Cooks Illustrated, cream of tartar prevents the protein bonds in both egg whites and aquafaba from getting too strong and breaking. Other acids, like vinegar and lemon juice, also help prevent protein bonds from forming too quickly. But in my experience, cream of tartar works the best.
Italian Meringue method
I should have known from my experience making macarons in my pre-vegan days that Italian meringue makes for a more stable meringue with a smaller margin for error. This method was suggested to me by Lacey from Avocado and Ales. It's GENIUS. Especially with the added stability of agar agar.
Adding dry sugar too quickly to whipped aquafaba can deflate the meringue. However, using sugar syrup can quickly incorporate sugar to stabilize the meringue, without physically destroying the structure.
Agar Agar
Egg whites already make for a very delicate meringue, and aquafaba is even more finicky than egg whites. Agar agar, aka the plant-based gelatin substitute, acts as a bit of a helping hand. I use all the time it to make Vietnamese jelly! As a gelatin substitute, it has a firm, bouncy, almost crunchy texture, but in this recipe, a small amount goes a long way.
Once activated via boiling, agar agar sets when cooled. So aquafaba acts as the scaffolding, sugar the bricks of a building, and agar agar as the mortar.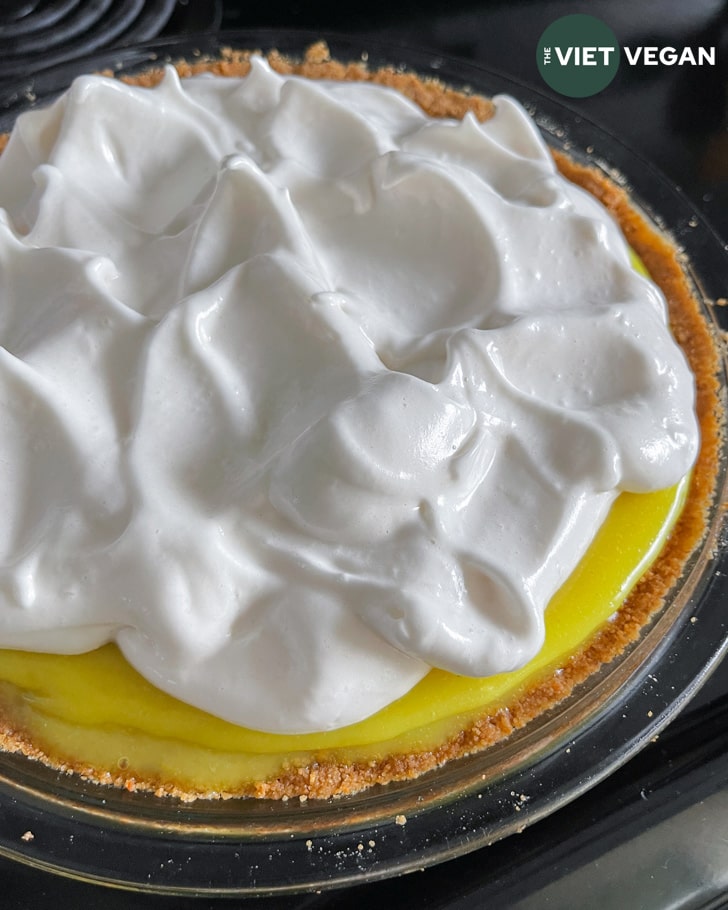 Shaping the Aquafaba Meringue
The only tricky thing about agar agar in the meringue is that you have to work fairly quickly. As soon as agar agar cools, it will solidify. So, boil to activate the agar agar, dissolve the sugar into the mixture, and then immediately whip the agar agar sugar syrup into the meringue. Once you get glossy soft peaks, your mixture should still be warm and piled on top of your lemon curd.
Work quickly with a spoon to create the stiff cloudy peaks on top of your pie. Then, torch to create those perfect, toasty peaks!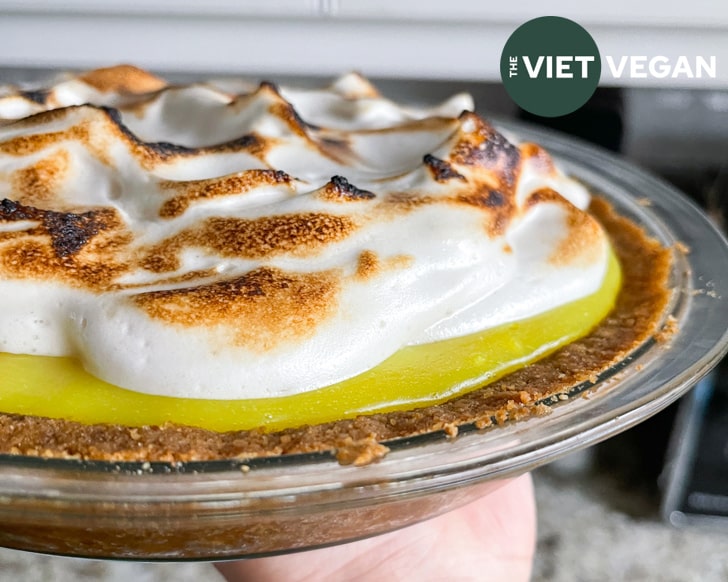 Now when I took the photos for this pie, I actually made the mistake of not using ALL the lemon curd from this recipe. I set aside about 1/2 cup because I wanted to add some to my yogurt, but that 1/2 cup really is essential to making this the correct ratio of lemon curd to meringue. Don't do what I did. I robbed my pie of proper ratios lol.
But I'm really so amazed by how successful this meringue is! It's fluffy, moist, has perfectly light sweetness, and feels like eating a cloud. The lemon curd is packed with juicy lemon flavour and the graham cracker crumb crust is lightly sweet. It's just a great balance overall. This is going to be a regularly made pie in our house for sure!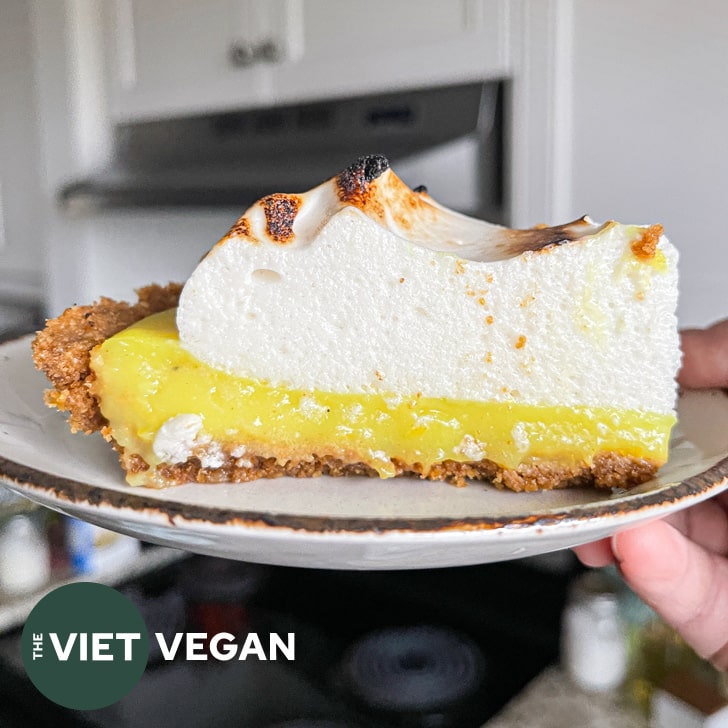 Recipe Inspiration
Namely Marly's Lemon Meringue Pie: This was the first recipe I tried but I preferred a graham cracker crust (this recipe is also adapted from Marly's crust) and I made some adjustments to the filling. When I tried making this meringue, it melted really oddly and didn't set properly, so I had to switch tactics for the meringue.
The Hidden Veggie's Lemon Meringue Pie: This meringue method was brought to my attention from Lacey, the fantastic recipe developer behind Avocado and Ales (famous for her vegan mozza and chickwheat!). My recipe uses slightly different measurements (also less sugar overall) and I wanted a lighter texture. But the Italian meringue with agar agar is genius and I must give HUGE props to Monica for sharing her recipe for this method!
Yield: 1 standard 9-inch pie (8 servings)
Vegan Lemon Meringue Pie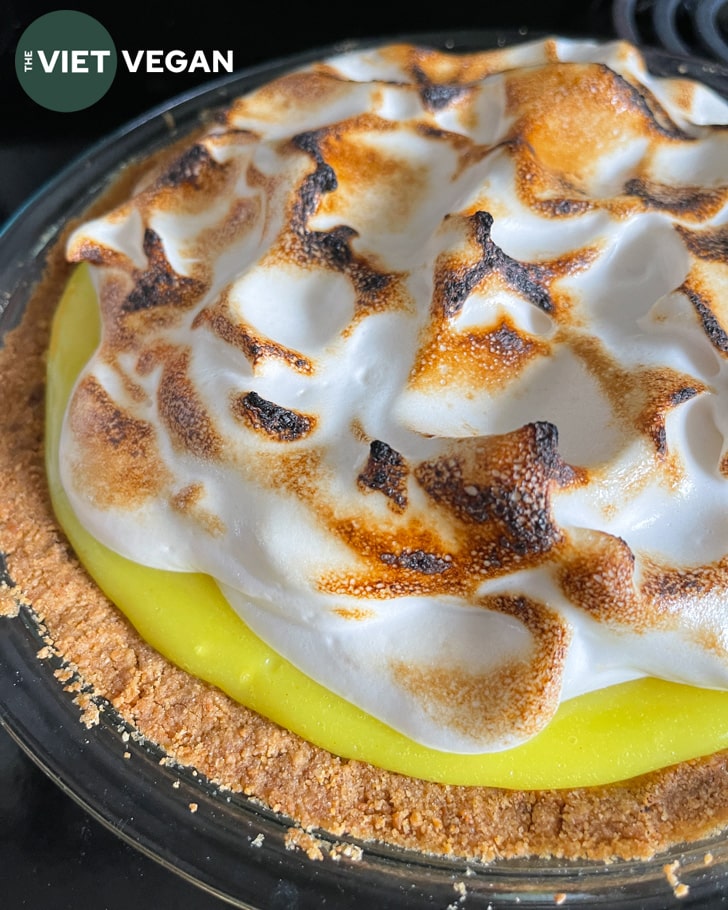 Ingredients
Graham Cracker Crust
1.5 cups vegan graham cracker crumbs
1/4 cup packed brown sugar
5 tbsp vegan butter, melted
For the lemon curd filling
1 cup sugar
4 medium/large lemons, zested and juiced
3/4 cup lemon juice (from above)
1.5 cups plant milk (I used soy)
6 tbsp cornstarch
Pinch of salt
1 tsp coconut oil
Pinch of ground turmeric (adjust to get the colour of your liking)
For the agar agar sugar syrup
1/3 cup water
1/2 tsp agar agar powder
1/2 cup sugar
Aquafaba Meringue
1/3 cup reduced aquafaba (for best results, chill in the mixing bowl in the fridge. It should have the texture of a loose jelly when chilled)
1/4 tsp cream of tartar
Agar agar sugar syrup (above)
Instructions
Graham Cracker Crust
Preheat oven to 350F (180C).
To make the crust, combine graham cracker crumbs, brown sugar, and melted butter and mix until it has the texture of a moist sand. It should clump together when you squeeze some in your hand.
Press into a pie pan (I used a 9 inch standard glass one) and press the mixture up the sides. Feel free to use the bottom of a glass to flatten the base of the pie crust.
Bake the crust for 8-10 minutes, you'll see the edges of the crust brown. Remove from oven and let cool while you prepare the filling.
Lemon Curd Filling
In a small pot, add your sugar. Zest the lemons over the pot to catch all the oil and zest, and mix the zest into the sugar well to get all that extra lemony flavour.
Add lemon juice (measure and use 3/4 cup), 1.5 cups plant milk, cornstarch and a pinch of salt.
Heat over medium and whisk constantly until cornstarch cooks and thickens the curd. It should have a nice and thick texture.
Turn off the heat and whisk in coconut oil and ground turmeric until well incorporated.
Pour onto the prepared graham cracker crust, then let cool while you prepare the meringue.
Aquafaba Meringue
In a clean, small pot, combine water and agar agar. Allow to bloom while you whip the aquafaba.
Using the chilled aquafaba in the chilled mixing bowl, add cream of tartar and whip with an electric mixer or stand mixer until foamy and stiff peaks form. This should take about 5-10 minutes. Set aside.
Bring the pot of agar and water to a boil, and cook for about 1-2 minutes. Then add sugar and stir to dissolve. Cook until sugar is melted and the mixture sets if you dab a bead of the liquid onto a cutting board/plate. If the bead sets like a jelly immediately, turn off the heat and immediately drizzle into the aquafaba meringue, whisking constantly to slowly incorporate the agar sugar syrup.
Once everything is incorporated, beat the meringue is smooth and glossy, and you get soft peaks. The meringue should still be warm. Add over the cooling lemon curd and use a spoon to create little peaks. Work quickly because the agar agar will set the meringue as soon as it cools.
Using a kitchen torch or under the broiler, toast the top of the meringue to get beautiful, toasted peaks!
Chill in the fridge to fully set the curd filling, at least 2-3 hours. Then slice and enjoy!