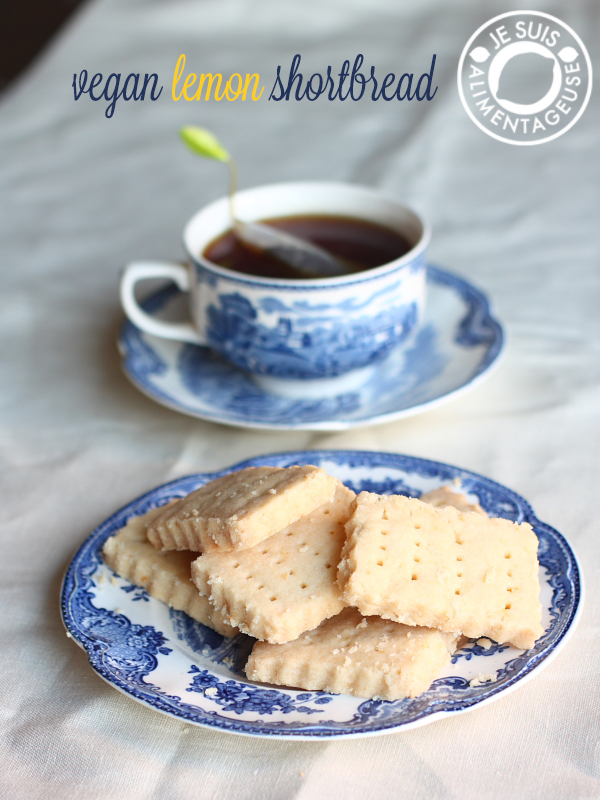 Confession: I didn't give these cookies my 100%. I feel terrible. Honestly the holidays and exams for a student is such a mixed bag of time, effort, and energy. It's exhausting! When I made these vegan lemon shortbread cookies for the huge cookie swap hosted by Love & Olive Oil, I expected that I would have more time for my school work so that I would be able to actually experiment with these cookies. Unfortunately for me, that was not the case. Especially because I doubled the recipe, but I forgot to double the lemon zest, so I only used 1 lemon instead of two, which resulted in barely lemony cookies. Terribly upsetting for me, but I didn't have enough time to make more.
But my roommate and her boyfriend said that they were good anyway. So with 48 cookies in front of me, I felt torn. Do I scrap these cookies and bake new ones? Or do I not let them go to waste because they were still good? They were just vegan shortbread cookies with a hint of lemon instead of lemon shortbread. Ultimately it was my impending work schedules and work deadline that pushed me to just send them as they were.
So I've revised my recipe to reflect the adaptation that I made from the original recipe.
Check out my cookie matches, whom also all sent me cookies because I guess we were the only four bloggers with dairy-free or vegan restrictions!
Now it's back to my paper. Good luck to all the other students out there who are trudging through exam season like me! Stay hydrated, get some sleep, and I hope you survive the exam season!
Yield: ~24 cookies, depending on how you cut them
Vegan Lemon Shortbread #fbcookieswap 2014
Ingredients
2 cups (260 g of flour)
1 cup vegan butter (like Vegan Becel or Earth Balance)
1/4 cup white granulated sugar
1 tsp lemon zest (or all the zest of one lemon)
up to 2 tsp juice from lemon
Instructions
Stir the lemon zest and sugar together so that the sugar absorbs the lemony flavour. Let sit for about 10 minutes. Combine all ingredients using a food processor or a pastry cutter until a dough forms. It may be a little crumbly, if that's the case, add a little lemon juice so that the dough sticks together a bit better. It'll still be crumbly. Form into a rough disc and wrap in plastic film. Refrigerate for about an hour to let the dough rest.
Remove from fridge and roll out to 1/4 inch thickness (a little less than 1 cm) and cut into shapes (I just did standard rectangles).
Refrigerate for another 10-15 minutes so that they keep their shape in the oven. Meanwhile preheat your oven to 350F.
Bake for 10-12 minutes until you start to see the bottom edges brown. Remove from oven and let cool on a wire rack. Store in an airtight container, and is best eaten with tea! =)