These vegan rice crispy squares are the perfect holiday treat
That plays between holiday flavours and childhood favourites <3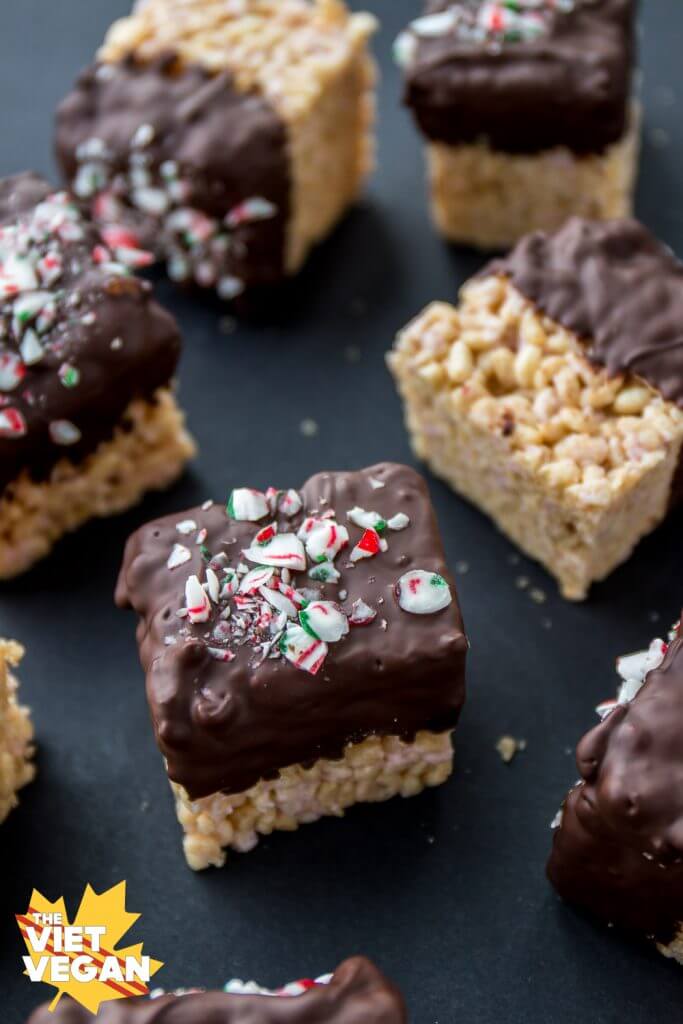 I seem to be cranking out the recipes this week, don't I? This is probably going to be the last one for the year, I may put out another one next week but I haven't decided yet.
I hadn't intended on doing this, but after I made these last week for the Toronto Vegetarian Association's holiday bake sale, I decided to post it so that you guys could enjoy it too.
I'm pretty particular when it comes to rice crispy squares—there's a certain balance we need to strike when it comes to the ratio between marshmallows and cereal. Some like to go a little overboard with the marshmallows, while others seem to overwhelm the marshmallow goodness with too much cereal.
For optimal rice crispy square results, you need just enough marshmallow to act as the glue but still a little extra to give you that gooey bite every now and then. You also need to ensure that you've got enough butter in there to act as the lubricating barrier between marshmallows and fingers so the eating experience isn't a complete disaster.
And I feel like I've found that perfect balance.


If you're not about the peppermint and chocolate combination, that's totally fine, you can use regular vegan marshmallows and omit the crushed candy canes if that's what you're into.
You could also omit the chocolate too if you want to be a kill-joy.
Just kidding, leave it out if you want a classic rice crispy square
But this simple, childhood classic treat gets a holiday flare with crushed candy canes and peppermint spiked marshmallows. They're inviting, tasty, and incredibly easy to make, which is handy when it's that time of year when you have kids screaming their faces off or you have to whip up something last minute for that holiday party or bake sale you totally forgot about.
They're also beautiful enough for you to put on the table next to the overachieving family members in your life, and tasty enough for you to feel confident about without having to succumb to one of those some more "creative" baked goods.
Eggnog cupcakes? No thank you.
Check out this weeks video to see how easy it is to make these, plus two other of my classic veganized treats that are super popular on my blog :)

Yield: 16 squares
Vegan Peppermint Rice Crispy Squares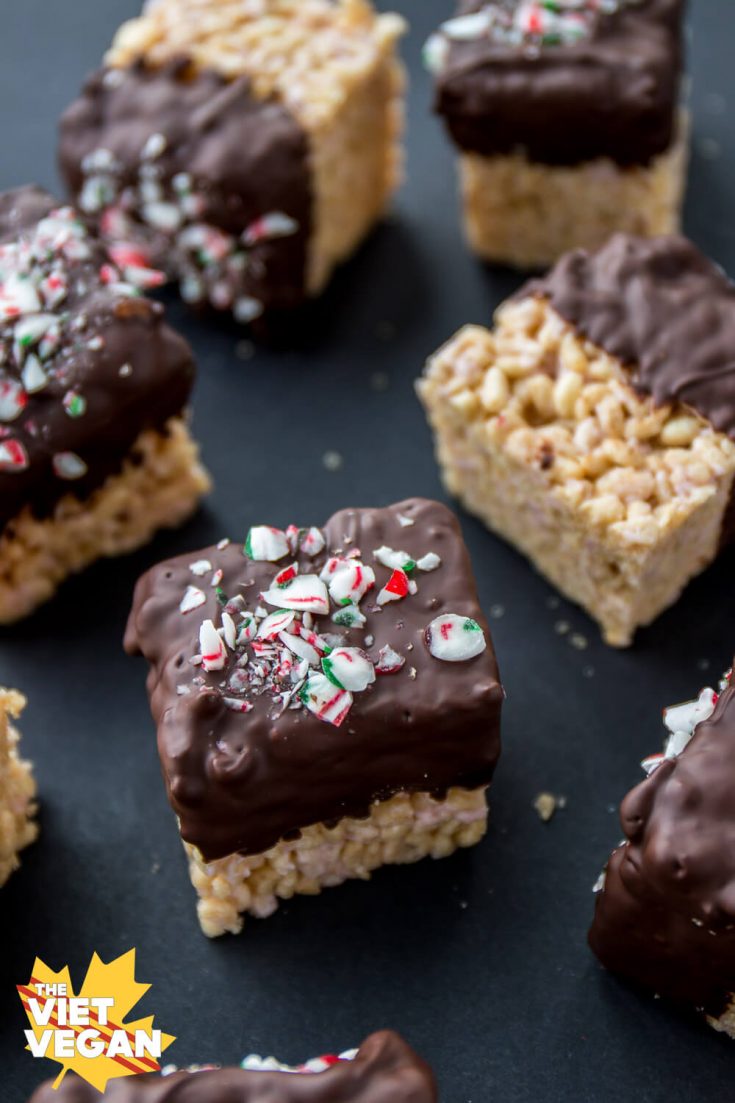 Ingredients
1 bag (283 g) vegan peppermint marshmallows (I used Dandies)***
1/3 cup vegan margarine (I used vegan Becel)
6 1/2 cups vegan crispy rice cereal (avoid D3 in the ingredients, and malt barley if you're looking to avoid gluten)
1/4 tsp kosher salt
2 cups vegan chocolate chips
2 tsp coconut oil
2 candy canes, crushed
Instructions
In a large microwave-safe bowl, heat at 30 sec intervals the marshmallows and butter until the marshmallows are puffy and melted.
Add the crispy rice cereal and salt and mix until completely incorporated.
Transfer to a parchment paper-lined 8x8 square pan and press mixture in firmly. Chill to set in the fridge for 2-4 hours (I did it overnight). Cut into 16 squares.
In a small microwave-safe bow, heat at 30 sec intervals the vegan chocolate chips with coconut oil. Stir until melted.
Dip the rice crispy squares in chocolate and shake off the excess. Put on a plate (or baking sheet that will fit in the fridge), chocolate side up. Sprinkle the crushed candy cane on top.
Chill in fridge to set for at least 30 minutes.
Serve immediately! Store in the fridge, chocolate may melt at room temperature.
Notes
***Alternatively, if you don't have access to peppermint marshmallows, use regular vegan marshmallows and a dash of peppermint extract. 1/2 tsp would suffice.