These yachaejeon inspired vegan vegetable fritters (or pancakes) have been my favourite way to eat a mountain of vegetables every morning!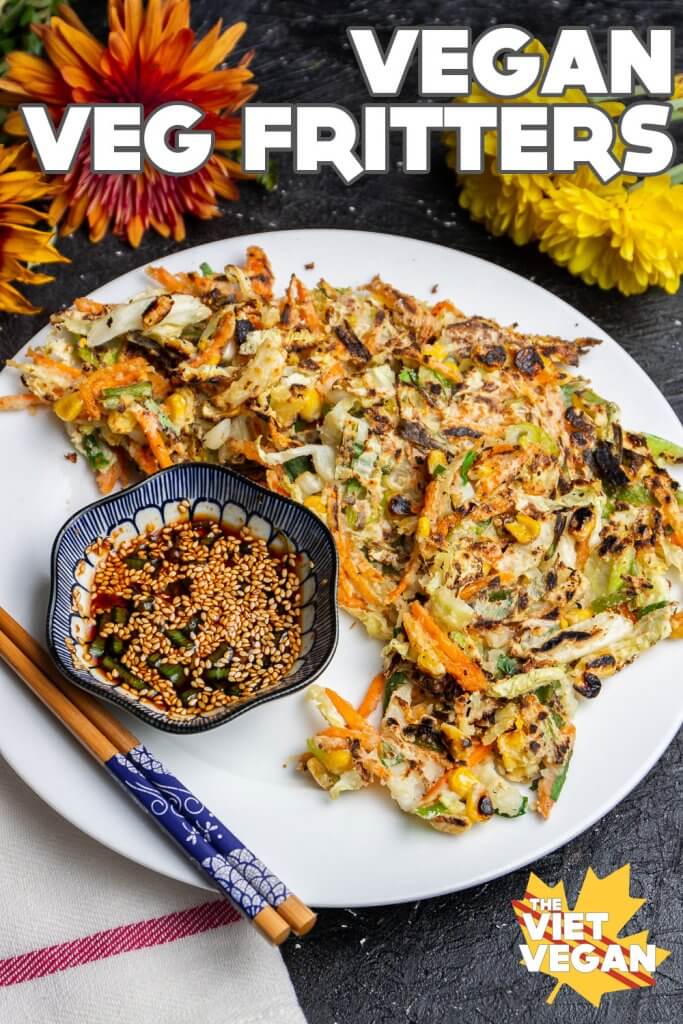 My favourite season is here and with it comes the cravings for warm, spicy food and hearty vegetables. I'll be posting more recipes with squash, beans and warming spices soon, but first I want to share this super delicious vegetable fritter recipe that I've been making every morning lately. It's been such a great warming dish that is a great way to slowly chip at the large vegetables in your fridge (I'm looking at you, giant bag of carrots and head of cabbage).
These vegetable fritters are definitely Korean inspired, as I initially started making them to use up a tub of sour kimchi (Kimchi-buchimgae or kimchijeon), but once I ran out of kimchi, I found that I still loved the pancakes without the kimchi. There are more traditional versions that are a thicker pancake, and I've seen some some people just use flour and water, some people adding milk and eggs, but I'm a lazy person so I like just using flour or gluten-free flour with a touch of tapioca for extra crunch.
From many different trials with my vegan banh xeo recipe, I've found that any crispy fried thing is better with sparkling water instead of plain water or milk, like tempura (recipe coming soon). When I was researching how to make them extra crispy, a lot of people prefer to add ice cold water or use a very cold bowl to keep the batter and vegetables cold. My lazy solution includes using frozen corn to chill the entire batter AND add delicious corn.
You can swap a ton of different vegetables into this depending on what you have. I imagine zucchini, garlic scapes, sweet potato, parsnips, even finely julienned squash would be really good in this. It's a great seasonal dish that you can use to rejuvenate sad fridge vegetables.
For the dipping sauce, I used a more Chinese style sauce (black vinegar and tamari), but if you want to use the Vietnamese style sauce, use my nuoc cham recipe!
I recently shared a What I Eat In A Day vlog where I made these vegan vegetable fritters/pancakes if you want to see them in video-action! I hope you give them a try :)
Yield: 2 side servings, 1 full serving
Vegan Vegetable Fritters (Inspired by Yachaejeon)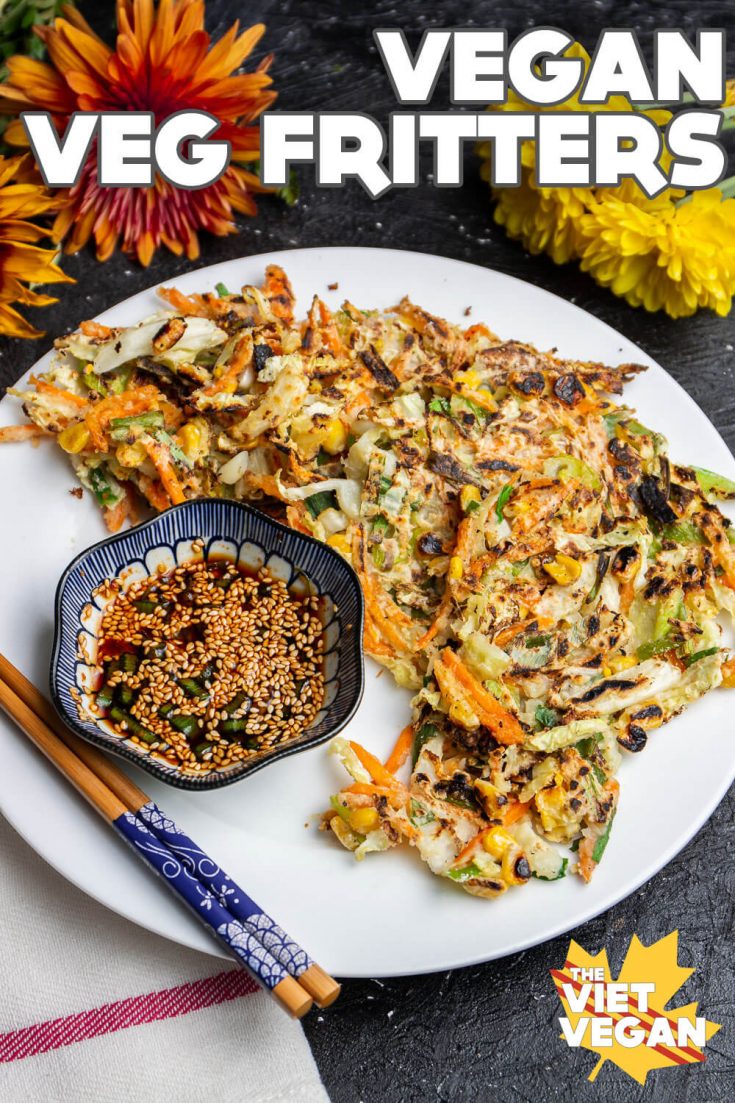 Inspired by Korean yachaejeon, this simple vegetable fritter/pancake is what I've been eating a lot in the mornings when I want a ton of vegetables for breakfast. It's a lot more normal for people to eat this as a side for lunch of dinner though, but I'm not really normal.
Ingredients
Dipping sauce
1 tbsp tamari
1 tbsp black vinegar
1 tsp toasted sesame oil
1/2 tsp chili sambal (I used the one from Fat Choi/Soos Restaurant, but any sambal would work)
Heaps of toasted sesame seeds
1 green onion, sliced (about 1 tbsp for the sauce, use the remainder in the batter)
For the batter
1 medium carrot, julienned
1 green onion, sliced (same onion from the dipping sauce)
3-4 Chinese chives/flat-leafed chives (optional), cut into 1/2 inch pieces
1/2 cup shredded cabbage (~2 leaves)
1/3 cup frozen corn
1/3 gf flour blend (60 g) (you can also just use flour)
2 tbsp tapioca starch (you could also use corn starch, or leave this out. I just like the extra crunch)
Pinch of salt
1/4-1/3 cup sparkling water (70 g)
Oil for the pan
Cilantro and/or green onion to garnish
Instructions
To make the dipping sauce, combine all ingredients into a small bowl. Mix well, and set aside.
Combine all of your chopped/sliced vegetables into a large mixing bowl. You want everything to be fairly uniformly chopped so they cook evenly, and slice the carrots as evenly and thin as possible so that they cook faster.
Sprinkle 1/3 cup of flour (I used GF flour), tapioca starch, and salt over the vegetables and mix well with chopsticks until everything is nicely dusted/coated with the flour blend. If you find things aren't totally coated, add another tablespoon or two of the flour. It depends on how big your vegetables are, so it's always easier to add flour than take it out.
Add 1/4 cup of sparkling water over the mixture, and toss until the flour is just hydrated. If it's still looking pretty dry, add another couple tablespoons (I use between 1/4 - 1/3 cup, depending on the day).
Preheat a skillet over medium heat. Add about a tablespoon of oil to the pan and swirl around to coat. You can either cook as one large pancake, or do what I prefer, which is a couple smaller pancakes on the pan. Mound some of the "batter" (it won't be very liquidly unless you like it that way), and flatten slightly with the back of a spatula. Cook until one side is browned, then flip and press to cook the other side. It should be about 2-3 minutes per side, depending on how thick you've made the pancakes.
Remove from the pan once both sides are nice and crisp and your vegetables look cooked through.
Arrange on a plate, garnish with some extra green onion and/or cilantro if you like, then enjoy! Tear the pancake up and dip in that sauce.