Vegan bánh xèo is a Vietnamese CLASSIC!
Traditionally served with mustard greens and fish sauce, this crispy, savoury pancake is a super tasty and colourful dish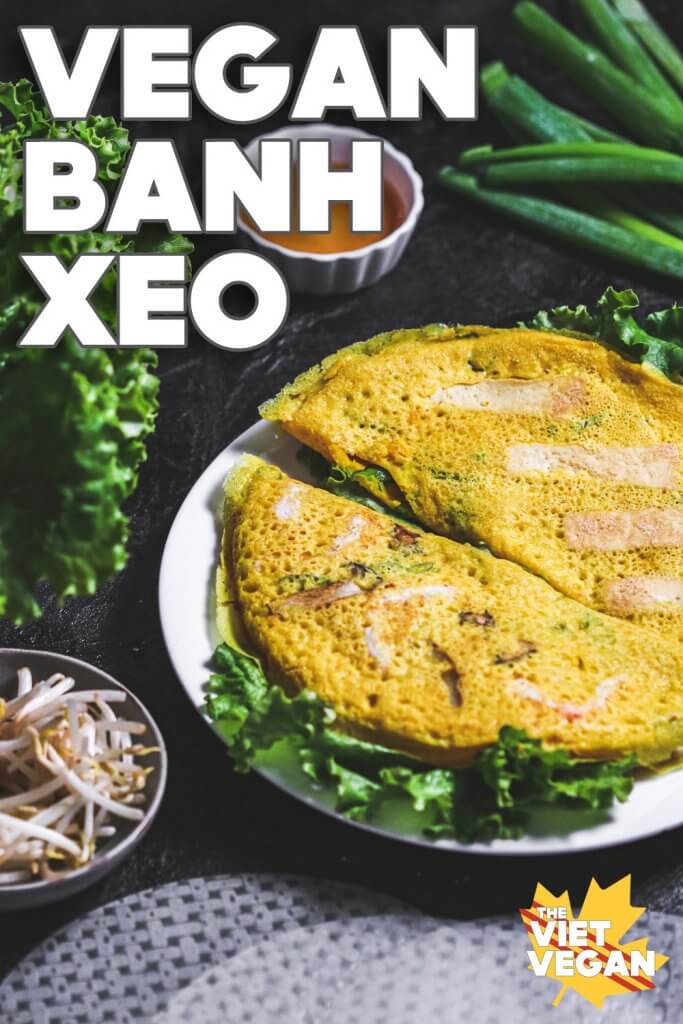 I grew up eating bánh xèo a lot, we'd have these loaded plates full of golden, crisp pancakes stuffed with bacon, mung bean sprouts, shrimp, and mushrooms. Eventually when I transitioned to going vegan, my grandma would make a separate, slightly smaller stack stuffed with just a ton of mushrooms for me. (She also made them for Eddie but he can't stand the texture of mushroom, so she started just making plain ones for him with mung bean sprouts inside). I loved eating these fresh, but I think my favourite memories of them are from staying over at my grandma's house, and the next morning, reheating them in a skillet until the outside is SUPER crisp and crunch and eating them quickly enough that they would almost burn me between the thin curls of lettuce.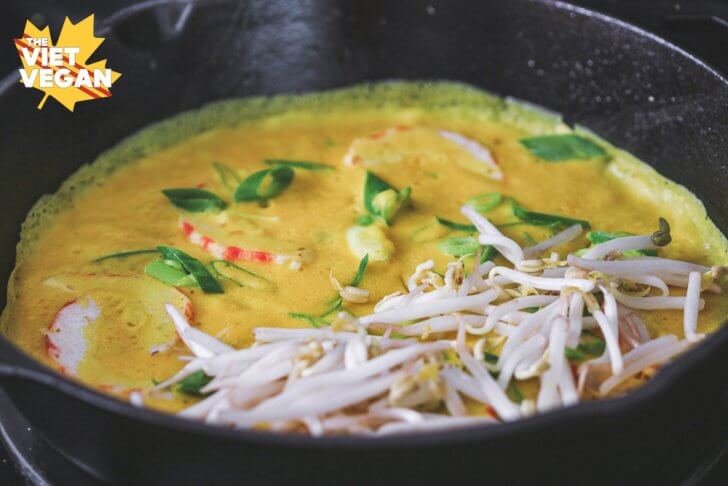 For a long time, I've tried to figure out the recipe from my mom and my grandma, but neither of them really measure and they just make it, relying more on colour and consistency of the batter, and using a TON more oil than I typically like to do. I don't hate using oil, but I definitely don't enjoy the super oily feeling after eating a few too many, so this recipe has a significant reduction (despite still using a bit of oil for each pancake!) But using coconut sparkling water because I couldn't find coconut soda was definitely my biggest breakthrough.
I thought that by using more coconut milk would make the pancakes even more delicious and rich, but in reality, more coconut milk make the batter too heavy and in the end, quite soggy. The trick with this batter is that you need to go thinner than you think. You can always use more batter in the pan to create a thicker pancake, but it's always better with a thinner batter and a slightly thinner consistency of pancake to get the perfect, crispy vegan bánh xèo.

In this recipe, I used tofu for Eddie, vegan shrimp and king oyster mushroom for me, but the variations of filling are totally up to you! Try to pick something that won't have a ton of moisture, as that will effect the crispiness of the pancake, but something like seitan bacon would be great too.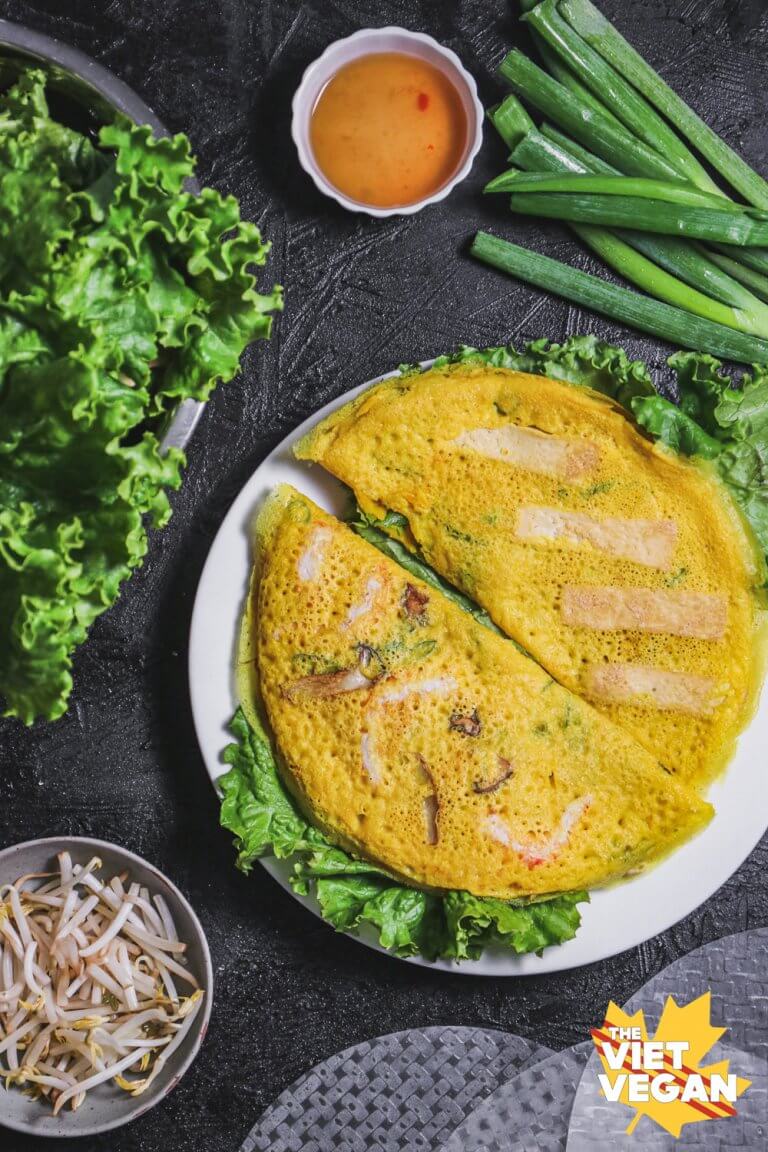 Enjoy these wrapped in mustard leaves, since the bitterness of the leaves with the rich, crispy exterior of the bánh xèo seems to pair so well together, but if you prefer green leaf lettuce, that would be just as refreshing and delicious, especially wrapped for easier eating within a rice paper roll. You can also brighten them up with a bit of do chua, but I don't think that's traditional. I think I just like those pickles in spring rolls haha.

Yield: 4 servings
Vegan Bánh Xèo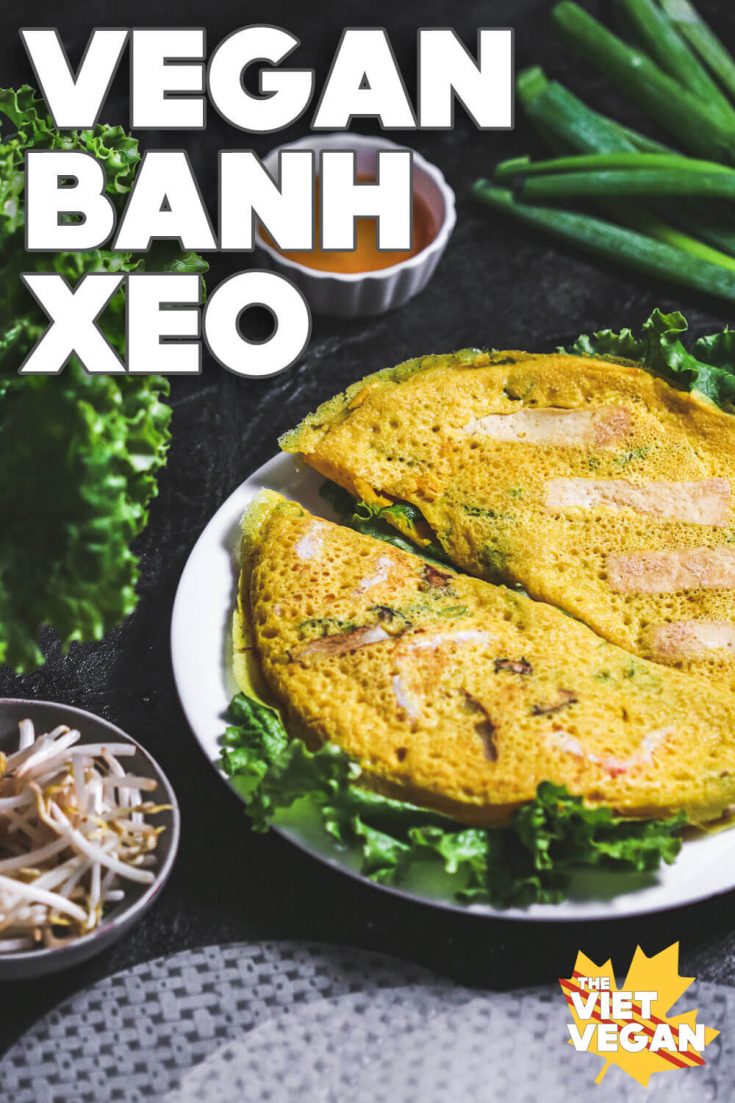 Ingredients
For the pancake batter
1 cup (140 g) rice flour
2 tbsp (18 g) cornstarch
1 tsp ground turmeric
1/2 cup (108 g/125 mL) full-fat coconut milk
1 1/2 cups (325 mL) coconut LaCroix (or coconut soda)
1 tbsp vegetable oil + oil for the pan
For the filling
2 green onions, finely sliced
10 vegan shrimp, sliced in half
1 king oyster mushroom, washed and sliced thin
1/2 block firm tofu, sliced thin
Mung bean sprouts
For the wraps
Mustard greens or green leaf lettuce
Rice paper wraps
Instructions
In a large bowl, whisk together rice flour, cornstarch, and ground turmeric.
Add coconut milk, coconut soda (or coconut LaCroix), and vegetable oil and whisk until everything is combined. Stir in the sliced green onions. The batter should be very thin and runny.
Preheat a pan and prep with 1 tsp of vegetable oil. (Do this before each pancake)
Pan-fry the tofu, mushroom, and vegan shrimp slices and once fried on one side, flip, then add about 2/3 cup batter into the pan. Swirl quickly to cover the whole surface and a bit up the edges.
Add a handful of mung bean sprouts on one half of the pancake and let cook for 3-4 minutes until the edges lift off the pan and the bottom is nice and crispy.
The inside of the pancake should be cooked through, then gently fold in half and remove from the pan.
Repeat until batter is used up!
Serve in spring rolls with lettuce, or as lettuce wraps in mustard greens, dipping in the linked sauce above!