This Vegan Vietnamese Omelette is the simple and easy side dish my mom used to make growing up for a quick protein with dinner. It's savoury, tasty, and delicious with steamed rice!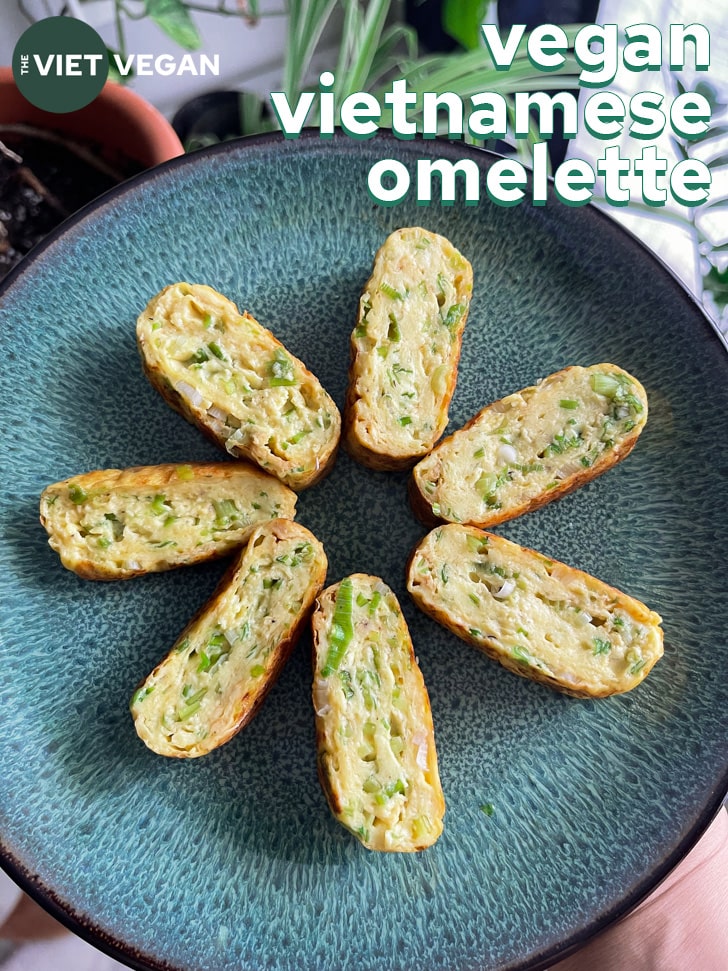 I didn't think about posting this recipe but since it's such a basic staple I had only just recently started making again. This Vietnamese omelette is a comforting side dish my mom made a lot for our family when I was growing up.
Vegan Egg Alternatives
There are a few vegan liquid egg options that just became available in Canada and I've been trying the Nabati lupini and pea based egg, the Simply Eggless (also lupini bean based), and the JustEgg (mung bean based) with this recipe.
They've all been tasty, but JustEgg was definitely the must successful for this particular application! I've written a more detailed review of the three products in another blog post if you'd like to read more about them!
Traditionally, this omelette is seasoned with chives or scallions, fish sauce, a bit of sugar, and then scrambled then cooked into a thick pancake.
Looking back, I assume my mom made this for dinner because it was such a quick and easy dish to whip up since we always had eggs and green onions in the fridge.
Nowadays this is a super comforting food that is a splurge for me because JustEgg is about $6.50 a bottle (at least here in Canada) and one bottle makes about 2 batches of this recipe.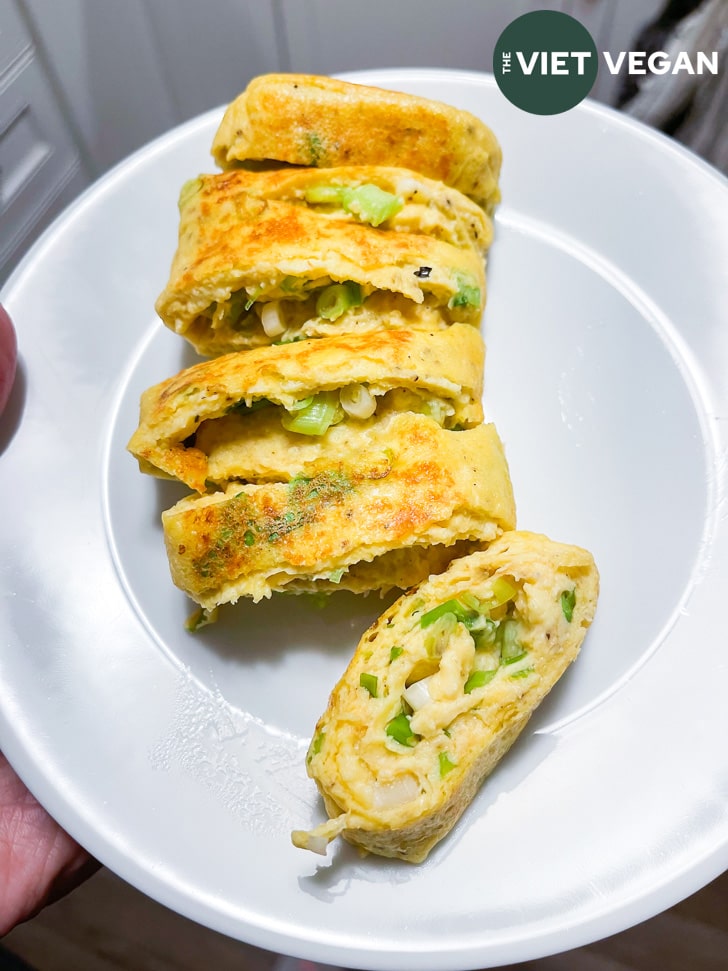 The Vietnamese Omelette
Seasoned with vegan fish sauce (you can substitute soy sauce but it's not quite the same), black pepper, green onions, and a touch of sugar (please don't forget the sugar!), this omelette is the perfect amount of savoury and succulent.
The vegan fish sauce adds a certain je ne sais quoi that is so key to the flavour profile of this omelette: savoury, umami, and almost kind of stinky in the best way. Black pepper is a must, green onions add a freshness and the sugar helps balance out the vegan fish sauce so it doesn't overpower the omelette with stink.
This isn't really a dish you'll see much in restaurants as it's more of a homestyle side dish used for an easy, affordable protein. Obviously with vegan egg mixtures like JustEgg, it eliminates the affordability aspect of it, but the easy and tasty protein qualities remain! This is best eaten with steamed rice and slices of raw tomato and cucumber for a balance of fresh vegetables.
Yield: Serves 1
Vegan Vietnamese Omelette - Trứng Chiên Chay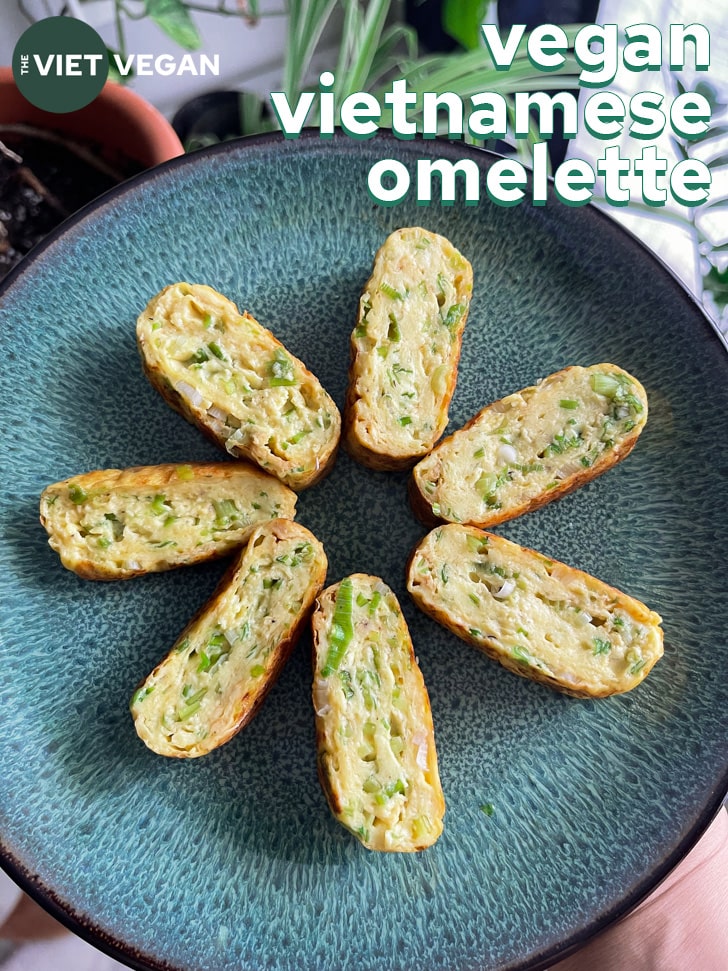 Ingredients
200 mL vegan liquid egg mixture (I used JustEgg)
1/2 tbsp vegan fish sauce (you can substitute soy sauce or tamari for GF)
1/2 tsp sugar
1-2 scallions, finely diced
1/4 tsp black pepper
Oil for the pan
Instructions
Heat up a tamagoyaki pan (or a regular non-stick fry pan) over medium heat and add a bit of oil to the pan. Use a paper towel to blot any excess oil if needed.
In a measuring cup with a spout, combine the vegan liquid egg mixture, vegan fish sauce, sugar, diced scallions, and black pepper and mix well.
Pour a thin layer onto the pan and allow to cook for about 2 minutes until the bottom sets and the top is nearly set. Start to roll the omelette onto itself to create a log. Cook to seal the log and then push to one side of the pan (I always push it to the side opposite the handle).
Pour another thin layer onto the pan and lift up the log to get a bit of the mixture underneath to stick to the log. Allow cook until nearly set, then roll and build up the log.
Repeat with pushing the cooked rolled log to one side, adding a thin layer to the pan, until the rest of the mixture is used up!
Cook each side until the sides are browned, then remove from the pan. You can roll in a sushi mat to get the shape set to cool slightly, but I often just slap it on the cutting board and slice.
Eat immediately with steamed rice, with some stir fried greens or steamed veggies!