Tangy, spicy, refreshing, salty, and umami, this Vietnamese vegan green mango salad is a GREAT time!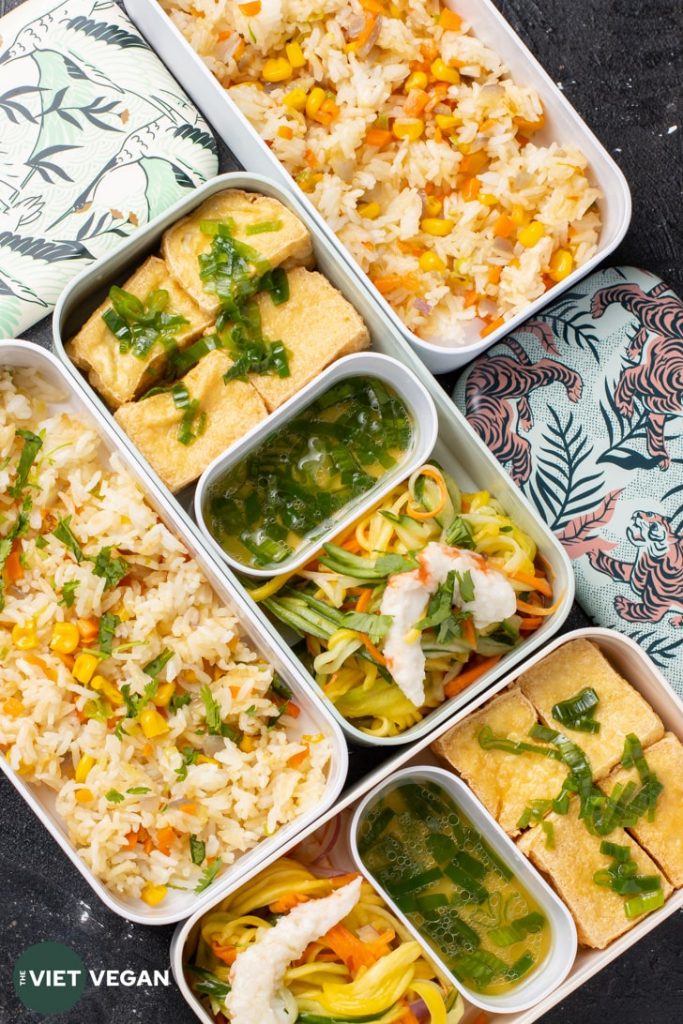 Vietnamese vegan green mango salad (gỏi xoài) is made with unripened green mango and is a refreshing sweet and savoury salad that is delicious in the summers!
I usually see green mango salad at Thai places but the crunchy toasted sesame rice paper that is typically served with Vietnamese versions of green mango salad is one of my favourite parts of this dish. The crunchy nutty rice cracker just goes with this so well (I didn't have any when I made this so that's why there's no pictures of it).
Often, restaurants will serve this with bánh phồng, which are those round shrimp/prawn crackers, but I've found some that are vegan friendly too! I typically find them at the smaller Mom & Pop type Vietnamese markets (larger ones like T&Ts and Nations don't usually carry it). But I've found that stores like Ben Thanh or B&Ts has it, especially if you are close to a Vietnamese community.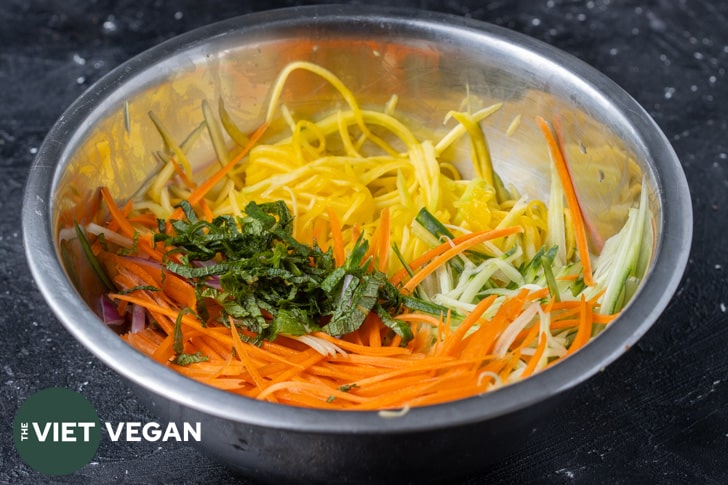 Typically green mango salad at Vietnamese restaurants are not vegan-friendly because of the fish sauce. I've seen some places offer vegan green mango salad, but they often will make it with a water + salt mixture to replace the fish sauce. This is fine… but the vegan fish sauce really does add a layer of umami and funk that makes this dish so distinctive.
This is the vegan fish sauce I generally like to use: I find it at Coven in Hamilton or B&Ts in Kitchener. There are other brands of vegan fish sauce that are great too, this has just been the one I typically like to use!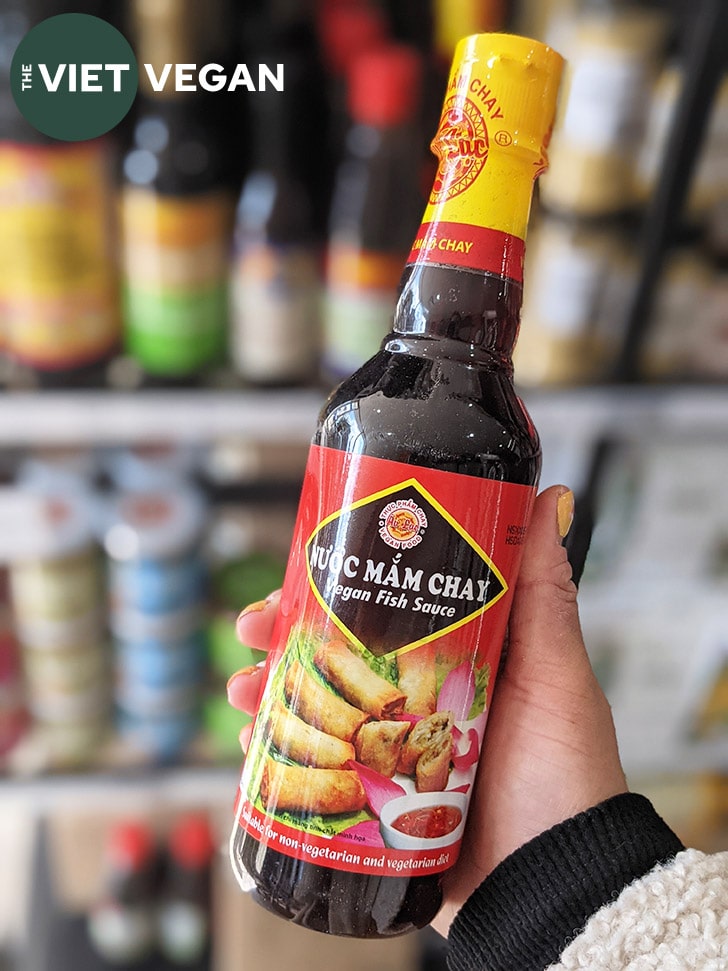 If you don't have vegan fish sauce, you can use a diluted amount of soy sauce, water, salt, and a bit of seaweed to give it that fishy flavour, but it won't quite be the same. I've used fermented vegan kimchi liquid before because it often has that funky flavour, but note that it does indeed add that gochugaru flavour.
Another important thing to do here is to use unripened mango, ideally as green, hard and unripe as possible! The mango I have here is half ripe, so the centre was a lot softer (hence why my photos here look quite juicy).
But if you can, go for those really unripened mango. The sour flavour and crunchy texture is what makes this salad so refreshing. If you like a sweeter, fruitier salad, you can use a more ripe one (kind of like how I did).
Some other folks use bell pepper and slice it very thinly, I've seen people incorporate daikon as well. Kohlrabi or parsnip might had a nice crunch to this too, but not traditional.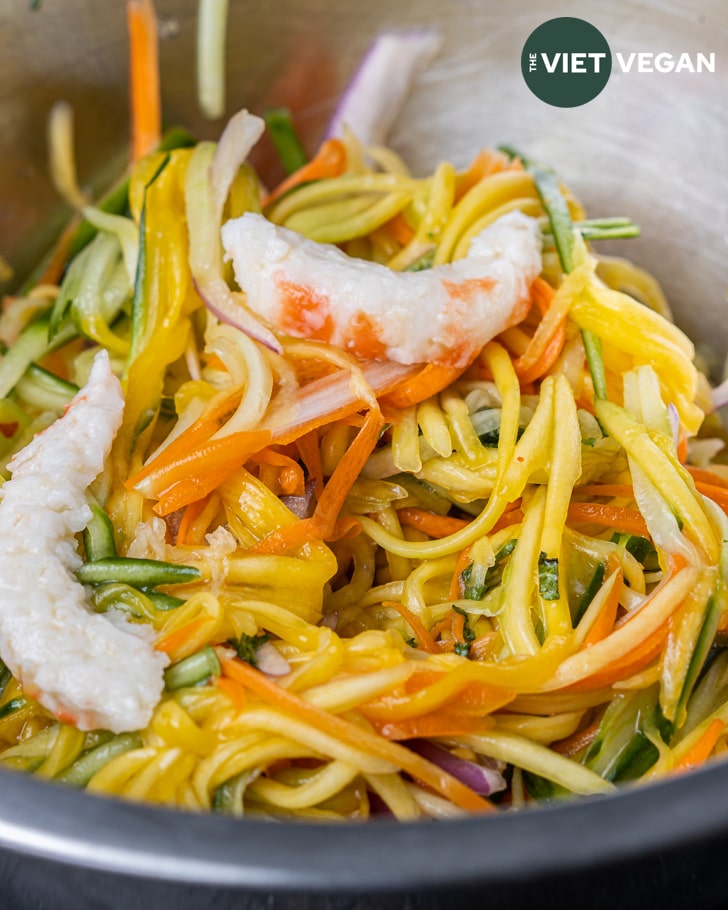 For the shrimp aspect, you can leave this out if you don't like it or don't have access to vegan shrimp. I find this vegan shrimp by Nelakee often at the Nations grocery store or Tan Thanh in Hamilton.
It's usually frozen, so I just thaw by pouring boiling water on top, but you can also boil on the stove for a minute. Once thawed, I like slicing it in half because I don't like the giant mouthfuls of vegan shrimp.
I hope you try this recipe and get to try it with either vegan shrimp crackers or sesame rice paper. The banh phong (vegan shrimp crackers) are typically fried in large batches until poofy, then left to drain in a paper towel lined bowl.
For the banh trang me (sesame rice crackers), my mom usually puts the sesame rice paper in the microwave for 30 seconds and it'll crisp up, but I grew up watching my family toast it over a gas stove flame. The crunchiness of either the banh phong or the banh trang me create the perfect vessel for shovelling this tangy, umami salad into your face :)
Yield: 4-6 servings
Vegan Vietnamese Green Mango Salad (Gỏi Xoài)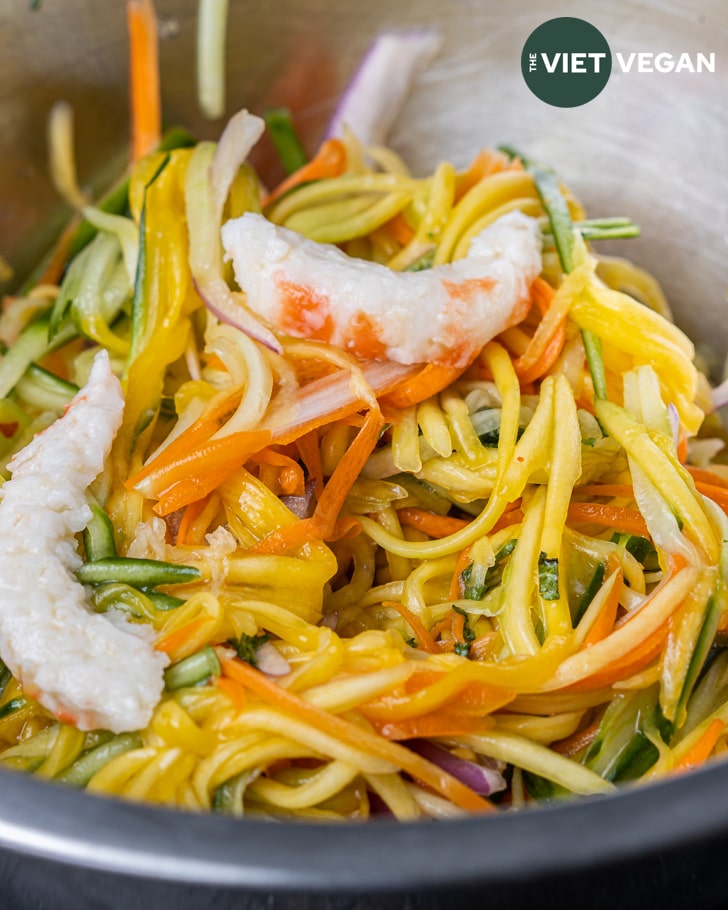 Additional Time
10 minutes
Ingredients
For the sauce
1 clove garlic
3 tbsp (45 mL) white sugar
1/2 birds eye chili (or only a couple slices)
3 tbsp (45 mL) vegan fish sauce (I buy mine from Coven in Hamilton)
1/4 cup (60 mL) boiled water
1/2 lime, juiced
Salad Prep
1 green (unripened) mango, peeled and julienned
6 inches cucumber, seeds removed, and julienned
1 carrot, peeled and julienned
Red onion or shallot, finely sliced
1/2 cup vegan shrimp
Mint
To serve
Roasted peanuts on top
Toasted sesame rice sheets (bánh tráng mè)
Fried vegan "shrimp" crackers (bánh phồng chay)
Instructions
For the Sauce
Mash the garlic with sugar in a mortar and pestle to make a paste. Add a couple slices of red thai chili (birds eye chili) here if you want to add a bit of spice and mash well to incorporate into the paste.
In a mixing bowl, combine the sugar garlic paste with vegan fish sauce and boiling water and stir to dissolve the sugar.
Add juice of half a lime, then set aside (you can refrigerate so it'll be cooler to dress the salad).
To Make the Green Mango Salad
In a large bowl, combine julienned green mango, cucumber (I prefer to remove the seeds because otherwise its too wet), carrot, red onion, and halved vegan shrimp.
Pour half the sauce over the salad and toss well to mix. Taste for seasoning, and add more sauce if you think it should be saucier. You don't want it to be too wet, so adjust the amount based on how much veg you have.
Allow to sit in the fridge for at least 10 minutes to sit in the seasoning.
Serve with vegan shrimp crackers or toasted sesame rice paper (the banh trang me is more vegan friendly, I've only able to find banh phong chay a couple times since they normally have shrimp) and crushed roasted peanuts on top!