This Washed Flour Seitan method makes great seitan that PULLS APART like chicken–with only water and flour!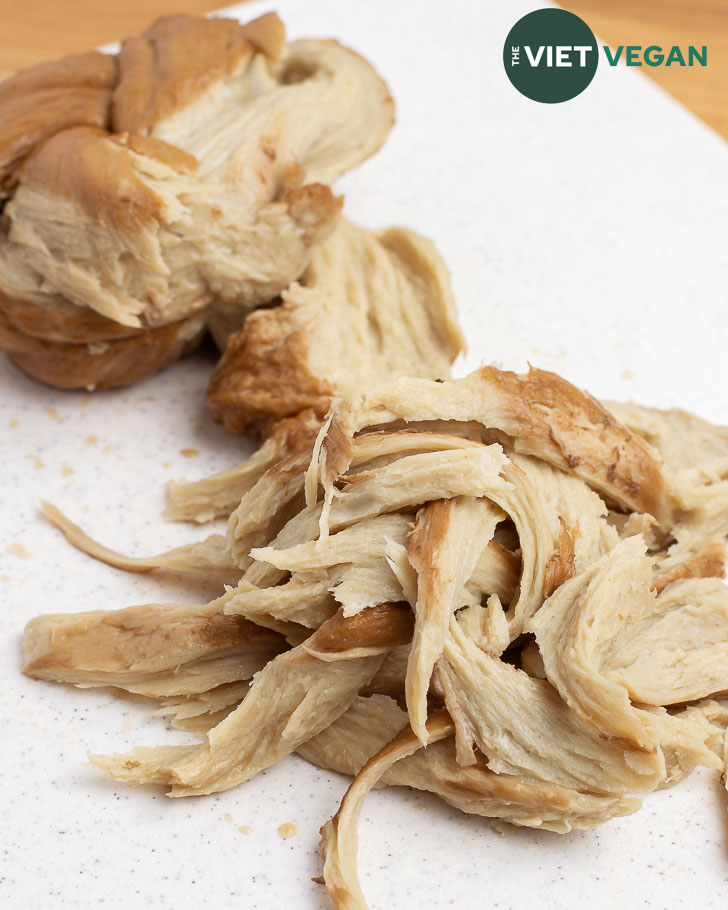 Washed flour seitan has been a type of seitan that I've been too intimidated to try making myself for a while. I had seen it for years and it's some of the oldest methods of seitan making there is (tracing back to Buddhist Vietnamese and Chinese traditions of washing the starch out to create noodles and using the gluten mass as the protein for vegetarian meals).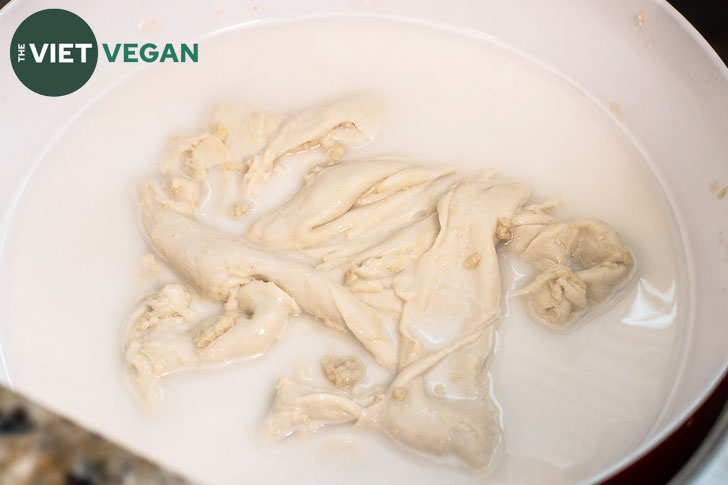 Washed Flour Method VS Vital Wheat Gluten
The difference between making the Washed Flour Method versus the more common method of using vital wheat gluten (or often listed at the bulk food store as gluten flour) is that the washed flour method removes a lot of that pungent, almost bitter gluten-flour flavour that seitan can often have.
The extra work it takes to wash the flour and the resting between certain steps can be time consuming, but I swear this is really fun and such a unique texture from any other vegan mock meat that you can buy!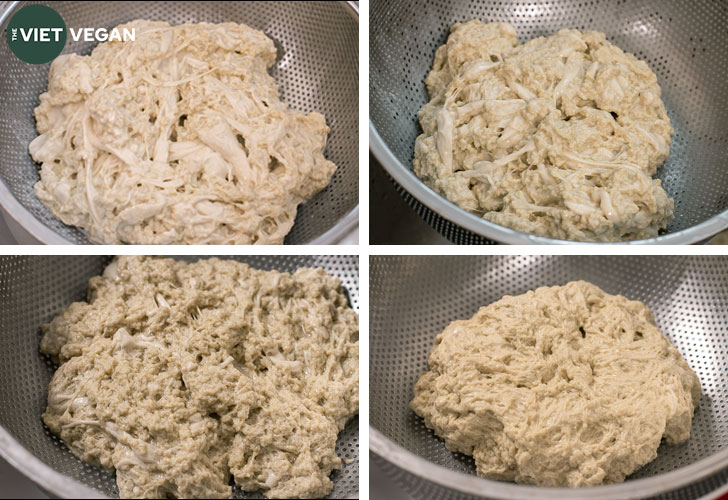 Washed Starch
Washing the starch out of this mass to reveal the gluten underneath is such an interesting process, and the different things you can make with the starch afterwards is really awesome! I'll release the recipes for cold skin noodles and washed starch bacon once I perfect them.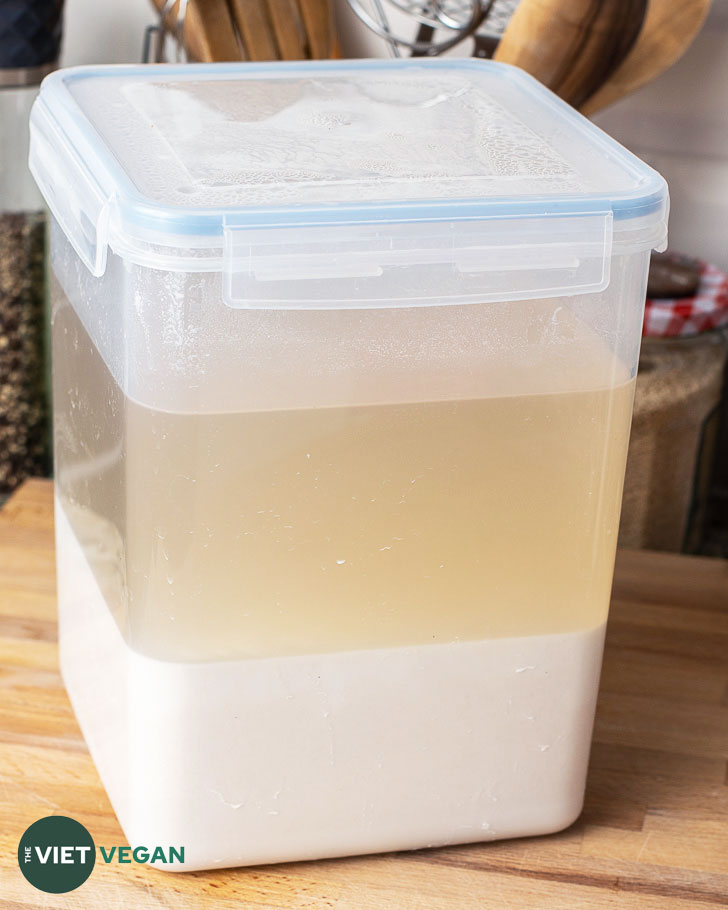 I keep my starch in the fridge in these large airtight containers and let it rest so that the starch will settle and the water will sit on top. You can pour off the excess water and cook with the liquid wheat starch!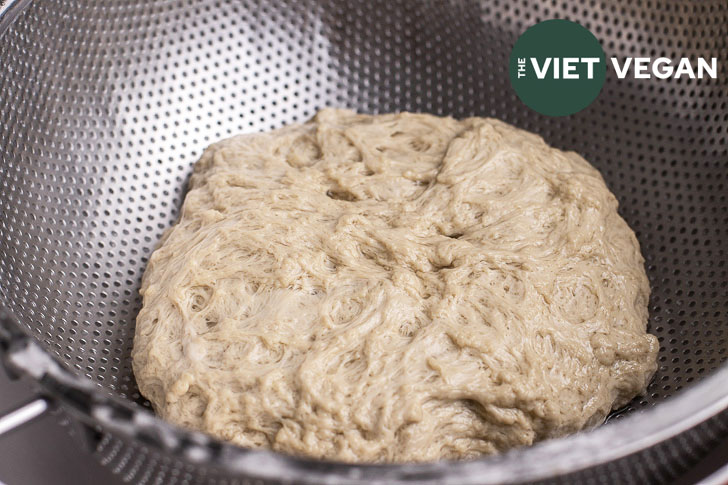 When I first tried this method, I didn't wash out enough of the starch for the seitan to really bind together and get super stretchy. When in doubt, just keep washing out the starch, and you'll get this really stretchy structure.
At this point, I've seen people throw this block of seitan into the food processor with spices, some broth paste or bouillon cubes, and tofu or beans, to break up the texture so the end result won't be so rubbery.
The base seitan itself is fairly dense and chewy, but I really liked it! I think in the future I'll play around with blending in different ingredients but the past few times I've made this, I've just been too lazy to bust out another appliance I have to clean haha.
Shaping the Seitan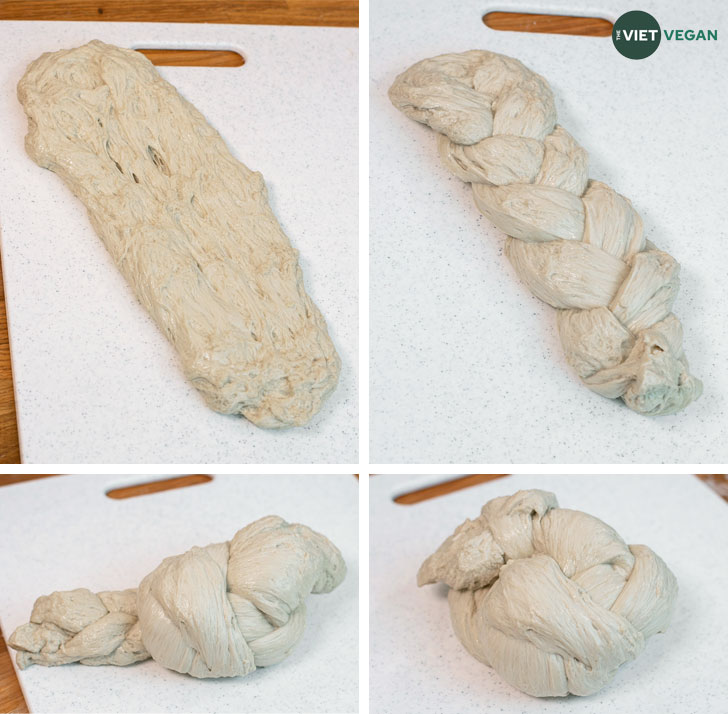 I ended up cutting the large long block into three strands and then braiding that. Once I had that thick braid, I pulled and stretched it to tie that into a large knot. The knotting process gives you that torn chicken-texture that is so useful for various recipes!
Cooking the Seitan
Now that the most labour intensive part is done, I cooked this in a beefy broth, but in retrospect it probably would have been better in a chicken-y flavoured broth (either the Better than Bouillon vegetarian chicken broth base or the Osem vegetarian chicken consommé would be great).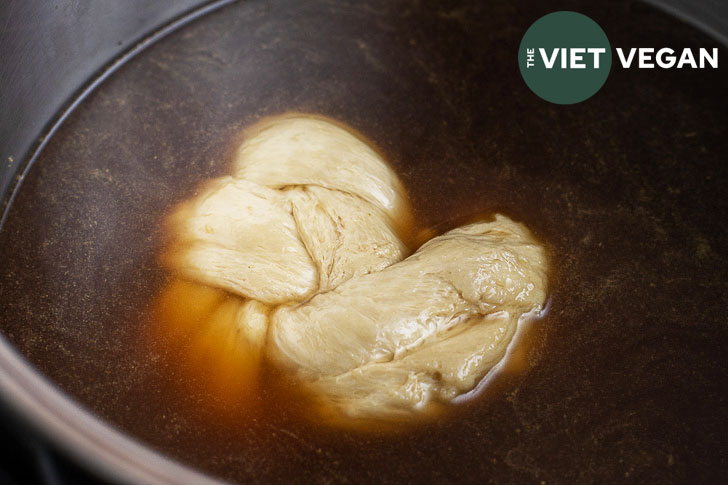 I simmered for two hours in my Instant Pot on the slow-cooker setting, but you can easily do this in a regular slow cooker or over a steady low simmer on the stove. Like when you cook regular seitan, you don't want the broth to be bubbling at all, you'll want the broth to be at simmering temperature.
Cranking up the heat too high or cooking too long will yield a really tough and rubbery texture, so I definitely would recommend using a slow cooker or your Instant pot for this.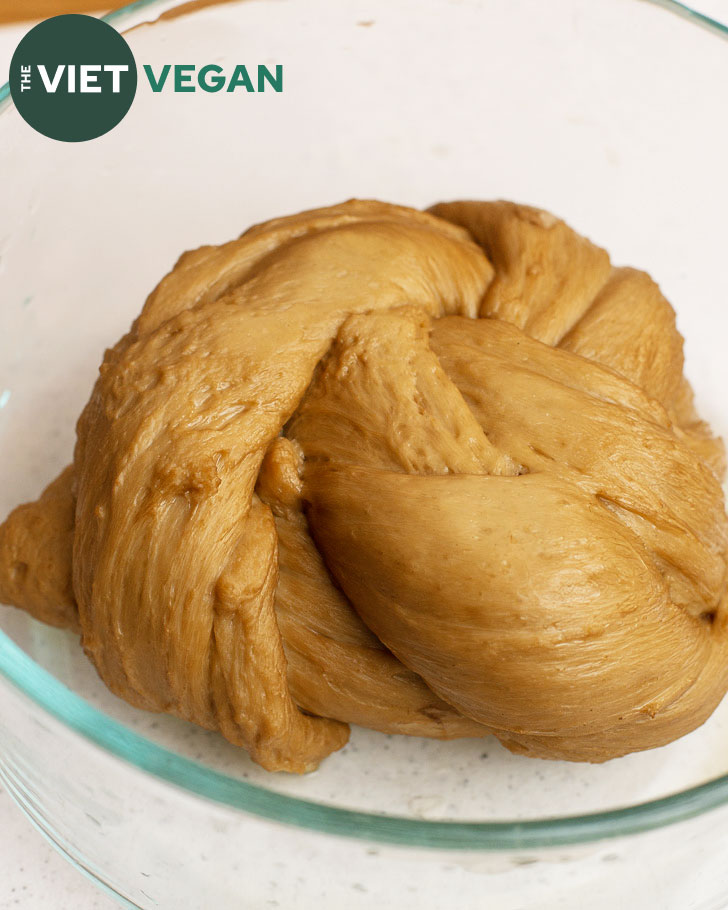 Once the seitan has simmered, you can eat it immediately, but the texture will be way more developed once you let it chill for at least 4-6 hours. I store it in the fridge in some broth so it doesn't dry out.
The Final Step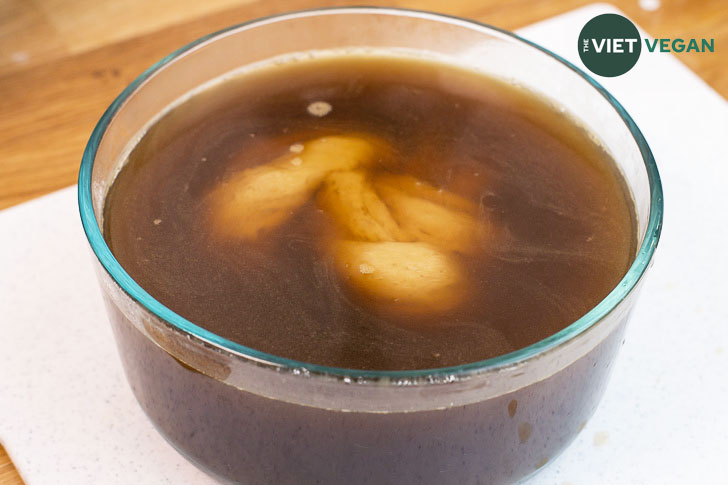 Once it's been chilled and has had time to rest, you can pull it apart and get these incredible shreds! I've stored them in the fridge for a couple days and I've stored other seitan easily in the freezer for months at a time. I haven't tried it with this particular seitan (we eat it too fast!), but since it's basically the same as any other seitan, it would be just as good after freezing too.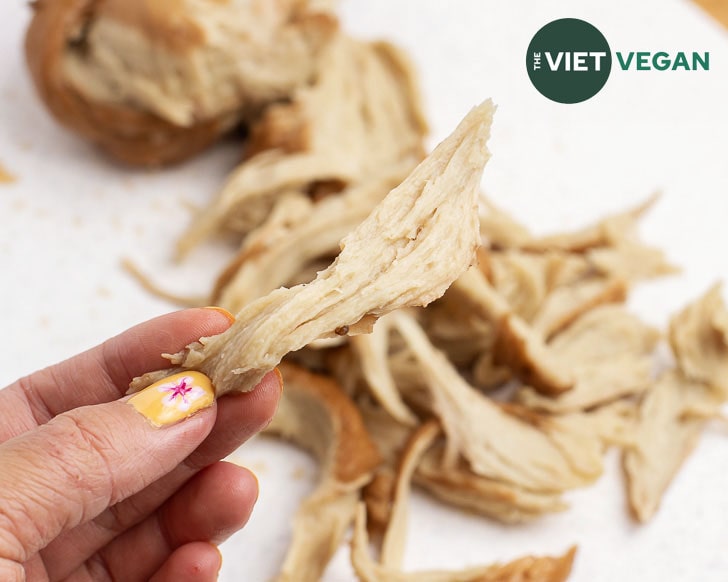 Resources:
I definitely did not come up with this method on my own! I had done a bunch of reading from various methods (two of the recipe files on the Seitan Appreciation Society FB group informed me of the general ingredient ratios) and the Seitan Society step-by-step photos helped me a lot with understanding the stages and what they looked like.
Yield: 4 servings of pulled chicken-style seitan
Washed Flour Seitan Method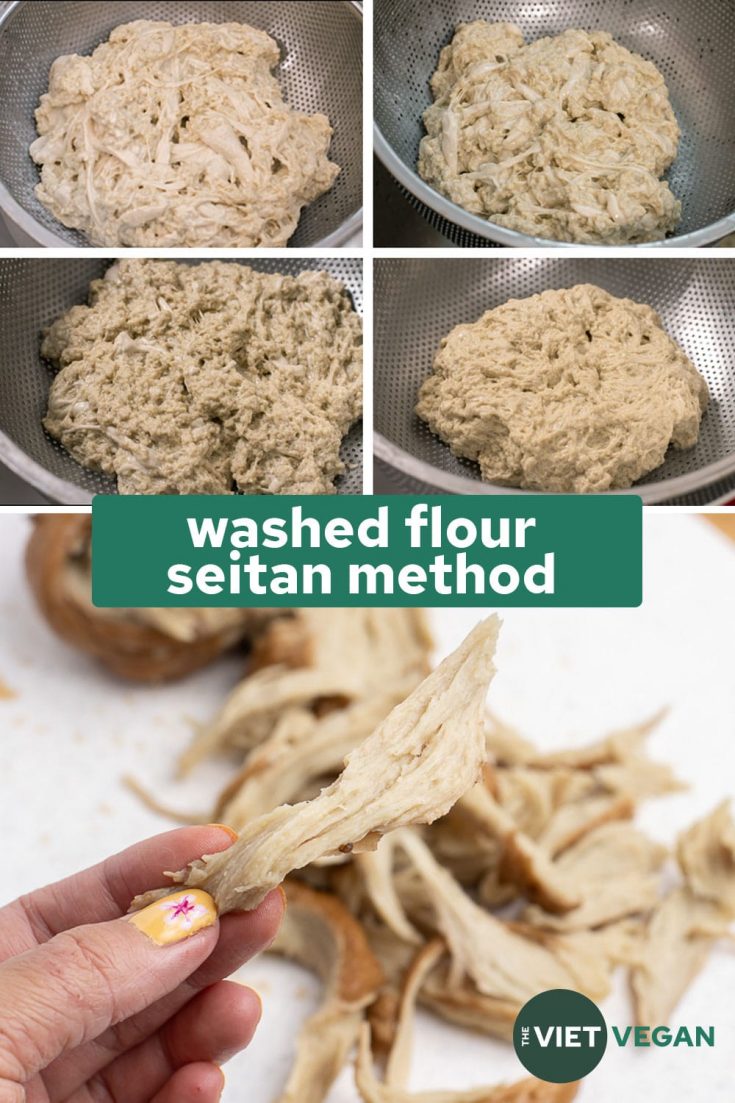 This amazing seitan is made with things you already have in your kitchen: flour and water!
Total Time
4 hours
45 minutes
Ingredients
1200 g all purpose flour** (about 9 cups)
750 mL water (3 cups)
2 L vegan broth (or enough to just cover the seitan in your slow cooker/pot)
Instructions
Preparing the Initial Ball:
In a large bowl, combine the flour and water and mix until you get a fairly shaggy ball.
Turn out the mixture onto a clean counter and knead until you get a fairly smooth ball that springs back when you poke it. This should take about 10-15 minutes of kneading, but if you have a bread maker or a heavy-duty stand mixer, you can let that do the kneading!
Cover the ball with cool water and allow to rest for 1-2 hours.
Washing the Flour:
After a rest, pour out the water and cover the ball with fresh, cold water.
Start kneading the dough in the water to wash out the starch. Once the water gets really opaque and thicker with starch, strain the seitan through a sieve and reserve the starchy water for other recipes (coming).
Repeat the rinsing with a fresh batch of cold water and keep kneading until you get a spongey mass that clings together really well (refer to the 4 grid of the washed flour stages in the post). It took me 3-4 passes of kneading in fresh water, but just keep going until the water is only lightly cloudy instead of opaque and white.
Squeeze out as much water as you can and then let the seitan rest in a sieve to drain for 20-30 minutes.
Prepping the Seitan to cook:
Meanwhile, prepare your broth in Instant pot or slow cooker (or a pot with a low simmer). I used vegan beef broth paste, but you can use powdered broth or broth in a carton, whichever you like.
After a rest, stretch your seitan until its about 12-15 inches long. Use a knife to cut 3 strands, leaving about 1 inch uncut at the top to hold together the braid. Braid the strands and then tuck in the ends into the braid.
You can let rest again for about 5-10 min for better results, otherwise stretch out the braid to about 18-20 inches and then tie a large knot in the centre. Add on as many knots as you can on top and tuck in the ends inside the braid. I only really was able to knot it twice, but if I let it rest more, I probably could have added a third knot.
Add the braided and knotted seitan into your broth and cover, set the lid to venting if you're using an Instant Pot, then simmer for 2 hours.
Once cooked through, transfer to a container and cover with some of the broth. Allow to cool until cool enough to refrigerate, then let rest in the fridge for 4-8 hours.
Prep and Storage:
After a chilled rest, pull apart to reveal the amazing shreds from this! Store in the fridge for up to 2-3 days, or freeze for up to a couple weeks!
To cook, you can marinate this and pan-fry, or use just like you would shredded cooked chicken!
Notes
**You can use any flour that has a higher gluten/protein content than 10%. Ideally all purpose or bread flour works here! You can also use other kinds of flours that have protein in them, so long as it is gluten. Nut flours would not work here.