These Liangpi wheat starch noodles are a popular street noodle dish originating from the Shaanxi province in China. They're chewy, refreshing, and really tasty!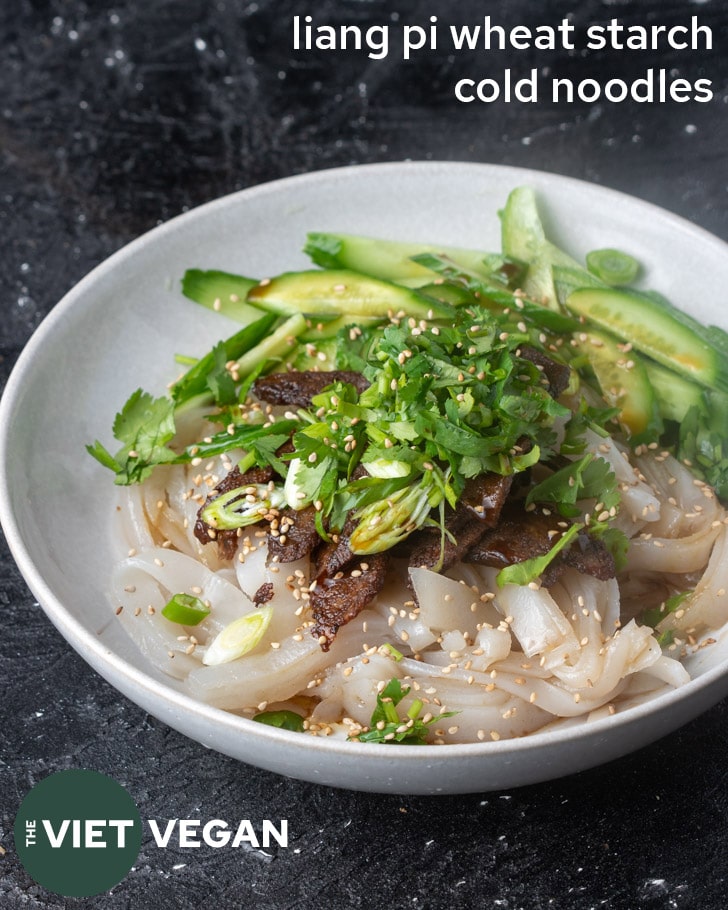 I'll admit, these noodles have been both my favourite and least favourite thing to make with the leftover wheat starch from my washed flour seitan experiments. They were a bit of a challenge for me to master because I had been experimenting with different methods, ratios, using different equipment, etc.
If you want to make these with dry wheat starch instead of using the washed wheat starch from seitan, there are other recipes online that you can try!
Equipment
Make sure you use a non-stick or a stainless steel pan.
I tried using aluminum cake pans instead of those dark, non-stick cake pans but they weren't non-stick enough. I bought these stainless steel metal bowls to use instead, but if you have a cheung fun pan, that would work great too! They don't have to be circular pans, you'll have more even noodles if they're square or rectangular, actually.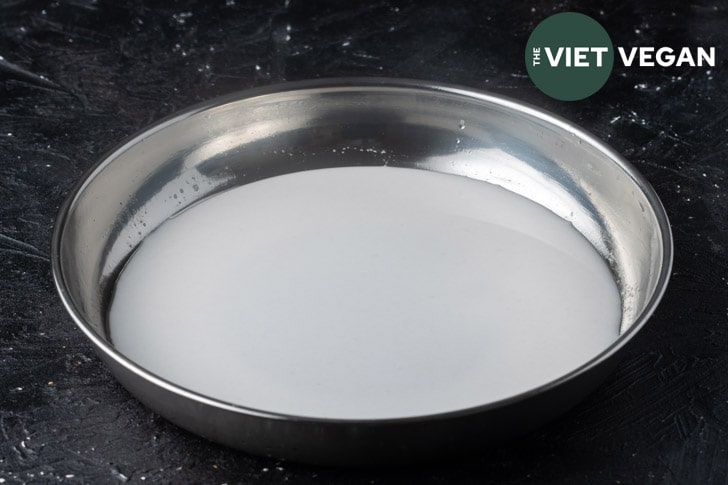 Cooking Method
I tried steaming these in my steamer pot, but I found the best results were with the pan directly floating on a gentle simmer/boil. My oven is slanted so the steamer pot or a metal insert for the pan to sit on top of only resulted in uneven noodle sheets. One side would be too thin and overcooked, while the other was too thick and under-cooked.
With a wok of boiling water, you're able to balance the level of your batter so that it's even in the pan. Cover with a lid when cooking to trap that moisture and heat to cook the noodles evenly.
A lot of the recipes I looked at say only to cook for 2 minutes or so, but I found that I had to cook until a bubble had formed underneath for the batter to have completely set up.
One thing I'll say is the most important about cooking these noodles is that you MUST cook these all the way through. Undercooked liangpi wheat starch noodles are a terrible texture. They're the texture of stodgy, grainy putty and it is not a good time.
Take it from me, haha.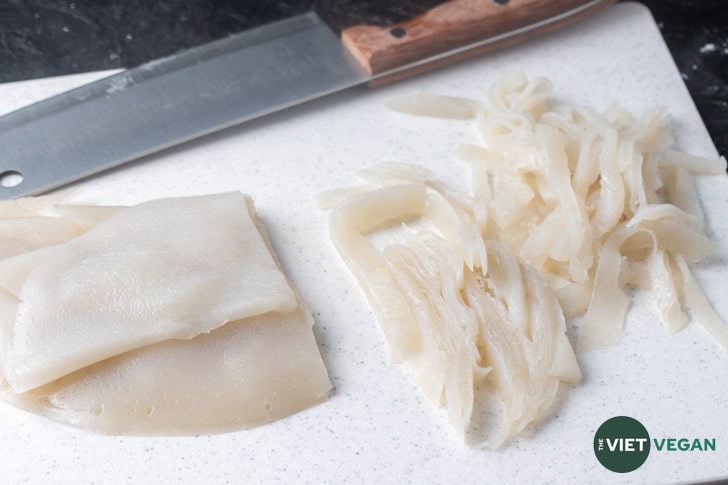 Texture
As you can see the texture of my noodles are softer and more jiggly than more traditional liangpi noodles. I attribute that to a higher water content in my noodle batter overall. I have tried it at a lower water content ratio (even as low as straight thick batter without any dilution) and I struggled to get the batter to cook all the way through.
So I've kept it at this 2:1 ratio, but please feel free to experiment as you like as well!
I like cutting these noodles thin, but often, I see other liangpi dishes with 1/2 inch wide noodles.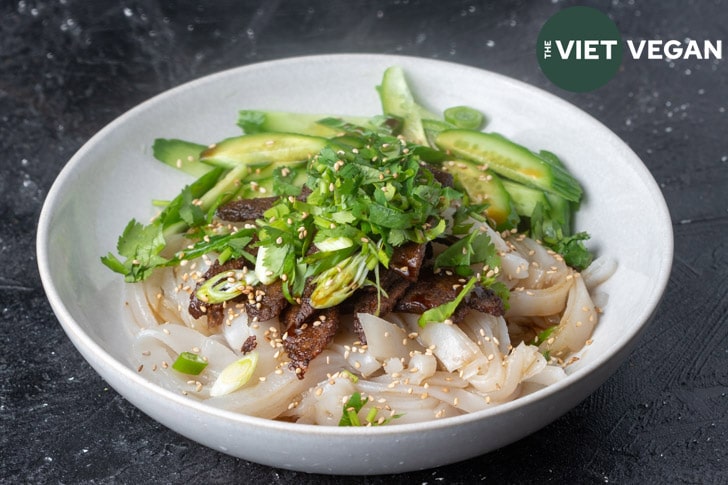 Toppings
There are a few different variations of liangpi toppings from what I've seen, but most have a combination of a spiced szechuan or chili oil, soy sauce, and black vinegar topping.
Chef George uses a roasted sesame paste topping, I personally just love this flavour combo of soy sauce, black vinegar, and chili oil (or even sesame oil too).
Watch me make liangpi noodles
I struggled a lot to make these noodles turn out the way I wanted to, but if you need more of a visual for how to make my version of these noodles, please check out my YouTube video! If you need timestamps to skip through my more verbose aspects, they are listed in the description of the video (You'll have to watch directly through YouTube)
Yield: 2-3 servings
Vegan Liang Pi Wheat Starch Cold Skin Noodles
Ingredients
Equipment
2 stainless steel flat prep bowls or non-stick cake pans
A large wok + lid (or large shallot pot/pan) + water to simmer
Pastry brush
Spicy oil for topping:
1 cup vegetable oil (you can also use peanut, rapeseed, or canola here)
1 inch ginger, sliced (about 3-4 slices)
1 cinnamon or cassia stick
2 star anise pieces
2-3 bay leaves
1 tbsp szechuan peppercorns (you can double this for more flavour)
1 tbsp chili flakes (you can double this for more spice)
Liang Pi Noodle Batter
500 mL (2 cups) separated wheat starch liquid
1/4 tsp kosher salt
125-250 mL water (1/2 cup to 1 cup)
Vegetable oil for the steaming pans + to brush over the noodles
Topping The Noodles:
3 tbsp soy sauce
2-3 tbsp Chinese black vinegar
2-3 tbsp spicy oil
Toasted sesame seeds
Julienned cucumber or thinly sliced cucumber
Sliced scallions
Instructions
Prepare the wheat starch water:
If you've made my washed flour seitan, you will probably have a large amount of starchy water to use! Allow that water to rest in the fridge for at least 4 hours for the water to separate from the starch.
Pour off that water and use a shallow spoon to try and get as much of the water out of the separated liquid. Once you've gotten as much water out as possible, give the whole mixture a stir to incorporate the starch that has settled at the bottom.
Prepare the cooking equipment:
Bring a wok of water (about 2 inches of water) to a simmer and cover with a lid. This wok needs to be large enough for you to fit your non-stick cake pans to steam inside while floating on the water. The larger your wok, the easier it is for you to remove the pans.
Prepare your pans with a small about of oil to prevent the noodle sheets from sticking.
Fill your sink with cold water to cool your noodle pans so you can remove the noodle sheets easier.
Make the Chili Oil
In a small pot, bring 1 cup of vegetable oil to medium heat. Once shimmering and heated through (about 350-375F/180-190C), pour over spice mixture (in a metal bowl) of ginger, cassia bark/cinnamon, star anise, bay leaves, szechuan peppercorns, and chili flakes.
Allow to sizzle for at least 5 minutes or until you start to see some of the spices begin the burn, then carefully strain the spice mixture and allow to cool. It is VERY HOT.
Allow to cool before transferring to a clean jar to store on the counter to use as a topping for noodles, ramen, soft tofu, whichever!
Make the Liang Pi Batter:
In a mixing bowl, add 500 mL of the separated wheat starch liquid and 1/4 tsp salt. Add between 125 mL to 250 mL of water (depending on how much water you were able to remove from your liquid, and also how firm or chewy you want your noodles to turn out). The more water you add, the softer and more tender your noodles will be. The less water you add, the firmer your noodles will be.
Traditional Liang Pi noodles tend to be firmer, I typically use a 2:1 ratio of wheat starch liquid to water, but you could make it firmer at 3:1 or 4:1. Start off with less liquid and adjust as you make the noodle sheets.
To cook:
Give the batter a good stir before pouring into your pan. Add about 1/3 cup of the batter to your greased/oiled nonstick pans, then balance the pan in your wok of simmering water. Cover with a lid and cook for about 3-4 minutes until the noodle sheet is cooked through.
The noodle should be firm to the touch and not stick to your finger if you poke it, and you'll see air bubbles forming beneath the noodle sheet once it's cooked through.
Carefully remove the pan from the wok and float on top of the sink of cold water to cool.
Repeat steps 1-2 with the second non-stick pan.
Your pan in the sink should be cooled by now, remove from the water, and brush the top of the sheet with a bit of vegetable oil. Use a spatula to remove the noodle sheet then set on a cutting board.
By now, your second pan in the wok should be done cooking. Remove and transfer to the sink to cool.
Repeat until all your batter is used up!
To Serve:
Chop up the noodles to be 1/4-1/2 inch thick (to your preference).
Mix up the sauce by combining soy sauce, Chinese black vinegar, and spicy oil.
Top your noodles with 2-3 tbsp of the sauce, sliced cucumber, scallions and sliced seitan. Top with toasted sesame seeds (also I love adding some white pepper on top too). Enjoy!