This vegan buffalo air fried tofu has been a staple in our house for a tasty and filling protein for lunch and dinner!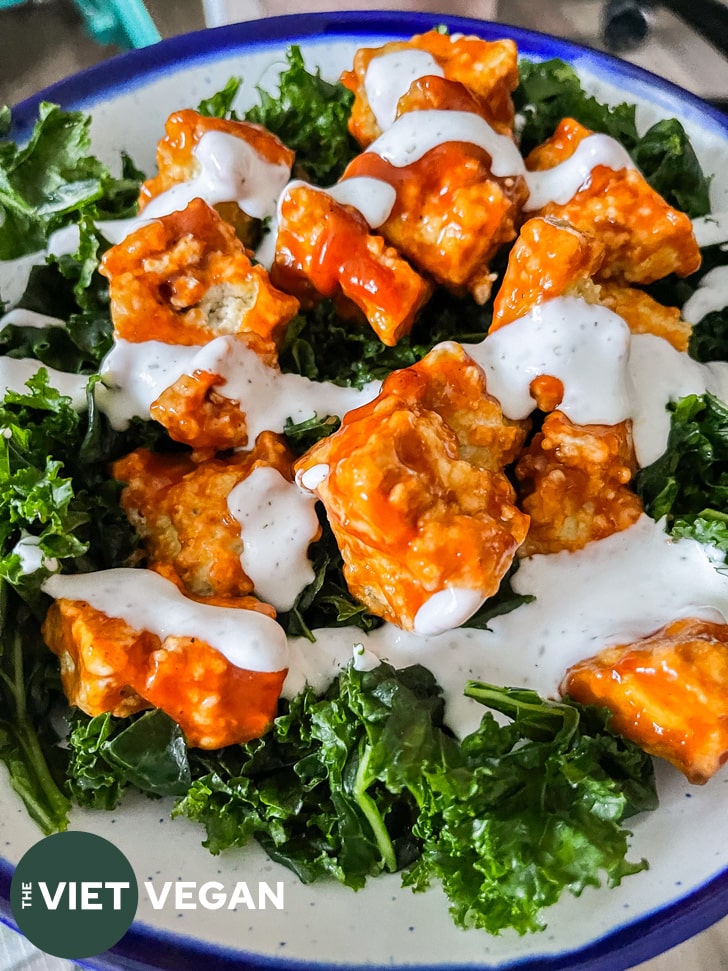 Eddie has been wanting to eat buffalo wings lately and since we're kind of in hardcore savings mode, we've been trying to DIY a lot of foods that would normally cost us $5 per serving. We typically buy tofu at Costco, which ends up being about $2 per block, and therefore about $1 per serving of this tofu. I LIVE FOR THE SAVINGS.
There are a bunch of amazing air fryer tofu recipes out there, so I was surprised so many people on TikTok and Instagram wanted my version of this buffalo air fried tofu. Mine is extremely lazy and simple, and it's mostly to get a crispy texture that clings to Eddie's Buffalo BBQ sauce really well.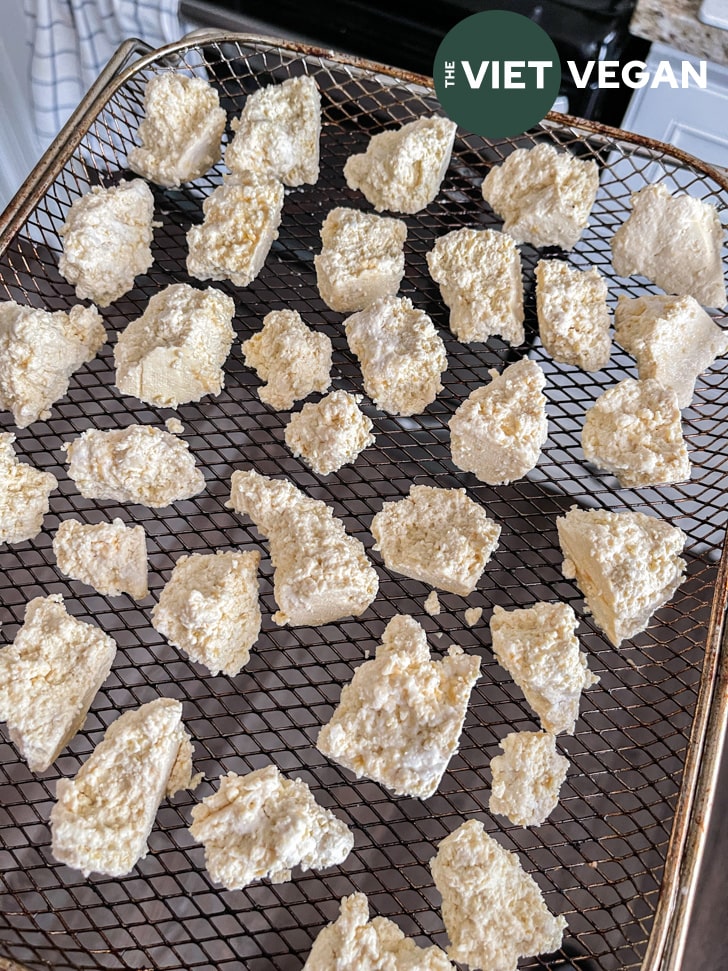 How To Make Crispy Air Fryer Tofu
Tofu on its own has very little flavour and it can have a spongey or wet texture, depending on how you prepare it. Lots of people chop up their tofu to get perfect cubes, but I find those cubes don't grab onto sauce as well as these more organic broken pieces of tofu do.
I've tried various versions of air-fried tofu where you coat in a dredge and panko like my tofu katsu, where you double freeze before you batter and then fry, and also copycat KFC fried chicken coating. Those are all delicious, but require a lot more effort. I want one bowl and one method of cooking.
This is how I make crispy air fried tofu when I don't want to deep fry and clean up a bunch of oil, or a mess in my air-fryer with runny batter or panko crumbs.
The key components are tofu torn into organic pieces, oil, and cornstarch.
That's it!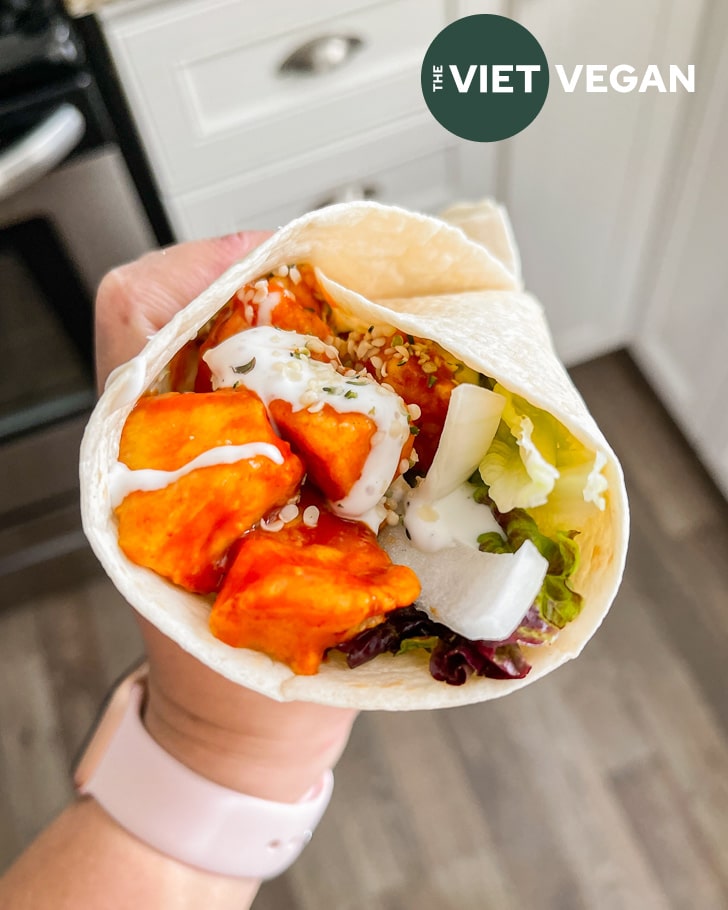 Meal Ideas with Air Fried Tofu
There are so many ways we end up making this tofu at home. You can coat this in whatever sauces your heart desires! Here's what we've done in the past:
buffalo tofu (sauce recipe below) wraps or salad with vegan ranch on top
Mongolian "beef" with rice
Vegan honey lemon tofu over orzo pasta
Vegan Honey Garlic (or maple garlic)
Vegan Honey Dijon Lemon vinaigrette + tofu over salad greens with roasted broccoli and sweet potato
Obviously the base recipe is some sort of oil, a bit of garlic salt, and cornstarch, and then you can coat this in whatever sauce your heart desires. Eddie's favourite is this BBQ Buffalo. It has the heat of buffalo without the vinegary tang of buffalo. The sweetness of the BBQ sauce Eddie uses pairs super well in this case, and it has a great texture for sticking to the air fried tofu.
Yield: 2-4 servings
Vegan Buffalo Air Fryer Tofu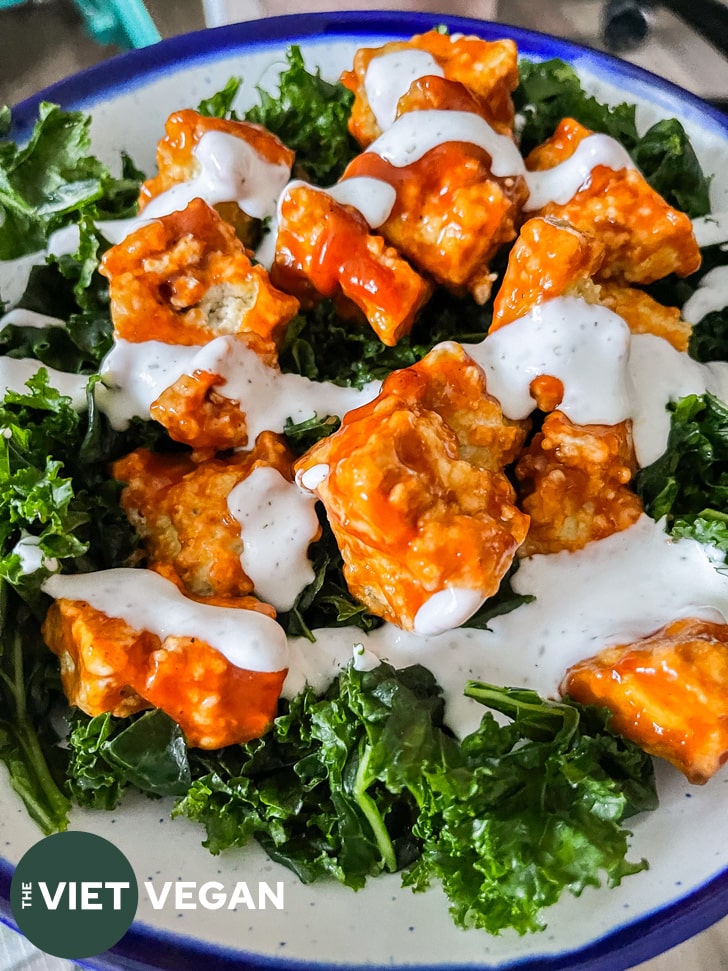 Ingredients
1 block (400 g) extra firm tofu
1 tbsp vegetable oil (I use toasted sesame oil for extra flavour)
1/2 tsp garlic salt (you can sub garlic powder and salt instead if you don't have garlic salt)
2-3 tbsp cornstarch
Oil to spray (optional)
Eddie's BBQ Buffalo Sauce
Instructions
Press your tofu for about 30 minutes to remove excess water
Gently break the tofu into similar sized bite-size chunks. You could cut into cubes if desired, but I find the sauce clings better when you break the pieces.
In a bowl, lightly toss the tofu with 1 tbsp of vegetable or toasted sesame oil. The tofu can be kind of delicate here, so be gentle.
Sprinkle on the garlic salt and cornstarch and toss to coat.
To Make in the Air Fryer
Preheat airfryer to 400F.
Arrange the tofu in a single layer in your air fryer. Lightly spritz with oil to get it extra crispy (but you can omit this if you want).
Airfry for about 16-18 minutes, until golden and tofu is evenly crispy.
Remove from airfryer and toss in Eddie's Buffalo sauce concoction, and enjoy! Add to salads, wraps, sandwiches, or as buffalo bites!
To Make in the Oven
Preheat oven to 425 F
Arrange tofu on a baking sheet (lined for easier cleanup and flipping) in a single layer. Spritz with oil for crispness. Bake for about 20-25 minutes, flipping halfway. Bake until golden as desired.
Remove from the oven and toss in Eddie's Buffalo sauce :)