This Vietnamese Braised Tofu and Mushrooms is my version of vegan Thịt Kho, a classic Vietnamese dish that traditionally braises pork belly with fish sauce and coconut soda. I've swapped out the pork belly for tofu and mushrooms and added vegan shrimp (like my mom used to do).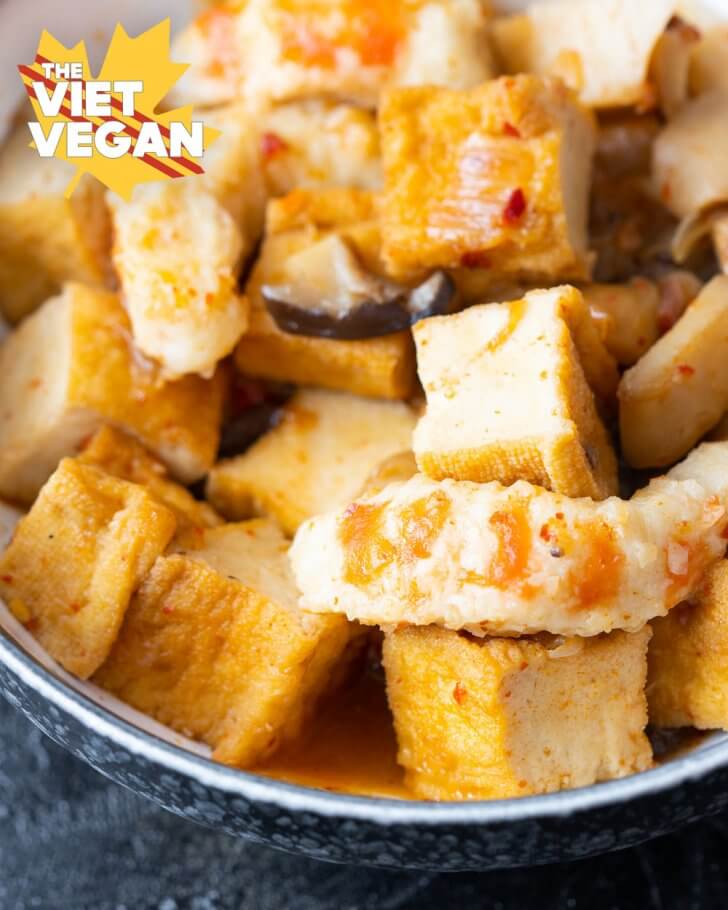 This week has been a pretty intense week (RE: BLM Protests and the police brutality and George Floyd), and I've been doing a lot of work behind the scenes to educate myself, learn how to be a better ally, and unpack a lot of the privilege I hold as someone Asian, who is lighter skinned and has benefited from a system rooted in white supremacy.
I'm sure this is not really what you expected when reading this food blog, you simply came here for recipes, but what good is my platform if I cannot use my voice to speak up for important matters? If you are looking for ways to help the Black Lives Matter movement, go here. If you immediately want to shout "All lives matter", then I suggest you educate yourself here. I'm currently working my way through Layla F. Saad's Me and White Supremacy (affiliate link, I'd suggest getting it at your local stores if you can, borrow from your local library, but unfortunately Amazon is the most easily accessible).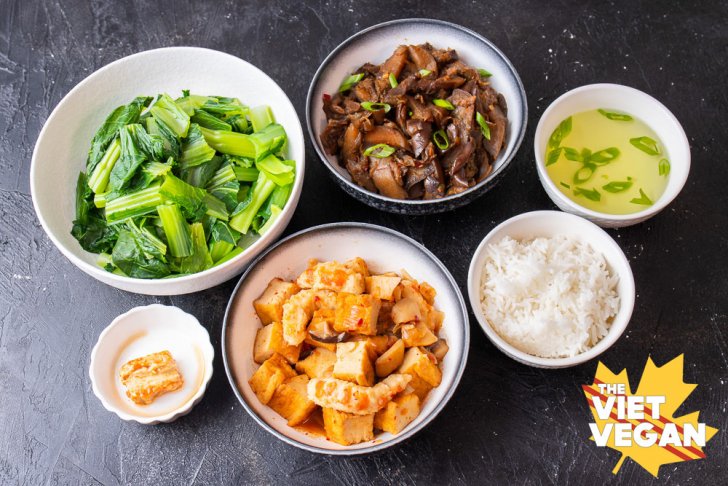 It's been a pretty heavy week and I'm doing what I can to learn more about racism and how to help the BLM movement, but in the meantime, I've desperately missed my family and made this meal to remind me of growing up with my mom's cooking. I made this vegan Thịt Kho to hit some of those salty, sweet and savoury notes to enjoy alongside braised eggplant, steamed vegetables and/or a simple soup with rice.
If you want to watch the full video where I show how I made this whole meal, watch the YouTube video, but if you just want to see the cooking of the dish itself, see the shorter version below.
This recipe is adapted from
Hungry Huy
, obviously with many swaps because I made it vegan, but also a smaller portion because it's just me eating this haha.
Yield: 2-4 servings (meant to be served alongside mutliple other dishes)
Vietnamese Braised Tofu and Mushrooms - Đậu Hũ Kho Nấm
This is a veganized version of thịt kho (braised pork belly) using tofu, mushrooms and vegan shrimp.
Ingredients
2 tsp (5 mL) neutral flavoured oil (I used canola)
1/2 medium onion, diced (~1/3 cup)
1/2 cup (~60-80 g) of chopped king oyster mushrooms
1 cup (250 mL) Coco Rico (sweet coconut soda, you can also use water and 1.5 tbsp of sugar instead, it just won't have the same depth of flavour)
3 tbsp (45 mL) vegan fish sauce or soy sauce
1 tsp (5 mL) dark soy sauce (I used a mushroom flavoured one, but any dark soy sauce will do)
1 tsp (5 mL) kosher salt (omit this if you're using a salty soy sauce)
2 blocks of fried tofu (about 4 oz, or 113 g), cut into ~1-inch cubes
6 pieces of vegan shrimp (totally optional, you can just use more mushroom or tofu)
1/2 tsp (2.5 mL) chili flakes
Instructions
In a small pot, combine onion and oil and cook until translucent.
Add the mushrooms and cook until they begin to caramelize.
If you find it sticking to the bottom, deglaze and lift up the flavour with a splash of the Coco Rico (coconut soda). If you don't have the coconut soda, do that with a splash of water.
Add the vegan fish sauce (add sugar here if you're not using coconut soda), dark soy sauce, and salt (omit if you're using soy sauce instead) and stir to combine. If you're using sugar, allow the sugar to dissolve and begin to caramelize here. If you see any burning or sticking, simply add the remainder of the Coco Rico.
Add the tofu, shrimp, and chili flakes, then bring to a medium low heat and allow to simmer to reduce the liquid, stirring occasionally.
Taste for saltiness: it should have a rich, sweet and savoury flavour. Add more salt if you want it saltier.
Enjoy with rice!