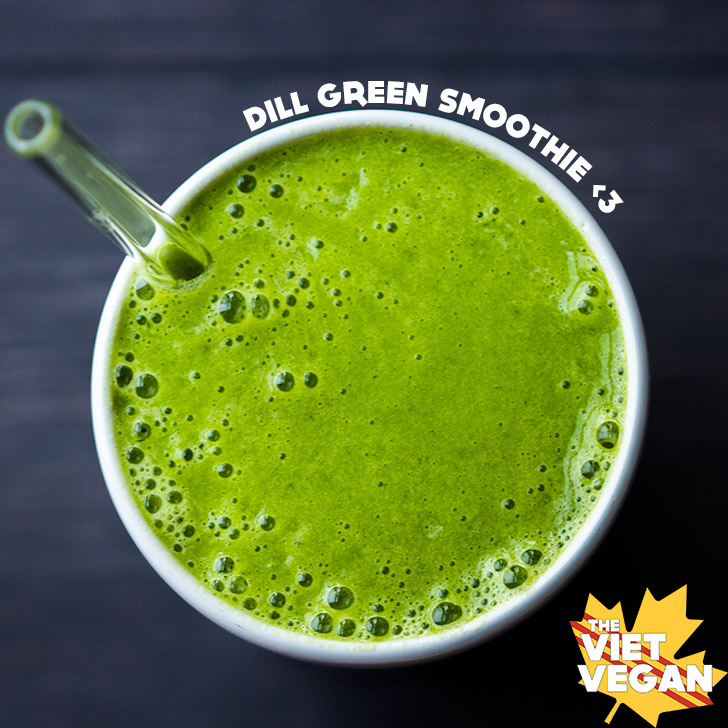 Well it's been a couple weeks since I posted, and if you follow my Instagram, you'll know that I've been puttering away. I got a little overwhelmed with the Vegan Cookbook Love project and there was a little drama in my life so I decided not to burn the candle from both ends and I took a wee break. Prizes are being sent out tomorrow, but in terms of blog life…I'm back! I think.
We'll see.
I posted this on my Instagram a couple weeks ago but it's my all-time new favourite smoothie. It's bright, it'll wake you up, and if you like dill you will LOVE this smoothie. I know you may be thinking that dill is a weird thing to put in a smoothie, but TRUST ME. It's an amazingly vibrant smoothie that will wake you up in the morning. My mouth is watering just thinking of it. Dill, lime, mango, banana—you get a creamy yet zingy smoothie that is full of citrus and dilly goodness. If you don't think you can handle that much dill, feel free to cut it down to 1/2 a cup of dill, but I'm all about the full cup. Just do it. IT'S SO GOOD.
Aside from improving and growing my Instagram, I have a lot of recipes and projects that I want to accomplish but I'm still figuring out a balance! With work, blog, friends, Burrito Boy, family, mental health, physical health, de-cluttering (how do I have so much stuff in such a small space?!)…I want to do so many things but I'm just one person.
I am starting to tinker around with video, but it turns out that there is a steep learning curve for Final Cut and I am not very good at it. I bumbled my way through iMovie for work, but Final Cut is not quite as intuitive. I'm planning on alternating between recipe videos, kitchen/cooking tip videos, and vlog-style videos, which are basically verbal versions of my blog posts, except BETTER because you get to experience my ridiculousness in video form!
I have a wee request for you though. I would love to answer some questions in my vlog-style videos—so could you ask me some? I am a pretty open book, so you can ask me anything. It could be about vegan lifestyle, what's my favourite book, about Burrito Boy—pretty much anything. Leave a comment below, send me a message on Facebook, tweet at me, or send me an email <3
You rock! Now go make this smoothie.

Yield: 1
Dill Green Smoothie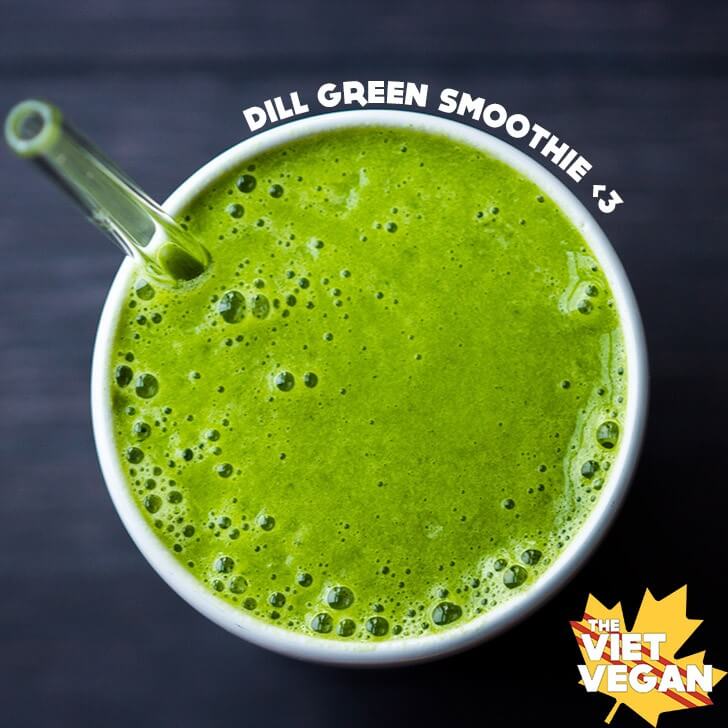 Ingredients
1/2 a bunch of dill, approx 1 cup (stems removed optional. Remove if you don't have a high powered blender)
1 lime, peel cut away
3/4 cup orange juice (add more if you find your blender is struggling)
1/2 heaping cup of frozen mango chunks
1 frozen banana
Instructions
This is way prettier in a high-powered blender, but it'll taste just as delicious if you make it in a standard blender. You'll just get some chunks of dill.
Put everything in your blender and blend away. Add more orange juice if you like a thinner smoothie. Drink immediately.