Do Chua — Vietnamese Quick Pickled Carrots and Daikon
A Vietnamese staple for banh mi, spring rolls, and more!
There's something that's so satisfying about sharing food with friends and family. I just love watching other people enjoy the food I prepare. I have no idea what it is. It's just ultimately gratifying to see people close their eyes while they savour a forkful of chocolate cake I've made, or scrape at the bowl to get every last drop of a stew I've made from scratch.
Just the sight of people enjoying my food is so exciting, I always have a big dumb smile plastered on my face when they ask if they can have a second helping.

I basically have become an extra member of my best friend's family, and I find myself always looking for recipes and treats to bring over to share with them. Test batches of cake, cookies, or confections—and every now and then, something made especially for them.
My best friend's mom has been asking me for this recipe forever, and I had it on my site in an old recipe, but the photo is hideous. I needed to beef up the Vietnamese Dishes section of my recipe index, so I thought, why not reshoot and remake a classic?

Pickled carrots and daikon are a signature addition to Vietnamese dishes. Their bright brine adds a splash of colour to the deep spices and flavours of Vietnamese proteins, while the crunch adds depth and texture to the otherwise soft or dry aspects of something like a banh mi sandwich.
Shooting and making this recipe brought back such a calming and stress-relieving joy that I haven't felt in a while. Julienning the carrots and daikon, learning how to adjust to the new lighting in my apartment and playing around with the naturally beautiful ingredients, and being able to enjoy something from my childhood.

Vietnamese Quick Pickled Carrots and Daikon are super easy to make. After you prep the carrots and daikon (between 10 and 20 minutes, depending on your knife skillz), all it takes is a quick whisk of the brine, and letting them sit in the brine for at least 20 minutes to get that bright, briny flavour. They're best enjoyed after a day of pickling, but they're great after 20 minutes too.

This recipe makes three jars. One for you to enjoy right away, one for later, and one to give to your best friends mom whose face erupts into a gigantic smile at the sight of one of these colourful jars. Add to your next BBQ, rice dishes, fresh spring rolls, or my favourite: homemade banh mi sandwiches. (That recipe is coming up next, so stay tuned!)

Yield: 3 jars of pickles
Do Chua — Vietnamese Quick Pickled Carrots and Daikon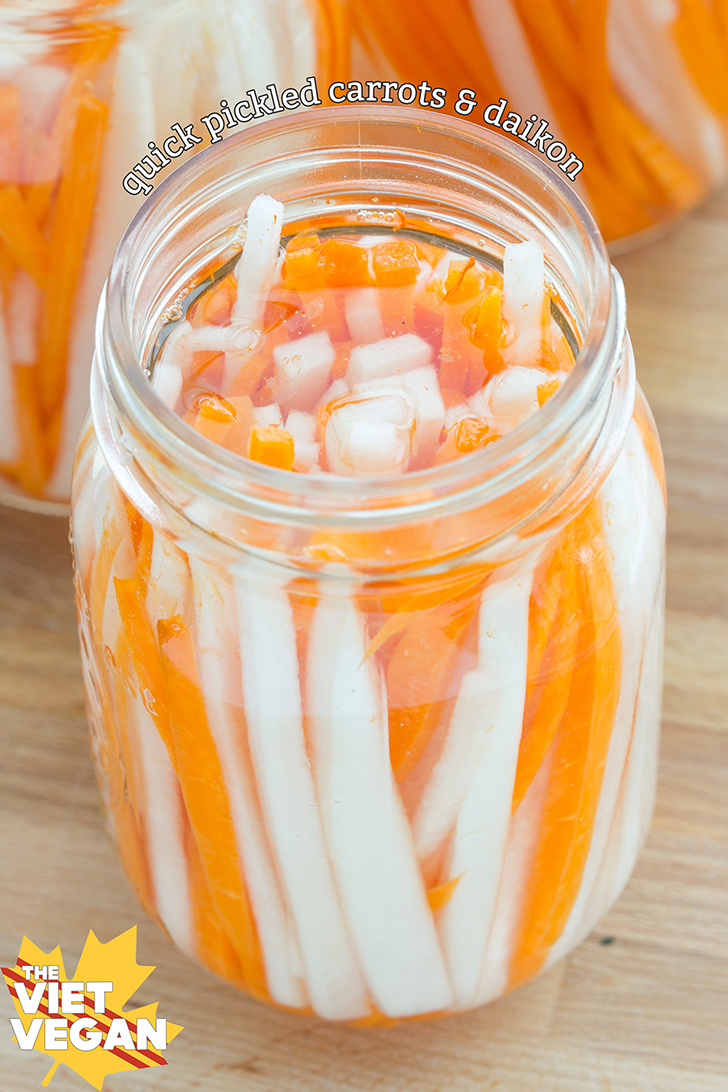 Ingredients
1 medium sized daikon radish, peeled and julienned
4 medium carrots, peeled and julienned
2 cups boiling water
1 cup vinegar
1 cup white granulated sugar
Instructions
Divide julienned daikon and carrots into three sanitized pint-sized canning jars (500 mL)
Stir boiling water, vinegar and sugar until sugar is dissolved.
Pour mixture over carrots and daikon until covered. Screw on jar lids and store in fridge. You can use after 20 minutes of pickling. Store in fridge and use within a couple weeks.