Disclaimer: This vegan stuffing with leek and apple was created in partnership with Ontario Apple Growers. I'm a huge fan of supporting local companies whenever possible, especially fruits and veggies, so being able to work with the OAG is a dream. Thanks for reading <3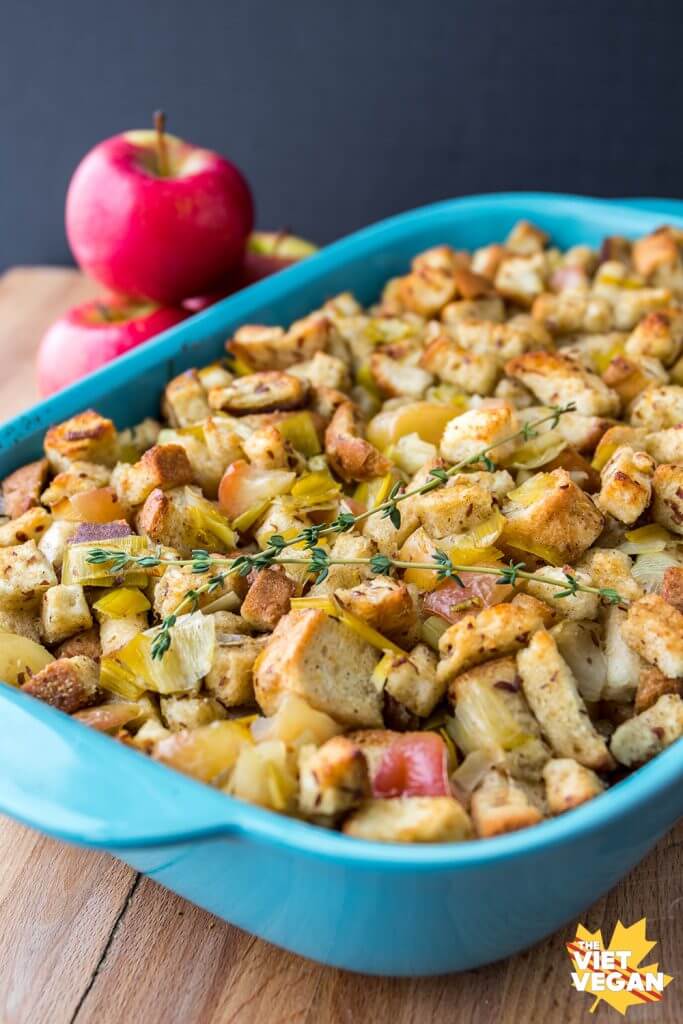 I may not have experienced very many Western holiday dinners in my lifetime, but I always beeline for the stuffing because it's my favourite part of the meal. I don't know what it is about stuffing, it's that savoury, squishy (I know, very odd positive term for this dish), and succulent dish. I know "succulent" is such an odd word for stuffing, but that's just what it is for me.
I have experimented with a bunch of different variations for stuffing—some with just plain bread and dried herbs for seasoning, some with a slew of celery, onion and garlic, and some with some dried fruit. My favourite so far has had to be the leek and apple stuffing.

When I was doing research for this recipe, I noticed a lot of people would choose more tart apples, mainly Granny Smith apples for stuffing, which I found odd because for a savoury recipe, you don't need the tartness of a Granny Smith to balance a bunch of sugar you'd add for something like a pie recipe. Plus, I learned this year that Granny Smith apples are never grown from Ontario.
But you know what apples -are- grown in Ontario?
The answer is a lot. But mainly I was interested in Honeycrisp apples. Honeycrisp added just the right amount of sweetness that I wanted to complement the mellow, aromatic sweetness of leeks. Sure, Honeycrisp don't hold their shape that well when cooked or baked, BUT they do kind of melt into the stuffing and add their honey-like apple sweetness without making this stuffing too chunky, which is exactly what I was looking for.
Plus this gave me the excuse to buy a whole bag of Honeycrisp to snack on over the week I was testing this.
Essentially this stuffing (or as others would argue, dressing) is flavoured like leek and apple soup; poultry seasoning and vegetable broth to give it a bit of extra flavour and savoury essence to it without having a super long grocery list. Not a lot of people have fresh herbs on hand and I wanted to make this stuffing as easy as possible.
Poultry seasoning adds just the right amount of herby flavour that makes this stuffing the perfect side dish for holiday dinners. You could add vegan sausage or fresh herbs if you want, but that's ultimately up to you.

Traditional stuffing recipes use an egg as your binding agent, and I experimented with using aquafaba and a flax egg to see which I liked best. Both worked just fine, but I think I preferred having the extra fibre of the flax to boost the nutrition of this dish. Plus, the extra fibre from the flax and apples make this a little bit easier on the blood sugar spikes. I also experimented with using celery in this as well to give it extra vegetable goodness, but I'll be perfectly honest with you, I don't really like celery very much so I left it out.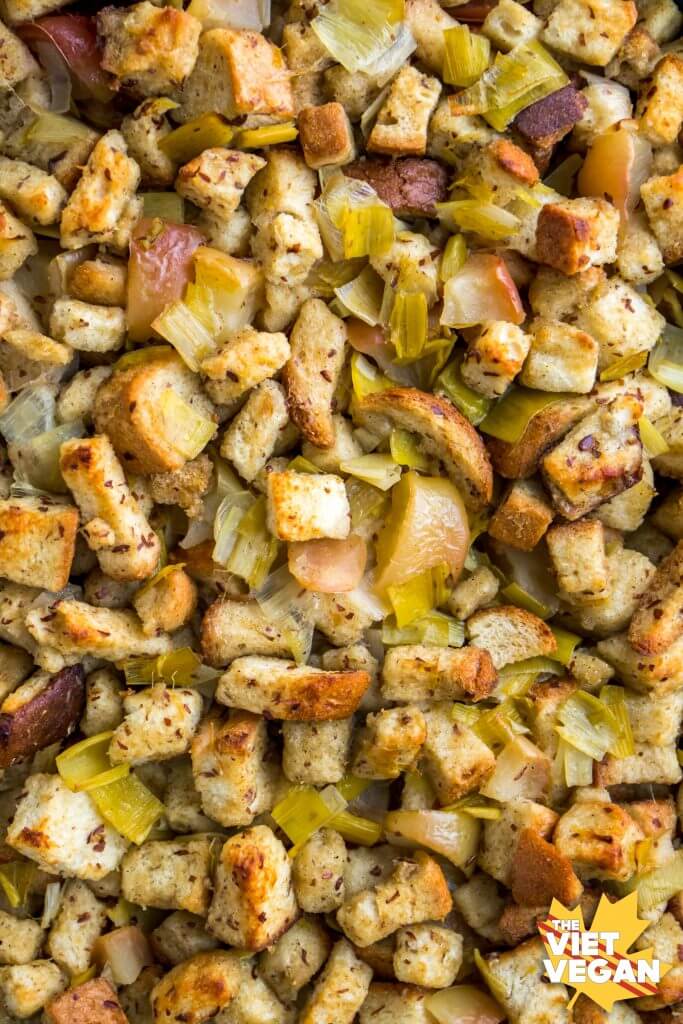 I also experimented with the ratio of liquid to bread—a lot of the recipes I found online either seem to use A LOT of liquid or much too little. I prefer my stuffing to have a bit of bite left in it, while it seems that a lot of people out there like their stuffing similar to bread pudding.
I was never quite the fan of bread pudding myself—soggy bread is not quite my cup of tea—so I went with stuffing that wasn't quite has homogenous. But you can easily make it a much more tender and frankly soggy stuffing by adding about 1 3/4 cups of broth.

Lastly, comes the bread. I chose a white bread with the crust (like I said, I like texture in my stuffing), and dried it out in the oven before baking. I've also spread out the bread on a baking sheet and left it in the oven overnight, which you can do if you are the type that is good at planning ahead (I am not). If you're lucky, your grocery store or local bakery might sell those unseasoned bags of bread stuffing croutons to save you the trouble. But in case you're not, I left my instructions in the recipe.
In any case, I hope you folks enjoy my stuffing recipe and I hope you give adding apples to your stuffing a try (especially local Ontario apples *wink wink*). As we were eating this for dinner the other day, Eddie poked at chunk of the stuffing and asked "What's this?"
"It's apple," I reply. "Do you like it?"
Eddie looked intrigued, nodded, and scooped a forkful in his mouth.
What can I say, he's a man of very few words.
But the guy likes his stuffing.
Easy Vegan Stuffing with Leek and Apples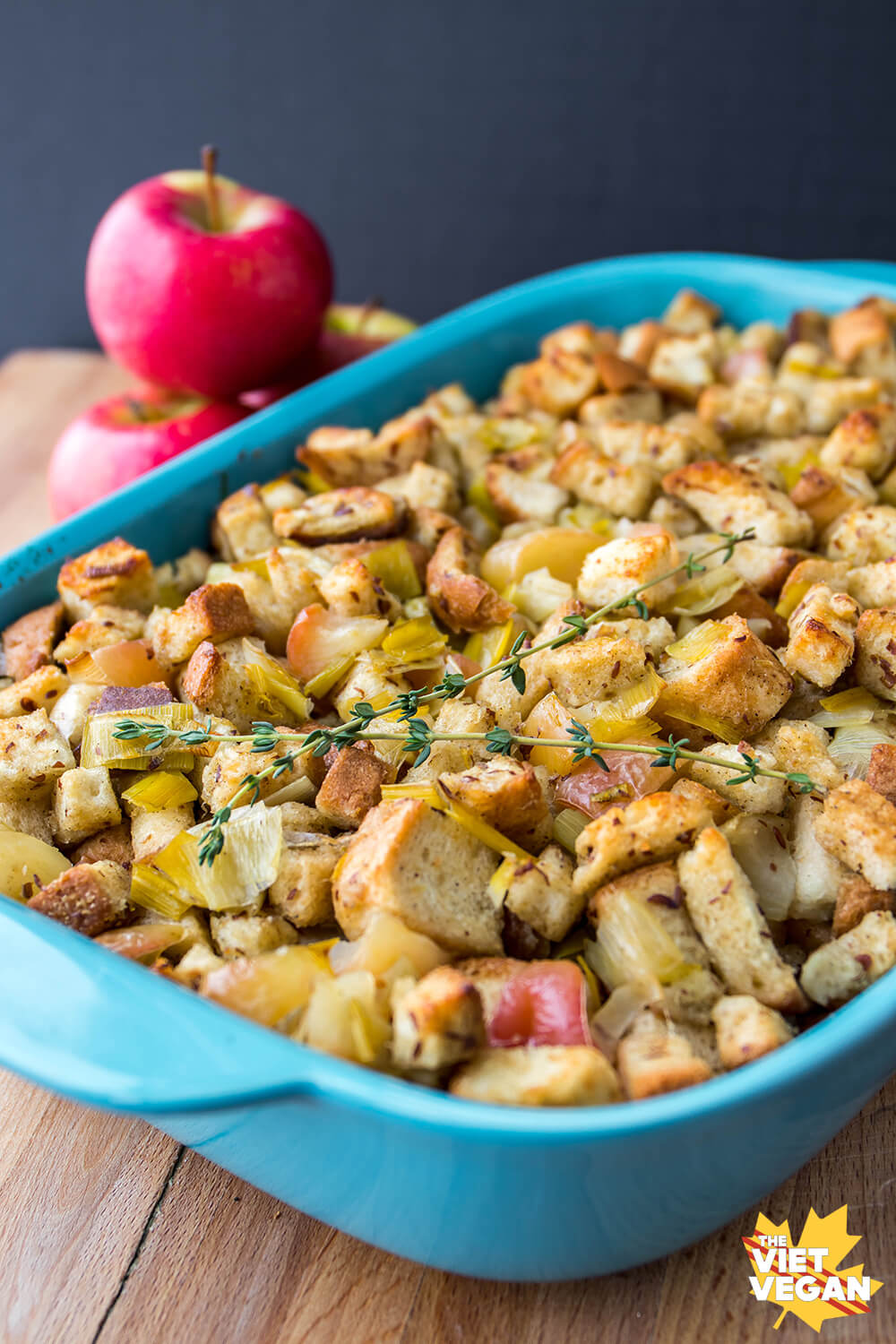 Ingredients
1 large loaf of bread, cut into cubes (about 9 cups)
1/4 cup vegan butter (I used Earth Balance for this recipe)
2 leeks, white and light green parts chopped and rinsed well. You can save the dark green tops for making stock.
3 small Honeycrisp apples (or 1 of those giant ones), cored and chopped into 1/2 inch cubes
1 tsp poultry seasoning
1 1/4 cup vegetable broth*** (if you like your stuffing really moist, up it to 1 1/2 cups, I like mine a little more dry)
Optional: 1 tbsp fresh rubbed thyme
1 flax egg (1 tbsp flax meal + 4 tbsp warm water)
Butter to grease a 3 qt casserole dish (mine is 12.4 x 8.5 inches). You could use a 9x13 as well.
Instructions
Preheat oven to 300ªF. (My oven is cooler than most I think, so if your oven runs hot, maybe go to 275ºF)
Spread out bread onto a large rimmed baking sheet and bake for 30 minutes, turning halfway to dry out. You'll want them to be light and crispy, but not browned at all. If you need to use two baking sheets, rotate pans halfway through to ensure even heat distribution.
Remove from oven and set aside and raise oven temperature to 350ºF.
Over medium heat, melt butter in a pot large enough to hold all the bread.
Add chopped leeks and apples and cook in butter for about 5 minutes, until apples are softened.
Pour in vegetable broth, fresh rubbed thyme (if desired) and flax egg and stir until combined.
Add the dried bread cubes and stir until all the liquid is combined. It might seem like there's too much bread, but keep stirring.
Transfer to a lightly greased casserole dish and cover tightly with foil.
Bake for 45 minutes covered, then uncovered fro 10-15 minutes until the top is golden.
Serve on the side of your favourite holiday dishes and gravy!
Notes
***My broth is already seasoned so I didn't need to add any additional salt. You may need to adjust seasoning as desired (maybe 1/2 tsp kosher salt, taste as you go)