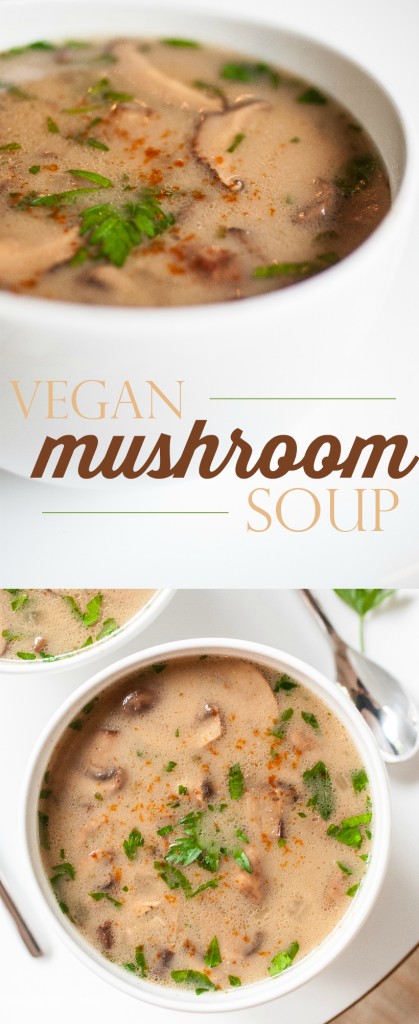 Hello, darling Je suis alimentageuse readers! I bet you're super bummed out that Lisa's not around to visit with you. It's okay, I'm sad too. You know what though? I'll keep you company for today, if you like.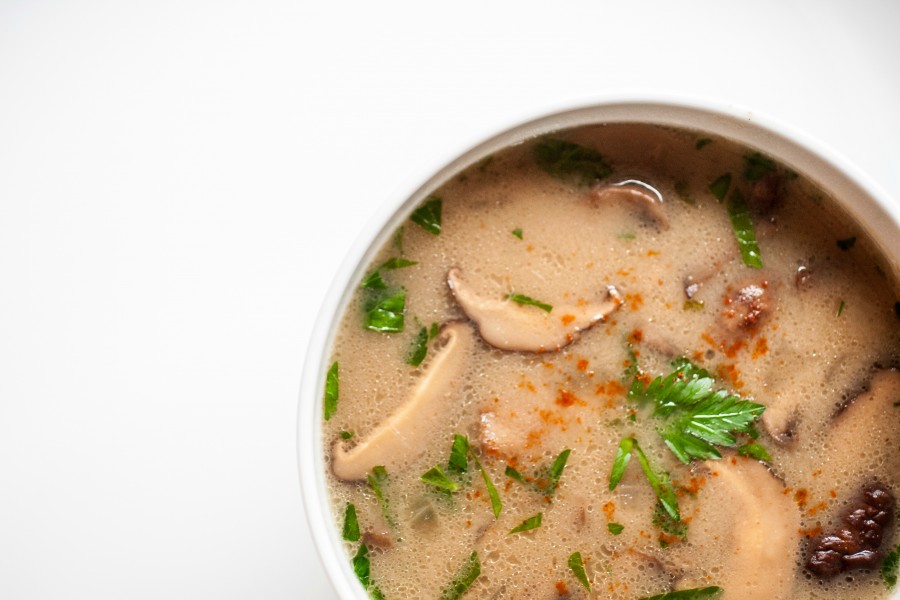 You're probably like, Okay, that sounds good, I guess. Great! You also might be wondering who this strange person is. I'm Katie from the Alaskan vegan food/lifestyle Produce On Parade. My connection to Lisa is that we are neighbors (Canada and Alaska, heyyyyyy), also Lisa is my blogging BFF. We are like blogging, vegan-feminist, girly soul mates. Let's just say in my blog will, I'm bequeathing Produce On Parade to Lisa (I really don't know what that means and to be honest I don't have a blog will, that's crazy).
Okay, this is getting pretty weird. Seriously though, I love this little space and when Lisa asked me to do a guest post I was like, chyeaaah! Lisa buddy, you don't even have to ask! Anyways, I've got a super delicious vegan mushroom soup for you today. Mushrooms are straight-up scrumptious. My husband, Todd, he doesn't particularly like mushrooms but he really enjoyed this soup.
Guest Post: Vegan Mushroom Soup
Coconut milk lends a creamy and luxurious feel to this humble soup, staring rich shiitake mushrooms and a hint of fresh sage.
Ingredients
2 cups very hot water
8 oz. dried shiitake mushrooms (or ½ lb. fresh), reconstituted and sliced
1 Tbsp. vegan butter
½ medium brown onion, diced
1 lb. brown or white mushrooms, sliced
1 Tbsp. fresh sage, chopped
3 Tbsp. all-purpose flour
6 cups vegetable broth
1 Tbsp. soy sauce
½ Tbsp. vegan Worcestershire sauce
½ can (about 1 cup) full-fat coconut milk
½ Tbsp. apple cider vinegar
½ Tbsp. agave nectar
1 Tbsp. nutritional yeast
¼ cup cold water
1 Tbsp. cornstarch
¼ cup fresh parsley, chopped
Instructions
In a small bowl, combine the very hot water and dried shiitake mushrooms. Allow to soak for about 20-30 minutes and retain the soaking liquid. If you have fresh shiitake mushrooms, slice and combine with the brown/white mushrooms. Omit water and add 2 additional cups of broth in place of soaking liquid.
In a large soup pot, melt the butter over medium-low heat. Add the onion and sauté about 3-5 minutes, until browned. Now, add the brown/white mushrooms and sauté for about 10 minutes until all their water has evaporated and they are shrunken and fragrant.
Add the sage and the flour to the mushrooms. Stir to coat and cook for a minute or two.
Now, add the broth, soy sauce, Worcestershire sauce, and the reconstituted dried shiitakes as well as the soaking liquid. Bring to a boil then cover. Turn down to low and simmer for about 15 minutes.
Add the coconut milk, vinegar, agave nectar, and nutritional yeast. Stir to combine over low heat.
In a small bowl, whisk the cornstarch into the cold water. Then, pour slowly into the soup while whisking. Continue to whisk for a few minutes, until the soup thickens slightly. Remove from heat and stir in parsley.
Serve hot.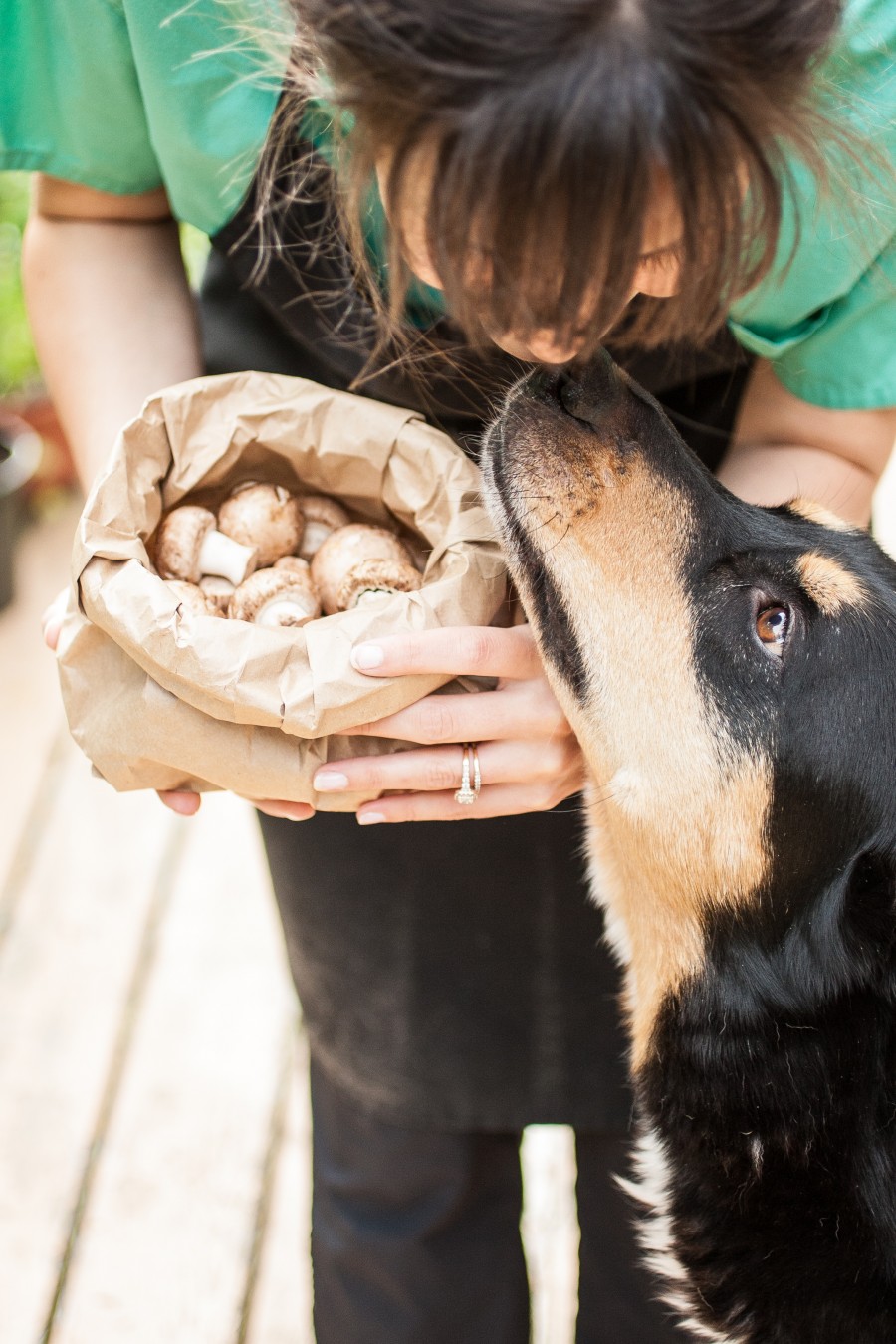 Thanks for hanging with me! Even if it was only one day. Should you find yourself lonely, head on over to Produce On Parade and visit with Todd, our crazy dog-human Bailey, and me!
website | facebook | twitter | instagram | pinterest