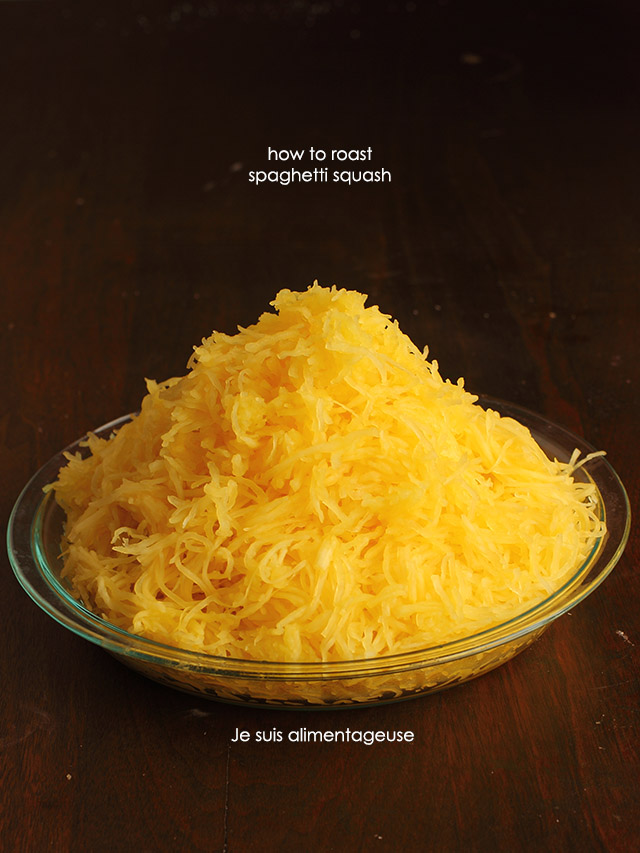 Happy Saturday! This week I'm hitting Happy & Healthy Saturday with a great, surprisingly filling alternative to starchy and carb-heavy pasta: spaghetti squash. Most of you probably already know how to roast spaghetti squash, unless you're naive like me and never did it until this week. The first time I had spaghetti squash, I had microwaved the crap out of it and had basically burned my fingertips trying to slice crazy hot spaghetti squash and salvage the fragile spaghetti strands.
But this time, I popped the spaghetti squash in the oven and drizzled it with some olive oil and salt. Roasted it for about 40 minutes (the bigger it is, the longer it'll take), and then when I scraped out the insides, the spaghetti strands were long, almost 3 inches or so. When I microwaved them, the noodles were mushy and barely pasta-like.
But roasted?
They were great. Soft, but yielded to a little ending bite, kind of like that perfect al dente pasta.
I finally understood why people said you could use spaghetti squash exactly like pasta. With these strands, you could have it with your favourite pasta sauce, bake it again into a casserole, you could add pour some creamy cheese (or cauliflower alfredo) on top and toss in some marinated and roasted or steamed veggies.
I also found it way more filling when you roast it as opposed to microwaving it. I suspect it might be because the natural fibre of the squash is still intact when you roast it, while the microwave process may cause the cell walls to break, leading to that mushy, sad texture. It's satisfyingly filling in a light way. Your belly feels full, but you don't feel like you need to take a nap. About half an hour or so later, you're ready to do what you gotta do. No food babies for you with spaghetti squash.
And don't forget to save the seeds for roasting! Just drizzle some more olive oil on them with maybe a bit of salt and a pinch of cayenne. Stir, roast for about 15-20 minutes and you'll know they're done when the seeds are puffy, and you hear a little bit of a crackle in the seeds as they dry up and pop while roasting in the oven. Do a taste test to be sure, but they definitely crisp up again when they're cooling.
Since the last H&H I tackled healthy, this week I'm back onto happy. I thought it'd be a great time to update you guys on the progress of my Happy goals of this year. Like I mentioned in my maple dinner rolls post, I was at a new year's party where someone objectively said I was mediocre looking, and I agreed with him.
When I told this anecdote to someone else, I was immediately interrupted and told that it wasn't true.
Which reaffirms my motivation for this goal. I'm really trying not to find fault in myself. I'm improving myself by drinking more water (better skin) and exercising daily (better form) and by accepting inevitable things like my bone structure or my genetics (curse you broad shoulders and massive moon face).
It's a slow and steady process, but I've started doing rather embarrassing things to help me be more comfortable in my body. My anxiety-related OCD makes me want to put them in a list, but I know if I write it in a list, I won't elaborate and you guys might just think I'm a weirdo.
So the first thing that I do is suck in my gut. After a couple glasses of water and a massive bowl of spaghetti squash and whatever else I put on there (I shared a photo of spaghetti squash, kale, Field Roast sausage, and avocado on my IG), I don't feel bloated exactly, but there's definitely a little belly left over from all that food. I just suck it in a little bit, y'know, just using the little ab muscles I've managed to keep since my vigorous training in the summer to keep that area as flat as possible. Makes me feel better, although literally as soon as I'm at home and alone, that stops and I stop wearing pants. Pants are the worst. But yoga pants? Sweat pants? Theeee best.
The second thing I do is toss the clothes that aren't flattering. Clothes that scrunch up in odd areas or are too baggy in others. Really bringing out the best qualities in my body has helped me feel more confident about myself. I feel more likely to strut my stuff or whatever it is people with amazing self-esteem do.
The last super embarrassing thing I do is in the morning. I have a dance party in my underwear in front of the mirror before I head into the shower. FYI, yes, I have a roommate and a MASSIVE window in my bedroom that faces a very busy street, but I keep the door shut, curtains mostly drawn, and I get the tunes on while I make my bed and do stupid dances in the mirror.
Growing up, I did 8 years of ballet and jazz dance, so I've spent a lot of time in front of the mirror scrutinizing my body in a bodysuit and tights. Dancing in my underwear meant that I was really looking at my body for what it is, not all smoothed over like Spanx or anything, but appreciating my curves. The nooks of my body. Seeing the results of my months of yoga.
I'm starting to appreciate my body more. Accepting my strength, my body shape, and starting to love it. It's not happening overnight, but my morning jams with a little Calvin and Ellie are definitely getting me closer.
So that's my update on the Happy side of H&H. Next week I'm tackling the Healthy side =)
To see my fellow H&H friends, check out the links below!
And do you have a favourite way to eat spaghetti squash (and/or pasta in general)? Please share in the comments below! <3
Thank you for reading and sticking around my embarrassing anecdotes. =P
How to Roast Spaghetti Squash
Ingredients
1 spaghetti squash
2 Tbsp olive oil
1/2 tsp salt
1 tsp cumin (or other spice you like)
Instructions
Preheat oven to 350.
Half the spaghetti squash (either insert the knife halfway and slice downwards one way, then insert the other way and slice downwards again to split, OR cut off the top and bottom and wriggle the knife downwards from the top).
Scoop out the seeds and stringy bits (reserve the seeds for roasting) and drizzle olive oil over the open halves. Season with salt and whatever spice you'd like. Flip and place cut-side down on the and roast for 30-45 minutes (depending on the size). Once fully roasted, the tops of the squash should give in a little bit when you poke them. Remove from the oven and flip them over, using a fork to scrape out the insides into spaghetti strands!
Store in an airtight container in the fridge and use just like spaghetti =) Enjoy!